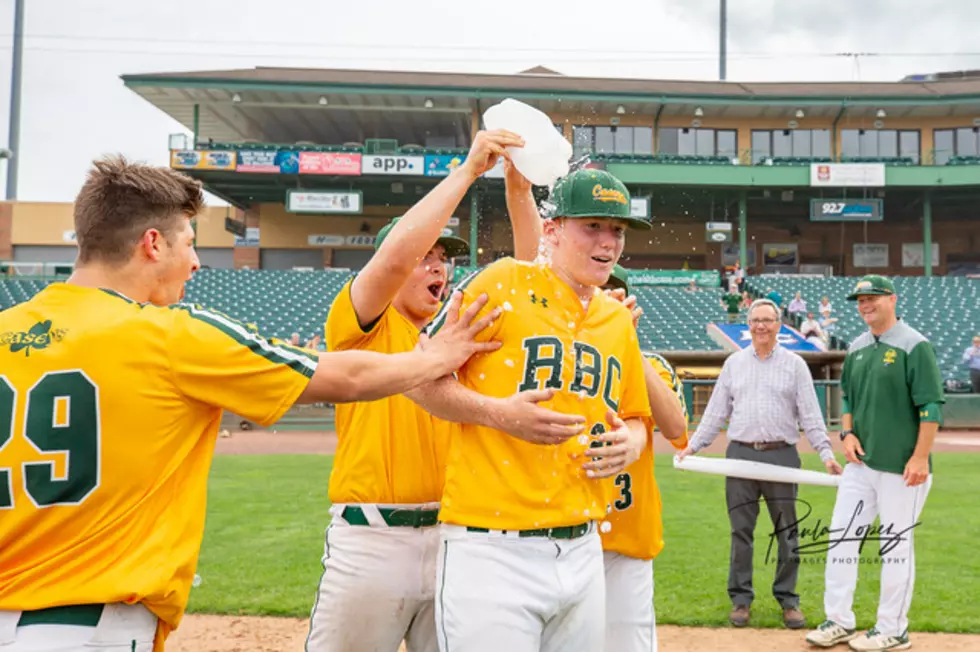 Baseball – 2020 Outlook: Class A Central
Red Bank Catholic sophomore and winning pitcher Shane Panzini is doused with water after his one-hit shutout. (Photo by Paula Lopez)

Enter your number to get our free mobile app
Last year's Class A Central race came down to Red Bank Catholic vs. Manasquan and while the games were competitive, RBC took both division games and ran away with the A Central title. Manasquan did manage to pick off the Caseys in the Monmouth County Tournament quarterfinals, but also lost a fourth matchup between the teams in the Shore Conference Tournament semifinals.
If there is a division schedule this season, the Caseys will again be the A Central favorite with Manasquan looking like the best bet to give them a run for the flag. The battle in the middle of the division would likely be another intense one and could even feature more teams within a game or two of the third and fourth spots and with a chance to do damage in the state tournament.
In predicted order of finish
Head Coach: Buddy Hausmann, 13th season
2019 Record: 23-6 (14-0, first in A Central)
Returners: Shane Panzini (Jr., RHP/OF), Chris Sparber (Sr., C), Jack Scrivanic (Sr., 1B), Robert Gonzalez (Sr., SS/3B), Sean Ettore (Jr., SS), Anthony Borriello (Jr., OF), Jared Terefenko (Sr., 1B/3B/RHP), Tyler Birnbaum (Sr., RHP), Brayden Kiel (Sr., RHP), Mark Lurie (Sr., OF), Dylan Wanagiel (Jr., RHP), John Nimeth (Sr., RHP),
Key Losses: Vincent Bianchi (SS/RHP), Alex Gonzales (2B), Ryan O'Hara (RF/RHP), David Glancy (CF), Ray Martini (OF/1B)
Key Newcomers: Matt Scrivanic (So., 2B/SS), Scott Ungemah (Jr., OF), Alex Stanyek (Fr., OF/RHP), Mike O'Connor (Jr., OF/RHP), Dan DeFLores (Jr., OF), Chris Disco (Sr., 1B), Evan Mottola (Sr., RHP), Devon Rodrigues (Sr., OF), Riley Supp (Jr., C), Nico Gonzalez (So., 2B/SS), Justin DeAmbrose (Sr., OF), Anthony Colucci (Sr. RHP)
The defending Shore Conference Tournament champions lost a handful of stars from a year ago but retain one of the co-stars of its championship win. Junior Shane Panzini pitched a one-hit shutout against Manalapan to clinch the title and a stellar sophomore season, which he capped by committing to Virginia. Now heading into his junior season, Panzini looks to headline a rotation that will be without injured senior John Nimeth even if baseball returns sometime before the summer. Seniors Jared Terefenko, Tyler Birnbaum and Brayden Kiel hope to pick up the slack in Nimeth's absence, along with junior returnee Dylan Wanagiel.
RBC also lost some major production in the lineup but has the pieces necessary to regroup. Seniors Jack Scrivanic, Chris Sparber and Rob Gonzalez are the nucleus of the lineup, while Panzini, Terefenko and junior Anthony Boriello provide some pop. Sophomore newcomer Matt Scrivanic will make an impact whenever RBC gets back on the field, and if there is high school baseball, the Caseys are a threat to win any title they chase with Panzini leading the way.
Head Coach: Brenan Gordon, third season
2019 Record: 17-6 (11-3, second in A Central)
Returners: Alex Galvan (Sr., RHP/1B/3B), Will Hopkinson (Sr., SS), John Foreman (Sr., OF), Ryan O'Keefe (Sr., LHP/OF), Hayden Kunz (Sr., OF/RHP), Cam Teza (Sr., C), Pat Woodford (So., OF), Jake Brown (Sr., INF/OF)
Key Losses: James Harmstead (3B/RHP), Spencer Bauer (RHP/1B), Michael Anthony (RHP/OF), Alec Wells (C/RHP), Sam Del Guercio (2B)
Key Newcomers: Mike Antonucci (So., OF), James Cosgrove (So., P/OF), Zach LaVigna (So., P/1B), Ryan Deegan (So., INF), David Frost (Jr., INF) – transferred from St. Rose
Last year had the makings of another special season for Manasquan but the Warriors ended their season a little short of a championship but with optimism for the future. On that note, Manasquan's talented core of seniors is desperate for a chance to compete for any championship this year. Senior right-hander and Louisville commit Alex Galvan is ready for a full, ace workload this season after pitching just 11 2/3 innings over the past two years. Seniors Ryan O'Keefe and Hayden Kunz proved capable last year and will help fill the void left by Cornell commit Tim McEneny, who is still recovering from Tommy John Surgery.
Galvan also anchors the lineup at the plate after an All-Shore-caliber junior season swinging the bat and would be preceded in the lineup by two quality senior table-setters in shortstop Will Hopkinson and center fielder John Foreman. Kunz and senior catcher Cam Teza are also in line for at-bats while a wave of sophomores make a play for some key open spots. Along with the ones every other team faces, Manasquan has some questions to answer but has the foundation for another title run if and when baseball returns.
Head Coach: Owen Stewart, first season
2019 Record: 7-12 (4-10, tied sixth in A Central)
Returners: Andrew Schmid (Jr., SS), Thomas Elgrim (Jr., OF), Kevin Shanes (Sr., LHP/OF), Matt Rigby (So., 1B), Michael Amendola (So., LHP), Hank Hyduke (Jr., C), Dylan Sakele (Jr., OF), Charlie Jones (So., RHP), Brian Doherty (So., INF/RHP), Charlie Tallman (So., 2B), Liam Murphy (So., INF)
Key Losses: Ryan Dupree (Sr., OF)
Rumson trotted out one of the Shore's youngest teams last season and the result was a team that took its lumps and got itself ready for action in 2020. If there is action in 2020, the Bulldogs look like a team ready to make a move in the Shore Conference and Group II under first-year coach Owen Stewart. Junior shortstop Andrew Schmid is the leader on the field and at the plate after another strong season as a sophomore, while senior Kevin Shanes, junior Thomas Elgrim and sophomore Matt Rigby are coming off solid statistical seasons as well.
Sophomore Brian Doherty and juniors Dylan Sakele and Hank Hyduke will also have roles to play in the lineup, with Hyduke catching an experienced pitching staff. Shanes was the steadiest of the returning pitchers a year ago and is its only senior, while sophomores Michael Amendola and Charlie Jones provide plenty of upside. This core has a chance to make noise in 2021 and it would help to get started on the foundation this spring.
Head Coach: Paul Crivello, seventh season
2019 Record: 12-12 (6-8, fifth in A Central)
Returners: Alex Alonso (Sr., INF/RHP), Nick Bogan (Sr., RHP/INF), Mike Bateman (Sr., OF/P), Dominick Santaniello (Jr., INF/RHP), Brian Yadlon (Jr., LHP/1B), Aiden Denton (So., P/INF)
Key Losses: Dante Ciaramella (RHP/2B/SS), Chris Anfuso (OF/RHP), Eli Rife (INF/OF), Andrew Faccone (C), Jake Cushing (INF), Kevin Lynch (INF/P)
Key Newcomers: Brett Delutis (Sr., INF), Mike Cavalluzzi (Jr., INF), Starion Marvin (Sr., INF/P), Jeffrey Meyer (Sr., OF), Marc Taylor (Sr., P), Brett Minto (Jr., INF), Luke Cushing (Jr., C), Dan Waddleton (Jr., OF), Mike Cavalluzzi (Jr., INF), Tyler Keefer (Jr., INF/P), Christian Zito (So., OF/P), Andrew McKinley (So., C), James Kelly (So., OF/P), Zach Lopes (So., INF/P), Chris Theobald (So., INF/P), Evan Schade (So., INF/P), Joe Esposito (Fr., C/RHP)
Monmouth were reliant on ace Dante Ciaramella last season and will hope to march forward without him in 2020. The overall pitching depth has the makings of a strength for Monmouth, with significant contributors Alex Alonso, Dom Santaniello and Nick Bogan back on the pitching staff and sophomore Aiden Denton ready to take on a larger role after a dose of mound-time last year.
Six of Monmouth's nine starters in the batting order graduated so scoring runs will be another challenge for Monmouth in any competition this season but junior Brian Yadlon is back to steady the lineup after hitting .316 with 21 RBI last year. Alonso is a key to the run-scoring operation after he showed promise as a sophomore and went through a season of highs and lows at the plate a year ago. Senior Mike Bateman will also be an important offensive piece as the Falcons look to stay in the mix.
Head Coach: Jeff Struble, eighth season
2019 Record: 10-11 (8-6, third in A Central)
Returners: Dan Fiore (Sr., OF), Chris Gonzalez (Jr., SS/RHP), D.J. Dekis (Sr., 1B/LHP), Jason Lind (Sr., C/1B), Luke Ohea (Jr., OF), Logan Waltz (Sr., P), Justin Kilyk (Jr., C), Robert Scarola (So., OF), Doug Chudzik (Sr., INF/P), Angelo Friend (Jr., P)
Key Losses: Tyler Bruno (CF), Jake Tennant (3B/RHP), Ryan Kasmer (OF), Hunter Neville (RHP), Shawn Ohea (INF/OF), Cameron Rafalko (RHP/INF)
Key Newcomers: Billy Tigar (Fr., INF/P), Ben Hutchins (So., INF/P)
Just two years removed from a trip to the Group II final, Raritan is banking on the last remnants of that team to lead the way during the potential 2020 season. Senior outfielder Dan Fiore and senior first baseman D.J. Dekis were sophomore starters in 2018 and will be important pieces in a potential Rockets lineup this season. Senior Jason Lind and juniors Chris Gonzalez and Luke Ohea were up for that run two years ago as well, with Gonzalez getting regular starts at shortstop.
Fiore, Ohea, Dekis and Lind are the top returning hitters for the Rockets, which did not find a lot of power in the lineup outside of graduated slugger Jake Tennant. Tennant also carried the pitching staff, which lost its three innings leaders from a year ago. Senior Logan Waltz and Gonzalez will look to step up on the mound and if Raritan can cobble together some quality innings and make the most out of a solid, contact-oriented lineup, they could have some really good moments in a shortened version of the season.
Head Coach: Jay Kuhlthau, second season
2019 Record: 7-14 (4-10, tied sixth in A Central)
Returners: Christian Bauman (Sr., SS/RHP), Cody Fleischer (Sr., C/RHP), Shane McLaughlin (Jr., OF/RHP), Trevor Crochet (Jr., INF/P), Matt Ippolito (Sr., 3B), Sam Martucci (Sr., 3B/RHP), Alex Palmberg (Sr., OF)
Key Losses: Mike Deusch (LHP/1B), Danny Shirvanian (2B/3B), Max Cameron (RHP/1B), Gabe Zwerin (LHP/OF), Kyle O'Scanlon (OF/C)
Key Newcomers: Jimmy Donohoe (Sr., 1B), James Gomez (Sr., OF), Joseph Graci (Sr., 2B), Chris Krousos (Sr., INF/P), Marc Meloni (Sr., OF), Zach Rivera (Sr., 2B), Dylan Drahos (Jr., INF), Danny Smith (Jr., 3B/P), Tyler Tilton (Jr., OF/P), Rylan Fegan (So., 1B/OF/P), Aidan Scaturro (So., OF/P), Michael Inacio (Fr., C)
Although the Blue Devils got lost in the shuffle of a competitive Class A Central division, they did have some individual talent that could form the foundation of a good squad in a potential 2020 season. Replacing Mike Deusch on the mound will be the tallest order and the Blue Devils will try to tackle it by committee. Shane McLaughlin, Sam Martucci, Cody Fleischer and Christian Bauman all got at least a sprinkle of varsity innings a year ago and will try to pick up some of those empty innings.
That quartet will also be crucial at the plate and in the field, with Bauman moving from the outfield to shortstop and Fleischer working double-duty as a catcher and key pitcher. Fleischer and Bauman are standout bats in the lineup based on last year's production, with Fleischer earning all-division honors as the top A Central catcher. Junior Tyler Tilton also had a solid showing in part-time duty last year and will hope to add to what could be a sleeper team in A Central if the season gets going.
Head Coach: Chris Arecchi, fourth season
2019 Record: 10-12 (7-7, fourth in A Central)
Returners: Jake Umans (Jr., LHP), Louie Curcio (Jr., INF), Brett Hilsheimer (Jr., INF), Jason Sparkes (Jr., C), Christian Gravier (Jr., RHP), Sal Marzano (Sr., OF), Nick Ammirati (Sr., OF), Alec Signorile (Jr., P/1B),
Key Losses: Jason Lyons (SS/3B/RHP), Ezra Caspi (OF), Robbie Shangle (RHP), Mike Iulo (1B), Brendan Crowley (UTIL), Aidan Flanagan (OF), Alec Licato (RHP), Justin Lautenberg (OF)
Key Newcomers: Mike Lobifaro (Sr., OF), Andrew Woodward (Jr., INF/P), Reese Goldberg (Jr., UTIL/P), Sam Goldberg (Jr., OF/P), Jon Vito Lobifaro (So., P), Sean Brescia (So., 1B/DH)
With a strong one-two punch in Jason Lyons as a dual threat and Ezra Caspi as a middle-of-the-order masher, Holmdel battled its way into the top-half of the A Central standings in 2019. That's the bar again for 2020 but it will be harder to clear with some serious production left behind by last year's outgoing senior class – led by Lyons and Caspi. This year's group will be junior-heavy, led by shortstop Brett Hilscheimer and Louie Curcio moving from catcher to the infield after filling in for injured classmate Jason Sparkes, who is back this year.
Junior Jake Umans will lead the pitching staff as a left-hander who has been accumulating varsity experience since his freshman season. Christian Gravier, Alec Signorile and Andrew Woodward are all juniors in the pitching staff as well, with Signorile and Woodward returning after missing most of 2019 due to injury. Sal Marzano and Nick Ammirati are the senior returnees and will hope to get their shot to finish their careers as the swath of juniors takes the reins of the program.
Head Coach: Rich Lanko, fourth season
2019 Record: 2-18 (2-12, eighth in A Central)
Returners: Tommy Turnbach (Jr., 1B/RHP), Nolan Dacey (Sr., C), Matt Gowen (So., 2B/C), Ryan Rogers (So., OF/P), Jack Crawford (Jr., RHP/3B/OF), Shane Killeen (Jr., OF/P), Lucas Hope (Jr., 2B)
Key Losses: Evan Peeke (3B/RHP), Jeff DeFazio (OF/RHP), Zack Alsieka (INF), Joey Blaes (OF/P), Pat Ferrante (OF), Frank Bellezza (2B/RHP), Rob Rothery (SS)
Key Newcomers: Logan Boag (Jr., C) – transfer from Colts Neck; Jack Lomerson (Fr., SS/P), Brandon Levy (Jr., INF/P), Ryan Murray (Fr., OF/P), Lucas Farell (So., 1B/P), Joseph Sestito (Fr., 3B/P)
St. Rose's ill-time moved to A Central last season saw the Purple Roses struggle in a deeper division with an inexperienced team. Although inexperienced last year, St. Rose still has some open spots to fill in a potential 2020 season. The pitching should make progress with the return of juniors Tommy Turnbach and Jack Crawford, who had enough success to build on whenever they are able to get back on the mound.
Turnbach is also poised to lead the offense, with Crawford, sophomore Matt Gowen, senior catcher Nolan Dacey and sophomore Ryan Rogers all looking to produce with more at-bats. The Purple Roses also add junior catcher Logan Boag, who transferred from Colts Neck and got 45 at-bats last year. With Dacey the only senior lined up to play before camp was suspended, St. Rose will hope to get ramped back up as it turns the program over to its youngsters.
Division Lineup (with 2019 stats)
Chris Sparber, Sr., C, Red Bank Catholic (.282/.424/.359, 4 2B, 1 3B, 15 R, 17 RBI)
Jack Scrivanic, Sr., 1B, Red Bank Catholic (.293/.367/.524, 7 2B, 4 HR, 15 R, 28 RBI)
Christian Bauman, Sr., SS, Shore (.274/.384/.435, 4 2B, 2 HR, 10 R, 16 RBI)
Andrew Schmid, Jr., SS, Rumson-Fair Haven (.323/.392/.462, 3 2B, 2 HR, 15 R, 15 RBI, 8 SB)
Rob Gonzalez, Sr., 3B/SS, Red Bank Catholic (.355/.413/.495, 5 2B, 1 3B, 2 HR, 26 R, 17 RBI)
John Forman, Sr., CF, Manasquan (.414/.498/.543, 6 2B, 1 HR, 17 R, 19 RBI)
Thomas Elgrim, Sr., CF, Rumson-Fair Haven (.313/.371/.500, 4 2B, 1 3B, 2 HR, 11 R, 14 RBI)
Brian Yadlon, Jr., 1B/LHP, Monmouth (.316/.381/.382, 5 2B, 11 R, 21 RBI)
Cody Fleischer, Sr., C, Shore (.317/.377/.492, 5 2B, 2 HR, 7 R, 12 RBI)
Division Rotation (with 2019 stats)
Shane Panzini, Jr., RHP, Red Bank Catholic (7-2, 53 IP, 20 H, 29 BB, 73 K, 0.66 ERA, 0.92 WHIP)
Alex Galvan, Sr., RHP, Manasquan (2-0, 10.2 IP, 7 H, 4 BB, 16 K, 1.31 ERA, 1.03 WHIP)
Kevin Shanes, Sr., LHP, Rumson-Fair Haven (3-4, 46.2 IP, 45 H, 22 BB, 50 K, 2.25 ERA, 1.44 WHIP)
Dom Santaniello, Jr., RHP, Monmouth (1-2, 25.1 IP, 26 H, 5 BB, 12 K, 2.21 ERA, 1.22 WHIP)
Alex Alonso, Sr., RHP, Monmouth (3-3, 24.1 IP, 28 H, 4 BB, 20 K, 3.16 ERA, 1.31 WHIP)
John Nimeth, Sr., RHP, Red Bank Catholic* (6-0, 36.1 IP, 32 H, 20 BB, 24 K, 2.12 ERA, 1.43 WHIP)
Tim McEneny, Sr., LHP, Manasquan*
*- Injured, out for season
More From Shore Sports Network