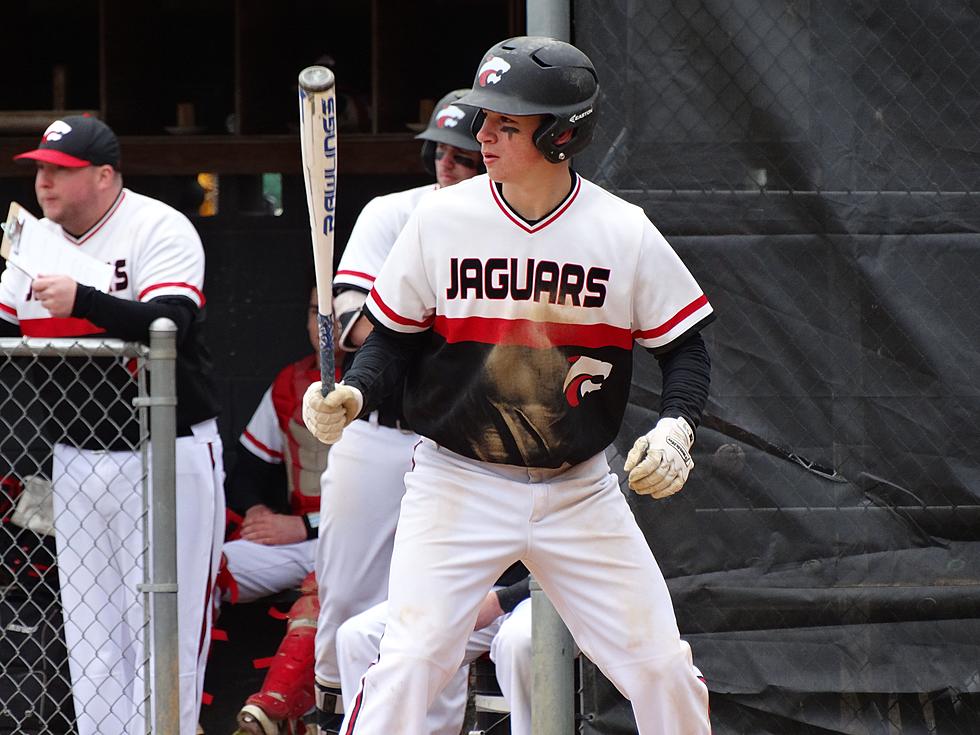 Baseball – 2019 Baseball Preview: Class A South
Jackson Memorial senior Alex Iadisernia. (Photo by Matt Manley)
Last year's high school baseball season at the Shore ended with two teams from the Shore Conference Class A South topping the Shore Sports Network Final Top 10. The No. 1 team was Jackson Memorial, which catapulted to No. 1 despite running out a team with two senior starters in the everyday lineup. That means the Jaguars will be back to collect even more hardware this year and with its primary competition facing some challenges in replacing last year's production, the favorite heading into the 2018 season is clear.
At the same time, this is Class A South. Funny things happen, especially when a talented Toms River South team led by legendary coach Ken Frank comes into the season as an underdog to win the division title. It's also worth nothing that there is a season beyond the A South race and the competition during the season should produce some legitimate postseason contenders from the top of the division all the way to the bottom.
Head Coach: Frank Malta, 15th season (20th overall)
2018 Record: 25-7 (11-3, tied first in Class A South)
Returners: Alex Iadisernia (Sr., RF), Ryan Lasko (Jr., CF), Troy Bathmann (Sr., LF), Carmine Petosa (Jr., 1B), Christian Pellone (Jr., 2B), Jake Wendell (Jr., 3B), Andrew Sefick (Jr., C), Nick Beetel (Jr., LHP), Matt Potok (So., RHP), Joe Princiotta (Sr., LHP), Tom Cartnick (Jr., C), Ty Beck (So., SS)
Key Losses: Nick Sefick (RHP), Mike Dimino (SS/RHP), Tom Pellone (DH), Matt D'Amore (RHP), Mike Koslowski (3B), Shawn Kellich (LHP), Kyle Thaiss (OF), Ryder Tallent (LHP)
Key Newcomers: Ahmir Cournier (Sr., SS) – transfer from Toms River East; Dan Greenwood (Jr., RHP), Zach Crotchfelt (Fr., LHP/OF/1B), Rocco LaVista (Jr., RHP), Connor Fern (Sr., LHP), Preston Kunz (Sr., RHP), Rich Schreiner (Sr., C), Bob Arent (Sr., INF), Matt Feld (Jr., OF), Joe Santoriello (Jr., RHP), John Puccio (Sr., LHP)
Jackson Memorial entered last season unranked in the Shore Sports Network Top 10 and ended the season No. 1. The Jaguars boasted a young roster with some unproven-but-talented players taking up starting spots. After posting 25 wins and capturing the South Jersey Group IV championship, that young roster is mostly intact again this year while continuing to pump more up-and-coming players into what appears to be a winning formula in Jackson. The Jaguars did graduate five pitchers from a deep staff and a clean-up hitter and shortstop from their lineup, but three proven arms return to the pitching staff and another accomplished shortstop transferred in to fill the only vacated position in the lineup.
What makes this team even more remarkable is even with almost an entire lineup back, the Jaguars will only start three seniors in the lineup and one in the rotation. Two of them are in the corner outfield spots, with two-time All-Shore pick and Elon commit Alex Iadisernia in right field. Troy Bathmann returns to right field for his senior season and Toms River East transfer Ahmier Cournier – who hit .306 with 10 doubles as a junior – will take over shortstop after Mike Dimino graduated. Jackson Memorial's loaded junior class accounts for the rest of the lineup, with Carmine Petosa, Christian Pellone and Jake Wendell manning the infield around Cournier from right to left and Ryan Lasko playing in center field. Junior Andrew Sefick rounds out the lineup on the field at catcher and junior Tom Cartnick is in line to DH after producing in part-time duty last season. Sophomore Ty Beck remains a capable utility-man around the infield following a season playing meaningful innings as a freshman.
Despite losing five pitchers and 77 quality innings from Nick Sefick, Mike Dimino and Matt D'Amore, the Jaguars remain strong on the mound. Junior left-hander Nick Beetel emerged as Jackson Memorial's big-game pitcher in his first varsity season and current sophomore right-hander Matt Potok could do the same after tossing 15 impressive innings last year. Senior Joe Princiotta was a versatile left-hander who started and pitched in relief as needed and figures to pitch out of a similar role this season. Junior right-hander Dan Greenwood and freshman southpaw Zach Crotchfelt will add some depth to the rotation as newcomers. The talent keeps coming at Jackson Memorial and with a junior-heavy roster already in place, the Jaguars aren't going anywhere anytime soon.
Head Coach: Ken Frank, 41st season
2018 Record: 12-12 (7-7, tied fourth in Class A South)
Returners: Colin Mackle (Sr., OF/RHP), Jordan Erbe (Jr., 2B, RHP), Max Rivas (Jr., SS), Mike Lazzaro (Sr., 3B), Sam Conover (Sr., CF), Matt Hartshorn (Sr., RHP/1B), Gabe Driscoll (Sr., 1B/RHP), Mike Montenegro (Jr., C), Damian Scott (Sr., C/3B), Erik Narvaez (Jr., RHP), Kiefer Samul (Jr., P), Logan Spakowski (Jr., INF)
Key Losses: T.J. Scuderi (OF/RHP), Nico Gonella (SS), Tom Spiwak (RHP)
Key Newcomers: Tyler Madeo (So., OF), Brandon Leatherman (Sr., OF), Brandon Rios (Sr., OF), Trevor Sansone (Sr., INF), Joe Ferreri (Jr., P/1B), Nick Iaderosa (Jr., OF), Christian Blaska (Jr., OF), Connor Cavanaugh (Jr., INF), Austin Beard (So., 3B/OF), Ty Gibson (So., OF), Ben Longo (So.), Ryan Mackle (So., INF), Eli McEwan (So., C), Robert Meissner (So.), Sean O'Neill (So.), Joe Schifilliti (So., INF), Chris Yuro (So., OF), Nick Manning (Jr.), Josh Odebode (Jr.), Evan Thomas (Jr.), Anthony Alexander (Jr.) Brandon Condon (Jr.), Jacob Decker (Jr.), Nate Brown (So.), Jacob Bryceland (So.), Kyle Cirz (So.)
Five-hundred (.500) seasons at Toms River South happen about as often as a solar eclipse and just like the sun in an eclipse, if you try to get a good look at the wrong time, Toms River South can burn you. Even in a down year, Toms River South finished tied for fourth in a deep Class A South division and did so without a lot of seniors making an impact. That means the Indians will have a team loaded with experience in a division that has a lot of teams looking to replace impact talent – a recipe for a vintage Toms River South season.
On top of being young last season, Toms River South was also injured. Right-hander Matt Hartshorn missed his entire junior season after undergoing Tommy John Surgery to repair a torn UCL in his elbow and is back looking to claim the spot atop the rotation that he likely would have inherited had he stayed healthy. Classmates Sam Conover and Gabe Driscoll also missed significant time and junior second baseman and pitcher Jordan Erbe had a potential All-Shore season halted due to injury. Just getting those four players back in the fold will make a big difference for Toms River South.
Hartshorn, Erbe and Driscoll will join senior Colin Mackle in the rotation, which consists of four players who should be contributors at the plate as well. Mackle and Erbe were two of Toms River South's top hitters last season while Driscoll and Hartshorn can both handle first base when not on the mound. Junior Max Rivas returns on the infield coming off .290 season at the plate as a sophomore and will flip spots with Erbe - with Rivas playing second and Erbe shortstop. Senior third baseman Mike Lazzaro and catcher Mike Montenegro are also back in Toms River South's experienced infield. With a deeper, healthier pitching staff, good defense up the middle with Rivas and Erbe and some big numbers back in the batting order, Toms River South looks like the primary challenger to Jackson Memorial this season.
Head Coach: Andrew Pagano, sixth season
2018 Record: 22-8 (11-3, tied second in Class A South)
Returners: Jonathan Giordano (Sr., OF/RHP), Dylan Feigin (Sr., SS), Sam Angelo (Sr., 1B/LHP), Nick DeRose (Jr., 3B/RHP), Robert Jeans (Jr., OF/RHP), Christian Wood (Sr., RHP)
Key Losses: Craig Larsen (SS/RHP), Jared Bellissimo (1B/LHP), Brendan Mullins (1B/RHP), Justin Schaff (C), Alex Klalo (CF), Nick Sibilia (OF), Mike Centeno (RHP)
Key Newcomers: Phil Antoniotti (Jr., 2B/RHP) – transfer from Point Beach; Jacob Dawson (Jr., C), Sean Aguiar (Sr., OF/LHP), Mike Colella (Sr., OF/2B/RHP), Aaron Craig (Sr., OF), Lucas Malave (So., C), Mike Richardson (Sr., 2B), Alex Civitello (Sr., OF), Brandon Feigin (So., INF/RHP), Jake Kazanowsky (So., 3B/1B), Nick Mortellito (So., 2B), Sal Baracco (Sr., LHP), Matt Ostroman (Jr., LHP), Brandon Ruiz (Sr., DH), Kyle Dietz (Sr., 3B/RHP), Brandon Valles (So., LHP), Russell Thistle (So., 1B/LHP)
Other teams around the Shore lost more starting players than Toms River North did but you won't find many teams around the state that lost the kind of impact players that the Mariners did. Craig Larsen, Jared Bellissimo and Brendan Mullins were key members of Toms River North's last three teams and Justin Schaff and Alex Klalo became important cogs in each of the last two. Bellissimo, Larsen and Mullins were all top hitters and pitchers for Toms River North and in the case of Larsen, he was also top-notch defender at shortstop and the 2018 Shore Sports Network Player of the Year.
If there is reason to believe in Toms River North this season, it is due to the numbers the Mariners still return despite losing the five prominent starters. Five starters come back from last season, led by senior Jonathan Giordano – a two-way talent who was a middle-of-the-order hitter and Toms River North's No. 3 starter once Larsen's workload was scaled back. Senior Dylan Feigin will take over at shortstop for Larsen and junior Nick DeRose is back at third base in his second year as a starter to complete an experienced left side of the infield. Senior first baseman Sam Angelo put up big offensive numbers after taking over a starting spot last season, as did junior outfielder Robert Jeans.
Toms River North adds Point Pleasant Beach transfer Phil Antoniotti to the roster this season and the junior will play second base and join the rotation behind Giordano, with whom Antoniotti was a teammate on Toms River Little League's state championship team in 2014. The Mariners have developed a reputation for taking over the Ocean County and Shore Conference Tournaments with their pitching and this staff has plenty to prove to live up to that reputation. With some time to gel and get its footing, Toms River North could eventually get there.
Head Coach: Evan Rizzitello, 10th season
2018 Record: 9-14 (4-10, seventh in Class A South)
Returners: T.J. Rosace (Sr., SS/RHP), Mike Murphy (Sr., C), Tristan Savoia (Sr., RHP/1B), Greg Hanlon (Sr., 2B/SS), Graham Harrigan (Sr., OF/RHP), Nick Gillen (Jr., RHP/UTIL), Sean Beck (Jr., UTIL), Torrey Savoia (Sr., RHP/OF), Joe Casselli (Sr., C), Mark DeFelice (Sr., 3B), Max Cala (So., OF)
Key Losses: Nick Stephan (RHP), Trevor Sherman (LHP), Blaine Netterman (OF/RHP), Mike Sullivan (1B/RHP)
Key Newcomers: Lucas McLaughlin (Sr., OF/RHP), Mike Guzman (Sr., OF), Collin Turner (Jr., P/1B), Nick Doubt (Jr., C), Kyle Cline (Jr., P), Joe Terkildsen (Jr., 3B), Matt Terkildsen (Jr., 1B), Andrew White (Jr., 1B/3B), Cole Manfro (So., RHP/3B), Aiden Patella (So., P/OF), Joe Gioia (So., INF), Jack Flood (Fr., INF)
Two years removed from a second-place finish in Class A South, Brick Memorial is looking to make a serious push up the standings, similar to the one they made back in 2016. That Mustangs team was also coming off a 4-10 season in Class A South and while it was far heavier on seniors than this year's group, the 2019 installment of Brick Memorial has plenty of varsity experience returning to try to make a play for another top-two finish.
Just as in 2017, the strength of this year's Brick Memorial team its offense, led by All-Shore shortstop T.J. Rosace. After belting five home runs during his junior season, Rosace will be the main concern for Brick Memorial's opponents at the plate. Junior second baseman Greg Hanlon is the top returning Mustang in the batting average category (.377) and junior outfielder Nick Gillen also hit above .300 with seven doubles in 60 plate appearances. Catcher Mike Murphy is a seasoned backstop with some offensive upside as well, while senior center fielder Graham Harrigan is in his second year as a starter. Sophomore Max Cala is lined up to make a significant jump in contribution after getting a taste of the varsity life as a freshman while senior Mark DeFelice takes over at third base and senior Torrey Savoia patrols left field.
Gillen will head up the pitching staff along with senior Tristan Savoia, who will also play first base when not on the mound. Rosace will also be a factor on the mound while Torrey Savoia and Harrigan provide depth. While the Mustangs have some help off the bench, they will be relying, primarily, on nine players to carry the day – a similar blueprint to the one that was so successful for Central Regional during its 18-9 2018 season. With good health and good fortune, Brick Memorial's talent could be enough to once again push the Mustangs back into the top two spots as Ocean County's surprise team in 2019.
Head Coach: Keith Smicklo, second season
2018 Record: 13-11 (7-7, tied fourth in Class A South)
Returners: Aidan Meola (So., INF), Ryan Goodall (Jr., C/OF), Matt Santos (Jr., RHP/INF), Brandon Coyle (Sr., LHP)
Key Losses: Nick DeGennaro (RHP/OF), Brad Brush (RHP/OF), Danny Clemente (CF), Jason Longo (OF), Shaun Sullivan (2B), Justin Donnamaria (RHP), Jared Mizrachi (RHP/INF), Rob Cenci (Sr., INF), Ahmir Cournier (Jr., SS) – transferred to Jackson Memorial
Key Newcomers: Mark Murtha (Sr., OF), Logan Sommerer (Sr., OF), Tyler Toth (Sr., OF), Anthony Danzi (Sr., P/OF), Damon Clayton (Sr., INF), Ryan Cicardo (Jr., INF), Robert Pero (Jr., INF), Reece Miller (Jr., P), Mason Tampuu (Jr., P), Daniel Facchiano (Jr., RHP), Joe Ussery (So., C/INF), Sal Gioia (So., OF), Anthony Mezza (So., INF)
The 2018 season seemed to get off on the wrong foot for Toms River East when ace Nick DeGennaro came down with appendicitis right before the season, but the Raiders persevered without him. Once he returned, Toms River East became an instant postseason threat, taking down Point Boro and Jackson Liberty in the Ocean County Tournament and Red Bank Catholic in the Shore Conference Tournament behind DeGennaro's powerful right arm. Toms River East doesn't quite have a dynamic arm like the one DeGennaro unleashed on the Shore Conference for the better part of a month but the Raiders already showed they can band together without him last year.
Of course, DeGennaro is not the only player second-year coach Keith Smicklo is looking to replace. The Raiders also graduated No. 2 starter and center fielder Brad Brush, two more starting outfielders, and lost their double-play combination with the graduation of Shaun Sullivan and the transfer or Ahmier Cournier. Toms River East does, however, bring back three starters who were productive last year and none of the three are seniors. Junior Ryan Goodall hit .365 with six doubles, a home run and 17 RBI while splitting time between catcher and outfield. Junior right-hander Matt Santos was the team's most consistent pitcher outside of DeGennaro and held his own at the plate as will. Sophomore Aidan Meola was one of the five best hitters on the team as a freshman and also showed off a great glove at third base as well.
Senior left-hander Brandon Coyle will be a key piece for Toms River East this year as the next option on the mound after Santos. Coyle pitched 16 innings last season, giving the Raiders 57 2/3 innings back from last year. Juniors Dan Facchiano, Reece Miller and Mason Tampuu will look to pick up some more of those missing innings and the collective performance of that group is where Toms River East's fate lies. If the pitching staff delivers, there is enough hitting ability on hand to get by in the always-rugged Class A South.
Head Coach: Keith Cocuzza, fifth season
2018 Record: 7-12 (5-9, sixth in Class A South)
Returners: Cole Markley (Sr., SS/RHP), Mike Schiatarella (Sr., RHP), Frankie Pellegrino (Sr., OF), A.J. Mandell (Sr., 1B), Aiden Hosszu (Jr., OF/3B)
Key Losses: Marcos Matias (C), Joe Colonna (OF), Austin Pharo (2B/SS), Andrew Luongo (RHP), Mike Liantonio (Sr., 3B), Colin Flood (RHP/OF)
Key Newcomers: Dan Rinaldi (Sr., C/OF), Jack Plesniarski (So., 2B/SS/RHP), Ricky Glascock (Jr., 3B), Mike Gallaro (So., C), Xavier Hendricks (So., OF), Kevin Cooney (So., OF), Dustin Howarth (So., RHP)
It should not have come as a surprise that Southern could not come close to replicating its charmed 2017 season that ended in the Group IV semifinal game and made a stop in the Ocean County Tournament championship. The Rams lost most of the starters from that squad and had to retool last year with a lot of new contributors. After a few more graduations after last season, only one 2017 starter remains on the team.
Senior shortstop and pitcher Cole Markley is the last link to Southern's South Jersey Group IV championship team and will be the leader of a 2019 team that has some production back in there and is gearing up to incorporate a sophomore class it hopes wins some championships along the way. Senior first baseman A.J. Mandell hit .365 at the plate and junior Aiden Hosszu is coming off a breakout campaign as an outfielder and designated hitter who kicked down the door to the starting lineup early in his sophomore season. Senior Frank Pellegrino also returns with experience in the outfield and senior right-hander Mike Schiatarella pitched big innings last season.
Schiatarella and Markley project as the two leaders of the pitching staff, but the sophomores could come into play on that front. Jack Plesniarski will play up the middle in the infield and work some innings on the mound and classmate Dustin Howarth is primed to contribute innings as well. Plesniarski, sophomore catcher Mike Gallaro, sophomore outfielders Xavier Hendricks and Kevin Cooney and junior third baseman Ricky Glascock are projected for significant playing time and senior Dan Rinaldi offers enough versatility to play behind the plate or in the outfield. There is a foundation for a solid lineup, but Southern made noise two years ago with three dominant pitchers. That will have to be the case again if the Rams are to make another leap in Class A South.
Head Coach: Jason Groschel, 14th season
2018 Record: 6-16 (2-12, eighth in Class A South)
Returners: Cole Groschel (Sr., CF), Jimmy Leblo (Sr., RF/LHP), Joe Carchio (Sr., LF/3B/RHP), Anthony Prato (Jr., SS/2B), Ethan Gonzalez (So., LHP), Rob Page (Jr., RHP), Christian Malta (Sr., 1B), Tyler Skurat (Sr., 3B/RHP),
Key Losses: Chris Salsano (2B), Joe Guerra (C), Mike Brunner (1B/P), John Coppola (1B/OF), Vin Galdieri (SS), Kyle Sullivan (OF/P)
Key Newcomers: Tom Powell (Sr., RHP/2B), Jake Thrunk (Sr., C), Dave Candiloro (Sr., C), Tyler Knowsley (Sr., P), Dan Scheri (Jr., C/2B), John Costanza (Jr., 1B), Nick Guiro (Jr., P/SS), Mike Salvato (Jr., P/3B), Jared Caposello (Jr., OF), Kyle Chirichello (Jr., P/1B), Ryan Duffy (So., UTIL), Jesse Evensen (So., SS/P), John McFadden (So., P), John Wade (So., P/1B/3B), Jake Bilheimer (So., P), Rob Blair (So., C)
Being the best last-place team in the Shore Conference is not a distinction that any team is looking to earn but it's fair to say Brick was the Shore's best team to finish in last place in 2018, with the Green Dragons owning a slight edge over Long Branch out of Class B North. Brick was competitive throughout its Class A South schedule and the players who are back from that team should be adjusted to the grind that is ahead of them.
Unfortunately, the best producers from last year's team graduated. Only two of the returning position players hit above .200 last year and neither Joe Carchio (.212 in 33 at-bats) nor Tyler Skurat (.250 in 24 at-bats) picked up more than 33 at-bats. Senior center fielder Cole Groschel – son of head coach Jay Groschel – accounted for three of the six extra-base hits that Brick returns to the lineup, one of which was a triple. The other three came on a double by senior outfielder Jimmy Leblo and a double and a triple from junior shortstop Anthony Prato. Prato appears to be a strong bet to emerge as Brick's top all-around threat outside the pitching staff, with Groschel, Leblo and Carchio all looking at breakout years at the plate as well.
Brick's returning one-two punch of Ethan Gonzalez and Rob Page on the mound should keep the Green Dragons competitive. Both were underclassmen last season and are set up to be even better in 2019 after the two had nearly-identical seasons in 2018. Gonzalez, a sophomore left-hander, struck out 19 in 29 1/3 innings with a 3.10 ERA while the junior Page struck out 19 in 31 2/3 with a 3.09 ERA. If those two continue to progress, the offense will not have to go above and beyond for Brick to improve this season.
Head Coach: Jerry Frulio, ninth season
2018 Record: 18-9 (9-5, third in Class A South)
Returners: Mike Masino (Jr., RHP/SS), Nick Altieri (Sr., CF), Dan Greene (Jr., RHP/1B), Ryan Black (Jr., OF)
Key Losses: Tom Ruscitti (C), Tyler Aires (RF), Shane Black (CF), Ryan Galati (2B), Colin Stacy (SS), Vance Pelino (3B), A.J. Smith (RHP/1B)
Key Newcomers: Gavin Whalen (Jr., 2B/RHP), Jack Santora (Sr., SS), Andrew Forrester (Sr., P), Mike Ottomanelli (Jr., 3B), Sean Mullaney (Jr., P/1B), Nick Firetto (Jr., C), Rob Schneider (So., C), Fischer Senatore (Sr., P/OF), Scott Truhan (Sr., OF), Evan Agrapides (So., OF), Trevor Coltenback (So., 3B/C)
Coaches of most public school programs are at the mercy of the waves of talent that come and go and last year's senior class at Central was one most coaches hope to get as often as possible. Central made the most of its opportunity with the talented Class of 2018, which led the Golden Eagles to an 18-win season and a trip to the Shore Conference Tournament championship game. In order to get there, Central had to take down a Wall team that was still in the running for the No. 1 spot in the Shore Conference and enters this year as one of the best public-school teams in N.J. with most of last year's team intact.
While Wall's team looks the same as last year, the same cannot be said for Central. Former coach Jerry Frulio is back at the helm after Mike Casale stepped down following the program's best year in more than a decade. As for the players, seven starters graduated from last year's team, which got through the season mostly relying on 10 players. Among those gone are Shore home run leader Tom Ruscitti and top pitchers A.J. Smith, Colin Stacy and Ryan Galati – the latter of whom also formed the double-play combination up the middle. Tyler Aires was also a talented outfielder who battled injury throughout his senior season after an All-Shore junior year but stepped up with the tie-breaking home run in the extra-inning win over Wall.
Senior Nick Altieri, junior Mike Massino and junior Daniel Greene are the three returnees with significant experience and junior Ryan Black is ready for a greater role after a small dose of varsity time last year. Altieri will patrol center field flanked by Black, Massino will play up the middle on the infield and Green will man first base. Massino and Greene will be among the top pitchers, with Green throwing 16 1/3 innings with a 2.10 ERA and only 15 base-runners allowed. Those four will shoulder a lot of the leadership load the incoming group of newcomers, particularly junior Nick Firreto, will have huge shoes to fill. With Altieri, Jack Santora and Andrew Forrester the only seniors on his team, Frulio can afford to be patient as everyone learns their new roles.
Division Lineup (With 2018 Stats)
C – Andrew Sefick, Jackson Memorial (.341/.371/.429, 5 2B, 1 HR, 14 RBI)
1B – Carmine Petosa, Jackson Memorial (.289/.429/.433, 7 2B, 2 HR, 17 R, 25 RBI)
2B – Jordan Erbe, Toms River South (.386/.491/.545, 7 2B, 8 R, 8 RBI)
SS – T.J. Rosace, Brick Memorial (.373/.416/.614, 3 2B, 1 3B, 5 HR, 14 R, 11 RBI, 9 SB)
3B – Aidan Meola, Toms River East (.361/.405/.458, 5 2B, 1 3B, 16 R, 12 RBI)
OF – Alex Iadisernia, Jackson Memorial (.398/.444/.519, 8 2B, 1 3B, 1 HR, 30 R, 21 RBI, 13 SB)
OF – Colin Mackle, Toms River South (.384/.500/.616, 7 2B, 2 3B, 2 HR, 21 R, 23 RBI, 9 SB)
OF – Aiden Hozzsu, Southern (.468/.537/.638, 5 2B, 1 HR, 9 R, 10 RBI)
1B/DH – Sam Angelo, Toms River North (.385/.529/.615, 7 2B, 1 3B, 1 HR, 17 R, 15 RBI)
Division Rotation (With 2018 Stats)
Nick Beetel, LHP, Jackson Memorial (6-0, 49 IP, 36 H, 21 BB, 49 SO, 1.29 ERA)
Jonathan Giordano, RHP/OF, Toms River North (5-1, 31 2/3 IP, 25 H, 18 BB, 33 SO, 1.33 ERA)
Matt Santos, RHP/1B, Toms River East (3-3, 41 1/3 IP, 40 H, 9 BB, 34 SO, 2.54 ERA)
Matt Potok, RHP, Jackson Memorial (2-0, 15 IP, 16 H, 1 BB, 16 SO, 0.93 ERA)
Matt Hartshorn, RHP, Toms River South (Injured – did not play)
Matt Hartshorn, Toms River South – After firing 25 impressive innings with a 2.24 ERA and a 3-0 record as a sophomore, the Indians right-hander missed his junior year while recovering from Tommy John Surgery.
Breakout Players to Watch
Max Rivas, SS, Toms River South
Dan Greene, RHP/1B, Central
Jack Plesniarski, 2B/SS/RHP, Southern
Robert Jeans, OF/RHP, Toms River North
Ethan Gonzalez, LHP, Brick
Tom Cartnick, C/DH, Jackson Memorial
More From Shore Sports Network