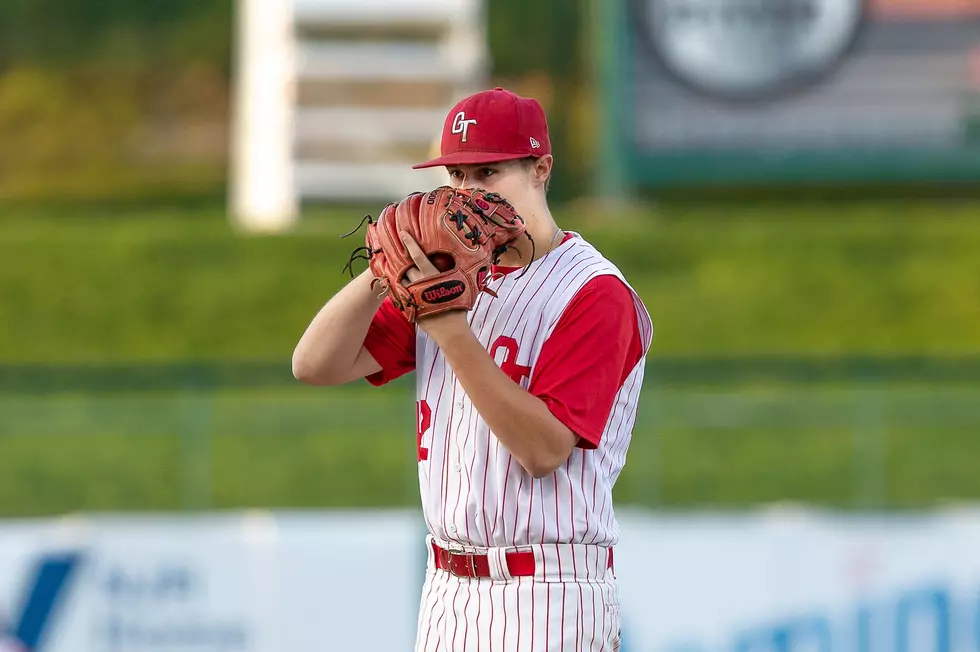 Baseball 20 in 2020 – No. 11: Ocean
Ocean senior Kevin Schoenberger. (Photo by Paula Lopez)

Enter your number to get our free mobile app
Shore Sports Network is counting down its top 20 baseball teams heading into the would-be 2020 season by profiling each one. You can read the division-by-division previews and the other top-20 profiles here.
Shore Sports Network Baseball 20 in 2020 – No. 11: Ocean

Like just about every other educator in the state is doing with his or her students, Ocean Township baseball coach Cip Apicelli is reinforcing to his players the importance of being safe during the current stay-at-home order related to the COVID-19 pandemic that has stopped the 2020 baseball season in its tracks.
On top of being safe, he is also imploring them to be ready.
Apicelli is not kidding himself, nor is he trying to kid his players: there is a strong possibility that no high-school baseball will take place in New Jersey in 2020. As of Wednesday, however, there remains a glimmer of hope for the Spartans and teams throughout the state and if at any point a high-school game – even if it is only one – can be played in 2020, Apicelli wants his team to have every advantage.
"We are overloading them with things to do," Apicelli said. "The number one thing I keep coming back to is, if we get a gift and we are able to play this season, I want our guys to be as prepared as possible to be as close to their best as they can possibly be. If we do get a chance to play and we come back and everybody's arm hurts or guys aren't in shape or in the right frame of mind, that's doing them a disservice."
While following social distancing guidelines at home, Ocean players have been peppered with workout ideas, challenges, motivational thoughts and other items via social media, as well as congregated virtually with their teammates and coaches via Zoom. According to Apicelli, it's not so much about making baseball a priority but rather keeping the players engaged and living in the moment. The prospects for a season might not be great today, but New Jersey's athletes still have a chance at a late-inning rally.
"We have to be ready," Apicelli said. "This fights the boredom, they are staying busy, staying ready. If we are lucky enough that this slows, we need to be ready to go. With what we have been giving them, they have been doing what we would do at most practices. More than anything, we're just trying to stay connected as best we can."
If the best-case scenario plays out for Ocean and the Spartans' lock-down preparation sets them up to hit the ground running for a shortened 2020 season, they have the personnel in place to make a memorable run as well.
Two of the Spartans' top four starting pitchers from 2019 are back, led by All-Shore right-hander Kevin Schoenberger. Even as a junior, Schoenberger was the leader of the pitching staff and his return as an experienced ace of a top-10 contender and Monmouth County Tournament finalist gives Apicelli and his staff an exceedingly credible leader for the rest of the pitchers.
"I would have expected even more this year," Apicelli said of Schoenberger. "He is a kid that works really hard. He works hard on his craft and he is always finding way to get better.
"He is different kind of pitcher and a different kind of ace. He is not going to throw it by you in the upper 80's (miles-per-hours). He comes at you with that lower arm-slot and is just painting for six or seven innings. Twice he had 70-something-pitch complete games. When he is on, he just cuts right through a lineup and before you know it, the game is over and he's got a shutout."
Junior Nick Callano was third on the team in innings pitched last year and could be in store for a big jump – not only on the mound but at the plate as a top-of-the-order hitter and centerfielder.
"I believe we were going to see big jump offensively," Apicelli said of Callano. " He was very thin as a freshman and he is starting to become more physical. When a 140-pound kid puts on 30 pounds of the right weight, good things usually start to happen.
"I feel bad for all of the players, but there is a kid I believe with the junior year he was ready to have, he had a chance to get some attention (from colleges). That's the kind of kid you feel for. People are talking to him and he is on a radar at a few places, but when you go out and put it together on the field, more people notice."
The two pitchers ready to make a jump into prominence within the rotation are left-handers Lucky Perrotto and Mark Schell. The two southpaws – Perrotto a junior and Schell a senior – combined for 12 innings of relief a year ago as part of a group of pitchers who provided depth behind Ocean's four top arms.
Junior Riley Morrow and sophomore Zach Robinson lead a group of newcomers that will add to the pitching depth, which Ocean has leaned on in recent years – even with a sturdy top-four leading the way in 2019.
Losing Max Winters and Scuba Hagerman from the pitching staff represents a significant chunk of lost productivity on the mound and Ocean will have just as much work to do – if not more so – to replace its best hitters from 2019. Winters and shortstop Ryan Toomey were All-Shore sluggers in the middle of the order and last year accounted for more than half (29 of 52) of the team's extra-base hits and just a fraction under 40 percent of the team's RBI total (47 out of 119).
"I was really excited because I know people look at us and think Winters, Toomey, Hagerman – they are all gone and we have to replace them," Apicelli said. "But we return a lot. They're not guys who have Max Winters numbers, but they can play. Since I have been here, I like to think that the kids who enter our program grow from year-to-year. That's how you make up for a good group graduating – everybody comes back and gets better."
Callano's evolution into one of the Shore's top two-way threats will be a key to the offense, but he is not the only starter returning with his eyes on a breakout season. Fellow junior Kevin Novobilsky started as a sophomore by splitting time between third base and the outfield and is set to take over third on a permanent basis.
Four more senior starters are also back for Ocean and, along with Schoenberger, are still serving as the team's leadership during the current shut-down. First baseman Cole Kelly and second baseman Brian Yatcilla give Ocean an experienced right-side of the infield, with Kelly finishing second on the team with 22 RBI and third in extra-base hits with seven.
Senior Kevin D'Auria returns to both the outfield and the top of the batting order after leading the team with 27 runs scored and 15 stolen bases. D'Auria only hit .241 last year, so with an offseason to refine his approach, he would have been capable of putting up some eye-popping runs-scored and stolen-base numbers if he had a full season and some mid-order hitters come through in RBI situations.
Jack Fisher was the most frequent starter in left field for Ocean in 2019, when he got 50 at-bats and cashed in with four doubles and 10 runs scored. Senior Nick Schneider also came into camp making a play for a starting spot in the outfielder after picking up four hits in 16 at-bats as a junior.
Although Ocean will miss Winters behind the plate, junior Nick Vaughn returns with some varsity catching experience after serving as Winters's understudy and even catching Winters when he pitched.
"Vaughn is another guy who has put in a lot of work and done the right things," Apicelli said. "We felt good about him being back there, to the point where that was a position we thought we had locked up."
With Vaughn moving from part-time to full-time and three returning infielders in Kelly, Yatcilla and Novobilsky, the only spot on the infield occupied by an inexperienced player will be shortstop. Sophomore Jack Zabarsky is ready to take over that spot after taking a year to develop at the lower levels and learn from Toomey. Sam Prud'homme is another senior working in with the infield as well.
Sophomore Harry Greenspan and junior Dylan Stewart will also be important pieces as outfielders with Callano set to regularly vacate his centerfield spot to pitch. Freshman George Krenkel is a wild card as a utility player and pitcher, with Apicelli keeping a close eye on the rookie to see if he made it clear he was ready for varsity time right away.
"With the way he hits and his versatility, there is a good chance we'd find a spot for him," Apicelli said. "I have not been afraid to play freshmen. We have had some where we have thrown them into the fire and let them go through the growing pains and others we have been a little more careful with. Either can work."
In a potential short season, most teams will be happy just to have a chance to play and with an experienced group back, seniors to follow and underclassmen to develop, Ocean is staying ahead of the curve when it comes to baseball while they try to do their part to flatten it when it comes to the coronavirus.
"You just want to have some hope," Apicelli said. "You turn on news every day and you see people are dying and there are thousands more cases. It's not good. We're hoping for a miracle and maybe we get lucky and the state is able to do something.
"I know there will be hoops to jump through and we would probably have to break precedent, but this is an unprecedented situation. We'll take what we can get and we'll just hope to find a way. You only get one senior year."
Ocean Township baseball 2020 seniors
Head Coach: Cip Apicelli, 11th season
2019 Record: 20-8 (10-4, second in B North)
Top Returning Hitters (with 2019 Stats)
| | | | | | | | | | | |
| --- | --- | --- | --- | --- | --- | --- | --- | --- | --- | --- |
| Player | AB | H | 2B | 3B | R | RBI | AVG | OBP | SLUG | SB |
| Nick Callano (Jr., CF) | 69 | 20 | 3 | 1 | 12 | 5 | .290 | .364 | .362 | 10 |
| Kevin Novobilsky (Jr., 3B) | 66 | 18 | 1 | 0 | 11 | 14 | .273 | .449 | .288 | 2 |
| Cole Kelly (Sr., 1B) | 94 | 25 | 6 | 1 | 7 | 22 | .266 | .303 | .351 | 1 |
| Brian Yatcilla (Sr., 2B) | 76 | 20 | 1 | 0 | 12 | 7 | .263 | .313 | .276 | 10 |
| Kevin D'Auria (Sr., OF) | 79 | 19 | 2 | 1 | 27 | 13 | .241 | .344 | .291 | 15 |
Top Returning Pitchers (with 2019 Stats)
| | | | | | | | | | |
| --- | --- | --- | --- | --- | --- | --- | --- | --- | --- |
| Player | W | L | IP | H | ER | BB | SO | ERA | WHIP |
| Kevin Schoenberger (Sr., RHP) | 6 | 1 | 49 | 44 | 8 | 8 | 33 | 1.14 | 1.06 |
| Nick Callano (Jr., RHP) | 4 | 1 | 29 | 34 | 13 | 10 | 30 | 3.14 | 1.52 |
Big Shoes to Fill: Nick Vaughn, C
Max Winters was a four-year starter for the Spartans with three of those years coming as the team's catcher. He was one of the Shore's best both as a hitter and on the defensive side, but he was also a great leader for Ocean as well. While the bat and glove won't be here, his work in helping Nick Vaughn along last year should remain as Vaughn takes over the everyday catching duties – either later this spring or in 2021.
Top Newcomer: George Krenkel, OF/RHP
Ocean has leaned on freshmen in the past but it is up to the newcomers to prove they are ready. Krenkel has the tools to do so immediately but it remains to be seen how a shortened season – which would likely come with a sentimental emphasis on the seniors even stronger than in most years – would impact the playing-time opportunity for a freshman in a position battle, even if it is a talented one.
X-Factors: Cole Kelly and Kevin D'Auria
Kelly and D'Auria both had productive seasons – Kelly with 22 RBI and D'Auria with 27 runs scored – but both also returned as seniors with room to blossom into All-Shore-caliber contributors. Kelly was focused on cutting his strikeout numbers and improving on his strike-zone discipline, while D'Auria also set out to make more contact and put his speed (15 stolen bases) to work. With D'Auria on base more and Kelly tapping into his power, Ocean's offense might not be missing a beat if it were playing right now.
More From Shore Sports Network