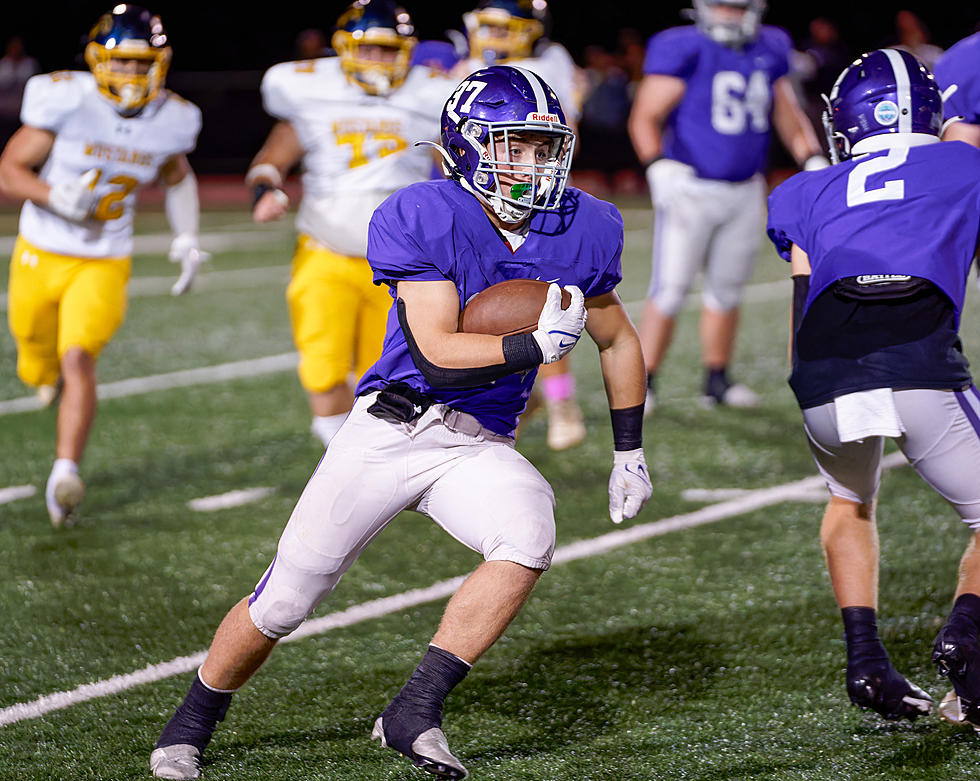 2023 NJSIAA South Jersey Group 2 Football Championship Preview: Rumson-FH vs. Haddonfield
Bob Badders | rpbphotography.com
SOUTH JERSEY GROUP 2 CHAMPIONSHIP
WHO: (2) Haddonfield (9-1) at (1) Rumson-Fair Haven (6-4)
WHEN: Friday, Nov. 10, 6 p.m.
WHERE: Borden Stadium – 74 Ridge Road, Rumson, NJ 07760
HADDONFIELD'S ROAD TO THE FINAL: Defeated Raritan, 31-7, in the quarterfinals; defeated Gloucester City, 17-7, in the semifinals.
RUMSON'S ROAD TO THE FINAL: Defeated Delaware Valley, 47-13, in the quarterfinals; defeated Haddon Heights, 28-7, in the semifinals.
HADDONFIELD'S BEST WINS: 24-10 over West Essex; 21-6 over Woodbury; 48-16 over Woodstown.
RUMSON'S BEST WINS: 24-6 over Middletown South; 24-3 over Marlboro.
PLAYOFF HISTORY: Rumson-Fair Haven has continued the greatest stretch of playoff success in Shore Conference history with its 10th straight appearance in a sectional final. The Bulldogs are the defending champions and reached the overall Group 2 final last season. They have won seven sectional titles, all of them coming since 2010, and are appearing in their 14th sectional final. They are 33-14 all time in the postseason across 21 playoff appearances…Haddonfield is on a great run that is very similar to Rumson, as the Bulldawgs have won all six of their sectional titles in program history since 2010. Their most recent final appearance came in 2021, when they beat another Shore Conference opponent, Raritan, 28-7, to win the Central Jersey Group 2 title. They are 29-12 all time in the playoffs.
Analysis: These programs are almost like mirror images of one another. They are both perennially in the hunt for sectional titles and have really risen to prominence in the last 13 years. They even have the same mascot, just spelled differently (Bulldogs vs. Bulldawgs).
Rumson has played arguably the toughest schedule of any Group 2 team in the state with games against three top 10 teams in New Jersey (Toms River North, Red Bank Catholic, Donovan Catholic). They also have played Central Jersey Group 2 finalist Point Boro, and have a win over South Jersey Group 5 finalist Marlboro.
Haddonfield's schedule skewed a little more toward Group I schools, but make no mistake, this is a program that has been underestimated in the past and picked off teams on the road by executing under pressure and limiting mistakes.
This is the first game all season where Rumson-Fair Haven will have its full lineup after a year filled with nagging injuries. The Bulldogs' passing attack under junior quarterback Owen O'Toole has rounded into form, and the running game has also picked up in the postseason.
Senior tight end Jackson Gallagher has been the go-to guy in the playoffs with back-to-back 100-yard receiving games. He is part of a deep receiving corps that includes wideouts Nick Rigby, Nick Thomas, Matteo Gangemi and Jordan Angstreich. O'Toole has thrown for 1,626 yards and 15 touchdowns, and he can hurt teams with intermediate throws on the run and deep shots.
Haddonfield junior linebacker Salvatore Bonizio is the one who needs to be accounted for up front with seven sacks. The Bulldawgs have also been able to turn teams over in the passing game, with 14 interceptions as a team, including three apiece for senior defensive backs Dawson Eliot and Charlie Klaus and freshman Luca Lentini. Senior linebacker Patrick Ryan also had two picks in the win over Gloucester in the semifinals.
The Rumson running back tandem of senior Alastair Orr and sophomore Kellen Murray has combined for nearly 1,000 yards. Murray had 121 yards rushing and Orr picked up 87 in the win over Haddon Heights in the semifinals, so the Bulldogs have shown they can lean on the run game in a big spot.
Haddonfield has not allowed more than 20 points in a game all season, and that was against Central Jersey Group 3 finalist Camden. In seven of their 10 games, they didn't allow more than a touchdown. If Rumson can score early, that can put the Bulldawgs on their heels a bit since their defense has been so dominant.
Haddonfield runs a similar offense to teams like Middletown South and Toms River North that Rumson has already faced, with quarterback Declan McCarthy often reading the end and deciding whether or not to keep it. He is a hard-nosed runner who will go right into the teeth of the defense as more of a power back than a shifty ballcarrier.
McCarthy throws the ball about 12 times a game, but he's effective when he does it, as he's piled up 1,141 yards and 11 touchdowns on an average of 14.6 yards per completion. He also spreads it around to four different guys, similar to the Rumson attack. Senior Dominic Hahn is a 1,000-yard rusher, while Klaus is also a threat as a runner and a receiver.
Rumson will have standout defensive lineman Cooper Bunnell (9.5 TFL) back after he missed two games with injury, which is a big lift to the run defense. Linebacker Reed Elsas patrols the middle with 100 tackles, including 8.5 for a loss.
It will be all about jamming up Haddonfield's run game early and putting McCarthy is obvious passing downs rather than letting him get good looks off play action. The Bulldogs have seen some of the state's most physical and explosive offenses, so it's hard to envision them getting muscled up front.
O'Toole needs to take care of the ball in the passing game and not give Haddonfield any short fields with interceptions after throwing 12 this season. All the lumps Rumson took against a relentless schedule were in preparation for games like this. The goal is to finish the job and win the overall Group 2 title, and this is the huge first step.
The pick: Rumson-FH 21, Haddonfield 7.
More From Shore Sports Network