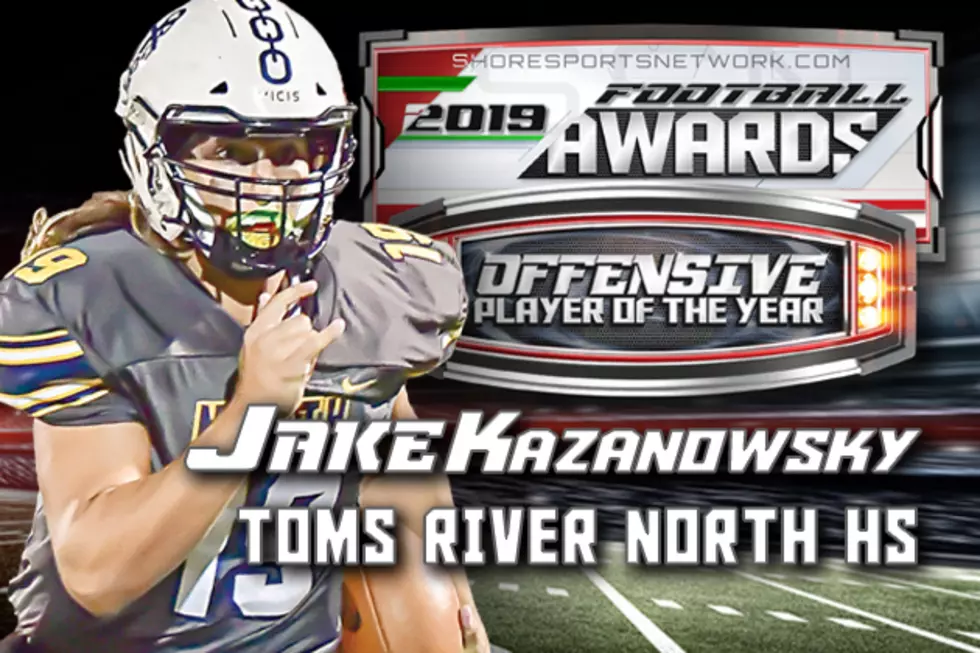 2019 Shore Sports Network Offensive Player of the Year: Toms River North's Jake Kazanowsky
Toms River North junior quarterback Jake Kazanowsky is the 2019 Shore Sports Network Offensive Player of the Year. (Photo by Richard O'Donnell, Artwork by Steve Meyer).

Enter your number to get our free mobile app
By all accounts, Jake Kazanowsky had a solid first season as Toms River North's starting quarterback in 2018, which culminated in him being a Shore Sports Network Third Team All-Shore selection. Mariners head coach Dave Oizerowitz knew Kazanowsky showed just a glimpse of his potential during that sophomore season, but more importantly, it was Kazanowsky who knew he had much more room to grow.
"Last year I didn't come in with a whole lot of quarterback experience and going from freshman year to sophomore year I didn't really put that much work into it," Kazanowsky said. "This year I really worked on gaining a lot of weight, being more durable and I worked with (quarterback coach) Tony Racioppii on my balance and my footwork."
The result of the attention to his craft was a great junior year in which he led the Shore Conference in passing yards and touchdowns for one of the top offenses in the area and helped the Mariners claim a division title. Toms River North played in the powerhouse American Division with the likes of Red Bank Catholic, Rumson-Fair Haven, Long Branch, Manalapan and Middletown South. RBC was the No. 1 team to start the year coming off an undefeated season, Long Branch was a two-time defending sectional champion and Rumson was also coming off a sectional title for the fifth time in six years. Toms River North wasn't high on many people's lists of championship contenders, but behind a high-octane offense spearheaded by Kazanowsky, the 2019 Shore Sports Network Offensive Player of the Year, the Mariners emerged as division champions.
"He's a guy who always wants to be better, he's his toughest critic and a tremendous competitor," Oizerowitz said. "Every offense is about what the quarterback can do and what he can't do, and then you tailor the offense around that. He can affect every part of the field with his arm and he understands coverages like a coach does. He's super smart and a great leader who has the utmost respect of the staff and his teammates. We think the world of him."
Kazanowsky threw for 2,144 yards and 23 touchdowns and was the only quarterback in the Shore to throw for 2,000 yards and 20 touchdowns. He led an offense that was third in the Shore averaging 32.5 points per game and averaged 350 yards per game, impressive numbers regardless and even more so when factoring in the teams Toms River North played.
As the saying goes, the 6-foot-2, 200-pound Kazanowsky can make all the throws, but his arm strength tells just part of the story. His 56 percent completion percentage doesn't suggest he's overly accurate, but it's a deceiving number considering the number of deep balls he throws. His accuracy on intermediate and deep routes was very good, giving his array of talented wide receivers opportunities to make big plays on every drive. His most impressive trait is his ability to read the field and his patience to go through his progressions. Most high school quarterbacks will stare down their first read and maybe check to their second option. Kazanowsky scans the field to make the correct throw regardless of who was supposed to be the No. 1 option. The statistics of Toms River North's wide receivers back that up. Zach Browne had 34 catches, Dominick Jacob had 25, Zach Goodale had 21 and Jaiden Fraser had 20. Three of them had at least 400 receiving yards and two more – Fraser and Ray Carlson – topped 250.
"The one thing about Kazanowsky is he will find the open guy," Oizerowitz said. "If we give him time he can spin it as good as anybody. He puts the ball right on the money."
Another impressive aspect of Kazanowsky's game is his ability to quickly move past mistakes. He's 'a bit of a gunslinger', Oizerowitz has said. He isn't afraid to take chances down the field but with that can come interceptions. During the Mariners' game against Rumson-Fair Haven Kazanowsky was intercepted three times but also tossed three touchdown passes, including an overtime touchdown in a thrilling 22-21 victory.
"One thing that turned me around about that was last year when I threw an interception and it really got in my head," Kazanowsky said. "One of our lineman, Cross Conlin, said 'Jake, you're in your own head and you can't do that. You have to get up'. That helped me this year knowing if I threw an interception I couldn't get down because that would bring the whole team down. Now if I throw an interception I find out what I did wrong and go out there and try to do better."
"Jake's a gutty guy," Oizerowitz said. "When the money is on the line there is not a better quarterback in the Shore."
He totaled 293 yards and three touchdowns in the win over Rumson and one week earlier threw for 257 yards and four touchdowns in a 42-40 win over Manalapan. In a wild 43-39 win over Long Branch that clinched the division title, Kazanowsky threw for 256 yards and four touchdowns, including two scores in the final three minutes. He averaged 194 yards and two touchdowns per game.
Toms River North's season came to an end in the semifinals of the Central Jersey Group 5 playoffs via a 19-14 defeat to Kingsway. It was a disappointing end to an otherwise successful season, but for Kazanowsky and the rest of next season's returners, it will serve as motivation for 2020.
"As soon as our weight room opens guys are going to be in the gym getting stronger," Kazanowsky said. "We're going to work harder, get to know the offense and defense better and get ready for next year."
Managing editor Bob Badders can be reached at bob.badders@townsquaremedia.com. Follow him on Twitter @Bob_Badders. Like Shore Sports Network on Facebook and subscribe to our YouTube channel for all the latest video highlights.
More From Shore Sports Network