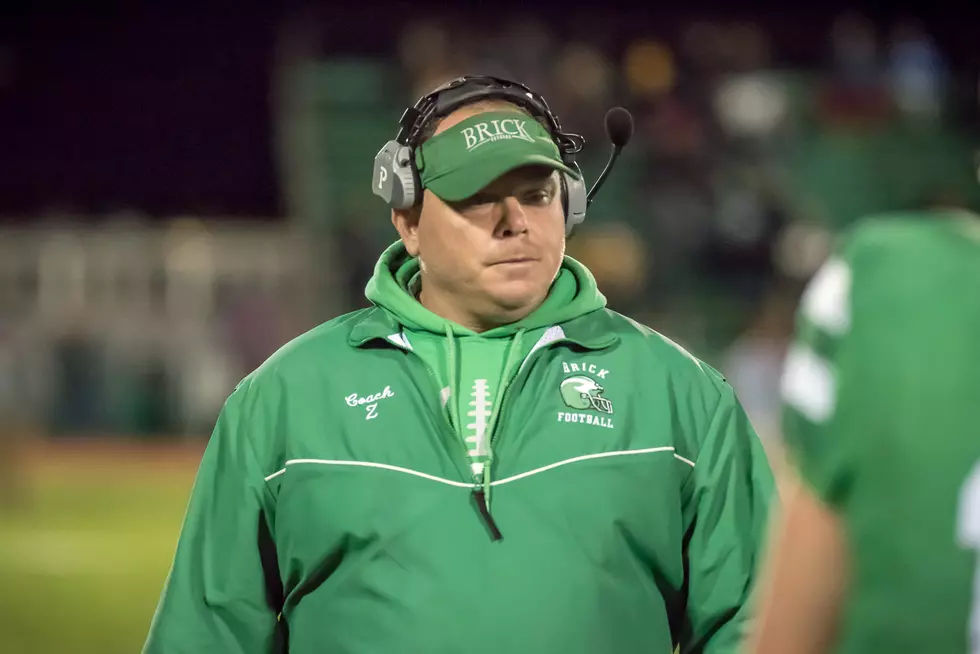 2019 All-Shore Gridiron Classic – Meet the Coaches: Ocean County's Len Zdanowicz
Photo by Richard O'Donnell.
As a former player and assistant coach at Brick Township High School, most of Len Zdanowicz's life has revolved around the Green Dragons' football program. Playing and coaching under the legendary Warren Wolf, Zdanowicz dreamed of a day when perhaps he would be the head coach at one of the Shore Conference's most storied programs.
That chance came four years ago, and in Zdanowicz's short time at the helm of the green and white, Brick has remained a championship contender and one of the top teams in the Shore Conference.
Now, Zdanowicz will take part in his eighth All-Shore Gridiron Classic and first as head coach when he leads Ocean County in the 42nd edition of New Jersey's longest-running high school football all-star game.
Zdanowicz will have his Brick staff with him to help guide the Ocean County all-stars, as well as Lakewood head coach L.J. Clark, Lakewood assistant Evan Baubles, Pinelands head coach Matt Fuller and Hall of Fame head coach Al Saner. The Dragons will be represented on the field by Tallmadge, Groschel, McGuigan, Piscope, Englehardt, lineman Andre Edgerton and running back/kicker Jake Wynkoop.
This past season, Brick went 8-3 and reached the NJSIAA Central Jersey Group 4 championship game behind an outstanding senior class. Senior linebacker Richie Tallmadge, senior quarterback/wide receiver/defensive back Jimmy Leblo and senior defensive back Mike McGuigan were each Shore Sports Network First Team All-Shore selections while senior offensive lineman Zach Piscope, senior wide receiver/defensive back Cole Groschel and senior defensive end Cory Englehardt were each Second Team All-Shore selections.
Tallmadge was named the Constitution Division co-Defensive Player of the Year with 176 tackles, 12 tackles for loss and two sacks. Leblo did a little bit of everything in running for a team-high 758 yards and 12 touchdowns, leading the team in receiving with 315 yards and six touchdowns on just 13 receptions and throwing for 187 yards and two touchdowns. He also made 76 tackles and tied for the Shore and state lead with seven interceptions. McGuigan also had a state-best seven interceptions to go along with 52 tackles. Englehardt made 102 tackles with 12 tackles for loss and five sacks while Groschel battled through injuries all season but still made impactful contributions on both sides of the ball. Piscope led a Brick offensive line that paved the way for Brick to rush for 2,093 yards and 26 touchdowns.
Brick's signature win was an impressive 42-14 victory over Middletown South in the Central Jersey Group 4 semifinals. The Dragons also had a pair of wins over Constitution Division champion Jackson Memorial. Brick had the No. 10 scoring offense in the Shore at 25.4 points per game and the No. 10 scoring defense at 12.3 points per game. The Dragons finished the season ranked No. 5 in the Shore Sports Network Top 10.
Brick also reached the Central Jersey Group 4 championship game in 2016 in Zdanowicz's second season. Zdanowicz is just the fourth coach in program history and has a 30-14 record in four seasons.
Zdanowicz is a 1990 graduate of Brick Township High School where he played offensive line and helped the Dragons capture the 1989 NJSIAA South Jersey Group 4 championship. He played collegiately at William Paterson University where he was a two-year captain and an All-New Jersey Athletic Conference selection in 1994 and 1995. Upon graduation from college in 1997, Zdanowicz returned to Brick where he served as an offensive and defensive line coach from 1997 to 2008. He was an assistant under the late Tim Osborn at Jackson Liberty in 2009 and 2010, returned to Brick as an assistant from 2011-2012 and was the offensive coordinator at Lakewood in 2014.
Managing editor Bob Badders can be reached at bob.badders@townsquaremedia.com. Follow him on Twitter @Bob_Badders. Like Shore Sports Network on Facebook and subscribe to our YouTube channel for all the latest video highlights.
More From Shore Sports Network