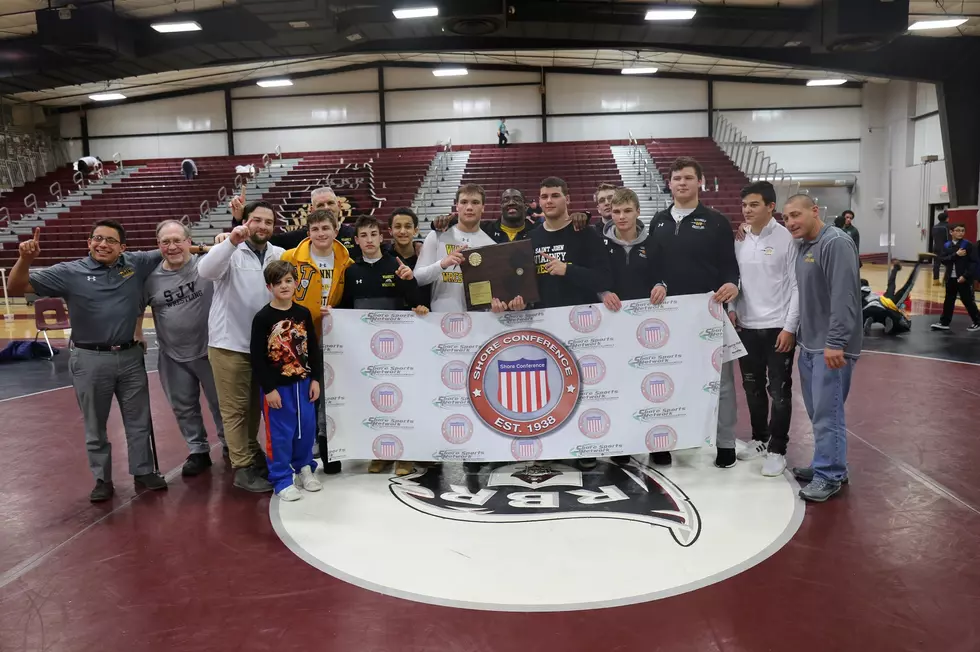 Wrestling – St. John Vianney Wins First Team Title at Inaugural Shore Conference Individual Championships
St. John Vianney captured the team title at the inaugural Shore Conference Individual Championships. (Photo by Steve Meyer).
LITTLE SILVER – With the eyes of the Shore Conference upon it, St. John Vianney showed everyone what its wrestling program has become by adding to an already unprecedented season.
With four champions, one runner-up and two third-place finishers the Lancers out-pointed Howell, 165.6-151.5, to win the team title at the inaugural Shore Conference Individual Championships on Saturday at Red Bank Regional High School. Freshman Dean Peterson (106), seniors Nick Caracappa (170) and Steven Giannios (220) and junior Paul Liseno (285) were among the 14 wrestlers who became the first individual SCT wrestling champions, while sophomore Tyler Pepe was second at 120 pounds and seniors Charles Peterson (132) and Josiah Walker (195) were victorious in their third-place bouts.
"I knew people were going to be looking at us because we're unproven to a lot of people," said St. John Vianney head coach Denny D'Andrea. "I told our kids every time people here "now wrestling for St. John Vianney…" they're going to look up to see who we are and what we can do."
D'Andrea is the first head coach to win the Shore Conference Tournament with two different schools. He led Manalapan to the SCT titles in 1981 and 1982 and was also a longtime assistant at Brick Memorial where the Mustangs captured 15 SCT titles during the dual-meet tournament format.
"It's the best," Giannios said. "At the beginning of the year, we knew we had something special and the whole past week of practices our coaches kept telling us we could win this thing. We have the firepower to beat just about anybody. Everybody works so hard and pushes each other and that's the main reason for our success."
Giannios claimed the 220-pound SCT championship in one of the most exciting bouts of the finals, defeating Donovan Catholic's Sal DiSalvo, 4-2, in sudden victory. Leading 2-1 after the first period, Giannios had to adjust his strategy after DiSalvo rode him out in the second period and then escaped in the third to tie the bout at two.
"He rode me out and that was kind of surprising, but I knew I needed to get a takedown and needed to do it for my team and my coaches," Giannios said. "I felt going to the third period I needed to keep pushing the pace, and I knew I could get it."
It looked like DiSalvo was going to be the one to win in thrilling fashion, however, when he countered a shot by Giannios and looked to score on a go-behind. Giannios countered with a whizzer and got to his feet before the two rolled to the mat. Giannios came out on top in the brief scramble to secure the takedown and the SCT championship.
"I was thinking I can't give this up," Giannios said.
"He wasn't going to go down without fighting," D'Andrea said.
Two bouts earlier Caracappa defeated Rumson-Fair Haven junior Nick Addison, 8-1, to take the 170-pound SCT title. Leading 3-1 in the second period, Caracappa put Addison to his back with a five-point move that opened up a big lead and put the match away. Addison was coming in confident after taking out the No. 1 seed, Howell's Shane Reitsma, 6-4, in the semifinals.
At 106 pounds Peterson remained undefeated with a 10-3 victory over Brick Memorial freshman Vincent Santaniello. Peterson was not tested all tournament as he recorded a technical fall and two major decisions leading up to the final before putting away Santaniello for the second time this season. Liseno also dominated in his run to the heavyweight SCT title with three wins by fall. He was leading Long Branch's Kevin Cerutti in the second period before Cerutti tweaked his left knee on a mat return and had to injury default at 2:03 of the bout.
At 120 pounds, Pepe lost an 8-6 decision to Christian Brothers Academy senior Rich Koehler in one of the best bouts of the finals. The lead changed several times before Koehler's takedown in the third period provided the winning score. Pepe was set to face Colts Neck's Joey King in the semifinals but King had to withdraw from the tournament with an illness, giving Pepe the spot in the championship bout.
With the tournament featuring no wrestlebacks other than the third-place bout for the two wrestlers who lose in the semifinals, reaching the final four was huge as far as accumulating team points. Charles Peterson held his seed by defeating Toms River North's Jack Oleske, 9-2, in the quarterfinals before falling to No. 1 seed and eventual champion Kyle Slendorn in the semifinals. Peterson rebounded with an 8-7 win over Lacey's Luke Moynihan to place third.
Walker did the same but had to come from the No. 7 seed at 195 pounds. He defeated Howell's Rashaun Hansford, 11-6, in the quarterfinals but fell to Freehold Township's Eric Quartey, 6-5 in ultimate tiebreaker, in the semifinals. He finished third with a 6-4 victory over Point Boro's Billy Borowsky.
"I'm proud of my kids, they wrestled very tough in this tournament," said St. John Vianney head coach Denny D'Andrea. "And the camaraderie of these kids..there's a lot more to coaching than just getting them tough. They have to want to be here, want to do it for their teammates, for themselves, for their parents, for their friends, and that's what we've gotten into them."
Managing editor Bob Badders can be reached at bob.badders@townsquaremedia.com. Follow him on Twitter @Bob_Badders. Like Shore Sports Network on Facebook and subscribe to our YouTube channel for all the latest video highlights.
More From Shore Sports Network