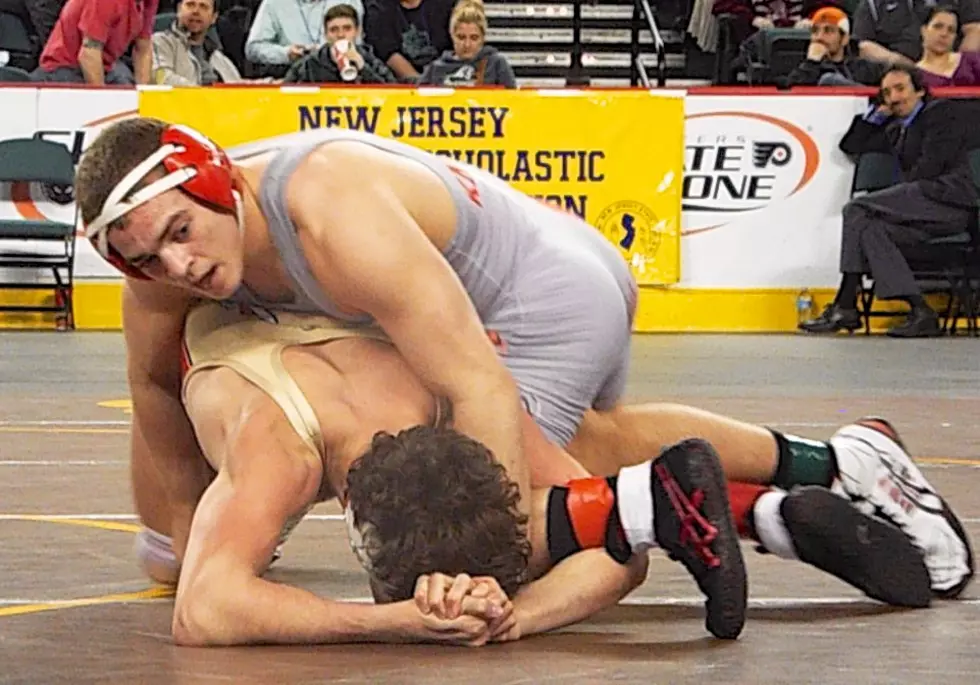 Wrestling – NJSIAA Individual Tournament: Depth Over Dominance
Wall sophomore Brett Donner defeated Bergen Catholic senior Jordan Pagano, 5-4, to place third at 160 pounds in the 2014 NJSIAA Individual Championships at Boardwalk Hall in Atlantic City.
Scroll to the bottom for video highlights
ATLANTIC CITY — For the first time in 44 years, the Shore Conference did not have a wrestler in the NJSIAA Individual Tournament state finals.
Initially, calling this season a 'down year' made sense. But when the final numbers were tallied, Region VI actually led all others with a tournament-best 18 medalists. With seven of those wrestlers returning next season along with several others that left Boardwalk Hall without a medal, the future is certainly bright for the Shore.
Jackson Liberty junior Mike Russo and Wall sophomore Brett Donner led the way for the Shore Conference, placing third at 120 and 160 pounds, respectively. For Russo it is his second state medal after finishing fourth last season at 106 pounds. Donner, a state qualifier as a freshman last season, medaled high in his second trip to become Wall's first state medalist since 2010.
Russo lost his semifinal bout on Saturday evening to Hanover Park junior Anthony Cefolo, the eventual 120-pound state champion, 2-1 in double overtime. He responded in dominant fashion on Sunday morning by pinning Delbarton's Nick Farro in the wrestleback semifinals before pinning Jefferson's Bryan Damon early in the second period to secure the third-place medal.
"It was really hard coming back from that," Russo said of his semifinal loss to Cefolo. "It was such a close match, and I really wanted to make it to the finals. But I got a really good night sleep, and I came in focused and ready to go.
"I was really ready for today and I made my wins convincing."
Russo's defeat at the hands of Cefolo stands as his only loss of the season. Russo had a 12-2 major decision over eighth-place finisher Joseph Ferinde of Nutley in the pre-quarterfinals and a 5-2 victory over Damon in the quarterfinals before falling to Cefolo. He scored bonus points in three of his four victories and finished the season 39-1. He has 117 career victories, which gives him a shot at eclipsing the Shore Conference wins record of 158 held by Raritan's Dan Seidenberg.
"I came close this year, so it's tough," Russo said. "I don't train to lose. I wanted to be in the finals, but I have one more year and I believe I'm right there."
Like Russo, Donner entered the tournament as the Shore's best chance at having a finalist. Donner got the matchup he was looking for in the quarterfinals, a rematch with Riverside's Christian Stackhouse, who had handed Donner his only loss with a controversial overtime decision in the finals of the Mustang Classic in late December. Donner couldn't get the revenge he craved, however, falling 5-2 to Stackhouse to be bounced into the wrestleback rounds.
Donner was able to refocus and win four straight bouts to finish third. He won a 20-7 major decision over Egg Harbor's James Ingersol, defeated Jackson Memorial's T.J. Liquori, 4-3, and topped Howell's Joey Schultz, 3-1, to reach the third-place bout against Bergen Catholic senior Jordan Pagano. All along he hoped to get a third crack at Stackhouse, but Pagano won 9-8 in the wrestleback semifinals to send Stackhouse into the fifth-place bout vs. Schultz.
Pagano grabbed a 2-0 lead with a takedown early in the bout, and pushed the lead to 3-0 in the second period. Donner was able to secure a takedown at the buzzer to end the second period, and his escape in the third tied the bout at three. He took Pagano down with under a minute left in the bout and held on for the 5-4 win.
"It's awesome to finish like this," Donner said. "I lost in the quarterfinals to a kid I thought I could beat. I came out flat and kind of got caught in the moment, but I brushed it off and knew I had a long way to go (for third)."
Last season Donner qualified for the state tournament with a third-place Region VI finish at 152 pounds. This season he was dominant all season en route to winning his first region title.
"Last year in my head I wanted to place, but deep down inside I was just happy to be here," Donner said. "This year when I won my region title it was like, 'Ok, I made it here, now it's time to go to work.' It was a whole different mindset this year."
Like Russo, Donner will be considered a state title contender next season when he begins his junior season.
"This is a big year, I kind of just broke through," Donner said. "Last year I had close matches with good guys but didn't beat them. Now I really can set the bar higher next year and go for a state title."
The Shore had 10 wrestlers competing in the fifth-place bouts, with Christian Brothers Academy sophomore Sebastian Rivera taking fifth at 106, Southern senior Zach Wilhelm finishing fifth at 145, Brick Memorial senior Nick Costa taking fifth at 182, CBA senior Mike Oxley placing fifth at 195 and Raritan senior Pat Toal earning fifth at heavyweight.
Rivera lost to eventual champion Ty Agaisse of Delbarton, 3-0 in the quarterfinals to fall into the wrestleback rounds. Once there he defeated Don Bosco Prep's Evan DeLuise, 5-3, to clinch a top-eight finish. He then defeated St. Joseph's (Montvale) Jonathan Tropea, 14-7, to secure a top-six finish. He was defeated by Steinert's Brandon Cray, 10-7, to get bumped into the fifth-place bout, where he pinned Morris Knolls' Garrett O'Shea in 1:10.
"I thought I had nothing to lose there (against Agaisse),"  Rivera said. "He's one of the top kids in the nation, and I wrestled a great match - almost had a takedown - and came into the wrestlebacks with good confidence."
Rivera finished this season with a 40-3 record just one year after going just 3-8 as a freshman. The biggest problem during his freshman season was the fact he weighed just 94 pounds.
"I thought last year I could have accomplished this if I weighed more," Rivera said. "This year I had the weight and everything was aligned, and here we are."
Wilhelm concluded his career at Southern with a bookend state medal to go along with his eighth-place finish at 112 as a freshman. After getting pinned by Clearview's John VanBrill in the quarterfinals, Wilhelm edged Bound Brook's Sean Glasgow, 4-2 in sudden victory, to clinch a spot on the medal stand. He then defeated Brick Memorial's Alec Donovan 6-3 to reach top-six status before falling to Delbarton's Dan Reed via pin. In the fifth-place bout, Wilhelm edged Westfield's Colin Barber, 6-4.
"I'm really satisfied," Wilhelm said. "I wish my consi semis match went a little different. I was winning and tried to hit a funk roll but got put to my back, but I came back and took fifth."
After finishing eighth in the state as a freshman, Wilhelm didn't make it out of the region tournament during his sophomore and junior seasons. This season he made up for all that in leading the Rams to the Class A South division title, the South Jersey Group IV sectional title and a spot in the Group IV final. He also won his first region title by beating Donovan, who was undefeated at the time and had previously won a matchup between the two in a dual meet.
"I've never won my final match before, ever, so it's a pretty good feeling," Wilhelm said.
Finishing sixth were Freehold Township senior Nick DePierro at 113, Howell sophomore Kris Lindemann at 132, Howell senior Joey Schultz at 160, Keansburg junior Tyree Sutton at 195 and Brick Memorial senior Tyler Poling at 220.
Sutton fell in the semifinals, 3-1, to eventual champion Anthony Cassar of Montgomery. Sutton then lost his next two to finish sixth, but he stands as Keansburg's first state medalist in program history. He finished the season 37-6 and will be in position next season to become Keansburg's first region champion and make a run at a state title.
An additional six wrestlers were in the seventh-place bouts. Colts Neck senior Nick Ottaviano took seventh at 126, as did Brick Memorial junior Alec Donovan at 145, Brick junior Kyle Wojtaszek at 152 and Red Bank Catholic senior Shawn McCord at 220.
McCord is Red Bank Catholic's first state medalist since Bill Herchakowski finished seventh/eighth at 141 pounds in 1979. He is also just the third Casey to medal in the state tournament. His 4-1 victory over Moorestown's Tyreek Smith for seventh made him the program's all-time wins leader with 94.
Finishing eighth were Jackson Liberty senior T.J. Liquori at 160 and Southern senior Gerardo Jorge at 170.
Brick Memorial led the Shore with three medalists while Southern, Howell, CBA and Jackson Liberty each finished with two medalists. Region VI had a medalist in 13 of the 14 weight classes, with 138 pounds being the only podium that didn't include a Shore Conference wrestler.
106 3rd-place: Sebastian Rivera (CBA) p. Garrett O'Shea (Morris Knolls)
[onescreen item="5221787"]
120 3rd-place: Mike Russo (Jackson Liberty) p. Garrett O'Shea (Morris Knolls)
[onescreen item="5221788"]
145 5th-place: Zach Wilhelm (Southern) d. Colin Barber (Westfield) 6-4
[onescreen item="5221789"]
160 3rd-place: Brett Donner (Wall) d. Jordan Pagano (Bergen Catholic) 5-4
[onescreen item="5221794"]
195 5th-place: Mike Oxley (CBA) d. Tyree Sutton (Keansburg) 2-1
[onescreen item="5221793"]
Hwt 5th-place: Pat Toal (Raritan) d. Andrew Pacheco (Warren Hills) 4-3
[onescreen item="5221795"]
More From Shore Sports Network