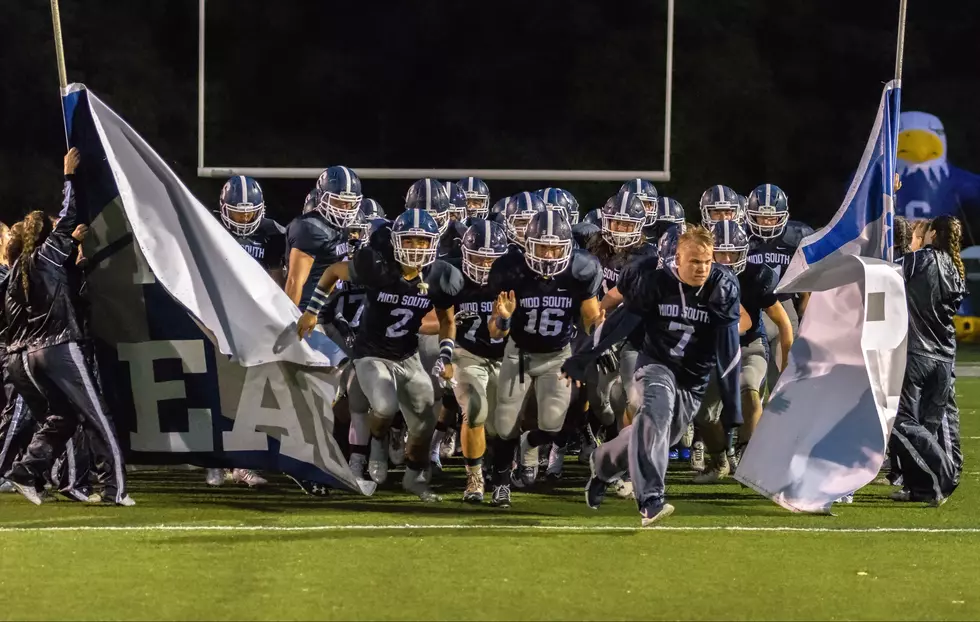 What to Watch For: Week 2 Football Preview
Photo by Robert Samuels.
After an eventful Week 1, the stage is set for the second full week of Shore Conference football action.
There are no matchups between teams ranked in the Shore Sports Network Top 10but there are several key divisional matchups that could force more changes to the rankings next week. This is the week where the favorites will begin to emerge and, in some cases, can gain the inside track toward a division championship.
Let's get right to what to watch for in our Week 2 preview.
No. 10 Jackson Memorial welcomes Wall to John. J. Munley Field on Friday night for an important Constitution Division matchup between teams that won their season openers. It's also our Jersey Mike's Game of the Week and will be broadcast live on 92.7 WOBM-FM and also streamed live on ShoreSportsNetwork.com.
If we ranked 11 teams Wall would be No. 11, so even though this isn't technically a top-10 matchup it's as close as it gets. The Crimson Knights are coming off a 44-0 victory over Lakewood in Week 1 in which they dominated on offense, defense and special teams.
Senior quarterback Dylan Richey ran for 81 yards and a touchdown and also threw for 69 yards while wide receiver/defensive back Teddy Sharkey had a touchdown run and an interception return for a touchdown. Promising sophomore Casey Larkin ran for 96 yards and a touchdown on just six carries and also made a team-high seven tackles on defense. Logan Peters blocked a punt that Connor Malloy recovered for a touchdown, Charlie Sasso recorded a safety and Frankie Passantino added a touchdown run.
Wall showcased its versatility in its power spread offense with multiple players having an impact, and they'll look to do the same on Friday night against Jackson. The Crimson Knights also have one of the better tight ends in the Shore in Tanner Powers, so he's another weapon which teams have to account for.
Jackson Memorial also enters Week 2 coming off a shutout victory as they blanked Southern, 14-0, to start the season 1-0. Senior running back Leo Shimonovich ran for a pair of touchdowns to give the Jags the only points they would need and senior linebacker Joe Maffei made 11 tackles to lead the defensive effort.
This is certainly a separation game pitting the two teams would look like the class of the division, but Lacey remains a factor, especially if the Lions win on Saturday and improve to 3-0. It wouldn't be surprising to look back at the end of the season and see this was the game that decided the Constitution Division championship.
Jackson Memorial historian Jim Colbert passed along some tremendous information regarding the minimal history between the Jaguars and Crimson Knights. The teams have met just four times and have not squared off since 1967. Wall holds a 4-0 lead in the all-time series, including a 68-0 win during Jackson Memorial's inaugural season in 1964. The Jaguars fielded a team with no senior class that season as the seniors still attended Lakewood High School. The loss stands as the worst defeat in program history. Wall is one of just seven Shore Conference programs Jackson Memorial has never beaten.
After playing each other every year from 2010 through 2015 as members of the Shore Conference's Class A North division, Manalapan and Middletown South will meet once again now that both are in the new-look American Division.
The Braves went 5-1 during that stretch with the lone Middletown South victory coming during the Eagles' 12-0 championship season of 2015. Manalapan has been one of the Shore's best programs over the past eight seasons with a 79-15 record, seven division titles and the 2015 NJSIAA Central Jersey Group 5 sectional title, the program's first-ever state championship.
The Braves are in transition mode this season after losing a great 2018 senior class, including record-breaking running back Naim Mayfield. Manalapan saw its 16-game Shore Conference winning streak come to an end in Week 1 when Toms River North came away with a stunning 15-14 win. The Braves took a 14-7 lead with 46 seconds left in the fourth quarter, but Toms River North returned the ensuing kickoff for a touchdown and then successfully executed a 2-point conversion pass to take the lead.
Manalapan's running game produced a pair of 100-yard rushers as senior Dale Sieczkowski rumbled for 129 yards and a touchdown on 19 carries and junior Nico Santorelli hit 100 yards on the nose and also scored a touchdown on just six carries. Santorelli's 74-yard run in the fourth quarter set up the touchdown which gave Manalapan a 14-7 lead. The box score doesn't paint a pretty picture for junior quarterback Sean Kehley, who finished 4 of 12 for 70 yards and an interception and was also sacked four times. Kehley, however, was victimized by several dropped passes that squashed some promising Manalapan drives.
Manalapan's defense allowed only one touchdown and was led by linebackers Tyler Cimniecki (17 tackles), Alex Claro (14 tackles, 2 for loss), Matt Benedetti (12 tackles, one for loss) and safety Nick Marzo (12 tackles).
Middletown South, which is ranked No. 8 in the SSN Top 10, opened its season in Week 0 and took a lopsided 62-14 loss at the hands of Pennsylvania powerhouse Coatesville. The Eagles return to the Shore saw them dominate Freehold Township in a 37-0 victory. Senior quarterback Trevor Brey ran for 85 yards and three touchdowns and also threw for 120 yards and a touchdown, Chris Fleming added a touchdown run and Middletown South's multiple-I/option offense got into gear.
Defensively, Middletown South's defense held Freehold Township's Air Raid offense to just over 100 yards. Senior linebacker Matt Tardy was a force with seven tackles, three sacks and a safety while also catching a 14-yard touchdown pass.
Having already lost to Toms River North, Manalapan needs a win Friday night if it hopes to eventually win its eighth division title in nine years. A Braves win would also keep the division race fairly wide open. A Middletown South win gives the Braves the inside track along with Toms River North.
When No. 4 Brick travels to Holmdel on Friday night to take on St. John Vianney, the circumstances surrounding the game will be unlike what anyone would have predicted in the preseason.
St. John Vianney began the season with a 38-game Shore Conference winning streak and as the No. 2 team in the Shore. A 41-14 loss to top-ranked Red Bank Catholic in Week 0 ended that streak and a 41-6 blowout loss at the hands of Rumson-Fair Haven dropped the Lancers to 0-2. Given RBC and Rumson are two of the best teams in the Shore, the 0-2 start itself is not shocking, it's the fact the Lancers have not been competitive in either game. On top of that, offensive coordinator Charlie Rogers was fired by the school due to a scandal involving a threatening voicemail left to the parent of a youth football player.
Brick, on the other hand, opened its season in Week 1 with a resounding 30-7 victory over archrival Brick Memorial. Brick's defense was tremendous in allowing just 130 yards of offense and one touchdown and was led by senior linebacker Rich Tallmadge, who had 16 tackles and returned a fumble for a touchdown. Quarterback Jimmy Leblo ran for 94 yards and a touchdown and also caught a touchdown pass from junior Anthony Prato. Senior Jake Wynkoop added a touchdown run and Dylan DeAlmeida and Jake Weatherspool combined to record a safety.
For St. John Vianney, time is running out for it to turn its season around. The schedule is relentless in the Colonial Division and falling to 0-3 could bury them. Brick is riding high off its sixth straight win over Brick Memorial and has revenge on its mind after losing 42-0 to St. John Vianney last season and 21-14 in overtime in 2016.
An under-the-radar matchup on Friday night pits Barnegat and Shore Regional in a Patriot Division showdown. The two teams met for the first time in 2016 with Shore earning a 41-28 victory, but the Bengals evened the series last season with a 23-14 win.
Shore is coming off a 31-0 shutout over Pinelands in which senior quarterback Gil Goldsmith threw for 109 yards and two touchdowns and ran for 65 yards and a touchdown. The Blue Devils' multi-pronged Delaware Wing-T rushing attack was on display with Goldsmith and running back's Terry Carlstrom (43 yards on five carries) and Shane McLaughlin (30 yards and a TD on four carries), and they did so without last year's leading rusher, Jack McCrae.
More impressive was Shore's big-play passing game. Carlstrom hauled in all four of Goldsmith's passes for 109 yards and two touchdowns, including a 48-yard score. If Shore can consistently make big plays through the air in conjunction with its usually-potent rushing attack the Blue Devils will be a load to handle.
Barnegat earned a 20-6 victory over Jackson Liberty to open its season. Senior running back Charlie Cotton ran for 88 yards and a touchdown, senior quarterback Brian Finucan threw for 11 yards and a touchdown to junior wideout Devyn DeFilipo and senior Brian Ewan added a 35-yard touchdown run. Ewan was also a force on defense with 13 tackles, including two for loss, plus a sack from his middle linebacker position.
No. 2-ranked Mater Dei may be the overwhelming favorite in the division but this is a chance for both Shore and Barnegat to prove they are the Seraphs' main challenger. The winner will also bolster its resume as a potential top-10 team down the line.
No. 7 Toms River North at Howell, 6:30 p.m.: The Mariners are riding high after their thrilling 15-14 win over Manalapan and find themselves ranked in the top 10 just one game removed from going 1-9 last season. Howell also enters off a win after defeating Central, 21-12, last week. The winner emerges as a division title contender.
Freehold Township at Central, 7 p.m.: The host Golden Eagles are 0-2 and looking to get into the win column while the Patriots and their Air Raid passing attack will try to rebound after a 37-0 loss to Middletown South.
Middletown North at No. 3 Rumson-Fair Haven, 7 p.m.: The Lions were ranked to start the season but had no answer for Freehold quarterback Matt Krauss (474 total yards) in a 22-20 loss to the Colonials. Rumson had a smashing debut in a 43-6 wipeout of St. John Vianney in which senior fullback Alex Maldjian scored a career-high five touchdowns.
Ocean at Toms River East, 7 p.m.: Both teams will look to pick up their first win of the season. Ocean lost a tight one to Lacey, 14-12, in Week 0 before absorbing a 40-7 defeat at the hands of top-ranked Red Bank Catholic last week. Toms River East was overpowered by No. 5 Long Branch, 41-6, in its first game.
Toms River South at No. 1 Red Bank Catholic: The Caseys will look to move to 3-0 against the Indians, who lost their season opener to Red Bank, 21-6
Colts Neck at Point Boro, 7 p.m.: The Cougars gave head coach Matt Ahearn his first career victory with a dramatic 8-7 win over Monmouth. Point Boro lost a shootout to No. 6 Manasquan, 42-28, but was impressive with a new cast of starters and will try to get head coach Brian Staub his first career win.
No. 6 Manasquan at Neptune, 7 p.m.: The Warriors' offense led the way in a 42-28 win over Point Boro last week as Canyon Birch ran for 176 yards and four touchdowns, fullback Rashid Tuddles added 75 yards and two touchdowns and quarterback Ryan O'Leary made several clutch throws. They'll try to buckle down on defense against a Neptune team mired in an 11-game losing streak after a 13-3 loss to Raritan in Week 1.
No. 3 Mater Dei at Jackson Liberty, 7 p.m.: The Seraphs (2-0) are rolling on both sides of the ball and are the heavy favorite when they had to Jackson to face the Lions, who fell to Barnegat, 20-6, last week.
Keansburg at Asbury Park, 6 p.m.: The Blue Bishops open their season by hosting the Titans, who lost to Donovan Catholic, 33-6, in Week 1.
Manchester at Point Beach, 7 p.m.: The Hawks lost their season opener to Holmdel, 43-6, and Point Beach suffered a 14-0 setback to Keyport in Week 1. Both will try to avoid an 0-2 start.
Red Bank at Holmdel, 7 p.m.: An interesting nondivisional game between two 1-0 teams. Holmdel has its sights set on the title in the National Division and started strong with a 43-6 win over Manchester. Red Bank used big plays by Nigel Mitchell, Makai Mickens and Kashaun Turner to turn away Toms River South, 21-6. 
Brick Memorial at No. 9 Freehold, 1 p.m.: The Colonials knocked off Middletown North, 22-20, to earn a spot in the Top 10 as senior quarterback Matt Krauss went off with 305 yards rushing, 169 yards passing and three total touchdowns. Brick Memorial fell to rival Brick, 30-7, following a Week 0 victory over Central. A win by Freehold pegs them as a division title contender while a Brick Memorial win gets the Mustangs back on track.
Lakewood at Marlboro, noon: Both teams are looking to get into the win column as the visiting Piners fell to Wall, 44-0, and Marlboro lost to Lacey, 24-14.
Southern at Lacey, 1 p.m.: The Lions have several new starters but have begun the season strong with wins over Ocean and Marlboro. Southern will try to avoid an 0-2 start after falling to Jackson Memorial, 14-0, in Week 1.
Keyport at Donovan Catholic, 1 p.m. at Central: This game was supposed to be a home game for Donovan on its new turf field, but weather-related construction delays have forced it to be moved to Central. The Griffins are trying to start 2-0 for the first time since 2008. Keyport is coming in off a 14-0 shutout of Point Beach and will look to continue its turnaround from a 1-9 season.
Matawan at Pinelands, 1 p.m. at Little Egg Harbor Sports Complex: The Wildcats may not have their home field available but they will get a home game this Saturday when they take on the Huskies at the Little Egg Harbor Sports Complex. The 'Toll Bowl' has the Huskies traveling from exit 117 on the Garden State Parkway to exit 58 and the southernmost reaches of Ocean County. Pinelands is 0-2 with losses to No. 2 Mater Dei and Shore while Matawan is coming off a 35-0 loss to No. 2 Mater Dei.
Managing editor Bob Badders can be reached at bob.badders@townsquaremedia.com. Follow him on Twitter @Bob_Badders. Like Shore Sports Network on Facebook and subscribe to our YouTube channel for all the latest video highlights.