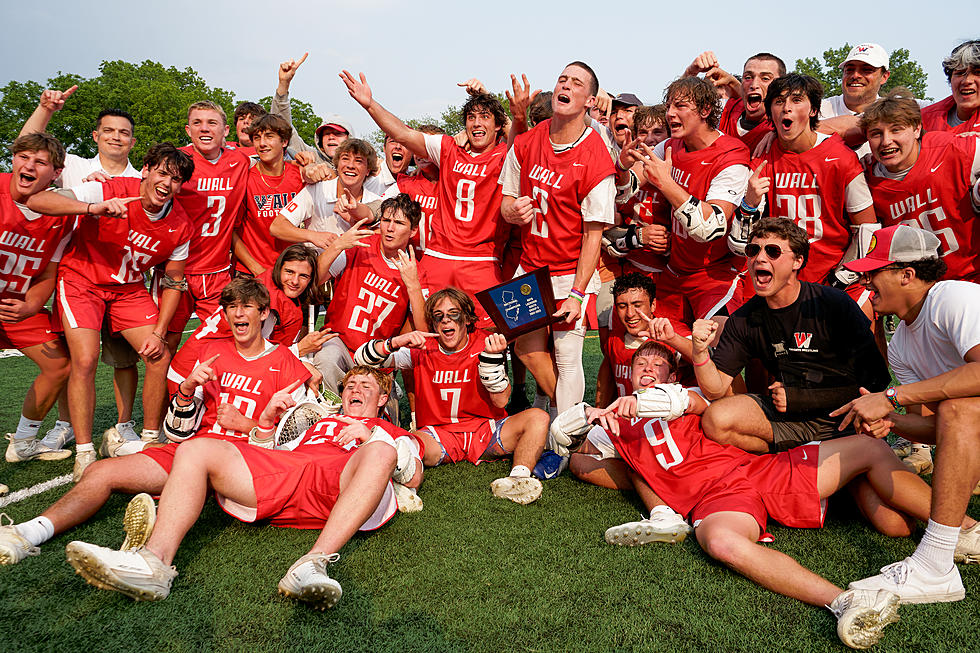 Wall wins dramatic showdown with Manasquan to secure first sectional title in program history
Robert Badders

MANASQUAN -- One by one they sprinted back to the field to continue the party, soaking wet from head to toe after a celebratory plunge into Mac's Pond. The scene was one of pure jubilation with players hugging one another and fans storming the field. It was an appropriate celebration for a Wall boys lacrosse team that finally broke through to make program history.
Junior midfielder Shea Brennan scored with 3:39 left in regulation to provide the eventual game-winning goal and junior goalie Lucas Seelinger made one final save in the closing minute as the Crimson Knights defeated archival Manasquan, 10-9, to secure the NJSIAA South Group 2 state sectional title for the first time in program history.
Manasquan closed the gap to 10-9 on goals by James Farinacci and Blake Gorski less than a minute apart with 2:12 on the clock and Wall hurt itself with late penalties, but the Crimson Knights leaned on their defense and Seelinger to shut the door and clinch their first sectional championship.
Sophomore face-off midfielder Michael Hoarle was outstanding for Wall with three goals and a 17-for-21 performance at the X, Seelinger made eight saves, and senior Connor Moore scored three times. Brennan scored twice, senior attackman John McCurry had a goal and an assist, and junior attackman Jack Meyer also had a goal and an assist.
Senior midfielder Blake Gorski scored three goals and junior goalie Nick Bounassi made 14 saves for Manasquan. Senior midfielder James Farinacci and junior midfielder Brody Moly each scored twice, senior attackman Matt Porazzo had a goal and an assist, and sophomore attackman Brandon Kunz scored once.
Wall will play Summit in the Group 2 state championship game at 4 p.m. on Friday at Hopewell Valley.
Hoarle won the opening face-off, sprinted to the net, and scored seven seconds into the game and Wall was on its way from there. The Knights opened a 4-1 lead after the first quarter and were up 7-1 at one point before taking a 7-3 lead into halftime. Manasquan closed the gap to 7-4 but Wall immediately responded on a goal by Hoarle to go up 8-4. The lead was 9-5 heading into the fourth quarter where Manasquan drew within 9-7 on goals by Kunz and Gorski. Brennan scored less than a minute later to make it 10-7 and set up the frantic final three and a half minutes.
More From Shore Sports Network