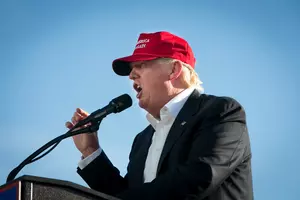 Trump stiffed hundreds of workers and contractors in New Jersey, report says
Donald Trump (Getty Images)
Donald Trump, the billionaire presidential candidate who likes to complain about national leaders making bad deals all the time, has faced his fair share of criticism for reneging on his own business deals.
Hundreds of those workers and contractors were in New Jersey, where Trump has owned casinos and continues to operate golf clubs.
Among the Garden State businesses and workers allegedly stiffed by Trump:
— A cabinet-making firm that says Trump didn't pay a $83,600 bill for work during the 1990s at Harrah's at Trump Plaza in Atlantic City
— Atlantic Plate Glass Co. said it was owed $1.5 million for work at the defunct Trump Taj Mahal casino in Atlantic City.
— 253 subcontractors on the Taj Mahal casino said they were owed $69.5 million
— Trump Plaza in Atlantic City was hit with 21 violations of the Fair Labor Standards Act since 2005 for failing to pay overtime or minimum wage.
In an interview with the newspaper, Trump said he'll "deduct from their contract, absolutely," if a contractor doesn't do a good job.
"That's what the country should be doing," he's quoted as saying.
Trump's current business ventures in New Jersey include two residential towers in Jersey City and three golf courses. Trump's four Atlantic City hotels and casinos have all either closed or been sold.
More From Shore Sports Network