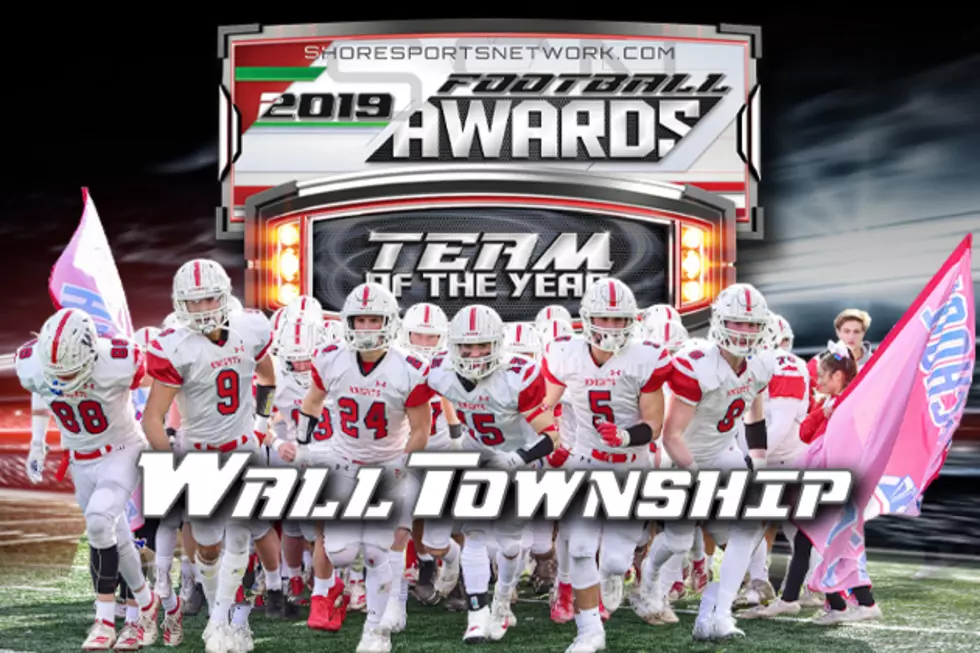 The Jeep Store Final Shore Conference Football Top 10
Photo by Richard O'Donnell. Artwork by Steve Meyer.

Enter your number to get our free mobile app
The 2019 high school football season is over, and with that comes the final Shore Sports Network/The Jeep Store Football Top 10.
With a large group of returning standouts from a solid 2018 season Wall was already expected to be among the best teams in the Shore Conference this year, but the Crimson Knights went above and beyond expectations to turn in a special season. Wall opened eyes around the Shore with a Week 1 win over public-school powerhouse Rumson-Fair Haven. Then in Week 5, Wall shocked the Shore by taking down Mater Dei Prep in a game most had the Seraphs as the heavy favorite.
After that, Wall ascended to the top spot in the SSN Top 10 and stayed there the rest of the way. Wall became the first team in school history to be 12-0, defeating Rumson, 14-13, to win the NJSIAA Central Jersey Group 3 state sectional championship and remain undefeated. The Knights' one and only blemish of the year came in in the season finale, a tough 12-7 loss to a stacked Woodrow Wilson team in the South Group 3 regional championship where Wall played without its top playmaker, standout junior Casey Larkin.
The defeat barely detracted from Wall's tremendous season, however. The only thing the Knights didn't do in 2019 was become the first Shore Conference team to finish 13-0, and with a great group of returning players led by Larkin, Logan Peters, Charlie Sasso, Collin Riley and Grant Puharic that mark will be their sights in 2020.
1. Wall (12-1)
The Crimson Knights won the Colonial Division title and the Central Jersey Group 3 sectional title, starting 12-0 before losing to Woodrow Wilson, 12-7, in the South Group 3 regional final. Along the way, Wall defeated three teams ranked in the top 10: Non-Public Group 3 finalist Mater Dei Prep, Central Jersey Group 4 finalist Jackson Memorial and Central Jersey Group 3 finalist Rumson-Fair Haven (twice). They are the first team in school history to win 12 games and with a fantastic core of starters returning next season should again be among the best public-school teams in New Jersey.
2. Toms River North (9-2)
The Mariners came out on top as the champion in the brutal American Division that has five of its six teams ranked in the final top 10. Toms River North owns wins over Manalapan, Middletown South, Rumson and Toms River East with its only conference loss coming to Red Bank Catholic. An electric offense led by the SSN Offensive Player of the Year, junior quarterback Jake Kazanowsky, averaged 32.5 points per game, the third-highest mark in the Shore. With players like Kazanowsky, wide receivers Zach Goodale, Zach Browne and Jaiden Fraser, running back Jordan Grey and linebacker John O'Donnell returning next season the Mariners should be a top team again.
3. Mater Dei Prep (8-4)
The Seraphs reached the Non-Public Group 3 championship game, the fourth straight year they've reached a state final, before falling to DePaul in the title game. Mater Dei was second to Wall in the Colonial Division and had wins over three ranked teams – Jackson Memorial, Manalapan and Red Bank Catholic – plus a win over St. John Vianney. Its only other conference loss came against Rumson-Fair Haven. Mater Dei will lose several standouts to graduation including running back Malik Ingram, defensive back/wide receiver Clarence Lewis, defensive end Khurram Simpson, do-it-all threat Isaiah Noguera and lineman Tajay Passmore but has some excellent returners in defensive end Dominick Giudice, quarterback Alex Brown and receivers Naran Buntin and Kyree Drake as it looks to continue its strong play in 2020.
4. Jackson Memorial (8-3) 
The Jaguars reached the Central Jersey Group 4 final where they fell to Hammonton. They were second in the Colonial Division behind Wall and Mater Dei, which were the only two conference teams to defeat them. Jackson scored wins over Rumson-Fair Haven and Toms River East and also had a victory over St. John Vianney. Jackson loses a lot to graduation, led by SSN Defensive Player of the year Collin McCarthy along with wide receivers Zack Novak and Jake McKown, linebackers Brian Zapata and Nic Ford, lineman Sean Laverty and quarterback Lonnie Cebulski, but returns standout running back Will Towns, linebacker Tyronn Blackwell, defensive backs Wally Doman and Jabari Lofton and tight end/defensive tackle Jaden Persichilli for 2020.
5. Rumson-Fair Haven (6-5) 
It was a down year by the lofty standards set by the Bulldogs, but in the end they still found themselves playing in a state sectional final for the seventh year in a row where they fell to Wall, 14-13. The American Division victimized every team in some way and Rumson's brutal schedule handed them their most losses since 1999. The Bulldogs had victories over Red Bank Catholic, Manalapan and Mater Dei and losses to Middletown South, Jackson Memorial, Toms River North and Wall (twice). Rumson was the most difficult team to rank because of those results. Standouts graduating this spring include linebacker Gordon Forsyth, quarterback Collin Coles, running back Peter Crowley and defensive back Drew Frankel. The Bulldogs bring back a lot of talented contributors led by safety Ryan Ruane, running back John Volker, wide receiver Patrick Jamin, offensive lineman James Smith, linebacker John Lista, defensive linemen Von Factor, Jack Kelly and Aidan Moriarty and more as they look to return to form in 2020.
6. Manalapan (5-4) 
The Braves had wins over Red Bank Catholic and Middletown South to highlight a solid season in the rough and tumble American Division. The Braves conference losses were to Toms River North, Mater Dei and Rumson-Fair Haven. Manalapan will experience critical losses to graduation with running back Andre Johnson, quarterback Sean Kehley, tight end/linebacker Matt Benedetti, lineman Mateusz Zielinski and safety Justin Reilly matriculating out of the program, but the Braves have shown an ability to withstand such losses and remain championship contenders.
7. Red Bank Catholic (5-4)
It was a disappointing year for the Caseys in that they were coming off a state championship and had their eyes on repeating, but they remained a top-10 team thanks to ranked wins over Toms River North and Donovan Catholic. RBC had conference losses to Rumson, Middletown South, Manalapan and Mater Dei. The Caseys will say goodbye to Notre Dame-bound tight end Kevin Bauman and Boston College-bound linebacker Charlie Gordinier along with running backs Elijah Jules and Billy Guidetti, wide receivers/defensive backs Kevin Degnan and Sean Rossback, linebacker Jack Zenkert and lineman Chris Hart via graduation. Key returners for next season include defensive lineman Jake Louro, quarterback/safety Anthony Borriello and defensive end Alex Bauman.
8. Donovan Catholic (9-2) 
The Griffins authored one of the best seasons in school history, winning the Liberty Division title, tying a school record for wins in a season and reaching the Non-Public Group 3 semifinals. Donovan had the No. 1 scoring offense (36.2 ppg) and the No. 1 scoring defense (8.7) in the Shore Conference. What hurt the Griffins in terms of rankings was their schedule. They dominated their division but didn't have a win over a ranked team. They lost to Red Bank Catholic in the regular season and fell to eventual state champion DePaul in the playoffs. Donovan will bid farewell to several impact players who were instrumental in the program's ascension, led by quarterback Ryan Clark and including running back Nasir Calhoun, linebacker Xavier Ellis, defensive end Chris Aldrich and offensive lineman Tom Buxton. But with a great young core including linebackers Quamire Green and Dominick Nocero, offensive lineman Cam McNair, defensive tackle Dominick Brogna, running back Jahdir Loftland, receiver James Bivens, tight ends Levi Wilkins and Ethan Capone and more, the Griffins are a team that will continue to climb the Shore Conference ladder.
9. Middletown South (5-5) 
It was an up and down season for the Eagles, who had head-scratching losses and also great victories during a .500 season. Middletown South's signature wins were a 30-7 blowout of Red Bank Catholic and a 20-3 win over Rumson-Fair Haven, but the Eagles also had losses to St. John Vianney (35-7) and Long Branch (26-14) to go along with ranked defeats at the hands of Manalapan and Toms River North. The Eagles reached the Central Jersey Group 4 semifinals where they lost to eventual champion Hammonton, 32-29. The Eagles will lose multiple key players to graduation including two-way standout Chris Lotito, quarterback Tyler Cuccia, wide receiver/linebacker Matt Krellin, offensive tackle Tom Mielnikiewicz and running back Vinny Condito.
10. Toms River East (9-2)
The Raiders earned the final spot in the 2019 Top 10 by putting together the program's best season in a decade. After winning just seven games combined in the previous five seasons, Toms River East exploded for nine wins and a trip to the Central Jersey Group 4 semifinals while winning the Freedom Division championship, the school's first since 2009. The Raiders' senior class was instrumental in the program's turnaround, notably quarterback Mike Goodall and running back linebacker Frankie Giannetti. The Raiders will miss them in 2020 but have a good nucleus returning led by running back/linebacker Yusuf Ahmed, quarterback/defensive back Nick Totten and running back Gino Gallo.
Managing editor Bob Badders can be reached at bob.badders@townsquaremedia.com. Follow him on Twitter @Bob_Badders. Like Shore Sports Network on Facebook and subscribe to our YouTube channel for all the latest video highlights.
More From Shore Sports Network