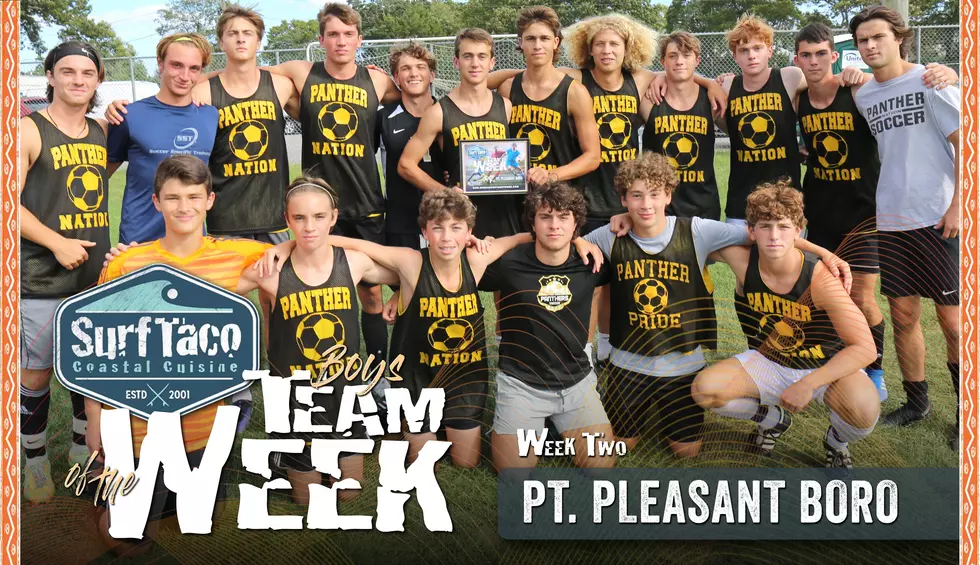 Surf Taco Week 2 Boys Soccer Team of the Week: Point Boro
Photo by Steve Meyer.

During the first three days of the 2022 season, the Point Pleasant Boro boys soccer team established itself as the favorite in the Shore Conference Class B South division race.
Over the course of the last week, the Panthers played like a team that should be considered a serious contender to win an NJSIAA sectional championship in Group II.
Point Boro is off to a 5-0-1 start to the 2022 season and the fifth of those victories was a convincing, 4-1, win over defending NJSIAA Central Jersey Group II champion Rumson-Fair Haven on Saturday morning. By adding that kind of statement to its early-season resume, the Panthers also laid claim to the Week 2 Surf Taco Boys Soccer Team of the Week.
An opening-day win over Lacey -- the defending Shore Conference Class B South champion -- set the course for a return to the top of the division for Point Boro, which won five straight division titles from 2012 to 2016 but has missed out on that goal in each of the past five seasons.
This past week, the Panthers took care of both Lakewood and Pinelands to set up a weekend showdown at home against Rumson-Fair Haven. The Bulldogs won the 2021 Central Jersey Group II championship and returned most of its scoring from that championship team. With Point Boro in the same section as Rumson come the NJSIAA Tournament, it was a chance for the Panthers to measure themselves against a state-title contender.
The test was not close, but it was exceedingly encouraging for Point Boro. The Panthers ripped off four goals in the first half to put the game away early and state their case for the top 10.
Entering the week as the No. 7 team in the Shore Sports Network Top 10, Point Boro earned a hard-fought draw at Jackson Liberty on Wednesday, with Jackson Liberty goalkeeper Rocco Malangone saving a penalty kick late in the first half to deny the Panthers a win.
The draw could mean a shared division championship, but both teams will still have to navigate three more division games in order to clinch anything. For Point Boro, now that the Panthers have shown they can beat a team on the level of Rumson, the division title is just the first step.
Say you're from Jersey without saying you're from Jersey
These are everyday expressions that only someone from New Jersey would get. What else should be on this list?
More From Shore Sports Network