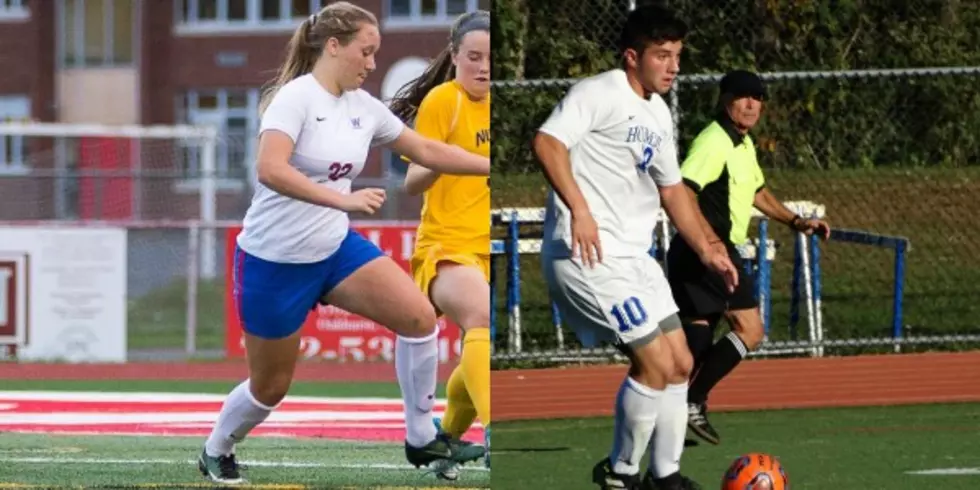 Soccer – Shore Conference Tournament Boys and Girls MVP and All-Tournament
Wall senior Jenna Karabin and Holmdel junior Anthony Arena. (Photos by Paula Lopez and Matt Manley)
Players selected by Shore Sports Network Soccer Writer Matt Manley
Shore Sports Network Boys SCT MVP
A big tournament ended with a huge game for Arena, who led Holmdel to its first ever Shore Conference Tournament with seven goals and five assists over four SCT games. That four-game showcase culminated with a record-setting championship game, in which Arena scored five goals in a 7-1 win over Ocean to set a single-game record for the SCT final. Arena also scored two goals and assisted two more in a 5-0 win over Howell in the quarterfinals and added two assists in a round-of-16 win over Shore.
Arena's second goal in Thursday's final also broke Holmdel's single-season goal-scoring record. By the end of the game, Arena reached 29 goals, which surpassed the old record of 25 by Zach Bond in 2012. Not only does Arena lead the Shore Conference in goals, but he also has 20 assists.
Shore Sports Network Girls SCT MVP
As much as Arena was an easy choice for the top player in the boys tournament, Karabin was an even easier choice. While Karabin didn't set a single-game record like her male counterpart, she scored at least one goal in each of Wall's four SCT wins and stepped her game up when the Crimson Knights were missing their leading scorer, Amy Paternoster. She also logged multi-goal games in three of the four Wall wins, scoring two goals apiece in wins over Point Beach and Wall and a hat trick in the championship game against Freehold Township.
Karabin scored the go-ahead, winning and momentum-altering goals against a Freehold Township side that entered Thursday's final unbeaten. She opened the scoring, hit an 18-yarder to the side netting for the team's third goal in a 4-2 win and hit the side netting again 16 seconds after Freehold Township had cut the lead to 3-2.
Anthony Arena, Jr., Forward, Holmdel (7 goals, 5 assists in 4 games)
Justin McStay, Sr., Forward, Holmdel (4 goals, 4 assists in 4 games)
Matt Leon, Sr., Midfield/Forward, Holmdel (4 goals, 2 assists in 4 games)
Mikey Neff, Sr., Defense, Holmdel (3 assists in 4 games)
Steve Carton, Sr., Forward, Ocean (3 goals, 1 assist in five games)
Shane Cluxen, So., Forward, Toms River South (2 goals in 3 games)
Joel Burgos, Sr., Monmouth (3 goals in 2 games)
Luke Yates, Jr., Midfield, Ocean (2 goals, 1 assist in 5 games)
Charlie Daly, Jr., Forward, CBA, (2 goals in 2 games)
Joe Schlageter, Jr., Midfield, Jackson Memorial (2 goals, 1 assist in 3 games)
Drew Greenblatt, So., Midfield, Jackson Memorial (2 goals, 1 assist in 3 games)
Jalen Folsom, So., Goalkeeper, Toms River South (2 shutouts, 4 goals allowed, 3 penalty kick saves in 4 games)
Jenna Karabin, Sr., Forward, Wall (8 goals, 1 assist in 4 games)
Lauren Karabin, Sr., Forward, Wall (2 goals, 2 assists in 4 games)
Hailee Reinhardt, Sr., Defense, Wall (1 goal, 3 assists in 4 games)
Joan Scheidt, Sr., Midfield, Wall (1 goal in 4 games)
Jada Colbert, Sr., Forward, Freehold Twp. (2 goals, 2 assists in 4 games)
Jasmine Colbert, Sr., Forward, Freehold Twp. (4 goals, 1 assist in 4 games)
Marisa Tava, Jr., Forward, Toms River North (3 goals in 3 games, one in each game)
Kristi Mikula, Jr., Forward, Colts Neck (4 goals in 2 games)
Frankie McDonough, Jr., Forward/Midfield, Shore (3 goals in 2 games)
Alyssa Fernandez, Sr., Forward, Jackson Memorial (3 goals in 3 games)
Jillian Conklin, Sr., Midfield, Toms River East (2 goals, 1 assist in 2 games)
Kylee Sullivan, Sr., Goalkeeper, Jackson Memorial (2 shutouts, 2 goals allowed in 3 games)
More From Shore Sports Network