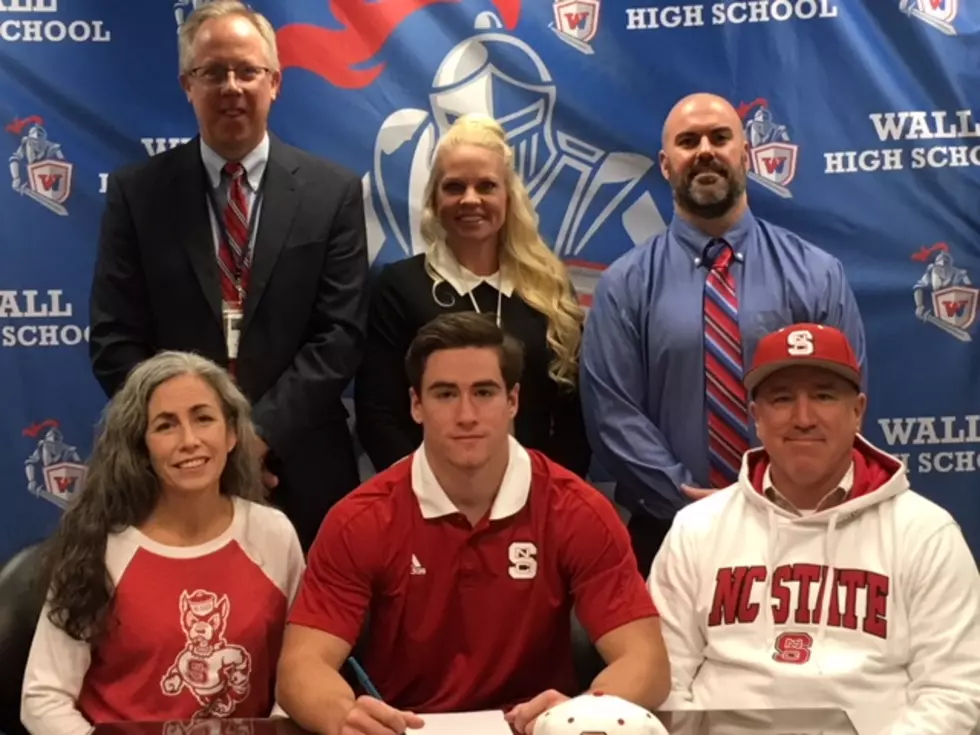 Six Shore Conference FBS Signees Headline Football Early Signing Day
Pictured with Joe from left to right are: Back row-Athletic Director Tom Ridoux, Assistant Principal Kristen Scott, Head Football Coach Tony Grandinetti Seated-mother Pam, and father Robert. (Photo provided by Wall Athletic Department).
*Anyone wishing to report an FBS or FCS signing or to send a picture can email bob.badders@townsquaremedia.com*
Six Shore Conference football players signed their National Letters of Intent with Football Bowl Subdivision (FBS) programs on Wednesday to headline a group of local players who made their college plans official.
Red Bank Catholic quarterback Steve Lubischer, Mater Dei Prep defensive tackle Izaiah Henderson and linebacker Shitta Sillah, St. John Vianney offensive lineman C.J. Hanson, Wall long snapper Joe Shimko and Rumson-Fair Haven long snapper Evan Davis each inked their names during the NCAA's early signing period for football. The late signing period, which is the traditional Signing Day event, is Feb. 6.
Lubischer, Henderson and Sillah all signed with Boston College where they will join Eagles quarterback Anthony Brown, who is a graduate of St. John Vianney High School.
Lubischer was selected as the Shore Sports Network MVP for leading Red Bank Catholic to the NJSIAA Non-Public Group 3 state title and the Caseys' first undefeated season since 1960. Lubischer threw for 1,678 yards and 21 touchdowns and ran for 377 yards and seven touchdowns. With Brown still a sophomore, Lubischer was recruited as a defensive back.
Henderson and Sillah have each played instrumental roles in Mater Dei's transformation to a powerhouse program. Henderson, who was an SSN First Team All-Shore selection and was also selected as the Patriot Division Defensive Player of the Year, made 60 tackles with nine sacks, two fumble recoveries and a forced fumble to help the Seraphs go 10-2 and reach a third straight state championship game. Sillah made 52 tackles and recorded 10 sacks for a defense that allowed 11.1 points per game and recorded three shutouts.
Hanson, a 6-foot-5, 300-pound tackle, is considered among the top offensive line prospects in New Jersey and picked Rutgers from his 19 offers, including the likes of Virginia and Syracuse. Hanson was a member of one of the Shore's best offensive lines over the past two seasons and is a two-time SSN Second Team All-Shore selection.
Shimko is rated as the No. 5 long snapper in the country by 247 Sports and is the rare snapper to be offered a full scholarship, which he signed to continue his career at North Carolina State. Shimko also played linebacker for a Wall team that went 6-3 and reached the South Jersey Group 3 playoffs. Shimko was also selected to participate in the All-American Bowl on Jan. 5 in San Antonio.
Davis is another of the country's top long snappers and signed his NFL to Buffalo. Davis is ranked No. 9 in the country by 247 Sports. He was also a guard on one of the best offensive lines in the Shore that helped Rumson go 10-2, win the Colonial Division title, win the NJSIAA Central Jersey Group 3 title and the Central/South Group 3 Bowl Game.
Additionally, several Shore Conference players signed with Football Championship Subdivision (FCS) programs:
Barnegat tight end Sean Morris - Holy Cross
Manalapan linebacker Dale Sieczkowski - Monmouth
Red Bank Catholic wide receiver/defensive back MJ Wright – Fordham
Rumson-Fair Haven tight end Ian O'Connor – Lehigh
Rumson-Fair Haven offensive lineman Ryan McCann – Yale
Rumson-Fair Haven defensive lineman Henry Sullivan – Colgate
More From Shore Sports Network