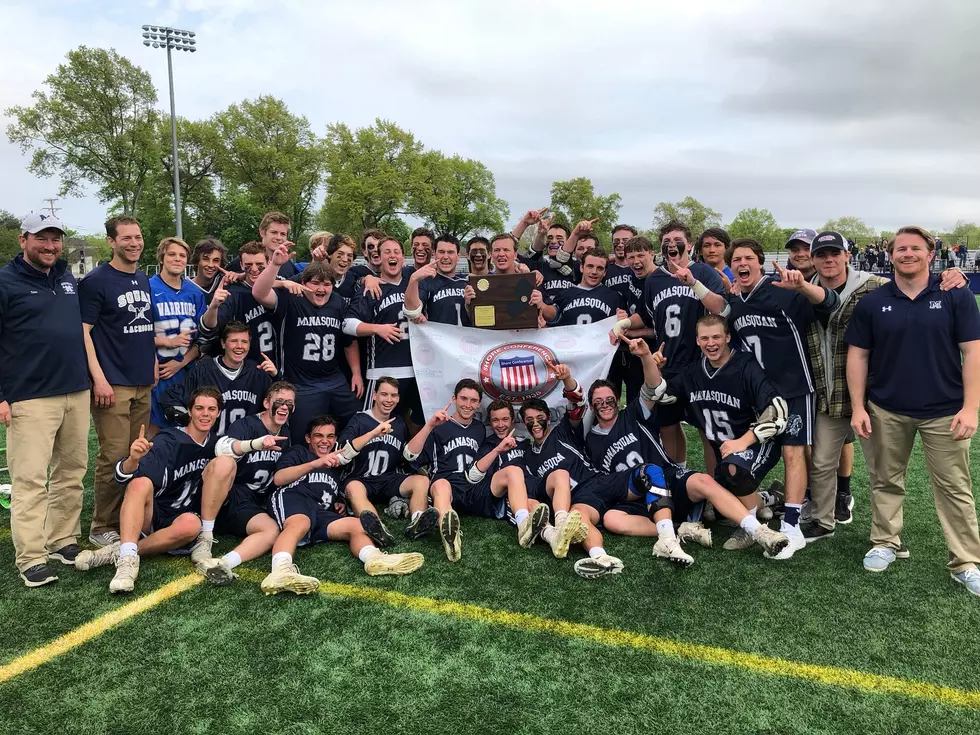 Shore Sports Network Boys Lacrosse 2019 Preseason Top 10
Photo by Robert Badders/Townsquare Media NJ.
The 2019 lacrosse season is here.
Starting today, Wednesday, March 27, the New Jersey high lacrosse season gets underway, beginning the journey that will end with one team hoisting the NJSIAA Tournament of Champions trophy at Kean University in June. Along the way there will be division, conference tournament, state sectional and state group titles won, records to be broken and plenty of thrilling moments to take in.
It also means it's time for the Shore Sports Network Preseason Top 10.
As expected, two-time defending Shore Conference Tournament champion Manasquan begins the season atop the rankings. The Warriors bring back a loaded group and will once again be in contention for a state title. Christian Brothers Academy and Rumson-Fair Haven should be hot on Manasquan's heels while Southern is always in the mix, as well.
Shore Regional had a breakout season in 2018 and returns most of its starters to begin the season in the top five. Freehold Township has been a top-10 stalwart for the past handful of seasons and checks in at No. 6. Ocean has a new head coach in former St. Rose boss Kevin Preston, and the Spartans return nearly all of their starters after a solid 2018 campaign.
Middletown South also had a breakout season last year and brings back a good portion of its starting lineup as it looks to build off last year's success. Wall lost a lot to graduation but brings back key players in goal, on defense, in the midfield and on the attack line as it looks to reload on the fly.
The final spot in the first top 10 was a tough choice. St. John Vianney gets the call thanks to its impressive core of returning starters, but teams like Lacey, Jackson Memorial and Howell could easily find their way into the rankings in the coming weeks. 
Shore Sports Network Preseason Top 10
The Warriors have a tremendous senior class that will look to lead Manasquan to its first group state title in program history after coming close in two of the last three seasons. Senior attackman Canyon Birch is an unstoppable scorer who posted a Shore Conference-record 123 goals plus 52 assists for a state record 175 points last season. He could be even more lethal in 2019. Teaming with Birch up top is senior Ryan Anderson, a balanced player who tallied 105 points last season, and sophomore Casey Mulligan. The trio combined for 208 goals and 340 points last season. Senior James Pendergist, a returning First Team All-Shore selection and a Rutgers recruit, leads the midfield along with seniors Casey Campbell and Riley Callahan and junior Matt Franzoni. Manasquan's defense is also outstanding with Richmond-bound senior pole Jack Fabean, versatile Syracuse signee Mike Page at long-stick midfielder and Siena recruit Mike LaPoint in goal to lead the way. Juniors Tommy Shaughnessy and Tyler Callahan are also back as returning starters on defense. Manasquan also has a pair of impact newcomers in the form of stud freshman Robert Pendergist and sophomore defenseman Mike Farrell, a transfer from Freehold Township. Manasquan moves from Class B South to Class B North this season, so the regular-season schedule gets considerably tougher. It also means we're treated to a regular-season matchup between Manasquan and Rumson.
Don't let last season's record fool you. Rumson was a very good team in 2018 that played a brutally tough schedule, but it was those experiences that paid dividends late in the season as the Bulldogs cruised through their Class B North schedule, reached the SCT semifinals and won another South Jersey Group 2 sectional title. Rumson was a very young team last season but now those players are a year older, faster and stronger and ready to roll in 2019. RFH is exceptional in the midfield with senior Harry Ricker, juniors Rowan Goldin and Kiel Forlenza and sophomore Patrick Jamin, plus senior FOGO Alex Maldjian. Junior Will Sullivan heads the attack line while seniors Jamie Goodwyn and Ethan Ardolino and juniors Drew Frankel, Liam Horan and Jack Spagnuola spearhead the defense.
3. Christian Brothers Academy
The Colts have the talent and the pedigree to once again be among the Shore's best, but losing 19 seniors to graduation from last year's team does pose questions, especially early in the season. Senior attackman Connor Macrae is among CBA's top returners after posting 39 goals as a junior. Senior Tommy Gray is one of the best defensemen in the Shore teams with classmate Max D'Andrea to form a potent defensive duo. Midfielder Kyle Aldridge and attackman Dan Martin were both very good as freshmen and should see big increases in point production along with their expanded roles.
The Rams have been one of the Shore Conference's most consistent teams over the past decade and are coming off a season where they won a sixth straight Class A South division title and reached the semifinals of the SCT for the sixth time in seven years. Senior attackman Aniello Russo and junior attackman Cade Johnson lead Southern's offense, which should also get a boost from junior midfielder Aaron Hutchinson, a Jackson Memorial transfer. The Rams are experienced and strong in the back end with senior Luke Maul in goal and senior Ian Maul and junior Noah Wasacz leading the defense.
The Blue Devils had a banner 2018 season with a program single-season record 16 wins, and with eight of 10 starters back plus some impact newcomers, Shore begins the season in uncharted territory as a top-five team in the conference. Senior do-it-all midfielder Gil Goldsmith leads the way after scoring 102 points and picking up 146 ground balls during a huge junior season and is joined by senior middie Jack McCrae, senior attackman Jake Turner, senior midfielder Tom Bocco, senior attackman Justin Murphy, junior LSM Jake Shirley and junior goalie Scott Sirianni, among others. Key an eye on freshman midfielder Jamie Mazzacco, who has the potential to make a major impact on an otherwise veteran team. After competing in the rugged Class B North division the Blue Devils are now in Class B South where they are the favorites
The Patriots are another team that is always in the mix. They won 10 or more games for the sixth straight season while reaching the SCT quarterfinals last season, and although they lost some offensive firepower to graduation, they return an experienced defensive unit, key pieces in the midfield and a standout attackman. Senior goalie Aidan Purcell was a Third Team All-Shore selection last season and backstops the Patriots' defense in front of standout senior Evan Nastarowicz and juniors Joel Maragoto and Connor Petrula. Seniors Matt Kondrup, Nick Elimanco, Ryan O'Donoghue (FO) and Kyle Von Nessen lead the midfield with junior Brendan Doel serving as the No. 1 scoring option. Defense will be the name of the game for Freehold Township early on. If the Pats can find consistent secondary scoring beyond Doel it will go a long way toward determining how successful they are this season.
The Spartans have a new head coach in former St. Rose coach and 2017 SSN Coach of the Year Kevin Preston. Ocean lost an All-Shore player to graduation as standout defenseman Richie Bianchi moved on to Monmouth University, but Preston inherits a team with all its other starters back. Senior attackman Holden Lowe, senior midfielder Mike Nies, senior defenseman Joe Dilusto and senior LSM Mike Kircher lead the veteran portion of the roster while sophomore midfielder Dale Alto, sophomore goalie Garrett Schwab, sophomore defenseman Logan Bianchi and junior attackman Brian Fisher returning after starting as underclassmen. Cracking the top two spots in B North is going to be a Herculean task with Manasquan now in the division along with Rumson, but Ocean is certainly a team trending up.
The Eagles broke through in 2018 with the best season in program history, winning a record 15 games and qualifying for both the SCT and NJSIAA North 2, Group 3 state playoffs. Most of the roster is back, including standout senior midfielder Matt Tardy, junior attackman Connor Ard and junior goalie Shane Murphy. Class A North is a deep division with the likes of CBA, Freehold Township and Howell also in the mix, but Middletown South proved last season it could do more than just contend by finishing second behind CBA. Building off that success is the key now, and the Eagles certainly won't sneak up on anybody this time.
Wall had its best season in program history last season with a single-season record 14 wins, a trip to the SCT quarterfinals and reaching the NJSIAA state sectional semifinals for the first time. The Crimson Knights lost most of their core to graduation, so the question is if they can get back to form with several new starters, especially now that they've moved from B South to B North. Senior goalie Sean DeMott, senior defensemen Shane Meyler and Jake Pinkerton, sophomore midfielder/attackman Logan Peters and junior attackman Ethan Doyle lead the way.
Final ranking: not ranked 
The No. 10 spot in our rankings is usually a revolving door throughout the season. The Lancers will try to change that by holding strong or moving up, and they have the pieces in place to do just that. First Team All-Shore midfielder Anthony Brett leads the way after a great sophomore season and is joined by classmates Kyle Harris and Mike Noble on defense. Senior attackman Andrew Gosse sank a team-high 41 goals last season and senior goalie C.J. Hanson leaves little space to shoot at with his 6-foot-5, 300-pound frame guarding the net.
Lacey: The Lions finished No. 10 in the Shore last season and return four of their top five scorers, but are unproven in goal after the graduation of Justin Covey. High-scoring senior attackman Dylan Vitale leads the way for Lacey along with senior attackman Dominic Waltonowski, senior midfielders Chris Augustine and Ryan Giles and senior defensemen Ryan Collins and Shane Flanegan.
Howell: The Rebels finished last season on the bubble of the top 10 and start 2019 in the same place. They lost three key defensive pieces to graduation in Second Team All-Shore goalie Nick Roberto, Second Team All-Shore defenseman Braedon Baldwin and Third Team All-Shore LSM Sean Mylod but bring back all three attackmen, midfielders Jared Badillo and Vaughn Meehan and defensemen Ernie Onesti and Thomas Damelio.
Jackson Memorial: The Jaguars are an interesting team heading into the 2019 season. They were second in Class A South behind Southern last season, reached the SCT and had three of their six losses come against top-10 teams. Jackson returns a healthy portion of its starting lineup led by attackmen Santo Porazzo and Sean Laverty, midfielders Drew Walenty and Joe Iacobone, FOGO Braedon Kukan, defenseman Jake Bryson and LSM Joe DeRosa. Keep an eye on freshman midfielder Matt Derosa, who was the MVP of last season's SCLCA 8th Grade All-Star Game.
Managing editor Bob Badders can be reached at bob.badders@townsquaremedia.com. Follow him on Twitter @Bob_Badders. Like Shore Sports Network on Facebook and subscribe to our YouTube channel for all the latest video highlights.
More From Shore Sports Network