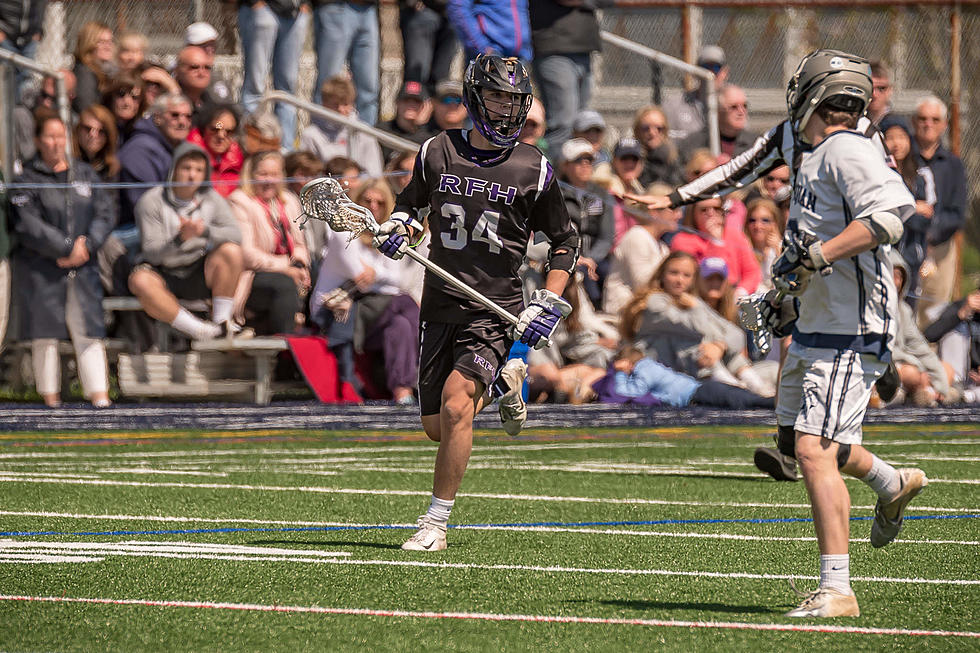 Boys Lacrosse: Top Shore Conference Midfielders to Watch in 2021
Richard E. O'Donnell

Offense, defense, man-up, man-down, face-offs; midfielders are tasked with doing a little bit of everything on the lacrosse field. Some are either offensive or defensive specialists, others are two-way standouts and a select few are goal scorers, playmakers and reliable defenders. They are the engines that power lacrosse teams and these are the ones to watch this Shore Conference lacrosse season.
Shore Conference Midfielders to Watch in 2021
Stephen Albanese, Sr., Red Bank Catholic
A Georgian Court commit, Albanese tallied five points and 29 ground balls as a sophomore and will be looking to emerge as one of the Shore's top FOGOs this spring.
Jason Allen, Sr., Middletown South
Allen is the top returning offensive player for the Eagles after scoring 21 goals and adding eight assists as a sophomore.
Dale Alto, Sr., Ocean
Alto, who is committed to Siena, scored 32 goals and added 14 assists for 46 points as a sophomore. He will be the go-to guy for the Spartans in 2021.
Ryan Bradley, Jr., Holmdel
Bradley acquainted himself well as a freshman in 2019 by scoring 17 goals and adding 17 assists. He is now committed to St. Joseph's University.
Ryan Brice, Sr., Wall
Brice is Wall's second-leading returning scorer behind Logan Peters after netting 28 goals and 21 assists for 49 points as a sophomore. He is committed to SUNY Maritime.
Tyler Burns, Jr., Howell and Doug McKenzie, Jr., Howell
Burns and McKenzie both saw time as a freshmen but now that they are juniors the Rebels expect both to have big seasons patrolling the midfield.
Matt Dollive, Jr., Wall
A two-way midfielder who glides up and down the field, Dollive sank 19 goals and added 25 assists as a freshman and will spearhead the Crimson Knights' No. 1 midfield line. He is committed to the United States Military Academy at West Point.
Mike Farinacci, Sr., Manasquan
Finding playing time on Manasquan's star-studded 2019 team was difficult, to say the least, but Farinacci made the most of his limited opportunities with 10 goals as a sophomore. Expect a big season from the Stevens Tech commit.
Hayden Grecsek, Sr., Manasquan
Grecsek has yet to record a varsity point so he is the definition of an impact newcomer. That being said, cracking Manasquan's starting lineup as a freshman was nearly impossible and injuries cut short his sophomore season in 2019. The speedy middie will join Mike Farinacci and Robert Pendergist on the Warriors' No. 1 midfield line.
Torin Harmon, So., Red Bank Catholic
A transfer from Shore Regional, Harmon is a dynamic midfielder who should make an immediate impact for the Caseys.
Patrick Jamin, Sr., Rumson-Fair Haven
One of the best playmakers in the Shore, Jamin tallied 21 goals and added 49 assists for 70 points as a sophomore. He has 112 points in his two years and figures to be in the middle of everything a talented Bulldogs' team does in 2021. A two-sport standout, Jamin will play both lacrosse and football at Middlebury College.
Tynan Jensen, Sr., Lacey
Jensen is a player that head coach Shane Allen will deploy in all situations and rely on for leadership.
Aidan Kirk, Jr., Point Boro
Kirk was a do-it-all player for the Panthers as a freshman in 2019 with 24 goals, 20 assists and 74 ground balls. He also stepped into the face-off X and won 54 percent of his draws.
Terrance Lacewell, Sr., Christian Brothers Academy
A Monmouth University commit, Lacewell flashed his skills in limited action as a sophomore and is one of several candidates in the Shore to have a breakout senior season.
Jared Lucich, Sr., Christian Brothers Academy
The top returning face-off specialist in the Shore, Lucich won close to 80 percent of draws as a sophomore in 2019. His dominance at face-off X will give CBA's offense plenty of possessions. He is committed to Babson College.
Jamie Mazzacco, Jr., Shore
Mazzacco was a highly-touted three-sport standout (football, wrestling) coming into high school and he has lived up to the billing through two years. As a freshman on a senior-laden team he scored 27 goals with 15 assists and also picked up 32 ground balls.
Sean O'Brien, Sr., Shore
O'Brien was a possession hound as a sophomore, winning 73 percent of draws and picking up 150 ground balls. He is the leading returner in the Shore in terms of face-off percentage and ground balls.
Josh O'Leary, Sr., St. John Vianney
O'Leary was SJV's starting face-off specialist as a sophomore and won 55 percent of draws and picked up 97 ground balls. He is committed to Penn College of Technology
Max Pauwels, Jr., Manasquan
Manasquan's face-off specialist split time at face-off X as a freshman and is now the starter as a junior. He is committed to Quinnipiac.
Robert Pendergist, Jr., Manasquan
Pendergist had plenty of runs on Manasquan's No. 2 middie line as a freshman and finished with 15 goals and six assists for a team that won the Shore Conference Tournament and reached the Group 1 state final. He should be among the Shore's best two-way midfielders this season.
James Rea, Sr., Brick
Rea is committed to Wagner and is coming off a sophomore season in which he scored 23 goals and chipped in 10 assists.
Darren Romaine, Sr., Brick Memorial
An NJIT commit and Brick Memorial's first Division 1 recruit, Romaine is one of the more underrated players in the Shore. As a sophomore he was the Mustangs' leading scorer with 28 goals and 24 assists for 52 points and also picked up 51 ground balls.
Ryan Sininsky, Jr., Southern
Sininsky stepped in as a freshman and was the Rams' most reliable midfielder, scoring 21 goals and adding 15 assists. Southern's offense will run through the NJIT commit.
Tommy Swain, Sr., Rumson-Fair Haven
For many top teams, the missing piece is often a reliable FOGO. The Bulldogs appear to have that with Swain, who rotated at face-off X as a sophomore but posted an impressive 79 percent win rate. If he is consistently getting the Bulldogs' offense possessions they will be awfully tough to beat.
Andrew Walenty, Sr., Jackson Memorial
Walenty scored 20 goals, added 14 assists and picked up 71 ground balls as a sophomore and returns to lead the Jaguars' midfield lines as a senior. He is committed to Florida Tech.
Drew Wasacz, Sr., Southern
Southern has had a tradition of fielding great face-off specialists and the Rams hope Wasacz follows that path as a senior. During his sophomore season he won 60 percent of draws.
Nick Weitz, Sr., Red Bank
Weitz won 65 percent of face-offs, picked up 59 ground balls and added 15 points with eight goals and seven assists. His versatility is a welcome sight for a Bucs team that graduated three of its top five scorers from 2019.
Kyle Wenzel, Sr., Wall
A second-team Class B North selection in 2019, Wenzel won 61 percent of draws as a sophomore. With all the offensive firepower Wall has, Wenzel is the key to getting the Knights as many possessions as possible.
Monmouth County's Most Delicious Delis
More From Shore Sports Network