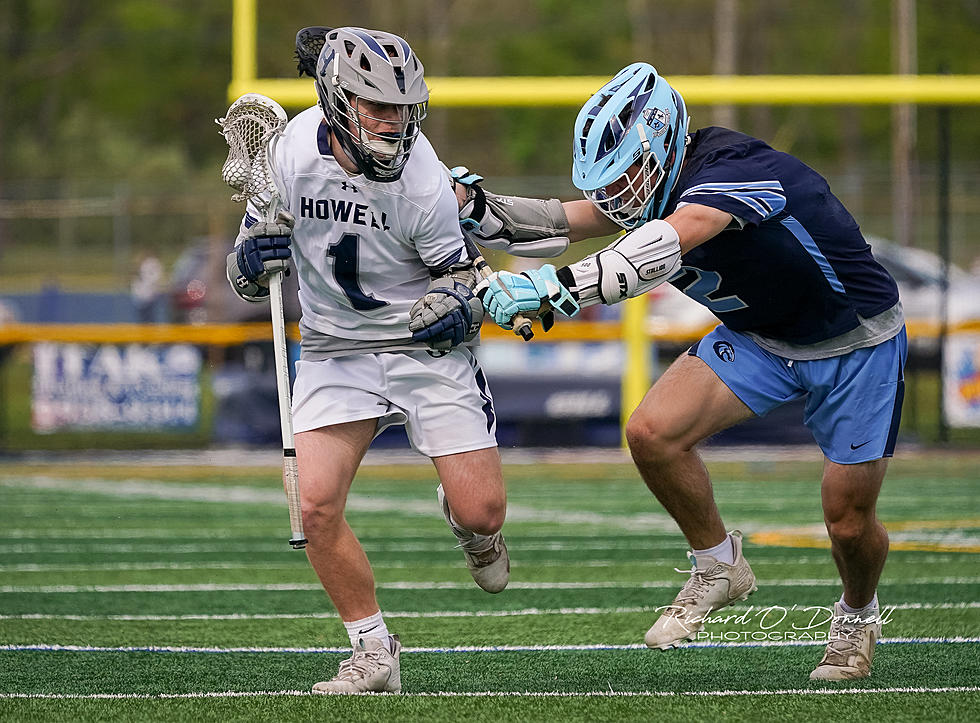 Shore Conference (NJ) Boys Lacrosse Scores & Recaps for Saturday, May 22
Richard O'Donnell

Saturday, May 22
Shore Conference Tournament
Round of 16
(1) Rumson-Fair Haven 21, (17) St. Rose 0
Junior attackman Christian Bockelmann scored four goals with two assists and senior attackman Luke Devlin scored four goals with one assist to lead an offensive onslaught that propelled the Bulldogs (14-0) past the Purple Roses (10-5).
Rumson will host eighth-seeded Red Bank in the quarterfinals on Tuesday.
(9) Red Bank 7, (8) Middletown South 5
Senior attackman Ryan McGee scored the game-tying and go-ahead goals in the second half and senior Gordon Odgen led a stingy defensive performance as the Bucs staged a huge rally to defeat the Eagles and advance to the SCT quarterfinals.
Middletown South led 5-0 midway through the second quarter before Red Bank began its comeback and scored seven unanswered goals to earn the win and average a regular-season loss to the Eagles.
McGee scored a game-high four goals and Odgen made 11 saves to lead the way for Red Bank. Nick Walsack, Andrew Pape and Henry Spencer also scored goals and Nick Weitz went 8-for-15 on face-offs, including 6-for-7 in the second half.
Red Bank will play top-seeded Rumson-Fair Haven in the quarterfinals on Tuesday.
(4) Wall 17, (13) Red Bank Catholic 7
Senior attackman Logan Peters continued his tremendous season with six goals and three assists and sophomore attackman John McCurry scored five goals to power the Crimson Knights (12-2) pat the Caseys (3-10) and into the SCT quarterfinals.
Junior midfielder Matt Dollive added three goals and one assist and senior midfielder Ryan Brice had two goals and four assists. Will Madden scored once, Daniel Burns had three assists, and Kyle Wenzel won 16 of 22 face-offs. Aiden Kessler (5 saves) and Adam Jackson (2 saves) each saw time in goal.
Wall will host fifth-seeded Shore Regional on Tuesday.
(3) CBA 19, (14) Brick Memorial 3
Senior attackman Dan Martin tallied four goals and three assists and sophomore attackman Nick Blalock totaled four goals and one assist as the Colts (12-3) rolled to a victory over the Mustangs (11-4) to return to the SCT quarterfinals.
Ryan Howard had three goals and one assist and Ty Feiler also scored three times. Ryan Martin added two goals and two assists, Terrance Lacewell scored twice and Michael DeRosa scored once. Senior FOGO Jared Lucich went 21-for-23 on face-offs and also had two assists.
Darren Romaine, Dan Aulisi and Luke Vojtko had goals for Brick Memorial.
CBA will host sixth-seeded Southern on Tuesday.
(6) Southern 17, (11) Colts Neck 2
Junior Ryan Sininsky recorded six goals and two assists to reach the 100-point mark as the Rams (11-3) erupted for 14 goals in the second half to put away the Cougars and advance to the SCT quarterfinals.
Southern led 3-1 at halftime before scoring eight goals in the third quarter and six more in the fourth quarter.
Junior midfielder Jake Washco also had a big game with four goals and three assists and junior FOGO Kurt Falk dominated the face-off X by winning all 22 draws and also scoring a goal. Senior attackman Luke Bruther added three goals and two assists, junior midfielder Zach Washco scored twice and sophomore attackman Joey DeYoung scored once. Junior goalie Tyler Sininsky made eight saves and freshman goalie Nick Roesch made two saves.
Nate Rowohit and Anastagio Muscara scored goals for Colts Neck.
(7) Howell 12, (10) Holmdel 6
Junior midfielder Doug MacKenzie scored four goals and junior goalie Colin Fay made 15 saves to send the Rebels (10-4) past the Hornets (5-6) and into the SCT quarterfinals.
Sophomore attackman Nate Lorenzo had three goals and one assist and senior attackman James Fay also scored three goals. Junior midfielder Tyler Burns added two goals and one assist and junior attackman Dax Kukan dished out two assists.
Joe Hammer led Holmdel with three goals and one assist. Ryan Bradley and Kyle Kapcsos each had a goal and an assist and Jaden Gallo scored once.
Howell will play at second-seeded Manasquan on Tuesday in the quarterfinals.
(2) Manasquan 21, (15) Ocean 0
Regular Season
Nondivisional
Neptune 7, Long Branch 5
Nate Edwards scored four times and Garrett Eastin made 10 saves as the Scarlet Fliers rode the Green Wave to pick up their first win of the season. Brendan Mansfield had a goal and an assist and Patrick Clohosey and Raymond Rogers had one goal each.
Bryan Carty-Hass scored three times to lead Long Branch. Angel Castro scored twice and Scott Tavener made 20 saves.
Nonconference
Point Boro 8, Edison 2
Junior midfielder Aidan Kirk scored four goals and assisted on another and junior goalie Matthew Azzarano made 11 saves as the Panthers (8-5 defeated the Eagles (5-7) to set a program record for wins in a season.
Spencer Knapp added two goals, Brian Ostrander had a goal and an assist and Aiden Romer scored once. Senior defenseman Patrick Frawley picked up a game-high 10 ground balls and Chris Criscuolo won 10-for-12 at the face-off X.
St. Peter's Prep 16, St. John Vianney 3
Ian Butler, Nick Corso and Charlie Sima scored goals for the Lancers (3-12) in their loss to the Marauders (3-8).
Take a Dip In The Most Breathtaking Backyard Pools in New Jersey
More From Shore Sports Network