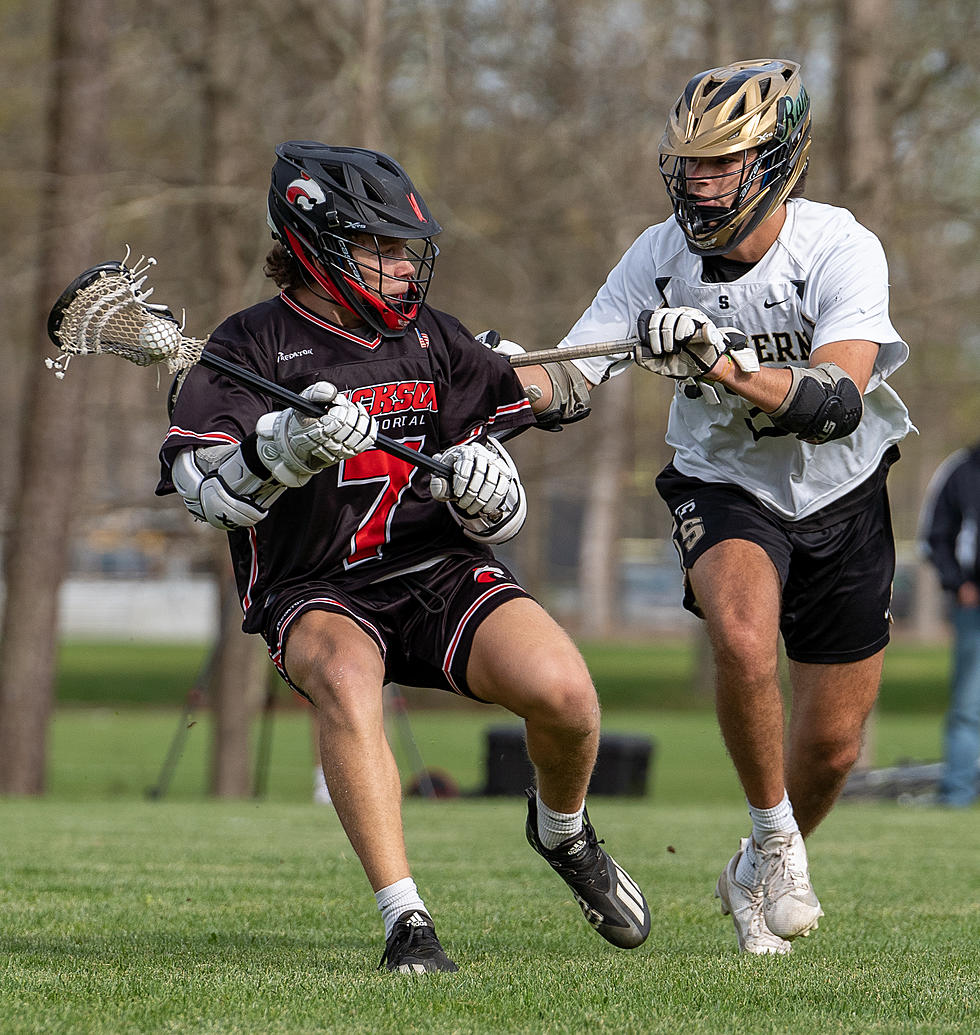 Shore Conference Boys Lacrosse Scoreboard for Wednesday, May 24
Robert Badders

Wednesday, May 24
NJSIAA Tournament - Public first round
South Group 3
(7) Jackson Memorial 11, (10) Lacey 7
Junior attackman Drew Barocas poured in five goals and four assists and junior goalie Russell Cender made 19 saves to send the Jaguars (11-5) past the Lions (10-10) and into the South Group 3 quarterfinals.
Senior attackman Justin Perillo delivered three goals and three assists and freshman attackman Emanuel Jastrzebski tallied a goal and four assists. Junior midfielder Elias Craig scored twice and junior midfielder Zach O'Connell won 16 of 20 face-offs.
Jackson will face No. 2 seed Ocean City in the quarterfinals.
4) Clearview 18, (13) Colts Neck 2
(2) Ocean City 16, (15) Toms River South 1
Ben Hartzfeld scored the lone goal for the Indians (4-13) in their loss to the Red Raiders (12-6).
South Group 1
1) Rumson-Fair Haven 17, (16) Rutherford 3
Senior attackman Cole Cashion scored three goals and two assists and freshman Joseph Whitehouse sank three goals as defending state champion Bulldogs (17-4) took care of business in the first round.
Juniors Andy Croddick and Matthew Casazza each scored twice while freshman Luke Lydon tallied a goal and two assists. Sophomore attackman Grayson Goldin had a goal and an assist. Scoring one goal each were senior defenseman Beau Kemler, senior midfielder Zach Iwan, junior midfielder Griffin Kolb, senior attackman Bryce Devlin, and junior Jake Cahil.
Senior goalie Marshall Halfacre made three saves while Junior Luke Marascio (7-for-7), DJ Deine (3-for-3), and junior Rory Keane (4-for-7) combined to dominate the face-off X.
Rumson will host the winner of Thursday's game between Lower Cape May and A.L. Johnson.
Regular Season
Nondivisional
Middletown North 7, Barnegat 5
Nonconference
Mountain Lakes 7, No. 2 Manasquan 5
Junior goalie Nick Bounassi was outstanding with a career-high 21 saves and senior midfielder James Farinacci scored twice but the Warriors (14-5) could not build upon a first-quarter lead and fell to the defending T.O.C. champion Lakers (12-5).
Manasquan lead 3-1 after the first quarter before Mountain Lakes tied the score at halftime and pulled ahead in the third quarter.
Senior attackman Matt Porazzo had a goal and an assist while junior midfielder Brody Muly and sophomore attackman Ryan Aldi each scored once.
Manasquan begins state tournament play on Friday. The Warriors are the No. 1 seed in the South Group 2 section and will host Ocean in the opening round.
Pingry 6, No. 4 CBA 5
Dylan Blekicki scored the go-ahead goal with just two seconds left in regulation to lift the Big Blue (14-2) to a dramatic victory over the Colts (10-7).
Senior attackman Nick Blalock had a goal and four assists and junior attackman Ryan Martin had two goals and one assist to lead CBA. Senior midfielder Ian Macrae and sophomore attackman Carter McGuire each scored once and junior goalie Brandon Desena made eight saves.
More From Shore Sports Network