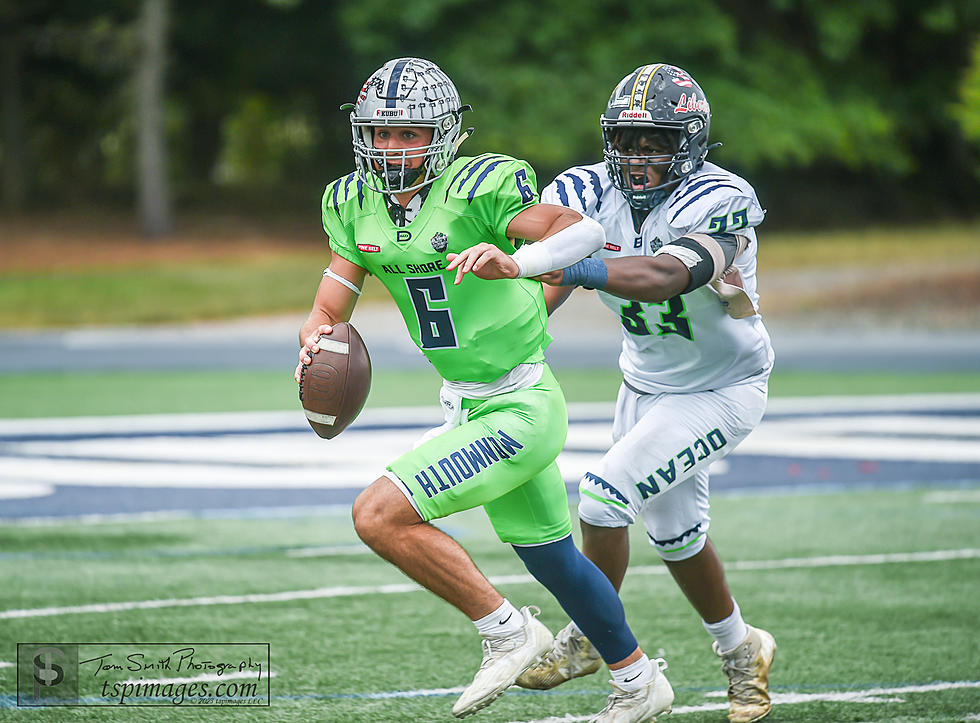 Monmouth County starts fast, defeats Ocean County for fifth straight All-Shore Gridiron Classic victory
Tom Smith | tspsportsimages.com

WEST LONG BRANCH -- When Manasquan quarterback Brett Patten walked off the field following the Warriors' Thanksgiving Day victory over Wall, he was resigned to the fact that he had played his final football game.
Patten had a record-setting career on the gridiron for the Warriors, but baseball was his future at the collegiate level. He was verbally committed to St. John's at the time and he planned to play in a summer league that would have taken him out of state beginning in late June. He was an original selection to the Monmouth County roster for the All-Shore Gridiron Classic, but his schedule meant he had to pass on the opportunity.
But then his plans changed and he quickly realized he might be able to put the pads on one final time. He was a late addition to the Monmouth County roster shortly before practices began and on Sunday he made the most of a once-in-a-lifetime opportunity.
Patten threw for 62 yards and a touchdown and ran for 25 yards to be selected as overall MVP as Monmouth County defeated Ocean County, 21-12, in the 46th All-Shore Gridiron Classic on Sunday afternoon at Monmouth University's Kessler Stadium. Monmouth County built leads of 14-0 and 21-6 in the first half that included Patten tossing a 32-yard touchdown pass to Manalapan's Alex Dille late in the second quarter.
"I was so happy when I found out I could play in this game," Patten said. "I was supposed to leave June 24 for a summer league so when that changed and I found out I could play I was so excited. It was great to put the pads on one more time."
"He was a leader from Day 1," said Rumson-Fair Haven and Monmouth County head coach Jeremy Schulte. "We were very happy when they added him to the roster. Brett is a quarterback, he's cool, calm, and collected, and very laid back. And he and Corny (Rumson Offensive Coordinator John Corneliusen) got along really well."
Monmouth Regional wide receiver Tahaj Wiggins was selected as Monmouth County's Offensive MVP for leaping to haul in a 35-yard touchdown pass from Asbury Park's Jai'Sun Brown. Middletown North defensive end Peter Dempsey recorded two sacks and was selected as Monmouth County's Defensive MVP.
Jackson Memorial quarterback Tai Mann earned Ocean County Offensive MVP honors, throwing for 30 yards and a touchdown and rushing for 25 yards before exiting with an injury in the second half. Pinelands defensive end Mike Hall was selected as Ocean County's Defensive MVP.
The Sam Mills Award winners were Raritan's Kieran Falzon and Point Beach's Joe Beley.
A First Team All-Shore selection, Mann was Jackson Memorial's dual-threat quarterback and also a standout cover corner, helping the Jaguars go 7-3, tie for the Constitution Division championship, and reach the South Jersey Group 4 final where they held a halftime lead over eventual Group 4 champion Millville. Mann threw for 1,002 yards and six touchdowns and ran for 873 yards and 10 touchdowns on an average of 7.2 yards per carry. On defense, he had 34 tackles, 3 tackles for loss, 2 interceptions, and 8 pass breakups. He was selected as the Constitution Division's co-Offensive Player of the Year. He will continue his career at Carnegie Mellon University.
Mann left the game with an injury in the third quarter when he was tackled awkwardly on a late hit.
"I love that kid and he's like family to me," said Jackson Memorial and Ocean County head coach Vinny Mistretta. "It's a shame to see him go down on a play that was a little bit outside the rules, a late hit. But he's a grinder. That second half he was making things happen with his feet. He's been limited with a little bit of a shoulder injury he deals with but he still figures out a way. (Pinelands quarterback) Ryan Allen can chuck the rock and Tai was going to be more of a mudder and figure it out. He's going to be very successful in college and throughout his career."
Hall had a huge year for Pinelands with 103 tackles, 5 sacks, 16 tackles for loss, and a defensive touchdown to help the Wildcats go 7-4 and tie the program record for wins in a season. Hall will play collegiately at Stevenson University in Maryland.
"He has a hell of a motor and was a lot of fun to coach," Mistretta said. "He's going to be a player at the next level."
For Monmouth County, Wiggins' impressive touchdown reception came as no surprise to Schulte, who saw firsthand what the 6-foot-3 standout could do when the Bulldogs and Falcons played during the season. Wiggins caught 30 passes for 408 yards and three touchdowns during his senior season.
Defensively, Dempsey was a force from the first snap when he dropped Mann for a sack and a 7-yard loss. He added his second sack late in the fourth quarter and was a constant presence in the Ocean County backfield.
Dempsey had a great senior season to earn First Team All-Shore status, posting 45 total tackles with 7 sacks, 19 tackles for loss, 12 pressures, an interception, a pass breakup, and a forced fumble for a Middletown North defensive line that was the backbone of the team's defense. He was an underrated two-way player, as well, catching 17 passes for 200 yards and 3 touchdowns as the team's tight end.
"First off, he's an amazing kid," Schulte said. "One of my buddies from the Middletown North staff was here and said you're going to love this kid. And Glezman (Keyport head coach and Monmouth County general manager Jason Glezman) has him in class and said how legit he is. Watching him every day in practice at certain points we're like, 'holy...!'. It makes you think what this kid can accomplish at Wagner. He's going to tear it up."
Monmouth County honored St. John Vianney's Aaron Van Trease at the start of the game with St. John Vianney players Kyle Verriest, Christian Buchanan, Michael Foley, Andrew Chemo, and Timothy O'Dowd serving as team captains on the coin toss. Monmouth also took the field with 10 players for the opening play of the game. Van Trease played quarterback and safety for St. John Vianney and suffered a spinal cord injury during a game with Manasquan this past season. He remains confined to a wheelchair but continues to make progress in his rehabilitation. He was in the stands on Sunday to take in the action.
Falzon ran for 46 yards on seven carries and scored on a powerful 12-yard run to give Monmouth County an early 7-0 lead after the extra point by Rumson-Fair Haven's Oli Lorraine. Monmouth's lead grew to 14-0 in the second quarter when Brown lofted a pass down the visiting sideline and Wiggins skied over the Ocean County defense to haul in the scoring play.
Ocean County cut the deficit to 14-6 with a 14-play, 74-yard drive that culminated with Mann throwing a 5-yard touchdown pass to Manchester's Tyrone Benjamin on fourth and goal. The extra point was unsuccessful.
Monmouth answered immediately with an 8-play, 89-yard drive to take a 21-6 lead into halftime. Monmouth Regional running back Julian Jones had a pair of big runs and Patten connected with Red Bank Catholic wide receiver Robert Stolfa and St. John Vianney wide receiver Kyle Verriest to move the chains across midfield. Two plays later, Patten found Manalapan wide receiver Alex Dille for a 32-yard touchdown to open a three-score lead for Monmouth County.
There was no scoring in the third quarter thanks in large part to a fantastic interception just inside the end zone by Freehold Township defensive back Anthony Long III. That squashed an Ocean County drive and kept Monmouth ahead, 21-6. Ocean County added a late touchdown on a 3-yard touchdown run by Barnegat running back JoJo Bivins, but Monmouth recovered the onside kick and took a knee to end the game.
Box Score
Monmouth County 21, Ocean County 12
| | | |
| --- | --- | --- |
|   | Ocean County | Monmouth County |
| First downs | 14 | 8 |
| Rushes-yards | 39-132 | 21-123 |
| Passing | 7-17-1 | 6-8-0 |
| Passing yards | 81 | 97 |
| Fumbles-lost | 2-0 | 0-0 |
| Penalties-yards | 1-5 | 5-41 |
| | | | | | |
| --- | --- | --- | --- | --- | --- |
|   | 1 | 2 | 3 | 4 | F |
| Ocean (18-25-1) | 0 | 6 | 0 | 6 | 12 |
| Monmouth (25-18-1) | 7 | 14 | 0 | 0 | 21 |
Scoring Summary
M – Kieran Falzon 12-yard run (Oli Lorraine kick)
M – Tahaj Wiggins 35-yard pass from Jai'Sun Brown (Oli Lorraine kick)
O – Tyrone Benjamin 5-yard pass from Tai Mann (kick failed)
M – Alex Dille 32-yard pass from Brett Patten (Oli Lorraine kick)
O – JoJo Bivins 3-yard run (run failed)
Individual Statistics
RUSHING – O: Ryan Allen 10-45, Chase Gumbrecht 9-36, Tai Mann 9-25, JoJo Bivins 7-22, Jeremiah Crispin 1-6, Shikeith Gordon 1-3, Team 2-(-5); M: Kieran Falzon 7-46, Julian Jones 5-27, Brett Patten 3-25, Jhamier Howard 4-21, Daijon Cross 2-4.
PASSING – O: Tai Mann 4-8-0 29, Ryan Allen 2-7-1 17, Joe Beley 1-2-0 35; M: Brett Patten 4-5-0 62, Jai'Sun Brown 2-3-0 35.
RECEIVING – O: Jeremiah Crispin 1-35, JoJo Bivins 2-19, Max DiPietro 1-15, Tryone Benjamin 3-12; M: Tahaj Wiggins 1-35, Alex Dille 1-32, Kyle Verriest 1-8, Robert Stolfa 1-7, Ryan Mendes 1-10, Jhamier Howard 1-5.
More From Shore Sports Network