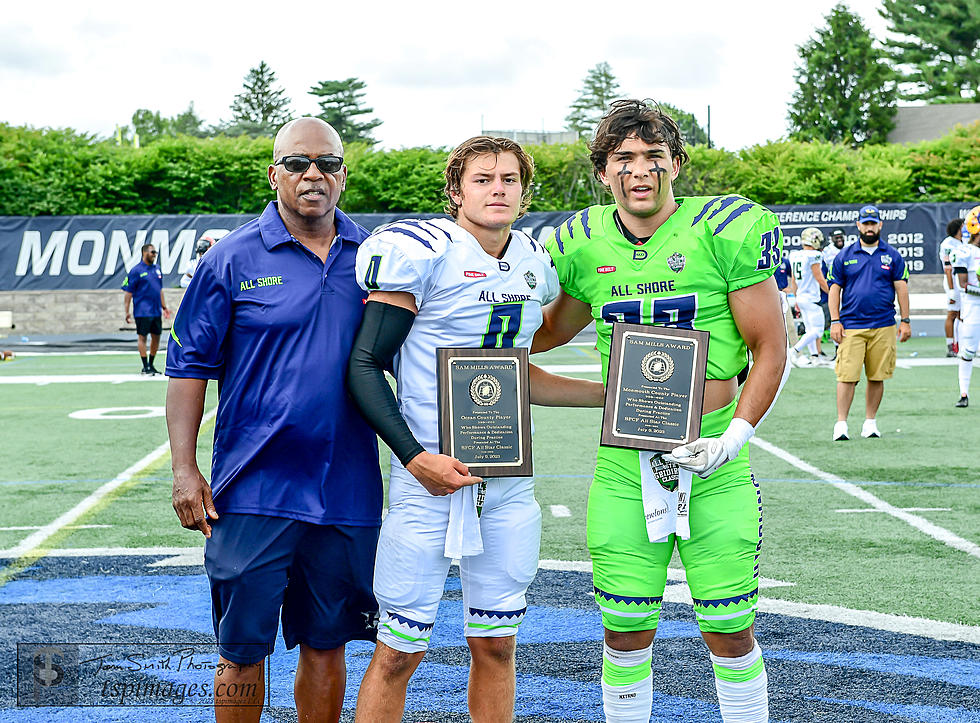 2023 All-Shore Gridiron Classic: Raritan's Kieran Falzon, Point Beach's Joe Beley selected for Sam Mills Award
Tom Smith | tspsportsimages.com

WEST LONG BRANCH -- The Sam Mills Award, named for the legendary Long Branch superstar who overcame the odds to carve out a Hall of Fame career in the National Football League, is given to a player from each county who exhibits the perseverance, character, and determination that defined Mills' life and career.
For the Ocean County coaching staff, it was apparent early during practices who that player was.
"After the first practice we had a staff meeting trying to put people in different positions and coach Zaccone (Point Beach head coach Joe Zaccone) said Beley could play there," said Jackson Memorial and Ocean County head coach Vinny Mistretta. "Then we're talking about punt - Beley can play there. We need a holder - Beley can do that. I'm like, 'This dude does everything' and Zaccone said 'Yeah, at Point Beach, that's how we do it'. We started calling him Joey Football and that dude was a pleasure to coach."
Beley was presented with the Sam Mills Award for Ocean County in between the third and fourth quarters of Sunday's All-Shore Gridiron Classic at Monmouth University's Kessler Stadium. It was a fitting selection given that Beley's approach to the game epitomizes Mills' impact and what the award represents. At Point Beach, the undersized Beley primarily played quarterback and linebacker but was a true jack-of-all-trades for one of the smallest schools in the state. He had 914 yards passing and 10 touchdowns and on defense recorded 91 tackles with nine tackles for loss.
Mills, the late Long Branch legend, was an All-Pro linebacker with the New Orleans Saints and Carolina Panthers in the late 1980s and early 1990s after a standout career at Montclair State. He was an incredible player in high school and college, but standing just 5-foot-9 meant he didn't pass the eye test for many NFL scouts. He eventually broke through after a stint in the USFL and went on to play 181 games in the NFL. Mills died of cancer in 2005 but was an inspiration throughout his battle. His "Keep Pounding" mantra is still a major part of the Carolina Panthers culture.
"He's not big in stature but he's big in heart," Mistretta said of Beley. "He gets after it and comes downhill on defense. We drew up that reverse pass for him and for him to come off the bench and rip a 40-yard pass to a receiver shows what kind of kid he is. He was a lot of fun to coach all week."
In the fourth quarter, Beley entered the game as a running back, took a pitch on a reverse, and pulled up to fire a strike to Brick Memorial wide receiver Jeremiah Crispin for a 35-yard gain. Ocean County eventually scored with 27 seconds on the clock to cut Monmouth County's lead to 21-12, but Monmouth was able to recover the onside kick and hold on for the victory.
"That's been my motto, just go all out at all times and not let up," Beley said. "I'm not the biggest guy but I take a lot of pride in (being versatile). Any way I can get on the field I'm going to do it. I'm a rat. I'm going to scratch and bite and do whatever it takes. That's just what I do."
"It's cool that my effort and all the work I've put into this is recognized. I didn't know I was winning this. I was shocked, literally mind blown."
Raritan running back Kieran Falzon was the recipient of the Sam Mills Award for Monmouth County.
A First Team All-Shore selection this past fall, Falzon spearheaded a Raritan offense that was No. 9 in the Shore (27.5 ppg) by rushing for 1,667 yards and 21 touchdowns on an average of 6.5 yards per carry. That total was third in the Shore and was the top mark among all Shore Conference running backs. He also returned two kickoffs for touchdowns to finish third in the Shore in scoring with 138 points. He was the engine of Raritan's offense with a conference-high 255 carries and helped lead the Rockets to their second straight sectional final. In the South Jersey Group 2 final, Falzon rushed for a career-high 325 yards and three touchdowns on 46 carries before the Rockets fell to Rumson, 34-27 in double overtime. He was also selected as the Independence Division Offensive Player of the Year.
On Sunday, Falzon scored Monmouth's first touchdown on a 12-yard run in the first quarter and finished with 46 yards on seven carries. He even completed an impressive backflip following his rushing touchdown.
"I was ready to play one last time with my boys from Raritan, getting one more game with them," Falzon said. "Receiving this award, I really appreciate it."
"He's tough, a grinder, and does everything you ask him to do," Rumson-Fair Haven and Monmouth County head coach Jeremy Schulte said of Falzon. "He'll joke around with you but the second the whistle blows he's as serious as can be. He was a leader from the start. I know firsthand what he can do - run for 300 yards - but that starts with being a leader."
More From Shore Sports Network