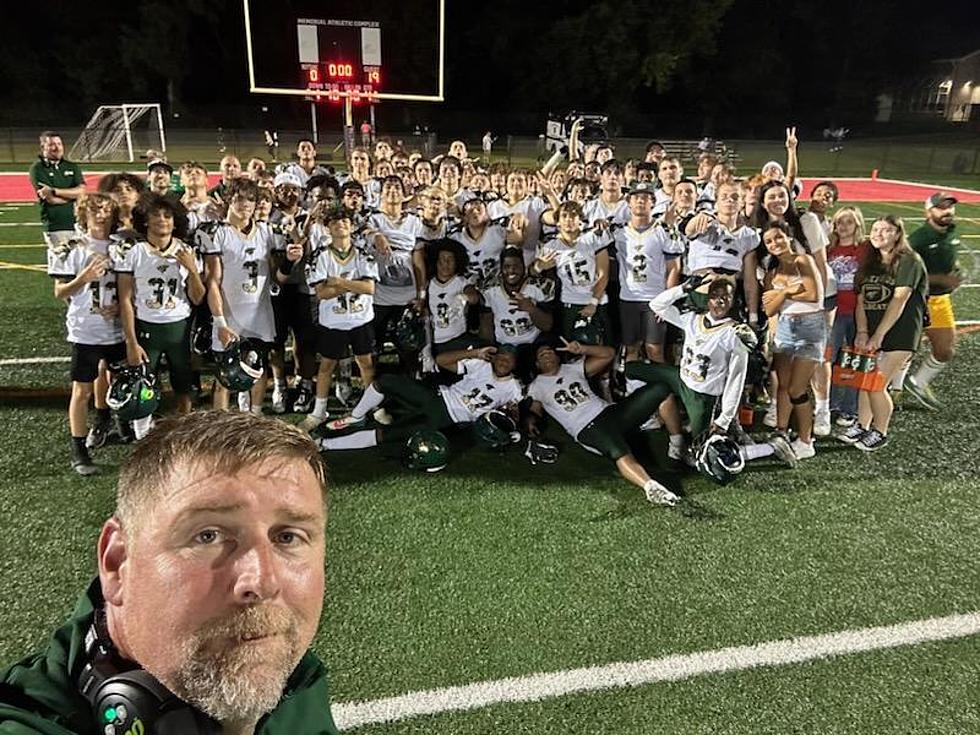 Mike Frawley Helps Pinelands Improve to 2-0 For the First Time in 13 Years
Pinelands held up zeroes for head coach John Tierney after their first shutout in two years in a win over Neptune. (Photo by John Tierney)
NEPTUNE – Pinelands head coach John Tierney made a request of his team at halftime against Neptune on Friday night that could almost serve as a mantra for the Wildcats' steady building process into a winning program.
"We were doing great, but we just needed 10% more," Tierney said. "We didn't have emotion in the first half, and we said, 'Guys, we need 10% more. Ten percent more blocking, 10% more running, 10% more emotion."
The Wildcats delivered on all fronts to cap a solid 19-0 win over the Scarlet Fliers (1-1, 0-1) in a Liberty Division game at Memorial Field that improved Pinelands to 2-0 for the first time in 13 years. It's the latest incremental step forward for a program looking to build a foundation as it seeks its first division title since 1987.
Senior WR/DB Mike Frawley helped lead the way with 6 catches for 96 yards and a touchdown as well as two pass breakups and a hit for a loss on defense.
"We've been together for so long it just feels great to be winning out here with my guys," Frawley said. "We've really brought this program up a level, and I'm just loving every second of it. This (win) means a lot when it comes to the division race. We want to win this division, and I think we're really competitive when it comes to it."
Pinelands notched its first shutout since 2021, as Neptune finished with 214 total yards and sabotaged multiple drives with penalties. The Scarlet Fliers rolled up 196 yards rushing, but Pinelands made big stops on third down and won the field position battle, resulting in a lot of empty yards for Neptune.
"It was a slugfest," Tierney said.
The Wildcats led 7-0 at halftime despite being outgained 135-75 thanks to Neptune's costly penalties and an explosive play by Frawley. They were struggling to get into gear offensively with the Scarlet Fliers stuffing their running game for only 29 first-half yards.
Junior quarterback Ty Kline hit Frawley on a slant route, and he stiff-armed an oncoming defensive back and took off for a 44-yard touchdown on the final play of the first quarter.
"I knew I was going to beat my guy on the slant, but I was ready for that safety to come over," Frawley said. "As soon as I caught the ball, I just looked straight for him and I ducked under, threw a stiff arm, I spun out of it, and I scored."
"We couldn't get our running game going, but we got our passing game going," Tierney said. "Honestly, besides maybe one other time that I've been coaching football, we've never been this dynamic on offense. You got Liam Villinger, you got Matt Davis, you got (Jaimin) Parkinson, you got Ty Kline, and then you've got a guy like Frawley. It's pretty cool as a playcaller."
Neptune was hanging right in it until Pinelands senior Gerald Newsome gave the Wildcats some breathing room in the third quarter. He fielded a punt, took off to his right, put the brakes on to let a defender fly by and then burst down the Pinelands sideline for a 65-yard punt return touchdown.
His second touchdown in two games this season extended the lead to 13-0 with 1:47 left in the third quarter. Newsome didn't play last year, but has returned to the team this fall and added another dimension. He also had a pass breakup in the secondary.
"He came back, and he's a great addition to the team," Tierney said. "He broke our first touchdown of the year against Freehold Township in a scrimmage, and that's just what the kid does. He's explosive."
Pinelands' defense then continued to slow down a Scarlet Fliers attack led by freshman quarterback Daaron Lynch. Neptune was also lining up senior running backs Eddie Green and Carl Christie at quarterback and running downhill.
"We didn't see the wildcat look on film, so it was kind of a surprise to us, but we figured out a weak spot on the pull going back the other way on the counter," Frawley said. "Whenever they went in motion, the tight end would go out and the wing would fill in to get the 'backer, so I told my safety to come down and shoot through the gap, and he was making the play every time."
That safety is Villinger, who was one of the Shore Conference's top tacklers last year and has picked up right where he left off. He had three tackles for a loss and helped slow down the running game at important junctures.
Pinelands also won the field position battle thanks to the punting of Davis, who had a pair of 44-yard boots that pinned Neptune inside their own 15-yard line.
Frawley helped put the finishing touches on the win when he beat two defenders to haul in a 32-yard pass that set up Parkinson for a 1-yard touchdown run with 9:21 left in the game.
The victory leaves the Wildcats as the only unbeaten team left in the Liberty Division.
Pinelands, which is aiming to win just the second division title in program history, has another division game coming up against Central next week. Toms River East snapped a four-game losing streak with a 35-22 win on Friday night over the Golden Eagles.
The dinner table will be a little tense next week considering that wearing an opposing uniform will be Tierney's son, Central junior wide receiver Liam Hurley. Pinelands is hoping another victory marks the next step in a march toward a division crown and a rare state playoff berth.
"We've got Central next week, and it's a tough challenge, but we're up for it," Frawley said. "We're going to go out there, we're going to have another dogfight, and we're going to try and win."
Box score
Pinelands 19, Neptune 0
P                        N
First downs                              10                       12
Rushes-yards                      19-91                   37-196
Passing                                 9-13-0                4-10-0
Passing yards                         114                    18
Penalties                               2-10                   8-70
Fumbles-lost                         1-0                     2-0
Pinelands (2-0, 1-0)  7 0 6 6 – 19
Neptune (1-1, 0-1)    0  0 0 0 – 0
Scoring summary
Frawley 44-yard pass from Kline (Haywood kick).
Newsome 65-yard punt return (kick blocked).
Parkinson 1-yard run (kick failed).
Individual statistics
Rushing – N: E. Green 21-85, Christie 6-59, Lynch 7-28, Keyes 1-3, M. Green 1-17, Brown-Mason 1-4. P: Kline 1-0, Parkinson 14-67, Villinger 2-15, Koblinyk 1-2, Newsome 1-6.
Passing – N: Lynch 4-10-0 18. P: Kline 9-12-0 114, Villinger 0-1-0.
Receiving – N: Lawson 1-2, Brown-Mason 2-25, E. Green 1-(-9). P: Frawley 6-96, Villinger 1-2, Parkinson 1-8, Gordon 1-8.
Interceptions – None.
More From Shore Sports Network