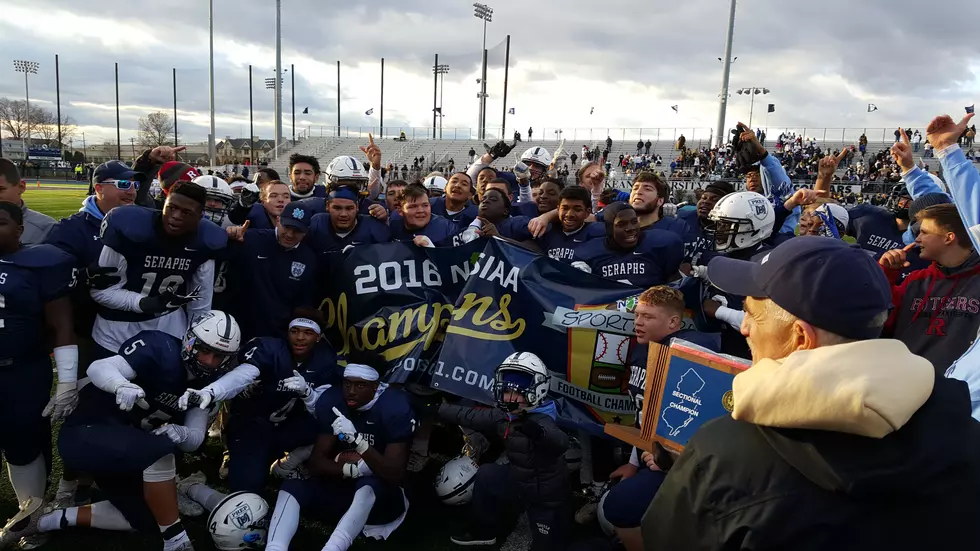 Mater Dei Prep Wins First State Title on Trick Play TD by Eddie Lewis in Last 3 Seconds
Photo by Scott Stump.
UNION - Even after Mater Dei Prep senior Eddie Lewis dashed into the end zone for an incredible last-second touchdown that gave the Seraphs their first state championship in history, it was hard for him to believe what had just happened.
With 15 seconds left in the game on Saturday, Mater Dei junior quarterback George Pearson hit junior wideout Kyle Devaney with a short pass, and then he flipped it to Lewis on a hook-and-lateral. Lewis took off to complete a 50-yard touchdown with three seconds left in regulation to polish off "The Mater Dei Miracle" and give the Seraphs a heart-stopping 26-20 win over Holy Spirit for the NJSIAA Non-Public Group II title.
"It felt like a dream,'' Lewis said. "I laid down on the ground after the play, rubbed my eyes, looked up, and it was real."
Lewis was mobbed in the end zone by his teammates after the stunning touchdown at Kean University's Alumni Stadium. Holy Spirit had one last chance for its own miracle, but the Seraphs recovered a fumble to seal their first 12-0 season and make school history.
"I knew we were going to score off it,'' Devaney said. "We practice it every week in preparing for every situation. Once Eddie got the ball, he was gone. No one was catching him."
Mater Dei Prep had beaten every team it had played by at least 22 points heading into Saturday, making it the first dogfight the Seraphs had faced all season.
"That's one of the problems,'' Mater Dei head coach Dino Mangiero said. "We hadn't played four quarters.It hurt us, but we hung in there today."
Holy Spirit (9-3) rallied from a 20-6 halftime deficit to tie the game on a 35-yard fumble return touchdown by safety James Marcheski after Pearson was sacked and stripped of the ball with 6:14 left in the game.
The teams then traded possessions, as Mater Dei Prep's defense came up with two stops on fourth down, including a huge one inside the final two minutes. An interception by Ahmad Brown had given Holy Spirit the ball at Mater Dei's 44-yard line with 1:15 left in the game, but the Seraphs' defense tightened with the game on the line.
Instead of punting, Holy Spirit elected to go for it on fourth down, and a host of Seraphs came up with a sack to get the ball back at the 50-yard line with 15 seconds left in the game. That's when offensive coordinator Lance Bennett dialed up a play that will go down in Mater Dei lore.
"We go through every scenario every week, and we try to prepare for situations like that,'' Mangiero said. "Eddie and Kyle have run that play 25 or 30 times, so I'm just glad it worked out. It was a lot of fun."
"Coach said we were going to hit it for a big one,'' Lewis said. "I was thinking, 'Just get into the end zone. It's my time to shine.'''
Mater Dei had come out firing in its first state final appearance since 1999, grabbing a 13-0 first-quarter lead. On their first play from scrimmage, Pearson hit Lewis, who took off for a 67-yard touchdown and a 7-0 lead to immediately put the Spartans on their heels.
After the defense forced two straight three-and-outs, the Seraphs mounted a four-play, 60-yard drive capped by an 18-yard touchdown catch by tight end Izaiah Henderson that was set up by a 27-yard strike from Pearson to senior running back Marvin Pierre for a 13-0 lead.
Holy Spirit got on the board with a 7-yard touchdown run by senior Reggie Jean-Charles, who ran for 158 yards in the loss, to cut it to 13-6 with 8:18 left in the half.
After the teams traded possessions, Mater Dei stretched the lead with a 7-play, 38-yard drive. It ended with a 26-yard touchdown pass from Pearson to Pierre on fourth-and-11 for a 20-6 advantage with 1:15 left in the half.
Pearson was 7-for-10 for 158 of his 204 yards at the half and three of his four touchdown tosses, while Pierre had three tackles for a loss and a sack at linebacker to lead the first-half defensive effort.
Holy Spirit began its comeback with a three-play, 42-yard drive on its opening possession of the third quarter, scoring on an 11-yard run by Jean Charles to trim the lead to 20-13. That's the way it would remain until Marcheski's fumble return for a score set the final events into motion for a finish that no Mater Dei Prep fan will ever forget.
With a talented roster returning, this could only be the beginning for the Seraphs.
"It's just going to get better,'' Pearson said. "We might be even better next year."
Box score
Mater Dei Prep 26, Holy Spirit 20
.                                M            H
First downs            9              9
Rushes-yards     21-44       49-182
Passing                11-19-1     5-10-1
Passing yards        204           24
Fumbles-lost          3-1            0-0
Penalties               2-17          4-20
Holy Spirit (9-3)     0    6   7   7   - 20
Mater Dei (12-0)   13   7   0   6 - 26
Scoring summary
M: Lewis 67-yard pass from Pearson (Maxwell kick).
M: Henderson 18-yard pass from Pearson (kick failed).
H: Jean-Charles 7-yard run (run failed).
M: Pierre 26-yard pass from Pearson (Maxwell kick).
H: Jean-Charles 11-yard run (Antonucci kick).
H: Marcheski 35-yard fumble return (Antonucci kick).
M: Lewis 45-yard run on hook-and-lateral from Devaney (kick failed).
Individual statistics
Rushing - M: Saunders 6-6, Pearson 7-(-28), Pierre 7-25, Lewis 1-45. H: Jean-Charles 29-158, Lora 1-(-2), Costabile 4-(-26), Figueroa 14-47, Tarsitano 1-5.
Passing - M: Pearson 11-19-1 204. H: Costabile 4-9-0 16, Figueroa 1-1-0 8.
Receiving - M: Lewis 2-76, Pierre 3-67, Devaney 4-36, Henderson 2-25. H: Liepe 3-13, Gerena 1-10, Tarsitano 1-1.
Interceptions - H: Brown 1-10.
More From Shore Sports Network