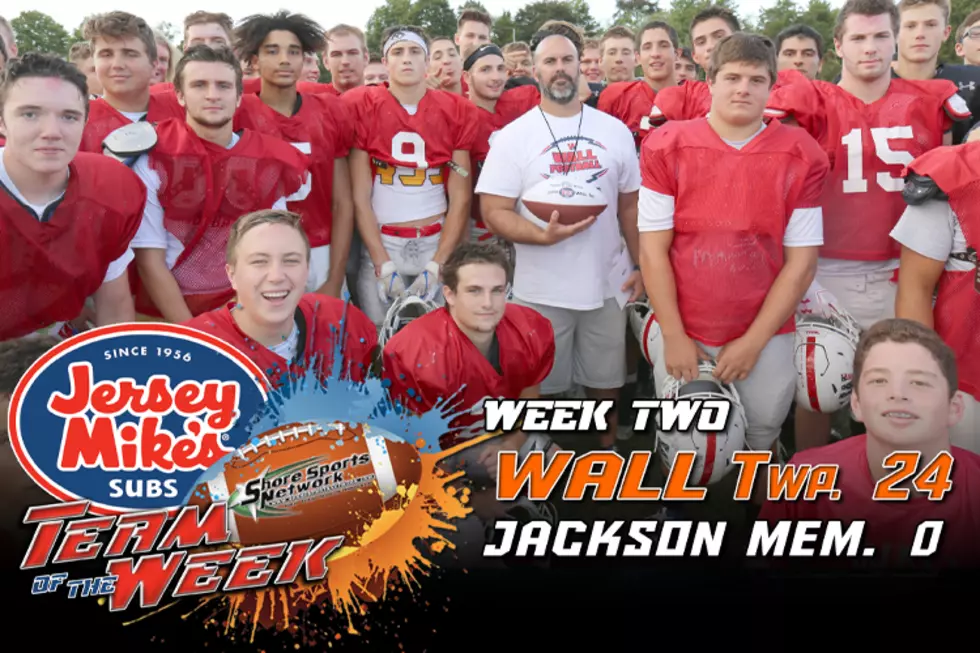 Jersey Mike's Football Team of the Week: Wall Township
Photo by Steve Meyer/Townsquare Media NJ
Every week this fall, Jersey Mike's and Shore Sports Network will be selecting a Team of the Week based on its performance over the past weekend.
The Jersey Mike's Team of the Week for Week 2 is Wall, which defeated its third ranked team in as many weeks by scoring for times in the fourth quarter to beat Jackson Memorial, 24-0. Shore Sports Network was at practice Tuesday to present the Crimson Knights and head coach Tony Grandinetti with a special game ball and a $500 Jersey Mike's gift card.
Wall was coming off a statement-making 14-3 victory over Rumson-Fair Haven in the SSN Week 1 Jersey Mike's Game of the Week but had little time to rest on its laurels with a trip to The Jungle and an always-tough Jackson team looming.
It was a defensive battle through the first three quarters with neither team able to find the end zone until senior running back Matt DeSarno scored on a 3-yard run. Max Oakley followed with a 33-yard field goal to give the Knights a 10-0 lead before junior defensive back Casey Larkin delivered the knockout punch with a 26-yard interception return for a touchdown. Senior running back Dale McNally added a 20-yard touchdown run to polish off the victory and continue Wall's blazing start to the 2019 season.
Larkin finished with a team-high 60 yards rushing on 12 carries while also making seven tackles plus the pick-six on defense. Sophomore linebacker Charlie Sasso posted eight tackles, an interception and a fumble recovery while senior linebacker Dean Terry made seven tackles and blocked a punt. Senior defensive end Ian Ackerman also made seven tackles and junior defensive end Grant Puharic registered the team's lone sack.
Wall's defense has been outstanding in the season's first three games, allowing just 13 points in victories over Middletown North, Rumson and Jackson. The offense has been opportunistic and made the work of the defense stand up with clutch scoring drives.
Wall held strong in the No. 2 spot in the Shore Sports Network Top 10 behind fellow unbeaten and Colonial Division rival Mater Dei Prep. The Seraphs and the Crimson Knights will duke it out for early conference supremacy on Saturday, Oct. 5, but first Wall must contend with Freehold (1-2) at home this coming Friday night.
More From Shore Sports Network