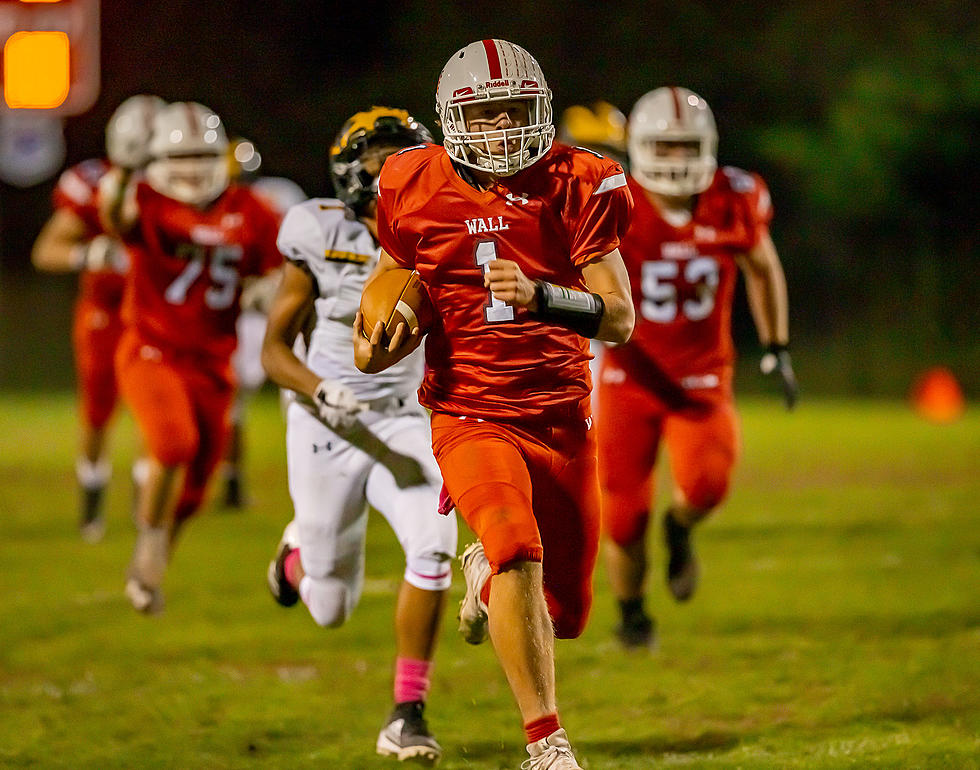 Football – Wall Rolls Through SJV to Clinch Share of Division Title
Wall junior quarterback Logan Peters. (Photo by Paula Lopez)
WALL TWP. - In its undefeated start to the season as the Shore's No. 1 team, the Wall football team has owned the fourth quarter. So when the Crimson Knights gave up the lead in the first quarter Friday night against St. John Vianney with a chance to clinch a share of a division title, there was no concern on the Crimson Knights sideline.
Like they have done all season, the Crimson Knights got their running game going and took over the game, rushing for a season-high 317 yards while holding Vianney below zero in a resounding 41-14 win.
The victory clinches Wall no worse than a share of the Shore Conference Constitution Division championship, which it can win outright by beating Brick next week.
Juniors Logan Peters and Casey Larkin led the rushing attack, with Peters racing for 105 yards on 11 attempts and Larkin collecting a game-high 143 on 23 attempts. Peters, Larkin and senior Matt DeSarno each rushed for two touchdowns.
"Our running game was the difference tonight, no doubt," Wall coach Tony Grandinetti said. "We saw some things that we could attack and we did that. They (St. John Vianney) made some good adjustments that forced us to switch things up but when we get rolling with our running game, I feel the confidence and it trickles down. The line, the running backs - everyone can feel it."
"That's our plan every game: we're going to pound it right in your face and make you stop it," Peters said. "We know Casey is going to get his and Matt came up with another big run. I was even doing my part on the ground, so we just kept it going."
The majority of Peters's yards came on his two first-half touchdown runs - the only two go-ahead scores by Wall in the game. The junior quarterback broke containment for a 43-yard touchdown scramble to open the scoring on Wall's first drive. He later slithered his way 19 yards for another go-ahead touchdown late in the second quarter and hit senior receiver Gus Setteducato on the two-point conversion to cap the first-half scoring.
Vianney actually responded to Peters's first touchdown run in encouraging fashion, first by blocking the extra point. Freshman quarterback Antonio Rosato then led the Lancers on a 52-yard drive on nine plays to give them the lead, capped on a one-yard quarterback sneak by the freshman. Rosato went 3-for-5 for 61 yards on the drive, including a 38-yard pass to senior running back Kavon Chambers that would have been a touchdown if not for a holding call late during his run to the endzone.
The Lancers then stopped Wall and got the ball back with a chance to extend the lead but committed a costly personal foul after a two-yard loss on third down. The penalty moved the ball from a fourth-and-5 at the Wall 35 to a fourth-and-20 at midfield, forcing Vianney to punt.
"We have been in that situation before against a good team," Peters said of Wall's early deficit. "We just stayed true to ourselves. We said we're going to keep doing the same thing: we're going to pound them and, like coach (Grandinetti) says, we're going to play all three phases. We do that over and over again and in that second half, when everyone else is tired, we're still going."
Wall punted again on its next drive but came up with a momentum-shifting play on defense and again thanks to Peters. The junior safety sat on a slant route and picked off Rosato, returning it 19 yards to the Vianney 36 with another personal foul penalty setting Wall up at SJV's 19.
After a failed halfback pass on first down, Peters broke off his second touchdown run and the ensuing two-point conversion made it 14-7 with 1:27 left before halftime. Wall recovered a fumble at the SJV 20 on the ensuing kickoff but could not capitalize with another touchdown before halftime.
The Crimson Knights made up for the missed opportunity just before the half by dominating the first 12-plus minutes of the second half. DeSarno broke a 51-yard touchdown to stretch the lead to 21-7 and Larkin plowed for a two-yard touchdown to make it 27-7, with Vianney blocking another extra point.
Larkin was a steady source of yards through the first three quarters but was at his best putting the game away in the fourth quarter. The junior running back ran for 79 of his yards on nine fourth-quarter carries, including a 36-yard touchdown run to make it 34-7 in the first minute of the fourth.
St. John Vianney finally ended Wall's run of 28 unanswered points with a nine-yard touchdown pass from senior quarterback C.J. Duell to freshman Kyle Verriest. Duell split the quarterback snaps with Rosato Friday and finished 14-for-19 for 114 yards while Rosato was 5-for-9 with 78 yards.
Wall marched right back down the field for one more score, this time with DeSarno capping the drive with a four-year run.
Wall's three-headed rushing attack combined for 295 of the 317 yards, with sophomore Matt Dollive accounting for the other 22. On the flip side, Wall's defense completely shut down St. John Vianney's rushing game, holding senior running back Kavon Chambers to 18 yards on eight carries and limiting the Lancers as a whole to negative-11 yards on the ground.
"That's our swarming defense," Grandinetti said. "The running backs we have faced this year have been really good and really challenging to play against. The one thing about this defense, though, is they love a challenge. This is a very competitive team. They love to compete and come out here on Friday nights and just getting after it."
Chambers made an impact in the passing game with four catches for 67 yards, but 65 of those yards came in the first half.
Wall is starting to turn its attention to winning a second NJSIAA sectional championship in four years but its outright division championship would be its first since 2011. Considering the competition Wall had to go through - Vianney, Mater Dei Prep and Jackson Memorial - to win this year's Colonial, it carries extra significance for these Crimson Knights.
"Every team in the Shore and probably every team in America starts with the goal of winning their division," Grandinetti said. "That's a big check mark and to be in this position right now is where we want to be, but this team doesn't get too confident. We still have to beat a very good Brick team.
"With this schedule, with who we have had to play, it's very satisfying to have this opportunity. Here at Wall, we haven't won a division in quite some time so this is a great accomplishment."
Wall 41, St. John Vianney 14
| | | |
| --- | --- | --- |
| | SJV | Wall |
| First Downs | 11 | 18 |
| Rushes-Yards | 18-(-11) | 42-317 |
| Passing | 19-28-1 | 4-10-0 |
| Passing Yards | 192 | 54 |
| Fumbles-Lost | 4-1 | 3-0 |
| Penalties-Yards | 6-61 | 4-40 |
| | | | | | |
| --- | --- | --- | --- | --- | --- |
| | 1 | 2 | 3 | 4 | F |
| SJV (3-3, 2-3) | 7 | 0 | 0 | 7 | 14 |
| Wall (7-0, 4-0) | 6 | 8 | 13 | 14 | 41 |
W - Logan Peters 43-yard run (kick blocked)
SJV - Antonio Rosato 1-yard run (Michael Abel kick)
W - Logan Peters 19-yard run (Gus Setteducato pass from Peters)
W - Matt DeSarno 51-yard run (Max Oakley kick)
W - Casey Larkin 2-yard run (kick blocked)
W - Casey Larkin 36-yard run (Max Oakley kick)
SJV - Kyle Verriest 9-yard pass from C.J. Duell (Michael Abel kick)
W - Matt DeSarno 4-yard run (Frank Passantino kick)
Rushing - SJV: Kavon Chambers 8-18, Antonio Rosato 3-(-5), C.J. Duell 7-(-24); W: Casey Larkin 23-143, Logan Peters 11-105, Matt DeSarno 5-47, Matt Dollive 3-22
Passing - SJV: C.J. Duell 14-19-0 114, Antonio Rosato 5-9-1 78; W: Logan Peters 4-10-0 54, Casey Larkin 0-1-0 0
Receiving - SJV: Kavon Chambers 6-67, Julian Young 2-51, Jayden Bellamy 2-22, Warren Griffith 2-20, Kyle Verriest 3-18, Zarrin Stephens 2-5, Josh East 1-7, Pete Pezzullo 1-2; W: Gus Setteducato 1-24, Blake Rezk 1-12, Dale McNally 1-12, Casey Larkin 1-6
Interceptions-Return Yards - W: Logan Peters 1-19
More From Shore Sports Network