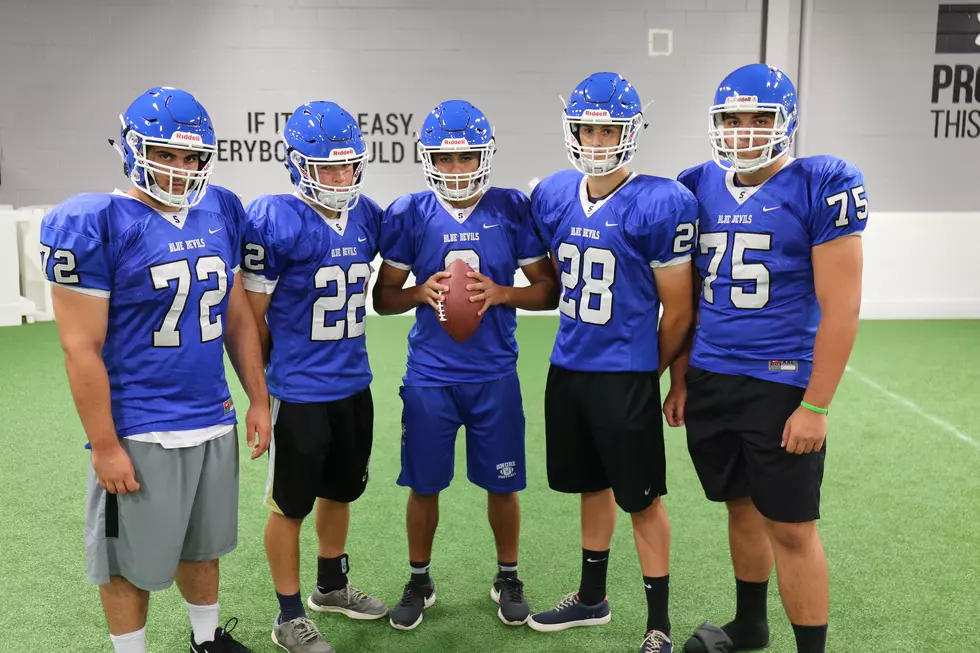 Eyes on the Prize: Shore Regional 2018 Football Preview
Photo by Steve Meyer.
Even though they were a mostly young and inexperienced team and also had to deal with a plethora of injuries, going 4-6 last season was not acceptable to Shore Regional's players.
"It's been eating at us all offseason," said senior quarterback/defensive back Gil Goldsmith. "Going 4-6 is not what we want at all. Last year definitely wasn't the year we hoped for."
For a program that is usually among the best small schools in the Shore Conference and a state power at the Group 1 level, the only logical response is to come back in 2018 with the goal of winning it all.
"Being back out here, we're rejuvenated," Goldsmith said. "We have a state-championship-or-bust mentality and I really feel like we can achieve that goal with who we have out here."
The Blue Devils will bring back eight starters in their Delaware Wing-T offense with plans on reigniting a multi-pronged rushing attack that batters teams behind an imposing offensive line. The one twist this year is having Goldsmith at quarterback. A superb athlete who is also a lacrosse standout, Goldsmith's ability to make plays outside of the pocket and create big plays has Shore exploring new looks.
"So far it's been very encouraging," said Shore head coach Mark Costantino. "Gil can score on any play whether it's a drop-back pass, a rollout, a QB sweep; he can score at any time. Because of that, we've added some new schemes in addition to our base Wing T, which have been tremendous."
"I'm definitely excited to utilize the skill sets we all have and what makes us our best as players," Goldsmith said. "We're going to use it all to our advantage."
Seniors Jack McCrae and Kevin Pennell return as fullbacks with juniors Terry Carlstrom and Dan Kelly and sophomore Shane McLaughlin at wing back. McCrae led the Blue Devils in rushing last year with 653 yards and six touchdowns.
Senior Michael Deusch returns as the starting tight end, and the Blue Devils will also use 6-foot-3 senior Liam Rempel. Carlstrom will also play wide receiver where he gives Shore a big-play weapon in the passing game. Senior Brett Young is a returning starter at receiver and 6-foot-4 sophomore Chris Kessler and seniors Justin Murphy and Ty Peterson will also be in the mix on the perimeter.
Senior Sam Aromando (6-0, 235) is a three-year starter and will slide inside to guard after playing tackle last season. The right side of the line has returning starters Frank Illiano (5-10, 290) at tackle and Gunnar Schuelzky at guard. The center will be either senior Noah Carroll or senior Matt VanBrunt. The big addition to the offensive line – literally – is 6-foot-4, 300-pound senior Vin DiMaio, who is a three-year starter on defense and now joins the offensive group.
"Surprisingly, I like it way more than defense," DiMaio said. "It's fun moving people around. Our group now is pretty much all returning guys and they made the transition so easy for me."
Shore's defense was in the middle of the pack last year and is eager to return to its usual shut-down ways. DiMaio, who had a team-high five sacks last season, and senior Joe Aria are the tackles in the Blue Devils' 4-4 front with Illiano also set to see snaps. Aromando is a returning starter at defensive end while Carroll and senior Tom Maloney will also see playing time at end.
The strength of the defense is at linebacker where all four players are returning starters. Deusch and Schuelzky are the inside linebackers and McCrae and Pennell are the outside linebackers. Rempel, Kelly and senior Jake Shirly could all see time at linebacker, as well.
Goldsmith and Carlstrom are both returning starters in the secondary at free safety and cornerback, respectively. Young and McLaughlin will also play cornerback and senior Tom Bocco will also play in the defensive backfield.
"I feel good about our season, in general, this year," DiMaio said. "I feel confident we can give any team we face a hard time on both sides of the ball."
On special teams, junior Richie Pekmezian returns as the kicker. Goldsmith is the punter with sophomore Cade Torres also a possibility there.
Divisional realignment has Shore in the Patriot Division with Mater Dei Prep, Pinelands, Matawan, Barnegat and Jackson Liberty. The Blue Devils are also classified as a Group 2 team this season.
"It's great having all the guys coming back and everyone's on the same page," Goldsmith said. "Like I said, we have a state-championship-or-bust mentality and we really believe we can fulfill that goal."
Head coach: Mark Costantino, 27th season
2017 record: 4-6 (3-2 in B Central)
Coaching staff: Jon Remedios, Mike Whitacre, Pete Vincelli, Joe Rankin, Marty Mullarney, John Vaccarelli, Mark Costantino Jr., Chris Reilly, Joe Amicucci (athletic trainer).
BIG SHOES TO FILL: Noah Carroll, Sr., DE
Carroll will start at defensive end and take over for Mike Rosati, who was a three-year starter and made 4.5 sacks last year.
X-FACTOR: Staying healthy
Shore has several key starters back, but depth, as was evident last year, can be an issue for a small school. The Blue Devils need everyone on the field if they are going to contend for a championship.
IMPACT NEWCOMER: Shane McLaughlin, So., RB/DB
McLaughlin will see plenty of playing time among Shore's stable of running backs and will also start in the secondary at cornerback.
PIVOTAL GAME: Sept. 14 vs. Barnegat
Shore and Barnegat have met as nondivisional opponents the last two years with the teams splitting the two games. Now they're in the same division and both have large senior classes hoping to lead the way and forge a special season.
Managing editor Bob Badders can be reached at bob.badders@townsquaremedia.com. Follow him on Twitter @Bob_Badders. Like Shore Sports Network on Facebook and subscribe to our YouTube channel for all the latest video highlights.
More From Shore Sports Network