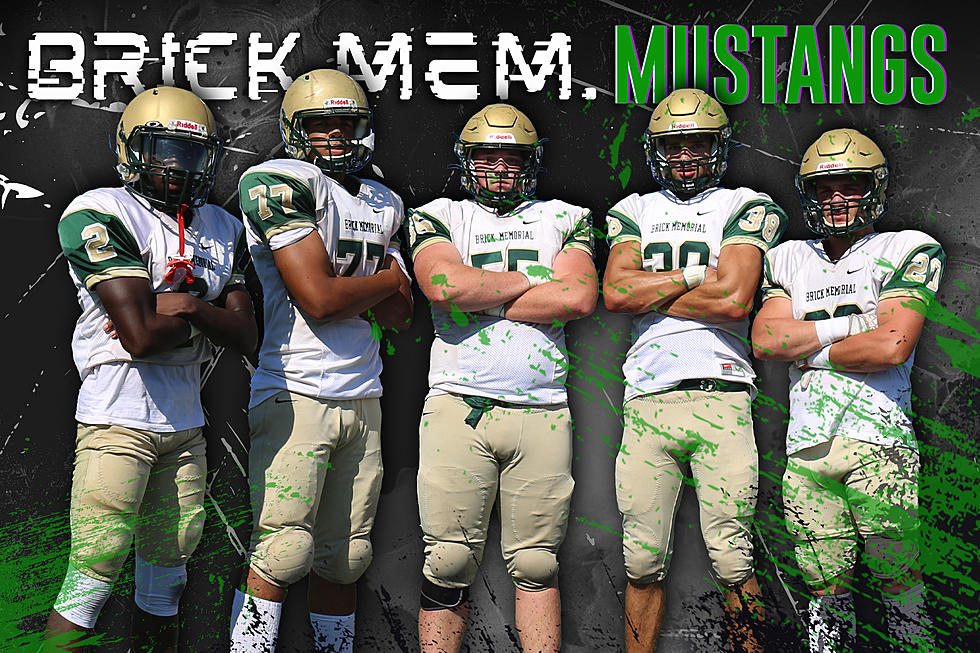 Completing the Puzzle: 2023 Brick Memorial Football Preview
(l to r) Jasaan Whittaker, Eric Melillo, Darren Aponte, Connor Dietz & Nico Maribo

With record-setting quarterback Connor Dietz returning for his third year as the starter and several other standouts also back, Brick Memorial is eyeing a return to division title contention and making a run in the state playoffs. To get to that point, however, the Mustangs will need to get back to playing the type of defense they have displayed during previous championship seasons.
The Mustangs finished 6-5 last season, a solid season but one that could have been quite different if not for a pair of deflating losses to Freehold Township in Week 5 and to rival Brick in Week 8. The offense was electric, finishing No. 6 in the Shore averaging 30.5 points per game. Dietz continued his assault on the Brick Memorial record book by combining for 3,968 yards of offense and 36 touchdowns on an average of 9.7 yards per play to earn a First Team All-Shore selection. Scoring touchdowns wasn't the problem. Preventing them was.
Brick Memorial's defense finished 32nd out of 42 Shore Conference teams in scoring defense last season (27.5 ppg), yielding over 30 points five times and allowing 40 or more points twice. Those numbers will have to come down for the Mustangs to reach their potential, and if they do, a return to championship contention should be in the cards.
Brick Memorial head coach Walt Currie is a Flexbone guru and his teams have run some version of the triple-option every year he's been at the helm. To maximize Dietz's dual-threat abilities it's morphed into a spread-option offense, and the results have been excellent. Five starters return as the unit looks to continue to be one of the Shore Conference's highest-scoring offenses.
Dietz enters his third year as a starting quarterback and is a two-time All-Shore selection. His junior season was incredible and altered the program's record book in several categories. He was second in the Shore in both rushing and passing, throwing for 2,093 yards and 13 touchdowns and rushing for 1,875 yards and 23 touchdowns on an average of 9.5 yards per carry. He set multiple school single-season records including points (164), rushing touchdowns, passing yards, rushing yards, and passing completions and attempts. He also became the program's all-time leading scorer with 294 career points.
The Mustangs' spread option will operate primarily out of 11 personnel (1 running back, 1 tight end). Returning as the starting running back is junior Kevin Andrews, who showcased the ability to make plays on the ground, through the air, and on special teams during a superb sophomore season that ended with a Third Team All-Shore selection. He rushed for 865 yards and 12 touchdowns, giving Brick Memorial another player opposing defenses had to worry about. Sophomore Na'zeer Whittaker will also be at running back. The tight ends are sophomore Trey Tallmadge, a three-sport standout (wrestling, lacrosse) who made a major impact on defense last season, and senior Edwin Vargas.
Brick Memorial lost standout wide receiver Jeremiah Crispin to graduation after he was third in the Shore with 707 yards last season but does bring back two starters. Senior Jasaan Whittaker caught 32 passes for 349 yards and two touchdowns last season and senior Nico Maribo returns to expand his role on offense after playing a leading part on defense last season. Na'zeer Whittaker will also see time at wide receiver along with senior Johnny Poukish, junior Jimi Popp, and sophomore Rickey Dillon.
While the Mustangs have experienced players back at their skill positions, the offensive line returns only one starter. Senior Eric Melillo is the lone returner and will be the starting center. Junior Joe Cunningham is the left tackle and the left guard spot is between a pair of juniors in Aiden Crawford and Ben Szuba. Senior Darren Aponte is the right guard and junior Austin Edwards is the right tackle. There are question marks given the number of new starters on the line, but if the group can come together quickly and deliver consistent play the Mustangs' offense should pick up right where it left off.
Brick Memorial's aforementioned defense does return seven starters in its 4-2-5 scheme that will be helmed by co-defensive coordinators Jimmy Bright and Ryan Graham. All four linebackers are returning starters and comprise the heart of the defense. The traditional linebackers in the scheme are back with Tallmadge and Vargas in the middle of the defense. Tallmadge led the Mustangs in tackles (111) and tackles for loss (15) as a freshman and is a candidate to emerge as one of the Shore's top linebackers. Vargas posted 51 tackles last season as a junior.
The outside linebackers function as hybrid linebackers/strong safeties in the 4-2-5. Maribo was second on the team in tackles and tackles for loss with 90 stops and eight hits behind the line of scrimmage. Dietz's junior season was all the more impressive when you consider his defensive contributions of 71 tackles and three interceptions.
The defensive line is the same as its offensive counterpart in that Melillo is the lone returning starter. He will be at defensive tackle lined up next to either senior Brandon Greet or junior Max Prestinari. The defensive ends are Cunningham and junior Jaxon Figueroa.
The secondary has two returning starters. Jasaan Whittaker is the returning starter at free safety and Popp is a returning starter at cornerback. Na'zeer Whittaker is the other cornerback with Poukish competing for playing time, as well.
Dietz was also the team's kicker last season but the Mustangs will take that off his plate this year with freshman Jack Marotta set to handle the placekicking duties. Sophomore Jason Lajara will be the punter.
Not unlike many teams in the Shore, Brick Memorial enters the 2023 season with some proven veterans along with some unanswered questions regarding first-year starters. If the Mustangs can sure up their defense and the offensive line gels, they could be back in the mix in the Independence Division and Group 4 state playoffs.
At a Glance
Head coach: Walt Currie, 17th season
Career record: 87-79
2022 record: 6-5
Offense: Spread option
Defense: 4-2-5
Coaching staff: Bill Brunner (OL); James Mahoney (Offensive Coordinator/QB); Ryan Graham (Co-Defensive Coordinator/DT); Jimmy Bright (Co-Defensive Coordinator/DB); Keith Farr (WR); Pete Walski (TE); Andy Cammarano (LB); Mike Mahoney (DE); Paul Walski (OL); Dom Santoro (DB); Rob Brown (Freshmen); Justin Szuba (Freshmen); Jayden Lajara (Freshmen); Trevor Signorino (Freshmen); Sue Penrod (Athletic Trainer).
Circle the Date: Week 8 – Friday, Oct. 20 vs. Brick
A lot could be on the line during the final week of the regular season when the rival Dragons and Mustangs meet. Brick has long had Brick Memorial's number with a sizeable lead in the all-time series but this one could be about more than bragging rights as it could potentially decide the division championship and/or playoff positioning.
Player to Watch: Connor Dietz, Sr., QB/OLB/SS
Dietz is on his way to becoming Brick Memorial's all-time leading passer and rusher along with the other records he has already broken. He is coming off the best individual season in program history and will be counted upon to deliver production and leadership if the Mustangs are to elevate their overall play from a season ago.
Impact Newcomer: Na'zeer Whittaker, So., RB/WR/CB
Whittaker will get an opportunity to make an impact on both sides of the ball as a running back/receiver and on defense at cornerback.
Breakout Candidate: Trey Tallmadge, So., ILB/TE
A freshman leading a team in tackles, especially at a Group 4 school, is very rare. Tallmadge accomplished that feat last season and is primed to become one of the Shore's top linebackers and push for an All-Shore spot.
Big Shoes to Fill: The wide receivers
Dietz figures to be one of the most productive passers in the Shore so there will be opportunities for someone to step up and replace the production of Jeremiah Crispin, who caught 39 passes for 707 yards and three touchdowns last season.
Did you Know?
Walt Currie is the longest-tenured coach in Brick Memorial football history set to begin his 17th season. The Mustangs have had great stability at the head coaching position with just three coaches since 1989.
SCHEDULE
| | | |
| --- | --- | --- |
| Date | Team | Time |
| Friday 8/25 | Allentown | 6pm |
| Friday 9/1 | Middletown North | 6pm |
| Friday 9/8 | Barnegat | 6pm |
| Thursday 9/14 | @Matawan | 6:30pm |
| Friday 9/22 | Freehold Township | 6pm |
| Saturday 9/30 | @Manasquan | 1pm |
| Saturday 10/7 | @Freehold | 12pm |
| Friday 10/13 | @Lacey | 6:30pm |
| Friday 10/20 | Brick | 6pm |
More From Shore Sports Network