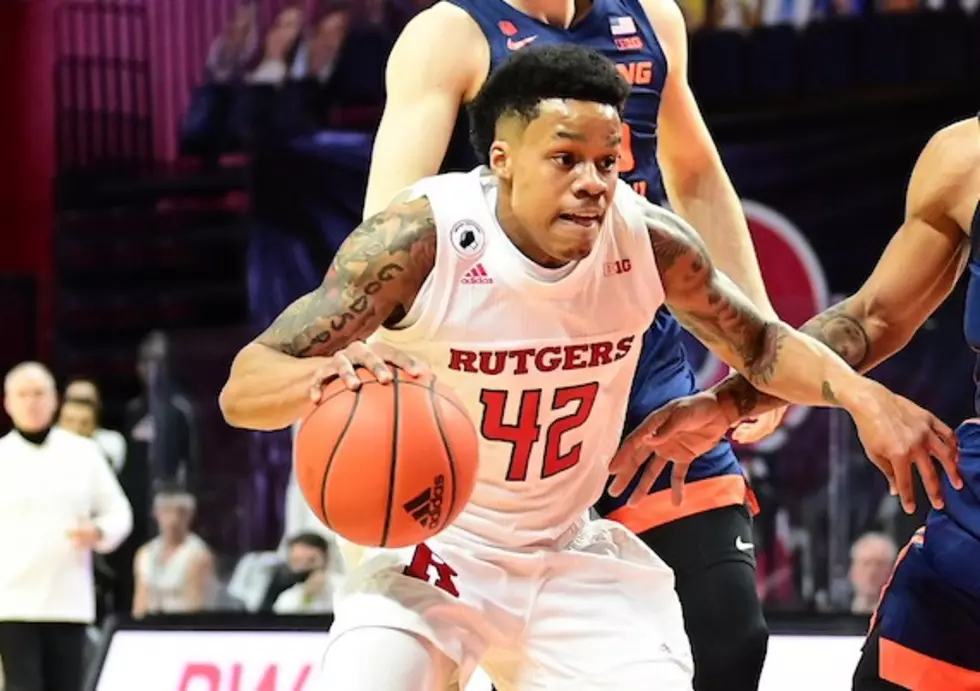 College Basketball – Beat-Up Rutgers Suffers First Loss
Rutgers senior Jacob Young drives against Illinois guard Adam Miller. (Photo by Ben Solomon/Rutgers Athletics)

Enter your number to get our free mobile app
After his team finished off a win over a ranked Illinois team on Sunday, Rutgers guard Jacob Young stated, matter-of-factly, that he never gets tired.
While there may be some truth to that self-assessment by the speedy, energetic senior point guard, Wednesday's game at 23rd-ranked Ohio State provided a reminder that Young and his Scarlet Knights team are not indestructible.
Young took a hard fall on an attempted dunk late in the second half and did not return – part of a final stretch of an 80-68 loss in Columbus during which the wheels came off of a Rutgers wagon that had met little resistance prior to the final 13-plus minutes on Wednesday night.
The loss is the first of the season for No. 11 Rutgers, which led by as many as 16 points in the second half and was outscored 48-20 over the final 15:38 of the game. The Scarlet Knights were playing their first game since topping then-No. 13 Illinois and reaching its highest national ranking since the 1975-76 season.
"Whether we won or lost, I knew this (Ohio State) was an excellent basketball team," Rutgers coach Steve Pikiell said. "They've got great wins, coach (Chris Holtmann) does a great job and we know from playing here this is a tough place to play. We couldn't really get in the flow the whole game and I wasn't comfortable the whole game."
"Being a good team is about the bounceback," senior guard Geo Baker said. "I think this humbled us a little bit. We obviously wanted to go undefeated into Christmas. There are some things we need to work on and now we know that."
Pikiell said he did not know the extend of the injury to Young, who fell hard on his left side and appeared to be favoring his left hip while trying to job on the sideline. Young finished with 12 points and five assists on Wednesday and is averaging 15.9 points and 5.6 assists through seven games.
"He fell really hard and he was in a lot of pain, so we're just keeping our fingers crossed," Pikiell said. "It was scary. He is as tough as they come so we're saying some prayers that he is going to be okay and our team has to rally and someone else has to step up at that point in time."
Junior Ron Harper Jr. led Rutgers with 20 points and 6 rebounds, marking the sixth time in seven games so far this season in which the Scarlet Knights wing has hit the 20-point mark. Harper entered play Tuesday No. 5 in the nation in per-game scoring at an even 24 points per game.
Harper and the rest of his guard-heavy team started the game strong, with the five regular perimeter players – Harper, Young, Montez Mathis, Paul Mulcahy and Geo Baker – combining for all of Rutgers's points in jumping out to a 38-28 halftime lead.
Ohio State did most of its damage in the first half on the interior, with frontcourt players E.J. Liddle, Kyle Young and Zed Key combined for 20 of the 28 points. That dominance in the paint only increased in the second half and guard Duane Washington Jr. came alive for 18 of his career-high 22 points in the second half add to the Buckeyes turnaround.
The Center of the Problem
Young's injury was a final blow for Rutgers, but foul trouble in an already-thin frontcourt plagued Rutgers throughout. With 6-11 freshman Cliff Omoruyi already out because of a sprained right knee suffered against Illinois on Saturday and freshman forward Mawot Mag missing his second straight game with an ankle injury, 6-11 junior Myles Johnson moved into the starting lineup and played only 15 minutes before fouling out with 8:44 left in the game.
"We have to be more creative with our lineups when guys are out and missing, "I'll take the hit for all this and we'll do a better job, but these are the obstacles you face in the best league in the country."
Johnson picked up three fouls in the first half, started the second half on the bench, and upon re-entering, made it only 2:50 on the clock before picking up his fourth with 14:51 left in the game. Senior Mamadou Doucoure picked up Omoruyi's role as the second center and also picked up his fourth foul by the 10:41 mark, prompting Johnson to return to the game. Less than two minutes later Johnson – with his arms straight up in the air trying to avoid contact with Ohio State's Musa Jallow – picked up his fifth foul on another questionable call. Johnson played fewer than five minutes in the second half and finished with two points, two rebounds and one block.
"Myles has been playing really good and to only have him for 15 minutes is not a good thing," Pikiell said. "Those are the obstacles and we've got to figure it out. He got some fouls early and never got into the flow, but he's a good player and he'll bounce back."
Doucoure struggled during his first-half stint on the floor but asserted himself in the second half with a block on the defensive end and a three-point play on a two-handed slam off a feed from Young.
"I knew if I called on him, he'd be ready to play hard and that's what he did," Pikiell said of Doucoure. "He came in the game and made some nice plays for us. He had to play a lot more than I'm sure he expected and more than I expected. But he's in good shape, he's a senior, he's a great kid and he works hard. He was ready and everyone has got to be ready."
Ohio State exploited Rutgers's issues at center by attacking the paint and pounding the glass. The Buckeyes won the battle for points in the paint, 38-20, made 12 more free throws (22-10) on 12 more attempts (29-17), and dominated the boards, 45-25. Liddle finished with 21 points, six rebounds and three assists, while Kyle Young posted 17 points and 12 rebounds.
Rebounding was a key factor Sunday in knocking off Illinois, which entered that game with a plus-17 rebounding margin on its opponents and conceded an edge on the glass to Rutgers.
"We obviously didn't do a good job on the backboards," Pikiell said. "We're one of the better rebounding teams in our conference and when you get beat on the boards like we did tonight and you give up 22 points on the foul line, you're not going to win games in a great league against great coaches."
Rutgers lost the rebounding edge Wednesday in the first half as well, but the Scarlet Knights made up for the disadvantage by shooting 50 percent from beyond the three-point arc and 47 percent from the field over the first 20 minutes.
"Our first two things tonight were to rebounds and defend without fouling and we didn't do either of those," Pikiell said. "When you don't do the two things that are first on the board, you're probably not going to have a lot of success on the road."
It was not just the interior where Rutgers struggled in the second half. From the 9:14 mark – just before Johnson fouled out – until 27 seconds remaining, Ohio State held Rutgers without a field goal. Harper went scoreless over the final 10 minutes and missed his last six shots.
Baker also lost his touch from the field down the stretch as well, getting shut out in the second half after scoring eight points in the first half. Montez Mathis finished with 16 points and ended the nearly-nine-minute field-goal drought with a three-pointer in the final minute.
"We got taken out of our offense a little bit," Baker said. "I wasn't too worried about the calls. I think we got taken out of our offense and hit a little adversity. As a veteran team, we've got to be better than that."
For the first time since taking the job at Rutgers nearly five years ago, the normally-even-keeled Pikiell picked up his first technical foul. It came with the score tied at 61-61 and after Baker had gone to the basket and missed a layup on a play in which he thought he drew contact with a defender.
Pikiell did not appear to make any demonstrative gestures, but the official on the opposite side of the court stopped play and hit Pikiell with the technical.
"Basketball can get emotional and we can all get emotional out there," baker said. "I love that coach is out there fighting for us. No one was upset about the tech."
"I have to do a better job with the officials," Pikiell said. "They're great. They do a great job."
A Break Before the Bounceback
Rutgers will get well-timed five-day break before returning to the RAC Tuesday to host Purdue in a rematch of the final game of the 2019-20 season for both teams. Rutgers scored their second road win of the season by beating the Boilermakers in overtime, with Baker hitting the clinching shot in extra time.
"I think it's going to be good mentally for us to watch film and learn from a loss," Baker said. "Our team was extremely confident coming in and I feel like guys are going to be more willing to watch our mistakes, learn from them and just get better."
Baker has missed time due to injury in each of the past two seasons and watched as his teammates effectively covered his absence. The Scarlet Knights failed their first test without one half of their center tandem and could not recover from the emotional and tactical challenge of losing Young.
Tuesday will provide Rutgers a chance to show it can bounce back from a loss and it could be a crucial game considering the following three games will be against No. 4 Iowa in Piscataway, No. 12 Michigan State in East Lansing and back at the RAC for a rematch with Ohio State.
"It's a next-man-up mentality," Baker said. "Our whole team has that mentality so I don't think it's going to be too different than when I went down and other guys stepped up. We really believe in each other, we have a great brotherhood, so I don't really think it's going to be a step back."
More From Shore Sports Network