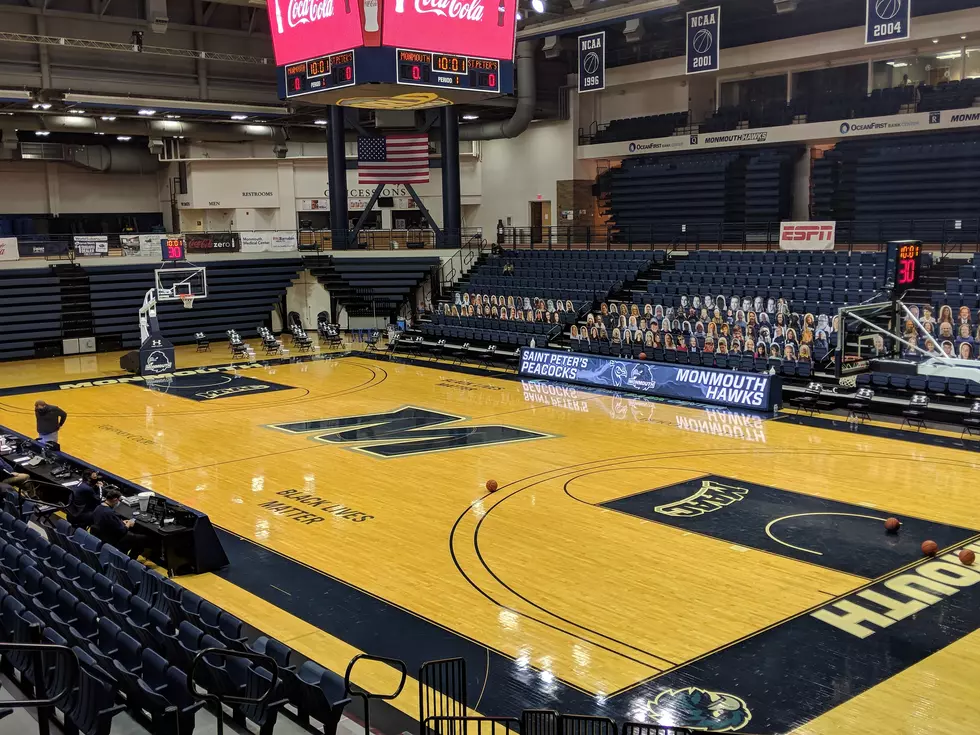 College Basketball – After Monmouth Split With St. Peter's, Rice Has Plenty of Questions
Photo by Matt Manley

Enter your number to get our free mobile app
There is not a whole lot of certainty in the day-to-day college basketball schedule in 2020.
Nationally, the No. 1 team in the country (Gonzaga) just played its fourth game of the season and it was a late-scheduled game against No. 3 Iowa in South Dakota.
In the MAAC, meanwhile, the preseason No. 1 team in the conference (Siena), has yet to play a single game that counts.
That uncertainty has been a big part of Monmouth's start to the 2020-21 season, even after the Hawks finally played their first game of the season this past Tuesday night.
After his team was shut down three different times, Monmouth coach King Rice is glad to deal with some of the on-court questions that come with a typical season, but no less concerned about the COVID-related issues that led to the shutdowns.
After losing a 78-76 nail-biter to St. Peter's on Saturday night – the second game against the Peacocks at the OceanFirst Bank Center in as many days – Monmouth's 10th-year head coach was already at the point of exasperation with the schedule, one that now includes a pair of conference home games vs. Canisius on Dec. 27 and 28.
The Hawks were originally scheduled to be off until a Jan. 1 trip to Siena but Rice was informed by the MAAC that its two-game series vs. Canisius was moved from Jan. 8 and 9 to next weekend.
"There's definitely no (going) home for Christmas, which I think is terrible for everybody," Rice said. "I think the NCAA blew this one having us play through Christmas. I get that everybody needs their money at the end for the Final Four and the NCAA Tournament, but kids should be able to go home for Christmas. Now, we're not going to be able to allow them to do that."
Monmouth's saga is one of many around the country that have coaches and players both grateful for the opportunity to play while simultaneously questioning whether the length to which team personnel are going to play games is worth it. After beating St. Peter's on Friday night in the first game of the two-game set, Rice seconded the thoughts of Iona coach and two-time national champion Rick Pitino, who has advocated for pushing back the season and allowing all Division I teams to enter the NCAA Tournament.
"Ideally, it sounds great: kids get to play basketball," said Rice, who picked up his 150th career victory on Friday. "Ideally, kids get to see their parents over Christmas. I commend (Villanova coach) Jay Wright for stepping up yesterday and saying his kids needed a break. This is heavier than all the writers understand. We're saying 'Oh, just stay healthy and play games,' but the stress that's being being put on these kids on the daily is a lot and I hope everybody is getting their entertainment because these kids are going to need us more after this season than any season we've seen before."
The rigors of playing while COVID-19 cases around the country continue to spike have made the challenges of developing a 13-man rotation that includes four freshman and a transfer mild by comparison for Rice, but no less difficult. Playing games on back-to-back games played a big factor in 13 players seeing time on Saturday night, but those 13 continue to give Rice something to think about when they get on the floor.
Seniors George Papas and Deion Hammond starred in Monmouth's first two games of the season – a 96-88 loss to Hofstra on Tuesday and a 78-76 win over St. Peter's on Friday – but met much more resistance from St. Peter's on Saturday night. After combining for 95 points in the first two games, Hammond (15 points) and Papas (12) were relatively quiet on Saturday, even as they were two of three Monmouth players to reach double-figure scoring.
For the second straight game, red-shirt sophomore and Chattanooga transfer Donovann Toatley was among the team's top-three scorers, finishing with 13 points in Saturday's loss. After sitting out the first game for violation of team quarantine rules, Toatley provided a spark off the bench in each of the past two games and even led Monmouth in plus-minus, with the Hawks plus-15 points while he was on the floor during Saturday's game. Toatley also finished with three steals.
Toatley was part of a Monmouth bench that helped stabilize the game after St. Peter's stormed out to a 10-0 lead. The fast start by the Peacocks built a cushion that lasted the entire game, with Monmouth getting as close as one point but never pulling even.
"Starting the game in a zone (defense) was a good move by (St. Peter's coach Shaheen Holloway) - just to start the game a different way, to make our kids start standing around a bit," Rice said. "He also did a tremendous job of continuing to change defenses to try to confuse us and I think it worked."
Sophomore Jarvis Vaughan added six points, eight rebounds and two blocks off the bench and senior Marcus McClary and freshman Myles Ruth each scored five apiece as part of the second unit and provided uplifting defense for the second straight night.
"We're so far from (figuring out the right lineups)," Rice said. "I know I've got the four seniors and we know each other pretty well. I'm still trying to figure out some of the new guys. I think they all can really, really play, but we're not even close to being where we're eventually going to be. You have guys like Donovann and Jarvis who are usually long-minute guys coming off the bench and trying to work their way in to get lathered up.
"By the end of all of this, if we are able to continue to get to play - and we'll see if that happens - by the end, we'll have a team that has a chance to compete for a championship."
Monmouth started its season red-hot from three-point range, going 24-for-50 (48 percent) during the first two games and riding the hot hand of Papas (14-for-21) to get there. On Saturday, though, St. Peter's mixed up its defensive looks and held Monmouth to a 5-for-21 performance from beyond the arc. The Hawks did not hit a three-pointer until Papas knocked one down with 16:37 left in the second half, a drought that included nine straight misses before the Hawks' first make.
"We did not shoot the ball well today and that's because of St. Peter's defense," Rice said. "They did a good job of laying off the guys who weren't going to shoot and really pressing up on the guys who were - Deion and George - and made their night extremely hard."
During the two-game set that saw each team win by a score of 78-76, Monmouth contained St. Peter's frontcourt duo of KC Ndefo (19 points and five rebounds in two games) and Fousseyni Drame (12 points, 14 rebounds) and even outrebounded the Peacocks, 43-38, on Saturday. Junior starting forward Nikkei Rutty helped lead that effort with four points and eight rebounds.
The St. Peter's backcourt, however, got going against Monmouth, with sophomores Doug Edert and Matthew Lee leading the way on offense in each of the two games. Lee scored a game-high 15 points Saturday after putting up 13 and nine assists on Friday, while Edert finished with 13 points on Saturday, including a huge three with under a minute to go that stretched St. Peter's lead to 75-71. Edert – a former N.J. high-school standout who helped lead Bergen Catholic to the 2019 NJSIAA Tournament of Champions final against Ranney – also scored a team-high 19 points on Friday.
Saturday's game saw Rice spread the minutes around, with junior guard Samuel Chaput (four points, five assists) playing a team-high 26 minutes and Hammond – a preseason All-MAAC guard – clocking in at 25 after playing at least 35 in the first two games.
"I don't pay too much attention to the minutes," Hammond said. "I just go in when I can and do what I can for the team. I make sure my body is always ready for when do have to go into the game."
After two games, Monmouth and St. Peter's split the season series by scoring the exact same number of points (154-154) and beating one another by an identical final score - a reflection of a preseason MAAC coaches' poll in which Monmouth and St. Peter's were picked to finish tied for third in the league.
"I guess everybody picked it right where Monmouth and St. Peter's are pretty much even," Rice said. "Both of us were picked third and they are a really, really good team. Sha is one of the best coaches in the country, especially for the young guys just starting out, and their kids are tremendous."
More From Shore Sports Network