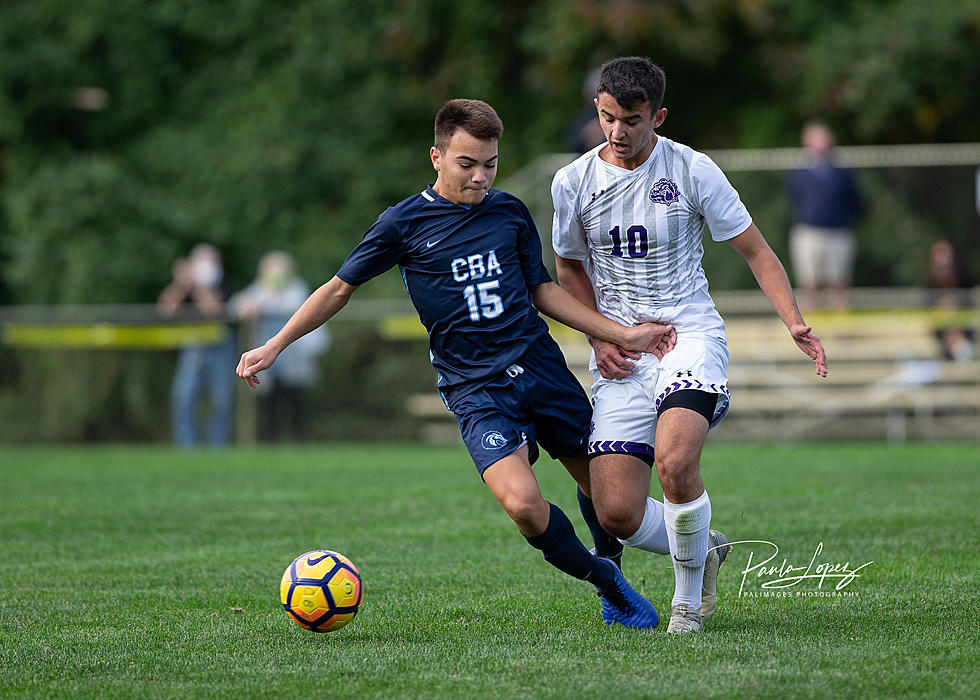 Boys Soccer – Shore Conference Tournament Round of 16 Preview, Picks
CBA senior Jake Homowitz (left) battles Rumson-Fair Haven senior Luke Pentikis. (Photo by Paula Lopez)

In a Shore Conference season that has been so unpredictable for teams outside of the top three, the first round of the conference tournament was surprisingly predictable. That's not something anyone from Toms River East wants to read after the Raiders were the only top 15 seed to lose on Saturday, but the opening round was not the frenzy of upsets that the regular season seemed to foreshadow.
I am here to remind you there is still time for things to get wild and if it is going to happen, Wednesday is the day. There are six teams that got first-round byes and most of them have not played since last week, so perhaps there will be some rust to shake off against the teams coming off first-round wins. Not every match-up is created equal, of course, but there are a lot of potential down-to-the-wire games happening on Wednesday and a few surprise quarterfinalists could be back in action on Saturday.
Let's start with the top seed facing Wednesday's biggest underdog:
No. 17 Pinelands at No. 1 CBA, 3 p.m.
This season has come with many challenges for Pinelands and although the team probably is not at the level that the program has been in the four years prior, this Wildcats team has showed a lot of grit over the course of 2021. It is going to take all that grit and then some on Wednesday, when Pinelands travels to play the No. 1 seed in the tournament and a top-five team in the state. During its four-year run of division championships, Pinelands has faced some tall tasks and handled them fairly well: a 2-0 loss to a powerhouse 2018 Holmdel team in the regular-season and a 1-0 defeat at the hands of second-seeded Marlboro in the 2016 SCT.
Pinelands is still seeking that program-altering win that could take the Wildcats from Class B South favorite to Shore Conference contender and while this is certainly a great opportunity to do that, the stars don't appear to be aligned. CBA is as dangerous on the attack as it has been since finishing No. 1 in the state in 2016 and while Pinelands has the firepower to crack CBA's back line, keeping up with the Colts is a big ask. On the bright side, Pinelands is playing very well at the moment and this should be one of those games in which the Wildcats hang tough.
The Pick: CBA, 3-1
No. 15 Howell at No. 2 Freehold Township, 3 p.m.
Freehold Township sat in the No. 3 slot in the Shore Sports Network Top 10 for most of the year and with a draw against No. 2 Toms River North (coupled with a tougher overall scheduled than the competition for the No. 2 seed), the Patriots slipped into the No. 2 spot in this tournament. Their reward? A red-hot Howell side that already took Freehold Township to the wire during the regular-season meeting between the two sides.
For most of the season, Freehold Township has been playing without its optimal lineup and senior standouts J.T. Gold and Christian Mojares remain out, so there is some vulnerability on the Patriots side. Those players were also injured the first time the teams met, so Howell will still have to overcome the same team that beat the Rebels and do so playing on the road this time. Howell is a senior-loaded side with the chops to pull off the upset but playing on the road against another team that has been surging of late will be tough. There is precedent for Freehold Township losing at home in the SCT and it could very well be the Patriots take a surprising loss before regrouping for the NJSIAA Tournament. With how battle-tested Howell is, that could be this year's script.
The Pick: 1-1, Howell advances on penalties
No. 14 Shore at No. 3 Toms River North, 6:30 p.m.
For as much as this seems like a David-vs.-Goliath match (Toms River North is a two-time defending sectional champion while Shore is having its first winning season since 2016) the two teams both enter the round of 16 with nine wins and Shore played in a very competitive Class A Central division. The Blue Devils have young talent in key roles and those underclassmen have fit in better and better with the older players as the season has carried on. They beat Holmdel, had several chances to beat Manalapan in a 0-0 draw and handled their business in a 1-0 opening-round win over Point Boro on Saturday.
Keeping a seven-game unbeaten streak alive on Wednesday, however, will be asking a lot. Toms River North has been a dominant side throughout the season, losing only at CBA and settling for a scoreless draw against Freehold Township in a game in which there wasn't a whole lot on the line other than some additional power points and the No. 2 seed vs. the No. 3 seed in the Shore Conference Tournament. Now that the games ratchet up in meaning, expect Toms River North's battle-tested senior group to flip the switch in the Mariners' SCT opener.
The Pick: Toms River North, 3-0
No. 13 Ocean at No. 4 Manalapan, 3 p.m. at Manalapan Recreation Complex
There is some Shore Conference Tournament history between these two programs, but most of that history dates back to the longtime head coaches – John Natoli for Manalapan and Tom Reilly for Ocean - that preceded current coaches Kerry Eisman (Manalapan) and John Terlecsky (Ocean). The last meeting between the two teams in an SCT setting was in 2013, when top-seeded Manalapan beat Ocean in the semifinals on the way to winning the conference championship. That was Manalapan's last SCT title and since then, Ocean has been to three SCT title games and won one.
Although Manalapan holds the better seed for this game, that would have been hard to envision to open the season. Manalapan went 0-10-1 in 2020 and while Ocean did not have a big 2020 season either, the Spartans are three years removed from a top-five finish in the state and went to the NJSIAA Central Jersey Group III final with a sophomore-heavy team in 2019. Ocean has been laying the groundwork for a strong 2021 while Manalapan has been more of a surprise, albeit one with a strong program pedigree.
This game is set to be played on the turf at Manalapan's Recreation Complex, which should help Ocean. The Spartans are an attacking team and playing on grass surfaces has tended to slow them down some and Manalapan will have to first worry about slowing them down. The Braves can still play a physical match, however, and establishing their style early will be imperative against an Ocean team that has routinely scored early in games. If Manalapan can keep the game within a goal into the final 20 minutes, the Braves will have a chance, but if Ocean is cashing in on chances and prepared for at least a solid game in the back, it's advantage: Spartans.
The Pick: Ocean, 2-1
No. 12 Monmouth at No. 5 Marlboro, 3:30 p.m.
Like Manalapan, Marlboro is in the midst of a rebound season, although the Mustangs' weren't quite as lost in 2020 and have not been quite as good as Manalapan this go-round. With that being said, Marlboro is well-positioned for a run at the championship, having been through the grind of the Class A North schedule that includes a game vs. CBA that was tied heading into the final five minutes. The Mustangs have depth, size and skill that makes them a difficult matchup against a lot of teams, Monmouth included.
The Falcons, meanwhile, are coming off a penalty-kick win over Brick Memorial after giving up an equalizer with 13 seconds left. Getting over that first hurdle is big and the Falcons can now shift their mentality to the role of underdog, which they have done to mixed success this season. They beat Ocean, but could not keep up with either Holmdel nor Rumson-Fair Haven and did not face too many steep challenges outside of the Class A Central schedule. Monmouth also just lost goalkeeper Kevin Terhune to a shoulder injury in the last match, which somewhat offsets the lineup rounding into good health over the prior two weeks. That's a lot to deal with for Monmouth and Marlboro appears to be hitting its stride after handling Toms River East right before the tournament.
The Pick: Marlboro, 2-0
No. 22 St. Rose at No. 6 Long Branch, 6 p.m.
The only real upset of the SCT first round (the No. 17 seed beating No. 16 rarely counts as a legitimate upset) was St. Rose going on the road for a 2-0 win over Toms River East – a team that played for a sectional championship in 2020 with many of the same starters in place. For its part, St. Rose has an experienced team as well and the challenge this season has been getting in enough run to be properly prepared for games like the one the Purple Roses are about to play. A two-week shutout slowed St. Rose down and on either end of the win over Toms River East, the Roses lost to struggling squads in Freehold Boro and Manchester – albeit in meaningless matches for a team that is still playing in the SCT.
Long Branch earned a first-round bye and has been a team that has handled teams widely considered to be a level or more below in talent while taking its losses in some of the more evenly-match games. St. Rose does have some players to account for and has played up to competition over the course of the year in battling Wall to overtime and playing fairly well in a loss at CBA. The Green Wave can feel good about having a relatively healthy lineup, as well as a culture that is starting to expect deep tournament runs. Eduardo Ribiero has been a dangerous scorer over the last two weeks and Davenson JoinVilmar and Brian Yocute have gotten healthy at the right time. Long Branch should avoid any upsets and by the end of the week, it could be the team doing the upsetting.
The Pick: Long Branch, 2-0
No. 10 Holmdel at No. 7 Lacey, 3 p.m.
Holmdel and Lacey had different feels about them heading into the tournament, with Holmdel struggling a bit coming in while Lacey carries the Shore Conference's lone unbeaten record into the round of 16. For Holmdel, getting past the first round in any way possible was a big lift and now that the Hornets are out of the first round, they should be considered dangerous. It is no secret that senior Brendan Worobel has got to be shadowed at all times and that still doesn't guarantee a team will keep him off the board. Keeping Holmdel's attack in check is imperative because the Hornets do not concede easily.
Lacey has plenty going for it as well. The Lions will be at home, which is especially important against an opponent that has not played a game on a grass field since 2019. There are worse grass fields to play on than Lacey's, but the surface will be an adjustment for a Holmdel side looking to keep possession and build up to its opportunities. In recent weeks, Lacey has been a quick-strike attack with Kody Besser playing up top and while the team might be best with the 6-foot-4 Besser in the back, his speed and creativity will give Holmdel something to think about.
The x-factor in this one could very well be the keepers. Both have played well all year and a late goal by Henry Hudson ended a string of seven straight shutouts for Lacey. Ryan Fitzgerald has done the job for the Lions all year while Tommy Chyzowych has been the Shore's most imposing presence in goal over the last two years for Holmdel. This should be a hard-fought game, with Lacey scrapping to remain unbeaten and Holmdel playing loose after advancing past round one.
The Pick: Holmdel, 1-0
No. 9 Wall at No. 8 Rumson-Fair Haven, 4 p.m.
Based on the way the regular-season meeting between these two teams went, this game ought not to be close. Rumson overwhelmed Wall, 5-1, on Oct. 2 and that was with standout senior midfielder Luke Pentikis out of action. Pentikis is now back and he returned to the lineup with a hat trick and one assist in Saturday's 5-1 win over Ranney. With Pentikis, younger brother Alec up top and Antonio Santos and Harry Gibson in the middle, Rumson has an attack that is firing on all cylinders and even more formidable than it was on Oct. 2.
As badly as Wall was beaten in the first meeting, the Crimson Knights are still a prideful, capable team and all sports are filled with past examples of teams getting blown out by one team and beating that team the next time the two meet. This SCT match-up has that feel to it – maybe not with Wall emerging with a win but certainly with the game being closer at the final whistle. Expect Wall to make its adjustments and take this one to the wire, but the presence of Luke Pentikis is going to make a difference at some point in the game – perhaps very late in the game.
The Pick: Rumson, 2-1 in overtime
First Round Picks Record: 6-3
More From Shore Sports Network