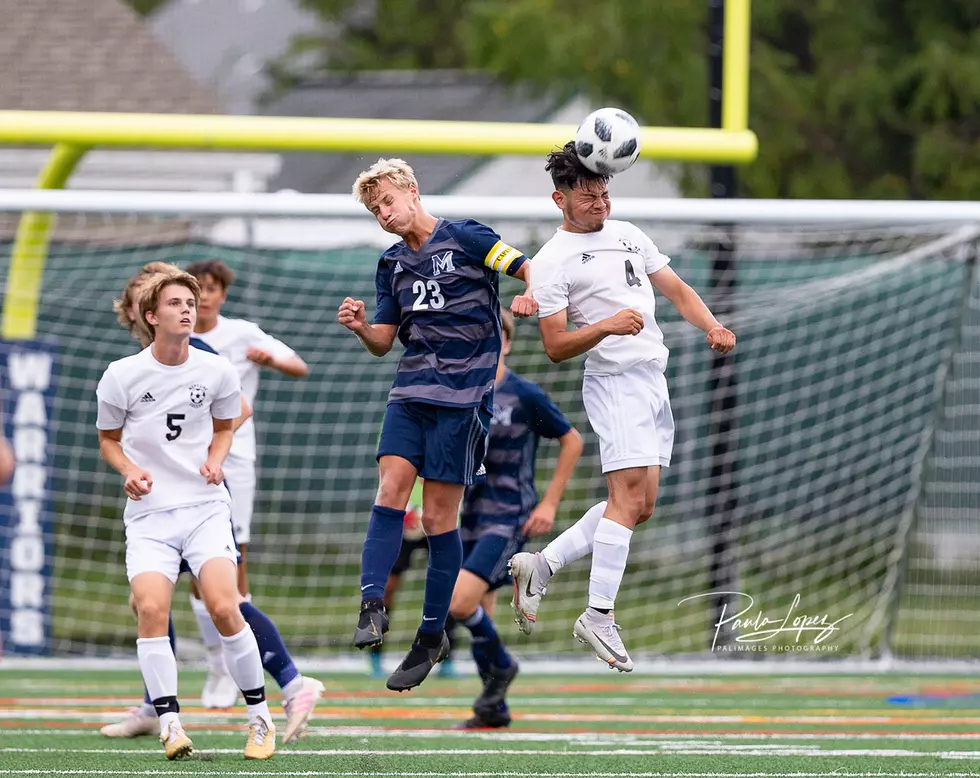 Boys Soccer – SCT Round of 16 Preview, Picks
Neptune senior Evan Jimenez (right) elevates against Manasquan junior Tommy Johnson. (Photo by Paula Lopez)
Throughout this boys soccer season at the Shore, coaches have echoed the sentiment that this year's Shore Conference field is as even as they have seen it and the Shore Conference Tournament should be anybody's game. While the first round had some potential for upsets, only two road teams won and one of those was on penalties.
This round is where the real fun begins. The top 16 teams remain in a field that could go about 11-to-13 deep, which should make for a volatile situation on Saturday. In a lot of ways, it would be more of a shock if the eight home teams won than if four of them lost. That's how even this field is and that's how fragile home-field advantage could be, even at this early stage of the tournament.
Below, I have three road teams advancing and in two of the other games in which I have the favorites advancing, I would call it a coin-flip. It's hard to get a read on exactly which eight teams are going to come out on the other side of the weekend but it's pretty safe to assume there will be some surprises.
Boys Soccer Shore Conference Tournament Round of 16
(15) Manasquan at (2) Marlboro, 4 p.m.
After scratching and clawing just to get into the SCT, Manasquan is back in the position it expected to be when the season started. The Warriors roll into Marlboro 3-0-1 in their last four games – all against teams that made the SCT – and will look to prove they still have the wherewithal to take out one of the Shore's best teams.
Marlboro keeps humming along, responding to its only loss of the season with back-to-back wins over Toms River East and Freehold Boro. The Mustangs have not played since Oct. 3, so it is possible they will be rusty after seven days off. It also won't help that they are playing a team that is much better than the run-of-the-mill 15-seed. In a tournament that seemed wide-open at the outset, this one has upset written all over it. The Pick: Manasquan, 3-2
(19) Neptune at (3) Jackson Memorial, 3 p.m. at Justice Complex
It seemed convenient to count Neptune out at the beginning of the season after the Scarlet Fliers graduated the dynamic duo of Wilby Alfred and Mickenna Church but the Scarlet Fliers have proven last year's team had a lot more talent on it than just the Shore's goal and assist leaders. Like most teams, Neptune hit a rough patch in the middle of the season but appears to have come out of it a stronger unit. Kyle Schembri, Ryan Gannon, Louis Pennington and Marvin Garcia are all capable of causing Jackson Memorial major problems and senior Jett Tinik is exactly the kind of leader and defender a team needs in a slugfest against the Jaguars.
Jackson Memorial has only lost twice this season and went unbeaten in Class A South, but outside the division, the Jaguars have looked more vulnerable. They are 4-2 outside of Class A South and if you take out the Jackson Liberty result, they are 3-2 with a 10-8 advantage in goals. Against teams from Monmouth County, Jackson Memorial is 2-2 and has been outscored 6-5. In Jackson's defense, the Jaguars have been banged up all year and are just now rounding into healthy form, which should make a huge difference in this game. The key will be which team can frustrate the other the most – Jackson with its hard-nosed defensive style and Neptune as the carefree underdog – and the answer to that question should hold the key to victory. The Pick: Jackson Memorial, 2-1 (OT)
(16) Toms River South at (1) Holmdel, 10 a.m.
A rematch of a Sept. 21 game in Toms River, Holmdel will have its hands full with the Indians, who appear to be getting better with each week. Toms River South has been tough to score on all year and now the No. 16 seed is starting to find the scoring touch. Shane Kluxen and Tyler Weiss have each notched two-goal games in the last three weeks to join Joe Amabile as scoring threats on the Indians attack.
Toms River South could not find a goal against Holmdel, which won the first meeting, 1-0, on a goal by Mark Walier. Holmdel has played only twice since Sept. 29 and those were easy wins over a slumping Middletown North side and a one-win Red Bank Catholic squad. The Hornets should be well-rested but they will have to find their edge quickly against a Toms River South team that is going to come in confident after playing the Hornets within a goal not long ago. The Pick: Holmdel, 2-1
(13) Rumson-Fair Haven at (4) Freehold Twp., 10 a.m.
The second of two rematches in the round of 16, Freehold Township is a favorite looking for revenge in this one. The Patriots jumped out to an early lead on Rumson in the first meeting but gave up two goals in the first half as the Bulldogs nipped the Patriots. That was Freehold Township's last loss prior to Thursday's defeat at CBA, which ended a six-game winning streak.
Rumson opened the season 0-3 and that win over Freehold Township was an eye-opener – a validating win that proved the Bulldogs were no fluke after knocking off Manasquan and Ocean leading up to that game. This one will be tougher given Freehold Township will be at home and is playing at the top of its game with a more experienced roster. With the Patriots now playing at home and a sense of what Rumson can throw at them, they have the edge. The Pick: Freehold Twp., 3-1
(9) Long Branch at (8) Colts Neck, 10 a.m.
Colts Neck has defied conventional wisdom this season, playing its best soccer early and struggling lately despite sporting a lineup short on varsity experience. The Cougars started 6-1 with just one overtime loss to Holmdel and an impressive road win over Jackson Memorial. Since that start, Colts Neck is 1-2-1 with a draw against a Red Bank team that has not won a B North divisional game and a 2-0 win over Manchester in the opening round of the SCT.
On the other side, Long Branch shook off a slow start to the season and appears to be peaking at the perfect time. The Green Wave won a must-win game vs. Freehold Boro, 3-0, played unbeaten Elizabeth to a tough, 2-1 result and were sharp in a 2-0 win over a rejuvenated Lacey team. The bumpy terrain at Colts Neck High School could pose a problem for the Green Wave, but if the defense can stay tight in the back, a player like Patrick O'Dwyer up top can break open the game on any surface. The Pick: Long Branch, 2-1
(22) Toms River East at (6) CBA, 11 a.m.
Toms River East is officially .500 heading into Saturday's showdown at CBA and has played just about every opponent close. The Raiders finally got over the hump in the first round, outlasting Freehold Boro on penalty kicks. With close losses to Jackson Memorial and Marlboro in its recent history, Toms River East and its junior-heavy squad will put their scrappiness to the test against one of the Shore's top teams.
Since tying Middletown South at home, CBA has looked the part of SCT favorite. The Colts hammered Freehold Boro, nearly upset St. Benedict's, stunned Seton Hall Prep in the final minutes and cooled off surging Freehold Township this week. CBA has been particularly sharp at home and while Toms River East has proven tough against every opponent, the Colts home mastery should show. The Pick: CBA, 2-0
(10) Middletown South at (7) Southern, 11 a.m.
In what might be the most evenly-matched game of this round, Middletown South takes a nine-game unbeaten streak south to take on a Southern squad that enters the round of 16 in a bit of a malaise. The Rams opened the year having some trouble finishing and after those problems dissipated at the end of September, it appears they are back. Southern lost back-to-back 1-0 games to Jackson Memorial and Lacey after starting 8-0-1 and while they have scored seven goals in the last two games, those have come against Ranney and Central.
Middletown South has played a quality schedule both in and out of the Class A Central division. The Eagles have been in plenty of close, competitive games against quality competition and just handled a tough Barnegat team, 4-0, in the SCT opening round. Southern will have the best player on the field in Kevin Kiernan and is playing at home, but Middletown South is the senior-heavy team that is battle-tested. This one goes the distance and whichever team survives is a serious threat to win the whole thing. The Pick: 1-1 tie, Middletown South on penalties
(12) Monmouth at (5) Wall, 7 p.m. at Wall Municipal Complex
The last game of round-of-16 weekend has a chance to be the best one. Monmouth and Wall enter Saturday night with just four losses between them and plenty of talent throughout their respective formations. Wall had a rough week that included losses to Matawan and Marlboro and has since won seven in a row and been mostly dominant throughout the run. The Crimson Knights thrive off their defense, which has allowed only six goals in 14 games – three of which came in the slip-up vs. Matawan.
Monmouth has played one of the softest non-divisional schedules in the field but the Falcons have been in enough battles against quality opponents to prepare them to upset Wall under the lights on Saturday night. They played both Holmdel and Manasquan tough in defeat and one or two plays can be the difference on Saturday night. Both teams have talent in similar spots – goalkeeper, striker, central defenders – but what gives Wall a bit of an edge is that the Crimson Knights are senior-driven. Monmouth has its share of seniors as well and its senior forward Mason Martelloni could be the x-factor, but the sophomore-heavy Falcons will have to grow up before our eyes to finish off this upset. The Pick: Wall, 2-1
Opening-Round Picks Record: 10-3
More From Shore Sports Network