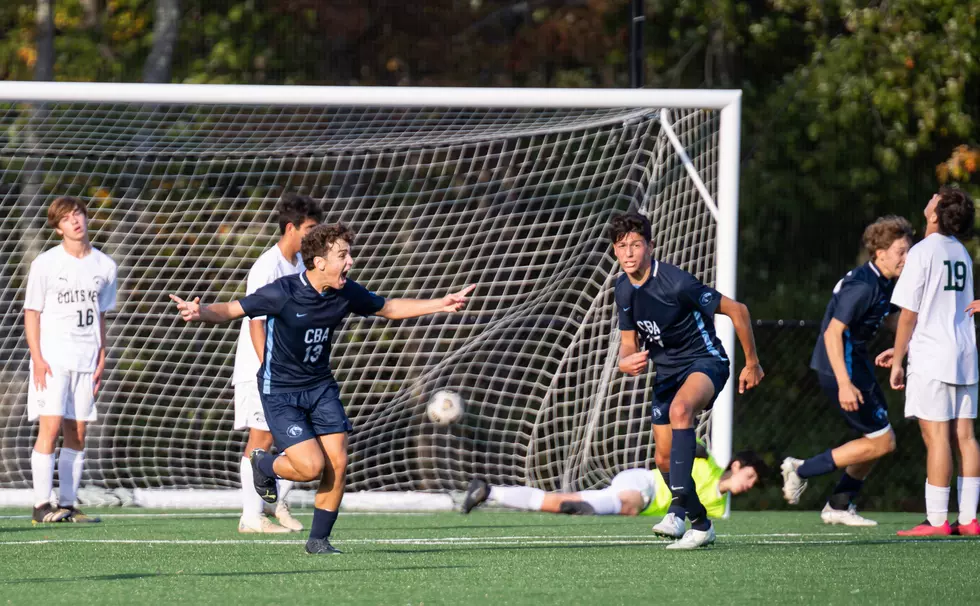 Boys Soccer – Non-Public A Final: CBA and Seton Hall Prep Battle for No. 1 in New Jersey
CBA junior Dimitry Corba celebrates his goal vs. Colts Neck. (Photo: Tom Smith | tspsportsimages.com)

This Saturday morning, for the 22nd time in its storied history – the most of any program in state history – the Christian Brothers Academy will play in an NJSIAA group final. While the Non-Public A championship game has been cruel more than it has been kind to CBA, you've got to be in it to win it and the Colts have certainly won their fair share of state championships.
This weekend, CBA goes for its eighth state championship when it takes on a familiar opponent in Seton Hall Prep. The Pirates are the two-time defending Non-Public A champions after winning both the 2019 and 2021 titles and the latter of those two championships came at the expense of CBA in the state final. Saturday will mark the fifth time the two teams have met with a championship on the line, with Seton Hall owning a 3-1 advantage in the championship head-to-head series.
While the two teams met only a year ago in the Non-Public A championship, the two sides will look considerably different. The defending champion Pirates return only three starters from last year's No. 1 team in the state, while the Colts boast five returning starters from the group that finished No. 2 in N.J. behind Seton Hall Prep a year ago.
Seton Hall Prep enters Saturday with the No. 1 ranking in the state thanks to a body of work that includes two losses to out-of-state opponents. Current senior Joaquin Neihenke was the team's top scorer as a junior a year ago and again leads the midfield. Junior Eddie Krupski was an impact sophomore on last year's Pirates squad, which included an assist in the championship win over CBA last November. Senior defender Alex Oladapo is also back and classmate Peter Batanjany also returns with experience on the back line.
Sophomore Lucas Mendes has been the breakout star for the Pirates this season, with the underclassman currently third on the team in goals (nine) behind Krupski (21) and Neihenke (11).
Last year's Seton Hall Prep championship squad centered around an airtight defense that conceded only six goals during its 20-0-1 season, which included the 2-0 win over CBA in the final game. This year's group is again strong in the back, but not the dominant defensive outfit that sparked last year's title run. The Pirates have allowed 17 goals in 21 games this season, including three to Bergen Catholic in the North Jersey Non-Public B final on Wednesday.
On goals allowed, CBA's defense has been sharper this season than that of Seton Hall Prep, with the Colts conceding just seven goals in 19 games. That is eerily similar to the six goals in 20 games allowed by Seton Hall Prep heading into last year's championship game and this is a Colts side currently riding three straight shutouts – and fairly dominant ones at that.
What is most impressive about the back of CBA's formation in 2022 is that most of it was on the bench in 2021. Junior Lawrence Mancino is in his second year as a starter at outside back, but junior center backs Max Koczan and Christian DeOliveira, senior outside back Joe Lucignano and junior goalkeeper Miles Gallagher are all in their first year as starters.
Saturday will be the toughest test for CBA's defense, but the same could be said for Seton Hall's back four and goalkeeper Aidan Donovan. Three of CBA's returning starters are its three forwards: Will Thygeson, Jack D'Eletto and Dylan Millevoi. After Thygeson's game-winning goal on Wednesday to beat St. Peter's Prep, each of the three now has double-digit goals for the season to give CBA a perfectly-balanced attack.
While it doesn't get linked to the goals-allowed numbers or a lot of the scoring, CBA's midfield should not go unnoticed. Junior Dimitry Corba has involved himself in key sequences throughout the season, while seniors Charlie Paparella and Logan Szuwalski have done a lot of the grunt work in the middle of the field.
With its mix of experienced scoring and hard-hat defense and midfield play, CBA has the formula to continue its championship-game success, particularly after championship losses. Excluding last season's loss to Seton Hall Prep, each of the last three times CBA has lost in the Non-Public A North final, it has won its subsequent trip to the championship game. After losing to Delbarton in the 2015 and 2017 finals, the Colts responded by winning the state championship the following year both times, including a 2016 win over Seton Hall Prep that completed a 24-1 season.
Once again, it will be the Pirates standing between CBA and three coveted achievements: a championship, a one-loss season and the No. 1 ranking in the state. The Colts have not lost since a golden goal by Marlboro shocked them on opening day, so either the season will be bookended by defeats or conclude with a 19-game winning (or unbeaten) streak.
Boys Soccer NJSIAA Non-Public A Championship
Saturday, Nov. 12, 2022
At Franklin High School, 10 a.m.
Christian Brothers Academy vs. Seton Hall Prep
CBA (18-1)
Head Coach: Tom Mulligan
Group Championships:  7 (1992, 1998, 2000, 2002, 2011, 2016, 2018)
Group Runner-Ups: 14 (1974, 1979, 1993, 1996, 1999, 2001, 2004, 2006, 2007, 2009, 2015, 2017, 2019, 2021)
Road to the Final: Defeated No. 8 St. John Vianney, 4-0; No. 4 Pingry, 2-0; No. 3 St. Peter's Prep, 1-0.
Players to Watch
Jack D'Eletto, Sr., Forward (10 goals, 10 assists)
Will Thygeson, Sr., Forward (10 goals, 9 assists)
Dylan Millevoi, Jr., Forward (11 goals, 3 assists)
Dimitry Corba, Jr., Midfield (4 goals, 9 assists)
Logan Szuwalski, Sr., Midfield (1 goal, 1 assist)
Charlie Paparella, Sr., Midfield (1 goal, 1 assist)
Cameron D'Alterio, Jr., Midfield (5 goals, 1 assist)
Lawrence Mancino, Jr., Defense (4 goals, 2 assist)
Max Koczan, Jr., Defense (1 goal, 1 assist)
Christian DeOliveiro, Jr., Defense
Joe Lucignano, Sr., Defense
Miles Gallagher, Sr., Goalkeeper (13 shutouts)
Seton Hall Prep (19-2)
Head Coach: Marty Berman
Group Championships: 4 (2007, 2009, 2019, 2021)
Group Runner-Ups: 4 (1975, 1977, 2005, 2016)
Road to the Final: Defeated No. 8 Don Bosco, 1-0; No. 4 Dwight-Englewood, 6-0; No. 2 Bergen Catholic, 5-3.
Players to Watch
Eddie Krupski, Jr., Forward (21 goals, 9 assists)
Lucas Mendes, So., Forward (9 goals, 5 assists)
Joaquin Niehenke, Sr., Midfield (11 goals, 7 assists)
Karan Chauhan, Sr., Midfield (3 goals, 10 assists)
Luca Chirichiello, Sr., Midfield (3 goals, 4 assists)
Peter Batanjany, Sr., Defense (1 goals, 3 assists)
Alex Oladapo, Sr., Defense (4 assists)
Julien Siljanovski, Sr., Defense (1 goal, 5 assists)
Aidan Donovan, Sr., Goalkeeper (8 shutouts)
SSN Prediction: CBA, 2-1 in overtime
LOOK: Here are the pets banned in each state
Because the regulation of exotic animals is left to states, some organizations, including The Humane Society of the United States, advocate for federal, standardized legislation that would ban owning large cats, bears, primates, and large poisonous snakes as pets.
Read on to see which pets are banned in your home state, as well as across the nation.
More From Shore Sports Network