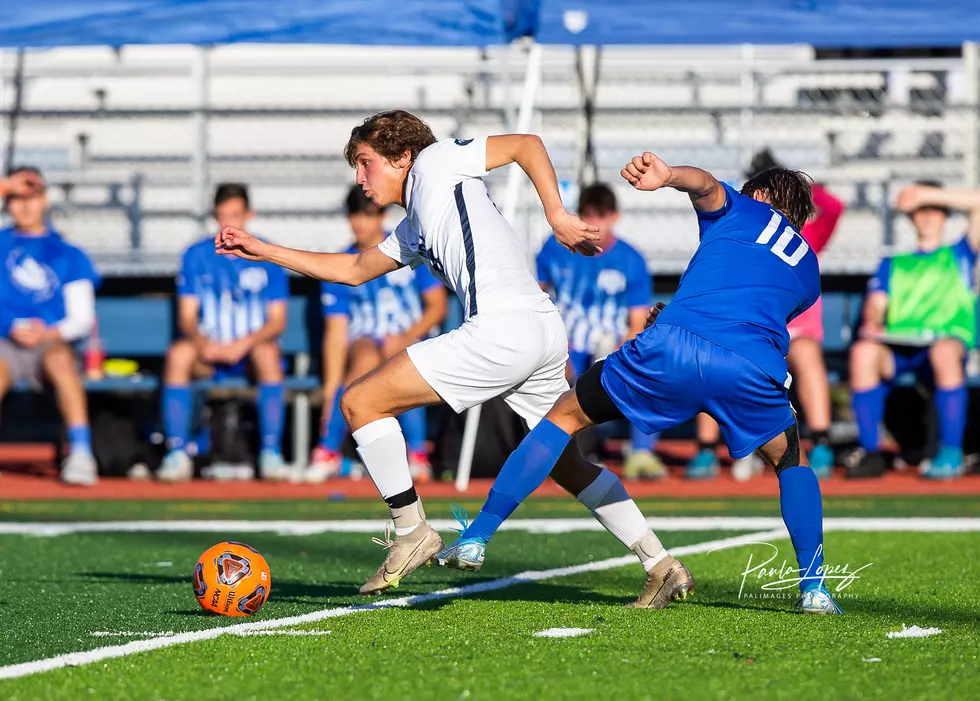 Boys Soccer – No. 1 CBA Snaps Holmdel's 65-Game Unbeaten Streak
CBA's Shane Borenius carries the ball forward against Holmdel's Connor Hinds. (Photo by Paula Lopez)

Enter your number to get our free mobile app
HOLMDEL - With no Shore Conference Tournament this season and as a heavy favorite to win its NJSIAA sectional tournament, the Christian Brothers Academy soccer team had one more chance to make its case as the best team in the Shore Conference in 2020 and it came on Saturday.
Not only did the Colts validate their standing as the Shore's top team; they also ended the longest unbeaten streak in the state.
CBA stormed out of the gate Saturday against Holmdel and took down the No. 7 team in the Shore Sports Network Top 10, 3-1, snapping Holmdel's 65-game streak without an official loss while simultaneously stretching their own streak to 10 straight wins to open the season.
"We were happy to get another game in, especially against another good team," CBA senior Shane Borenius said. "We have a good rivalry with them and we were amped up and ready to play, but we were also just excited that we got to play on such a great day."
"We know a lot of their players so the streak was definitely a motivator for us. There was a lot of attention as far as were we going to beat them? Both sides always put out a great team. They beat us when I was a sophomore, so it had the feel of a revenge game and even like a championship game."
Senior Shane Borenius scored the game's first goal in the sixth minute and assisted his team's second score - a goal by junior Dylan Cupo in the 44th minute - to headline CBA's win. Borenius is one of only three starters back from last year's Colts team, which finished 13-4-3 overall, lost in the Shore Conference Tournament semifinal and the NJSIAA South Jersey Non-Public A final, and finished fourth place in an ultra-competitive Class A North.
"We wanted to get our tenth win and show that we're the real deal," Borenius said. "Even if we're not going to play the best competition in states, we can come out and play one of the best Shore Conference teams and get result."
"It hurt to not get the results at the end of last year because we really bonded so well. We weren't totally sure what the roster was going to look like this year. We heard about some of the jayvee and freshman guys from last who could potentially come up and play with us and they have helped us a lot. Everyone has fit in really well and it's given us a chance to have a great season."
On Saturday, CBA played virtually the entire second half without Monmouth University commit and center midfielder Brett Sieg, who left the field in the first minute of the half with a foot injury and didn't return.
Even without one of its senior leaders and best facilitators, CBA generated second-half opportunities that resulted in a pair of insurance goals that would prove valuable. Junior Dylan Cupo extended the lead to 2-0 when he ran down a long pass ahead from Borenius, beat a defended 1-on-1 and slid a shot past Holmdel goalkeeper Andrew Arrendondo.
Cupo also played a role in Borenius's goal in the sixth - heading a corner kick from Sieg from the far post back toward the near right post, where Borenius one-timed a volley with his left foot into the far left corner from six yards out.
CBA dominated possession and chances over the first 12 minutes before Holmdel adjusted and settled into a more defensive game for the remainder of the half. Even in catching a break with Sieg leaving the game, Holmdel still had to deal with Borenius, senior Graydon Santos and junior Jake Homowitz in the middle, plus Cupo and sophomores Jack D'Eletto and Will Thygeson up top.
"Scoring that first goal kind of let us relax a little bit and allowed us to play our game and take the air out of the ball," Borenius said. "We probably could have looked to be a little more offensive toward the end of the first half but in the second half, we looked to go to the goal a little bit more."
After Cupo pushed the lead to 2-0 in the 44th and nearly made it 3-0 with a pair of near misses shortly after, it was Homowitz and D'Eletto combining on the third goal 15 minutes after goal No. 2. Homowitz played the ball over the defense toward the left side of the 18-yard box and D'Eletto beat one defender to the ball, beat a second off the dribbled, and skipped a firm shot off the far left post and in for a 3-0 CBA lead.
"This was a big game and we wanted to treat it like it was a Shore Conference final or a state final, especially for the guys who weren't here last year," D'Eletto said. "That really gave us an extra drive to win today.
Holmdel did eventually break through with a goal in the 73rd off a rebound following a direct kick. Senior Connor Hinds ripped a low shot that CBA goalkeeper Michael Jakub slowed down before Holmdel senior Tomas Zolofra - who spent his first two high school years at CBA - got to it and walked it into the goal.
The Hornets managed eight shots and six on target in the game, but CBA made sure most of those were rushed shots from difficult distances and angles. At the final whistle, CBA owned a 12-8 edge in shots.
The last time the two Shore power programs met was the 2018 regular season, when Holmdel beat CBA, 3-1, on the same field. It was the 24th straight game without a loss for Holmdel, which entered Saturday with the streak at 65.
The last time Holmdel officially lost a game prior to Saturday was on Oct. 7, 2017 at Pingry in a 1-0 defeat. The Hornets went on to win their first ever Shore Conference Tournament and the first of two straight NJSIAA Group II championships.
"Year-after-year, Holmdel has been able to put out a quality side and this year is no different," CBA coach Tom Mulligan said. "It was great that we got to play each other in this crazy year. Two local schools that have quality programs actually got to fulfill the kids' desire to play a game of this magnitude. It was a great atmosphere and I'm thankful that they accepted the challenge and brought us here."
During the 65-game streak, Holmdel went 60-0-5 and while the Hornets did fall on penalty kicks three different times during the streak, those results are officially recorded as draws on the official record.
"At the end of the day, the streak means nothing," Isaacson said. "We lost a couple of years ago in PK's and again last year, so it isn't even a real streak. They (the Holmdel players) didn't really care - they just wanted to play the best and have a chance to prove that we could be number one in the Shore."
Despite the potential to take the streak into the postseason, Holmdel embraced the chance to play the Shore's No. 1 team - both as a chance for this year's group to prove itself, as well as to better prepare for the NJSIAA Tournament, which begins a week from Saturday with Holmdel as the No. 1 seed in the Central East bracket that includes Group I and II teams from the Shore Conference.
"We weren't concerned about winning or losing," Holmdel coach Matt Isaacson said. "We just want to get better and CBA is the team to do it against. We thought we could upset them and we would have liked to, but this doesn't end our season. We still have a state tournament to play and that's why we wanted to play a team at their level."
CBA, meanwhile, is likely finished with the toughest part of its schedule that included eight games in Class A North competition (Two each vs. Freehold Township, Middletown South and Howell and one each vs. Long Branch and Marlboro) and out-of-division matches against Rumson-Fair Haven and Holmdel.
The Colts are scheduled for two games vs. Manalapan (0-9) this coming week before entering an NJSIAA Non-Public bracket that includes a 5-2 St. Joseph Metuchen side and no other Non-Public A programs with a winning record this season. The other Shore Conference teams in the bracket are Ranney (7-0), St. Rose (7-1), Donovan Catholic (2-5-3), St. John Vianney (1-9-1) and Mater Dei Prep (1-9, 1-8).
"We want to fine-tune things a little bit," Borenius said. "We just want to keep putting the work in at practice and keep going into every game like we went into this one. Hopefully, we can get the results and go all the way to the end."
More From Shore Sports Network