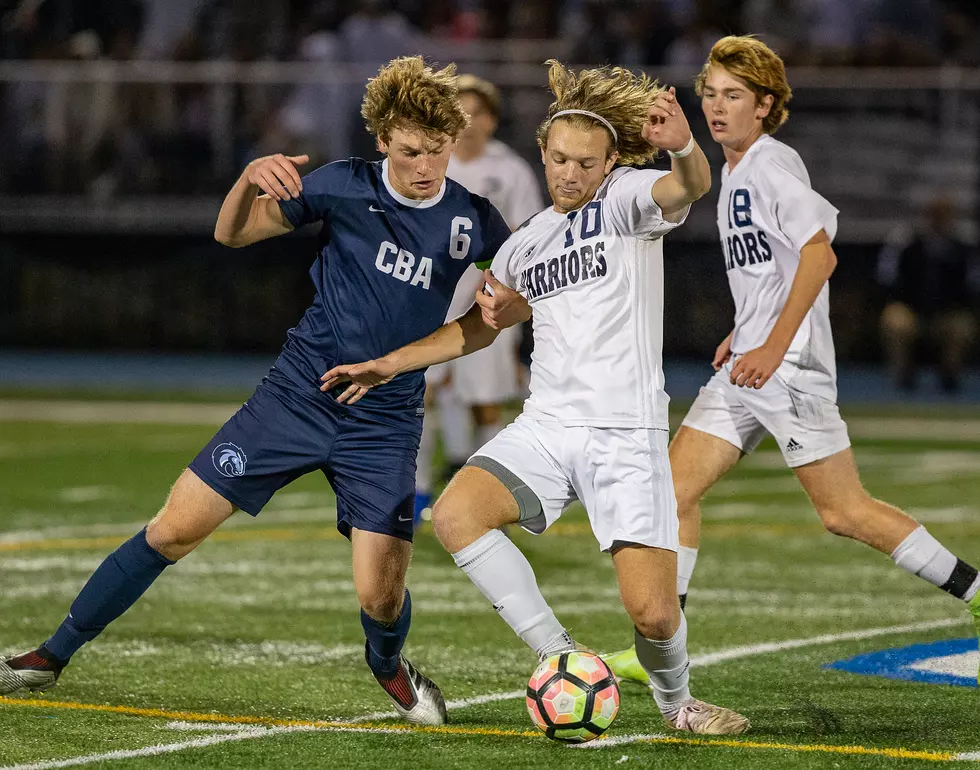 Boys Soccer – Manasquan Knocks Off CBA on Penalties to Reach 1st Ever SCT Final
Manasquan senior Drew Greenblatt battles CBA senior Connor Anderko. (Photo by Paula Lopez)
WEST LONG BRANCH - Not even a month ago, the Manasquan boys soccer team was minutes away from going down as one of the Shore's most disappointing teams of 2019.
After Saturday night's Shore Conference Tournament semifinal round, this year's Warriors team is on the brink of school and SCT history.
Senior goalkeeper Joe Weinstein saved two shots in a shootout and junior Simon Cardenas converted the clinching kick to give the 15th-seeded Warriors a win over the No. 6 Christian Brothers Academy on penalties, 4-2, after a 1-1 draw.
With its dramatic victory, Manasquan will play the the SCT final for the first time in program history on Wednesday at Shore Regional against the Freehold Township-vs.-Colts Neck winner. No team seeded higher than No. 11 has ever won the tournament.
"That was like a different season ago. That's all over now," Manasquan coach Tom McGill said of his team's 3-5 start to the season. "We are just so excited to be going to the final. These guys can't believe it. I can't believe it.
"We knew we had a good team, we just weren't getting many breaks early in the year. One of the greatest adjectives you could use to describe someone is resilient and that's what these guys are.
Manasquan went 4-for-4 during the shootout, with senior Drew Greenblatt, junior Tommy Johnson and senior Chris Pierro each burying their attempts to set the stage for Cardenas.
Prior to Cardenas's clincher, Weinstein saved back-to-back attempts by junior Jack Longo and senior Michael Casper, both of which were diving saves to Weinstein's right. Senior Luke Pascarella and junior Brett Sieg each connected to open up CBA's shootout round.
"Joe is a spectacular shot-stopper," McGill said. "He is not the best with a flighted ball coming in, but one-on-one, timing, penalty kicks - he is awesome."
Both CBA and Manasquan advanced to the semifinals on penalties and Weinstein took advantage of the video of CBA's shootout win over Jackson Memorial being posted on Shore Sports Network. As a former Jackson Memorial goalkeeper during his first two high school seasons, Weinstein took an interest in the game to begin with and while he was checking in, he took time to scout CBA's shooters.
"I did watch the video from the last game so I knew where a few of them were looking to shoot," Weinstein said. "It's tough for them - that's the downside of living in this century. Good for us, though."
Each of CBA's four successful shooters in Tuesday's round of penalty kicks shot to their left and on each of Weinstein's save attempts, he favored that side.
Pascarella ripped a shot by him and Sieg went in the other direction, but the scouting report paid off on the two saves.
"I'm most confident on penalty kicks," Weinstein said. "I feel like I give my team a really good chance when we get there."
Manasquan jumped on the board first on a 28-yard tracer by senior Tyler Guagenty in the 11th minute. The senior made the move from center midfield to right outside back following a 3-3 draw vs. Middletown South that dropped the Warriors to 3-5-1 overall. He showed his offensive prowess Saturday, when he stepped to a loose ball and unleashed a line drive from the right angle to the far left corner of the goal.
Not only did Guagenty step up with goal Saturday - he did so while running a fever of more than 100 degrees, according to McGill.
"He couldn't even take a kick," McGill said of Guagenty. "He really gutted it out today."
CBA threw numbers forward in the second half and broke through with the equalizer in the 70th. Manasquan was whistled for a takedown in the box and Pascarella converted the ensuing kick.
Manasquan also had the best chance in the 20-minute overtime, with senior Rich Maloney heading a set piece off the crossbar in the 84th.
Manasquan suffered a humbling, 5-2 home loss to Holmdel that dropped the Warriors to 3-5 and left them in serious jeopardy of missing the SCT altogether. In order to qualify, they had to go no worse than 2-0-1 over their last three games before the cutoff date and all three were against teams that made it to the SCT - Middletown South, Raritan and Monmouth Regional.
"Our heads were down but there was still that belief," Weinstein said. "We fought insanely and I give all of my respect to every one of those players who really fought."
Middletown South appeared poised to end Manasquan's hopes of qualifying when it led 3-1 with 10 minutes to go. The Warriors, however, rallied for two goals in the final 10 minutes to salvage a draw, then routed Raritan to set up a win-and-in game at home vs. Monmouth. Johnson scored a tying goal in that game to push the match to overtime and with under three minutes left to go in the second session of extra time, Greenblatt headed in the golden goal that clinched the Warriors their SCT spot.
Since qualifying, Manasquan has looked like the team that reached the NJSIAA South Jersey Group II championship and was ranked No. 2 in the Shore Sports Network Preseason Top 10. The Warriors have gone 3-0-2 (including a regular-season win over Brick Memorial) with a win over No. 2 seed Marlboro on the road to reach the quarterfinals. Manasquan has allowed only two goals during that stretch, including Saturday's penalty-kick equalizer and a goal by Southern's Kevin Kiernan to tie the quarterfinal with under 20 seconds to go in the second half.
"The defense has been insane," Weinstein said. "McGill made the changes and put the right players in the right spots. With Richie (Maloney) coming back from attack, Brady (Barry) at center back, Chris (Pierro) at left back and Guagenty at right back - they have all done a great job.
Fittingly enough, Manasquan will take on No. 4 Freehold Township, which last won the SCT in 2014 as a No. 11 seed - the highest seed to ever win the SCT and the last team to win it when the entire semifinal field was comprised of Monmouth County teams - as it was this year.
Freehold Township also needed extra time to advance to the final, defeating Colts Neck, 1-0, on an 85th-minute golden goal by Adam Havens. For the second straight year, both SCT semifinal games went into overtime, with one of them ending on penalty kicks each year.
Both Manasquan and Freehold Township got off to less-than-ideal starts - Freehold Township started 4-4 before winning nine of its last 10 - and find themselves one win away from a conference championship.
"It's awesome and we are enjoying the ride," Weinstein said. "All we can do now is look forward. We've got nothing to lose, so on to the final."
Manasquan 1, CBA 1 (Manasquan advances on penalties, 4-2)
| | | | | | | |
| --- | --- | --- | --- | --- | --- | --- |
| | 1 | 2 | OT | OT | F | PK |
| Manasquan (8-5-3) | 1 | 0 | 0 | 0 | 1 | 4 |
| CBA (10-3-3) | 0 | 1 | 0 | 0 | 1 | 2 |
Goals (Assists): (M) Tyler Guagenty 11'; (CBA) Luke Pascarella (PK) 70
Shots: CBA, 16-7
Saves: (M) Joe Weinstein 4; (CBA) A.J. Pinto 2
Penalty Kicks: (M) Drew Greenblatt, Tommy Johnson, Chris Pierro, Simon Cardenas; (CBA) Luke Pascarella, Brett Sieg
More From Shore Sports Network