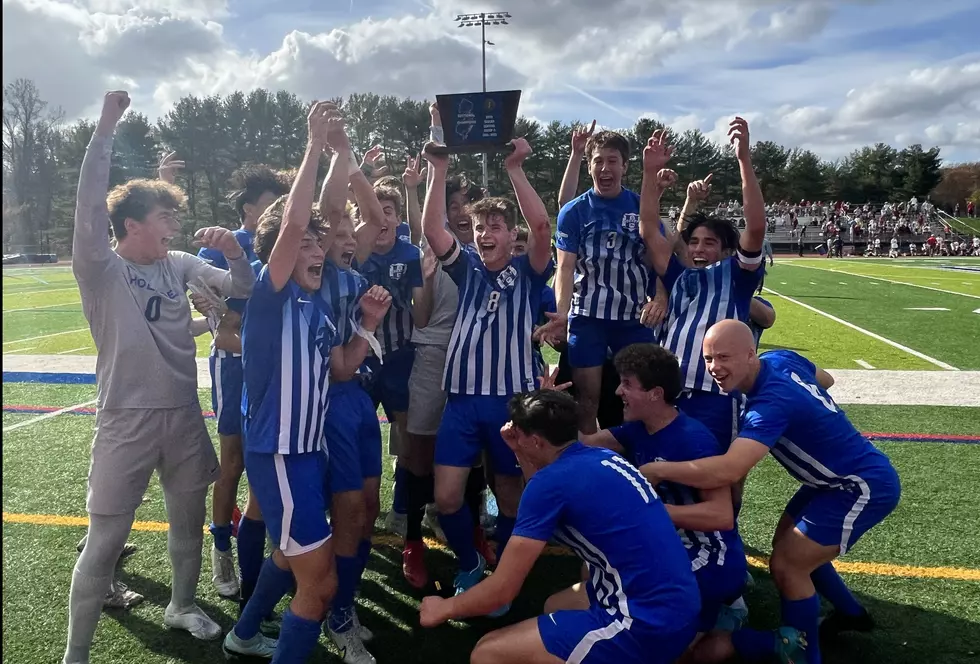 Boys Soccer – Holmdel Back on Top in Central Group 2 After Win Over Wall
Aiden Hynes holds up the NJSIAA sectional championship trophy as Holmdel celebrates. Photo: Matt Manley.

Game highlights playlist at the bottom of the post
HOLMDEL -- When Aiden and Colin Hynes started as students at Holmdel High School in the fall of 2019, it looked as though they would be part of a boys soccer program that was in the middle of a championship dynasty. Whether it was the Shore Conference or Group II, Holmdel was coming off two dominant seasons and poised to keep churning them out.
In the years since, the Hynes boys and their classmates have learned just how hard it is -- even at Holmdel -- to finish off championship runs, which is why Saturday afternoon's performance and aftermath in the NJSIAA Central Jersey Group II championship game were so special.
Colin Hynes buried a picturesque shot for the lone goal of the match and Aiden Hynes helped lead a shutout effort on defense as Holmdel -- the No. 2 seed in the section -- topped No. 8 Wall, 1-0, to win its eighth sectional championship and first since 2018.
"Ever since we got here, the expectation is winning a state championship," Colin Hynes said. "It's not a winning record, it's not like other towns. We want to be the best, every year we work for it and that's why we're always in it and I think you'll see that for years to come."
"It's kind of easy to forget when you're at Holmdel that this doesn't just happen every year," third-year Holmdel coach Matt Isaacson said. "You have to work for it. With the two seasons Holmdel had (in 2017 and 2018) winning the state championship, it's easy to forget how hard this is. Just to get back here and prove they can do what the other state championship teams have done up until this point, it's a credit to them. They are a great group."
Between winning the Group II championship in 2018 and the sectional final on Saturday, Holmdel had racked up a 57-9-5 record over nearly four full seasons, but did not capture any postseason hardware despite all of those wins. From the stunning penalty-kick losses in both the conference and state tournaments during a 16-0-2 2019 season, to withdrawing from the 2020 postseason due to a bout with COVID, to last year's sectional-final, overtime loss to Rumson-Fair Haven, Holmdel has endured plenty of postseason heartbreak for a team with so much overall success.
"Last year, we made it to the championship and lost in overtime and that sucked," Aiden Hynes said. "It's great to be able to come back and win it this year."
"Right when I walked into the locker room today, I could see it on their faces -- that intensity," Isaacson said. "There were a lot guys who made it this far last year and didn't get it done and they remember. They weren't walking out of here without a trophy."
That continued in this year's Shore Conference Tournament with a semifinal loss to Howell and the Hornets made sure the next chance to win a title would not slip through their grasp.
After shutting out three Shore Conference teams -- Raritan, Rumson-Fair Haven and Manasquan -- it took one more shutout of a Shore Conference opponent for Holmdel to wrap up its sectional championship. The opportunities started as a trickle and eventually started to flow for Holmdel.
In the 29th minute, sophomore Stephan Kapranov broke loose inside of midfield and slid the ball ahead to Hynes, who turned and encountered a pair of Wall defenders. The senior opted to push hard up the field before cutting back to create space, enough to unleash a laser that tucked into the upper left corner of the goal.
"Most of my goals this year have been from a lot closer," Colin Hynes said. "I take a step back, I see the space and I thought, 'Why not rip it?' Then magic happened."
Holmdel could not add a second goal, but controlled play the rest of the way in outshooting Wall, 21-4, and holding the Crimson Knights without a shot in the first 34 minutes of the second half.
"I'm so proud of my guys," Isaacson said. "I told them to stay patient and the goals would come eventually and Colin had a hell of a finish there to put it away."
While the Hornets pushed hard for the insurance goal, they also operated with confidence that the defense and senior goalkeeper Ilan Golden would not break.
"I know we have the best defense in the Shore," Colin Hynes said. "We're always confident in them, but we always want to put one more in though. That's what we have been able to do in the tournament so far, but we were confident enough that we could win it with one."
Crimson Knights junior goalkeeper Charlie Schirmer saved nine shots to keep Wall within a goal, while Golden needed to save just one Crimson Knights shot to pick up the team's 15th clean sheet of the season.
Wall allowed two goals during its state tournament run and saw its long scoreless run during the state tournament come to an end. After going the entire 2019 NJSIAA Tournament without allowing a goal and not conceding during last year's tournament, a second-half goal allowed at South River was the first time in 825 official state tournament minutes that Wall allowed a goal.
"You never want to see a team a third time, especially when they are an in-division team," Isaacson said. "We knocked them out of the states last year, we knocked them out of the Shore Conference (Tournament) this year, so we knew they were going to throw everything at us. I have tons of respect for Garry (Linstra) as a coach. They are always really sound defensively and they always find a way to make it a battle, regardless of what the personnel is."
Saturday marked the third time Holmdel has beaten Wall this season, with each of the last two meetings decided by a 1-0 score in tournament play. Holmdel beat the Crimson Knights, 2-0, in Shore Conference Class A Central divisional play and by a 1-0 count in the Shore Conference Tournament. It was also a rematch of last year's Central Group II quarterfinal, which Holmdel won on penalties after a scoreless draw.
"We knew what they were going to and we have been practicing against it," Aiden Hynes said. "We know how they play offense with one up top. We just had to watch out for the long balls. Our offense played great, our defense played great and everyone played great."
The Hornets will now prepare for a trip to play South Jersey Group II champion Delran in Wednesday's Group II semifinal. Holmdel and Delran have been the two dominant programs within Group II over the past decade, but when it comes to the head-to-head results over the years, Holmdel is the clear dominant team in Group II. The Hornets are 4-0-2 vs. Delran during tournament play since 2013 and the two teams split the two matches that were decided by penalty kicks.
"Last year, we were more underdogs than this year and we really liked that," Aiden Hynes. "An upset feels better than a regular win, so I think we'll have that underdog mentality going down to play (Delran)."
"If we can pull off two more wins, we're state champions," Aiden Hynes said. "This is not it. We're going for two more wins. We want that state championship."
More From Shore Sports Network