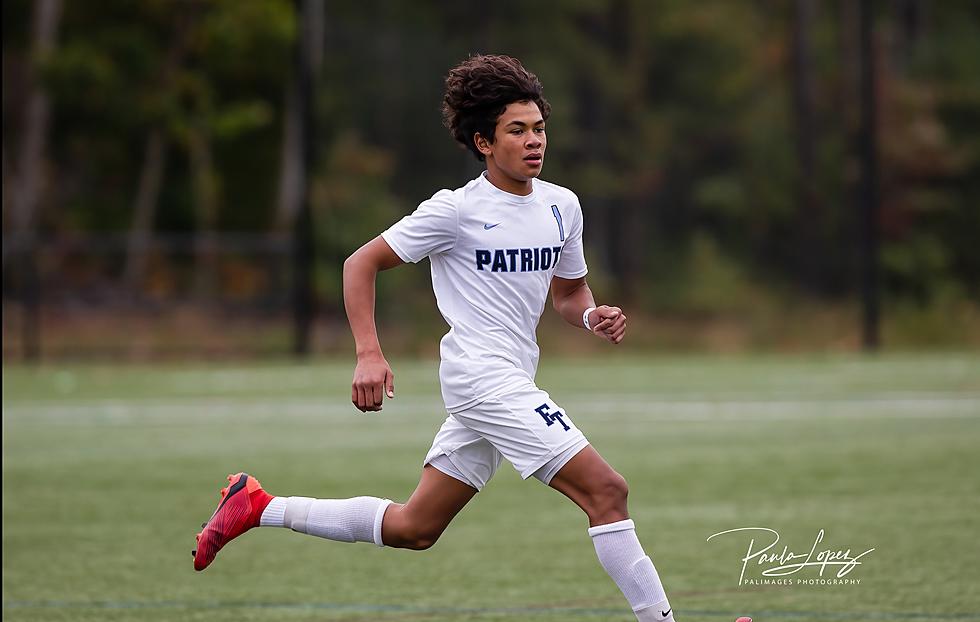 Boys Soccer – After Win Over No. 7 Wall, Gritty No. 3 Freehold Township Building Toward Postseason
Freehold Township senior Herman Colbert. (Photo by Paula Lopez)

WALL TWP. -- When it comes to retaining starters and regular contributors from its talented, accomplished 2020 squad, the Freehold Township boys soccer team has had a challenging 2021 season.
It has not, however, been a bad season for the Patriots. They don't have those.
After graduating 15 seniors -- many of whom had a heavy hand in winning the 2019 Shore Conference Tournament -- from last year's team and amid a rash of injuries this season, Freehold Township has braved the storm and after its latest 1-0 win over Wall, the Patriots heading toward next weekend's Shore Conference Tournament feeling good about where and who they are.
"There is always a next-man up mentality here, so we need those younger players to step up and fill in for our brothers," senior striker Herman Colbert said. "Anytime we step onto the field, we're giving a hundred percent for our brothers who lost their senior season."
Despite the roster challenges of this season, Freehold Township cruised to another SCT berth, adding to the longest active streak in the Shore Conference. When the Patriots play in this year's conference tournament, it will mark 17 straight times that Freehold Township has qualified for the tournament and it almost certainly would have been 18 had there been an SCT in 2020.
"I knew we had talent but more than talent, I knew this was just a gritty, tough team," sixth-year Freehold Township coach Josh Mehl said. "I thought we could be where we are right now, but I have to say they have exceeded my expectations for them and it's because they just come out and outwork teams."
Colbert did not get in on the scoring action but cracked the Wall back-line on a handful of occasions to further draw its attention. In the 30th minute, the scoring came from a more unexpected source, with senior James Stanley coming off the bench to finish a cross from junior Aidan Englander.
Over the last two weeks, Freehold Township -- ranked No. 3 in the Shore Sports Network Top 10 -- has had to mix and match lineups to account for a bevy of absences. According to Mehl, the Patriots have struggled with players missing time due to district COVID-19 protocol and two important returning starters from a year ago - seniors J.T. Gold and Christian Mojares - are out for the rest of the season with injuries.
Englander has been among the players to step into a bigger role with his teammates ailing. The junior scored the game-winning goal in the 78th minute of Freehold Township's 2-1 win over Howell on Sept. 29 and on Thursday night at the Wall Municipal Complex, he beat a defender along the right end line before spotting Stanley camped out at the top of the six-yard box.
"It's great because you see other teams keyed on the upperclassmen, focusing on us, but then you see guys come out there and give us the best five or ten minutes of hard work," Colbert said. "It's unexpected so it gets us fired up."
Freehold Township has shown it can find ways to score goals throughout the season, putting up two apiece on state-ranked opponents Christian Brothers Academy and Elizabeth and throwing up four on the Shore's No. 5 team in Manalapan. On Thursday, facing a Wall back line that has been somewhat inconsistent in 2021 but has a program tradition of lockdown defense, the Patriots leaned on their own defense and senior goalkeeper Giancarlo Pantano to bring the win home.
In the 48th minute, Pantano came up with the biggest of his three saves, quickly reacting for a point-blank stop of a shot by Wall senior Kyle Horowitz from inside the six-yard mark.
From there, Wall warded off an early-first half push by the Crimson Knights and kept the game in the midfield for most of the final 20 minutes.
Thursday's win sets up Freehold Township for what could potentially be a furious finish heading into the Shore Conference Tournament, which will be seeded on Wednesday and begin on Saturday, Oct. 16. The Patriots are scheduled for two more games prior to the cutoff: Saturday against St. Joseph of Metuchen at the GMC Challenge in Monroe and Tuesday at No. 2 Toms River North.
With a win on Tuesday, Freehold Township would have what would appear to be an open-and-shut case for the No. 2 seed in the SCT, right behind a CBA side that has already defeated both Freehold Township and Toms River North. Tuesday's game is also a rematch of last year's NJSIAA Central East Group IV semifinal, which Toms River North won, 3-2, on the way to a sectional championship.
"When you head into the Shore Conference Tournament and the postseason, you want to know who you are," Mehl said. "If you don't challenge yourself, you're not going to learn a lot about yourself. (Wall) is a really well-coached team, I have tremendous respect for (coach) Garry (Linstra) and the Wall team always comes out to play: they are compact, they defend well and they know what they are doing.
"Our guys didn't take this game lightly and they don't take any game lightly. Winning these close games against good teams kind of cascades that experience at a time of year when the games matter the most."
More From Shore Sports Network