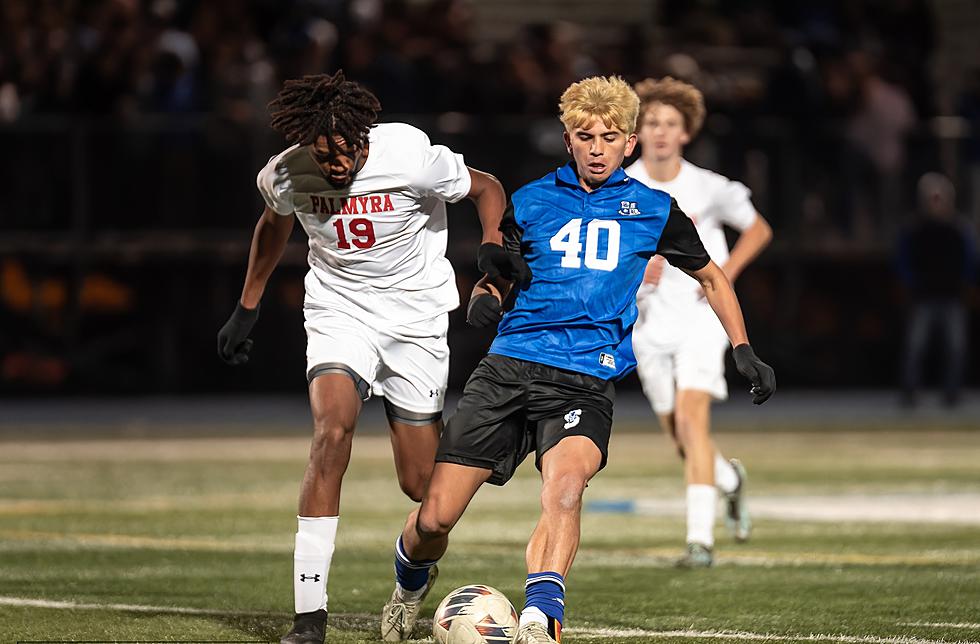 Boys Soccer – After Ending Half-Century Drought, Shore Sets Out for First State Title
Shore senior Maxx Eichenbaum fends off Palmyra junior Xavier Oliver. (Photo: Tom Smith | tspsportsimages.com)
2023 NJSIAA Group I Championship
Saturday, Nov. 11, 2023
At Franklin High School
Shore (16-7) vs. David Brearley (13-6-1), 12:30 p.m.
Shore at a Glance
Head Coach: Christian Pontier
Group Championships: None
Finals Appearances: 1970
Road to the Final: Defeated No. 14 Henry Hudson, 5-0; No. 6 Florence, 1-0; No. 7 Roselle Park, 2-1; No. 8 College Achieve Central, 1-0 (OT); Palmyra, 2-0
Key Players
Maxx Eichenbaum, Sr., Midfield (14 goals, 4 assists)
Cooper Attaway, So., Forward (10 goals, 4 assists)
Kevin Barfield, Sr., Goalkeeper (24 goals allowed, 9 shutouts)
Tyler Jackson, Sr., Defense (2 goals, 2 assists)
Stephen Molnar, Jr., Forward (3 goals, 7 assists)
Santino Scarponi, So., Midfield (4 goals, 4 assists)
Sean Newbert, Sr., Midfield (8 goals, 2 assists)
David Brearley at a Glance
Head Coach: Vinny McGowan
Group Championships: 1990, 2013, 2015
Finals Appearances: 1989
Road to the Final: Defeated No. 11 Ridgefield, 6-0; No. 3 Shabazz, 3-1; No. 7 Secaucus, 3-2; No. 1 North Arlington, 2-1; Mountain Lakes, 1-0
Key Players
Thomas Pugliese, Sr., Forward (15 goals, 5 assists)
David Lopes, Jr., Midfield (6 goals, 18 assists)
Rashon Thorne, Jr., Forward (12 goals, 5 assists)
Luiggi Cedeno, So., Midfield (7 goals, 2 assists)
David Brearley enters Saturday's Group I championship looking to end a seven-season wait between state championships. Of course, that wait is nothing in Shore's collective eyes.
It has been 53 years since Shore has participated in an overall state final and the Blue Devils are still searching for their first ever group championship. For the first time since 1970, Shore is just one win away and will attempt to secure that win against a quality Brearley team that has won three consecutive games by a one-goal margin.
The most memorable of Brearley's wins during the tournament was its sectional final victory over North Arlington in which its top two scorers – Thomas Pugliese and Rashon Thorpe – each scored in the last 20 minutes to turn a 1-0 deficit into a 2-1 victory. Pugliese has scored four goals during the tournament, while Thorpe leads the team with five.
Shore also survived three straight one-goal victories during its run to a second straight Central Jersey Group I title. The first of those wins was 1-0 over Florence in a rematch of the 2022 sectional final, followed by a 2-1 win over Roselle Park in which the Blue Devils stuck for a goal in each half before the Panthers got on the board.
The sectional final vs. College Achieve Prep pushed Shore to its limit, but Lukas Villa headed in the overtime winner to finish off a second straight sectional title. Then, on Wednesday, it took 60 minutes for Shore to find a scoring combination, which Riley Murphy and Cooper Attaway formed when Murphy sent Attaway up the flank and the sophomore ripped the ball off a defender and in. Another sophomore, Santino Scarponi capped the scoring and ended Shore's run of one-goal victories by winning by two goals.
After winning a 2022 title with very little senior influence on the roster outside of  top scorer Nick DiNapoli and midfielder Conner Katz, Shore is still rather light on seniors this season, although Maxx Eichenbaum, Tyler Jackson and goalkeeper Kevin Barfield are all multi-year starters and leaders, while Sean Newbert has had a breakout season. Meanwhile, underclassmen like Cooper Attaway, Santino Scarponi and freshmen Jackson Montzenbecker, Silvio Pessoa, Andreas Barrett and Mike Ilvento have all made an impact.
Scarponi and Attaway have been particularly impactful in their postseason careers, with Attaway scoring four goals during the current tournament. Even with a lot of underclassmen in the equation, Shore has experience and the kind of exciting young talent that makes the Blue Devils a potential dynasty. While the run of Central Jersey titles is already underway, Shore is long overdue to seize the trophy in Group I and the Devils have never had a better opportunity.
The Pick: Shore, 3-1
More From Shore Sports Network