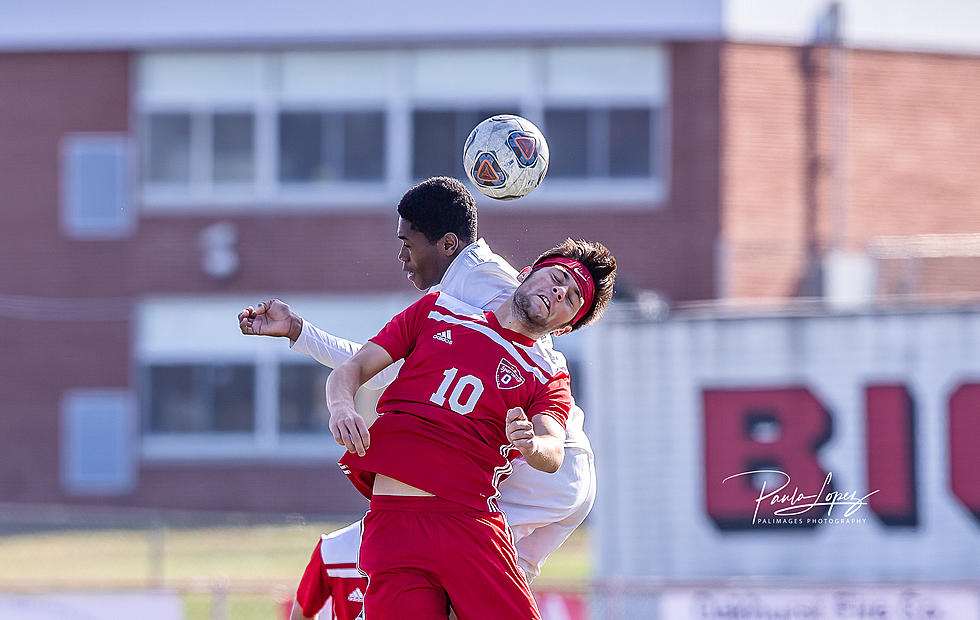 Boys Soccer – 2021 Shore Conference Tournament Opening Round Preview, Predictions
Ocean senior Aidan Tisony (10) battles Neptune junior Ernst Louisius for the ball. (Photo by Paula Lopez)

Over the past several weeks, three teams have risen above the rest of the Shore Conference and within that top three, which includes Christian Brothers Academy, Freehold Township and Toms River North, CBA has distinguished itself.
The story of the early rounds of the Shore Conference Tournament will be the whether or not the parity of the regular season manifests itself in the form of high-number seeds going deep into the tournament. It would seem that if we are looking at an upset-filled tournament, it is going to happen right off the bat in the opening round, which begins Friday night with the Nos. 16 and 17 seeds squaring off and continues with nine more games Saturday morning.
With that in mind, forecasting the first round has to involve going out on a few limbs. In most cases, the home team looks like a good bet to win -- they are seeded that way for a reason, after all -- but there are a few matchups that at least have a chance to fall the other way. If anything, a surprise first round would be one in which there were little-to-no upsets.
So which teams have the chops to shock their way to the round of 16 next week? Let's have a look.
Friday
No. 17 Pinelands at No. 16 Neptune, 6 p.m.
The always-intriguing 16-vs.-17 matchup should be entertaining with all the goal-scoring ability on either side, plus some familiarity after Pinelands beat Neptune in the NJSIAA Playoffs last year. For Pinelands, it is the senior duo of James Cahill and Stephen DeMilio leading the way, while junior Ernst Louisius and sophomore Kervens Lafortune will be the Neptune players for whom Pinelands needs to account.
Both teams have defensive ability and the Scarlet Fliers have some dynamic talent back there, but the Wildcats have been a little more consistent when it comes to keeping the ball out of their own goal. That becomes especially important at this time of year and while this doesn't have the feel of a shutout, an organized back line is likely to be an x-factor. This feels like a close-to-the-vest first half with a breakout second half (and maybe even overtime) for the goal-scorers.
The Pick: Pinelands, 3-2
Saturday
No. 18 Manasquan at No. 15 Howell, 10 a.m.
Just running through the schedules of both teams, this matchup doesn't appear to bode well for Manasquan. While the Warriors won a share of the Class B North championship and the Rebels finished sixth in Class A North, Manasquan went 1-4-2 outside of B North while Howell is 4-0 against competition from outside the rugged Class A North division.
Howell also has the edge in senior experience, with a roster loaded with a hungry group that is going to have a chip on its shoulder after playing competitively in A North and only coming up with two division wins. Manasquan, meanwhile, is a young team around senior standout Mike Cafiero, who can pose problems for Howell if the Rebels are not careful about shadowing him. After watching Howell pick apart the likes of Colts Neck and Toms River East outside of the division, it is hard to see the Rebels taking their foot off the gas.
The Pick: Howell, 3-1
No. 19 Point Pleasant Boro at No. 14 Shore, 9 a.m.
All-in-all, Point Boro and Shore have had similar seasons on paper, but one team did most of its damage out of the gate while the other enters the tournament in the midst of a surge. Point Boro opened the season 7-0 but has since gone 2-5 as the schedule has ramped up. On the other side, Shore started the season 3-3-1 and has since ripped off five straight wins, followed by a 0-0 draw vs. fourth-seeded Manalapan heading into SCT play – the fourth straight overtime game .
Both of these teams have a lot of non-senior talent to go with a few key seniors, so this will be a big win for a team with a lot of good days ahead. To this point, Shore has been the better team when it comes to rising to the occasion against name-brand teams (Rumson, Holmdel, Manalapan) but the Blue Devils have come up empty on some days (Raritan, Monmouth) as well. At the moment, however, it seems like something has clicked for Shore and while it's possible something clicks for Point Boro over the next few weeks, the Blue Devils look like they are already there.
The Pick: Shore, 2-0
No. 20 St. John Vianney at No. 13 Ocean, 9 a.m.
When St. John Vianney was 1-4-1 coming off a tie with Matawan – the last-place team in Class B North – it would have been understandable to write the Lancers off as a team still trying to build a winner. Even at that point, however, the Lancers had lost all four of those games by just one goal and in their seventh game, they earned a draw against Wall, albeit in just 40 minutes due to lighting that got the game called early.
While St. John Vianney is on a five-game winning streak, Ocean has been trying to fight through some key injuries, some of which are healing. Defensively, however, Ocean has not been able to fully account for an injury to Dan Abrams and now, the Spartans will have to stop the Shore Conference's top scorer in Johnny Troiano. On the other hand, Ocean has the conference's No. 2 scorer in Aidan Tisony, so the biggest surprise in this game would be neither of those two getting on the scoresheet.
With such an even field, it would be shocking not to see some road teams win. This game has all the conditions for one of those upsets, right down to the team that is looking to pull it off. The last time St. John Vianney qualified for the SCT, the Lancers reached the semifinals as a No. 25 seed in 2015 and given the way the Lancers are playing, the presence of Troiano and the draw they got, a similar run could happen again over the next week.
The Pick: St. John Vianney, 3-2
No. 21 Brick Memorial at No. 12 Monmouth, 10 a.m.
Both teams in this matchup enter with some positive mojo, with the Mustangs rallying to qualify for the tournament for the first time in five years and Monmouth starting to get healthy and rack up the wins during the crucial part of the season. Aiden Hicks is a key addition to the lineup for Monmouth after the senior missed most of the regular season, giving the Falcons some additional scoring within an already-dangerous lineup.
On the Brick Memorial side, the Mustangs have a senior-led group to go with standout junior striker Billy Caruso that has played a lot of close games and has a noteworthy win over Toms River East to their credit. While Brick Memorial is back in the SCT for the first time in five years, Monmouth has made some tournament noise with the current group of seniors before and has been gearing up for this time of year. The Falcons are a legitimate semifinal threat and a potential run will have to start with a battle with Brick Memorial.
The Pick: Monmouth, 2-0
No. 22 St. Rose at No. 11 Toms River East, 9 a.m.
St. Rose's resume does not suggest it is primed for an SCT run, but the Purple Roses have a senior-led group that plays well together and is capable of hanging tough with a team the caliber of Toms River East. They battled Wall in a 2-1 loss on the road early in the season and after being shut down for two weeks, St. Rose came back and took Neptune the distance in a 1-1 draw. Thursday's loss to Freehold Boro doesn't help St. Rose's case, but that could just be a classic possum game from a Cinderella-to-be.
Toms River East, meanwhile, has designs to make some serious noise. The Raiders are coming off a frustrating, 3-0, loss to Howell, but they also played solid games in beating Marlboro and losing to Wall – both on the road. Following a run to an NJSIAA sectional championship game last year, Toms River East should be ready for the battles just over the horizon – and game one of its SCT stay could indeed be a battle.
The Pick: Toms River East, 1-0
No. 23 Jackson Liberty at No. 10 Holmdel, 10 a.m.
Since winning a second straight Group II championship in 2018, Holmdel has had a rough go of it in postseason play. The Hornets were eliminated in the round of 16 as the No. 1 seed in the 2019 SCT, the quarterfinals of the Central Group II playoffs as the No. 1 seed later that season, and did not get to play a game in the 2020 postseason due to a season-ending COVID-19-related shutdown. Now, Holmdel heads into this tournament without a lot of big-game experience, but with an imposing goalkeeper in Tommy Chyzowych and a dangerous scorer in Brendan Worobel.
Jackson Liberty does not have a lengthy track record of tournament success, but the Lions have been a tough matchup throughout their season and have the potential to give Holmdel problems. Like Holmdel, Jackson Liberty is also excellent in goal with Ayendi Batista and the Lions have a pair of potential gamebreakers in Gerard Cerino and Elton Canka. With Holmdel's ability to possess, Jackson Liberty's chances may be limited, but the Lions have the players who can cash in when those chances come. The key will be how much Batista steps up when Holmdel gets its shots.
Holmdel has been a hard team to read over the past few seasons. Write them off early, and they make you (and by "you" I mean "me") look foolish by contending for another division title. Ride them in the postseason and suddenly, scoring is scarce. I have been buying Holmdel in the postseason for the past few seasons, so maybe it's time to show some faith in the upset while giving the Hornets some reverse-jinx energy. We'll see what gives.
The Pick: 1-1 tie, Jackson Liberty on penalties
No. 24 Central at No. 9 Wall, 9:30 a.m.
This match is likely the one with the best team that is somewhat vulnerable for a first-round upset. Rumson and Lacey both have better seeds than Wall, but both should be safe in their games, while it is feasible that Wall could find itself in a fight on Saturday morning. Central has a senior group that has been through the lows of a rebuilding stretch and now has a chance to make the most out of a long-awaited shot at tournament play.
Wall, meanwhile, has been a little uneven by its lofty standards, although still very good. More importantly – at least for this round – the Crimson Knights have played very well at Wall Municipal Complex. They are 5-1-1 at home with the lone loss coming to Freehold Township while going 2-2-1 on the road with a loss to Red Bank, a 5-1 loss at Rumson and a rain-shortened draw at St. John Vianney. Wall has had some close calls on its home turf – overtime wins over Southern and St. Rose and a draw with Manasquan – but on the home field, Wall is a battle-tested team that usually finds a way.
The Pick: Wall, 2-1
No. 25 Ranney at No. 8 Rumson-Fair Haven, 10 a.m.
Ranney has just enough experience, skill and athleticism to make Rumson have to bring its collective hard-hat and lunch pail for the full 80 minutes but the Panthers are going to have to find some of the early-season magic that got them off to a fast start. Ranney pulled out close wins over both St. John Vianney and Manchester thanks to its scoring prowess and will have to be on top of its game Saturday – especially with Rumson senior standout Luke Pentikis eying a return after injuring his knee on Sept. 25.
The Bulldogs got a very tough draw in this tournament, with a potential rematch with Wall likely on the other side of this game, followed by a likely date at top-seeded CBA if the Bulldogs should advance twice. On the plus side, Rumson will be close to full strength for the first time all year if Pentikis can be something close to what he was when he got off to a strong start to his senior campaign.
The Pick: Rumson, 4-1
No. 26 Henry Hudson at No. 7 Lacey, 9 a.m.
Lacey has yet to lose a game in 2021 and Saturday will not be the first one the Lions drop. Henry Hudson has had a strong showing under first-year coach Murphy O'Donnell and led by senior Elvis Gonzalez, but the Admirals have feasted on the likes of Asbury Park, Keyport and Mater Dei in order to get into the field. Lacey, meanwhile, has been as solid as any team in the field outside the top three seeds and has its sights set on a deep run.
The Pick: Lacey, 6-0
More From Shore Sports Network