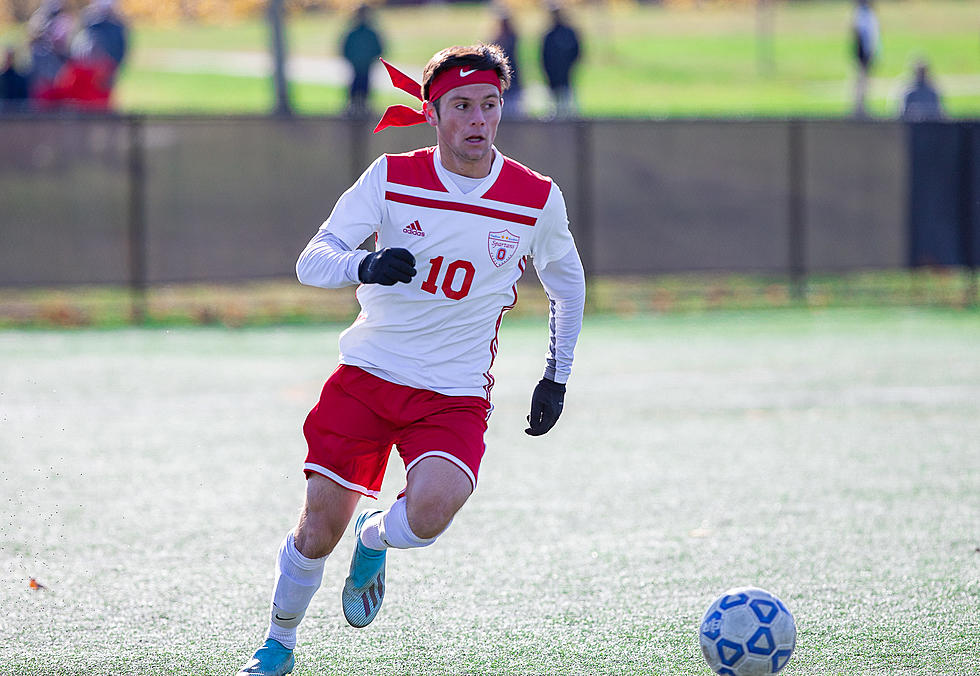 Boys Soccer – 2021 Shore Conference Preview: Class A Central
Ocean sophomore Aidan Tisony. (Photo by Paula Lopez)

Although it was not an official division title, Holmdel's first-place finish in the 2020 Shore Conference Class A Central standings made the Hornets division champions for the fourth straight season but that fact in and of itself does not do the past four seasons justice. The Hornets have absolutely dominated the competition within the division during that time, even as their 65-game unbeaten streak ended last season.
On paper, it appears that dominance will fade this year, as there are a number of teams returning All-Shore talent while Holmdel will be replacing almost all of its proven talent. Then again, it appeared it was possible somebody from the field could take down Holmdel last year and while the Hornets played a few tight games, the Hornets finished comfortably ahead of second-place Rumson-Fair Haven.
Once again, Rumson, Ocean, Monmouth and Raritan are capable teams with eyes on winning the division, while Shore Regional hopes to take a big step in its rebuild by moving closer to division-contender status once again. Red Bank Catholic has had trouble competing in this field, but its new coaching staff has created some buzz that could begin to pay off – even if wins in this loaded division are hard to come by in 2021.
In predicted order of finish
Ocean
Head Coach: John Terlecsky, fifth season
2020 Record: 6-5-2 (5-4-2, fourth in Class A Central)
Returners: Aidan Tisony (Sr., Forward), Brian Miranda (Sr., Midfield), Michael Reid (Sr., Midfield), Dylan Gargulinski (Sr., Defense), Paco Costello (Sr., Goalkeeper), Daniel Abrams (Jr., Defense), Shane Foster (Sr., Defense), Kareem Eraky (Sr., Defense/Midfield), Colin McLeod (Sr., Midfield)
Losses: Alex Gaber (Defense), Michael Delia (Defense), Peter Baillergeau (Forward), Rusty Todd (Defense)
Newcomers: Archeley Eugene (Jr., Forward), Zack Frabrizio (So., Goalkeeper), Ryan Giorgio (Sr., Midfield/Forward)
Since authoring, arguably, the best season in the storied history of its boys soccer program, Ocean has put together a pair of interesting seasons while enduring a rebuilding effort of sorts. The Spartans have not had a lot of senior presence in either of the past two seasons, but still managed to put together some highlights: the reached the NJSIAA Central Jersey Group III championship game in 2019 after entering the tournament under .500 and last year, Ocean was the only Class A Central team to avoid a loss to Holmdel, tying the Hornets, 1-1.
Ultimately, 2020 ended on a down note for Ocean, which won just once in its final eight games with the lone win coming over winless Red Bank Catholic. That included a first-round exit at home vs. Neptune in the NJSIAA Playoffs and this year's team will have plenty of returning contributors who still have that bad taste in their collective mouths. Aidan Tisony and Brian Miranda are third-year starters, while fellow senior Michael Reid stepped up as the team's leading scorer with seven goals in his first season as a starter. Senior Dylan Gargulinski will lead the defense in front of returning goalkeeper Paco Costello.
Ocean lost a scoring threat in Peter Baillergeau, but picked one up with the addition of junior striker Archeley Eugene, who played academy soccer during his sophomore year. Seniors Colin McLeod and Ryan Giorgio will also be important players on the attack while Daniel Abrams, Shane Foster and Kareem Eraky will be part of the defensive effort. That gives Ocean a group looking to take on bigger roles and, in that sense, it is not a team with quite as much proven experience as what the 2018 team had. Still, the established talent is in place, and the players have a chip on their collective shoulder that should drive Ocean to a strong 2021 season.
Rumson-Fair Haven
Head Coach: Jeff Soares, third season
2020 Record: 7-5-2 (7-2-2, second in Class A Central)
Returners: Luke Pentikis (Sr., Midfield), Harrison Gibson (Sr., Midfield), Alec Pentikis (Jr., Forward), Antonio Santos (Jr., Midfield), Aiden Colburn (Sr., Goalkeeper), Reece Moroney (Jr., Defense)
Losses: Evan Quon (Defense), Sean Allingham (Sr., Midfield), Joe Anglione (Defense), Dylan Haley (Midfield), Joe Stypa (Forward), Terence Wrench (Midfield), Dylan Rumage (Defense)
Newcomers: Harrison Rosen (Sr., Forward), Declan Fry (So., Forward), Ronan Hogg (Fr., Forward)
After settling for second place in the unofficial Class A Central division race, Rumson suffered a heartbreaking NJSIAA Playoff overtime loss at Raritan to end its season. That has left the Bulldogs hungry to bounce back but with some issues in the lineup to address – not the least of which is replacing most of its defensive back line. As far as goals allowed, Rumson battled some ups and downs as a defense but the personnel was both experienced and capable and fitting new faces while getting them to mesh as a unit will a challenge.
When it comes to scoring, Rumson should have much of that covered. Senior Luke Pentikis was one of Class A North's best all-around players and younger brother, Alec, is one of the Shore's top returning scoring threats despite battling injury issues as a sophomore. The two brothers combined for 19 goals a season ago and with senior Harrison Gibson and junior Antonio Santos also back in the fold to go with a crop of additional scoring threats, the Bulldogs should be one of the Shore's better finishing outfits.
Defensively, the Bulldogs do bring back athletic fullback Reece Moroney and goalkeeper Aiden Colburn to lend the otherwise-new backline a hint of experience. Rumson managed a solid 2021 season without putting up staggering defensive numbers, so it is definitely possible the Bulldogs can put together another strong season by leaning on the goal-scoring prowess of the Pentikis brothers. To take the next step as a program, however, that defense will have click by season's end in order to take on the Shore's best.
Monmouth
Head Coach: Darren Spadavecchia, 18th season
2020 Record: 8-8-1 (4-7-1, fifth in Class A Central)
Returners: Ethan Wallace (Sr., Midfield), Aiden Hicks (Sr., Midfield/Forward), Kaan Pehlivan (Sr., Midfield/Forward), Tommy Siracusa (Sr., Defense), Arturo Reyes (Sr., Midfield), Chris Theobald (Sr., Defense), Prabnoor Singh (Sr., Forward), Andy Sanchez (Sr., Midfield), Anthony Cano (So., Defense), Kyle Desai (Jr., Goalkeeper/Defense)
Losses: Dominick Santaniello (Sr., Goalkeeper), Bryan Leonard (Sr., Defense), Ryan Kuldanek (Sr., Midfield), Brett Minto (Sr., Defense)
Newcomers: Philip Barbosa (Jr.), Kevin Terhune (Sr., Goalkeeper), Sean Molloy (Sr.), Joe DeMeo (Sr.), Evan Coiccone (Sr.), Alex Rausch (Sr.)
As it stands heading into the season, Monmouth could be without All-Shore midfielder and Lehigh commit Ryan Kuldanek, who is weighing his decision to play with the Falcons or on the academy circuit this fall. According to coach Darren Spadavecchia, Kuldanek will be fit and welcome to return to the Falcons throughout the season, so there could come a point at which the standout midfielder – who put up 13 goals and 10 assists as a junior in 2020 – rejoins the team as a major addition.
Until then, however, Monmouth is trying to figure out how to proceed in his potential absence and there is still reason for optimism should that be the case. The Falcons return a talent-rich senior class as it is, led by Kaan Pehlivan, Ethan Wallace, Aiden Hicks and Tommy Siracusa – all multi-year starters heading into 2021. Pehlivan, Wallace and Hicks have all proven their scoring ability, while Siracusa will anchor the defense in front of a new goalkeeper, which will be either Kyle Desai or Kevin Terhune, depending on the situation.
The attack also gets back senior forward Prabnoor Singh and midfielder Andy Sanchez – both of whom were limited by injuries as juniors last year. Defensively, the Falcons should be solid around Siracusa, with Anthony Cano and Chris Theobald back and Desai capable of sliding to an outside back spot if he is not in goal – a position he played while Dom Dantaniello was in goal last season. There are some positions to settle and a potential big addition looming if Kuldanek joins the roster at any point but even as is, Monmouth has a senior-led team that can make noise at any and every juncture of the 2021 season.
Holmdel
Head Coach: Matt Isaacson, second season
2020 Record: 12-1-1 (11-0-1, first in Class A Central)
Returners: Tommy Chyzowych (Sr., Goalkeeper), Brendan Worobel (Sr., Forward), David Weiner (So., Midfield), Bryce Calhoun (Sr., Midfield), Lucas Arciola (Sr., Defense)
Losses: Connor Hinds (Midfield), Tomas Zolofra (Forward), Ben Milstein (Midfield/Forward), Felix Doebbel (Defense), Noah Mendez (Defense/Midfield), Brendan Rebele (Defense), Matt Kline (Defense/Forward)
Newcomers: Jeremy Topel (Jr., Defense), Ben Sammut (Sr., Defense), Max Woodward (Jr., Midfield), Matt Kistler (Sr., Forward)
If there was a year to count out Holmdel, it seemed like 2020 would have been the season. The Hornets had graduated every key member from its 2018 powerhouse team and had to deal with a sudden coaching change just days before the start of what was already to be an unpredictable 2020 season. Instead, Holmdel again tore through the Class A Central schedule without losing a game and ran its unbeaten streak to 65 before dropping its only game of the season – a 3-1 loss to Christian Brothers Academy. Before the Hornets could attempt to rebound with an NJSIAA sectional title, however, the program was shut down for the season due to multiple cases of COVID-19 on its roster.
Another disappointment within the otherwise impressive 2020 Holmdel season was a season-ending injury to junior goalkeeper Tommy Chyzowych , who returns for his senior season after already looking like the Shore's best goalie a season ago. With a healthy Chyzowych and a recent history of airtight defenses, Holmdel is likely to be very stingy when it comes to allowing goals, although there won't be much experience in the last line of defense in front of the veteran keeper. Senior Lucas Arciola will take on a bigger role after getting some time as a back-up a year ago, while junior Jeremy Topel and senior Ben Sammut will be key additions.
Goal-scoring will also be a challenge after Holmdel graduated all six players who scored more than one goal a season ago. Returning striker Brendan Worobel was not one of those six, but might have been on his way before an injury slowed him down in the middle of the season. Worobel will be the team's top scoring threat, while sophomore David Weiner takes on a more prominent midfield role after sliding into the starting lineup as a freshman. Junior Max Woodward will add some athleticism to the midfield, where Holmdel is not likely to have the same advantage it has had in recent years. Despite that, the Hornets remain a contender and it would not be a shock to see them effectively capture a fifth straight A Central crown.
Raritan
Head Coach: Gregg Cohen, fourth season
2020 Record: 8-4-2 (7-3-2, third in Class A Central)
Returners: Lupo Ryder (Jr., Forward), Matt Fogarty (Sr., Midfield), Steven Amodeo (Sr., Midfield), Justin Tennant (Sr., Goalkeeper), Cole Bailey (Sr., Defense), Dan O'Chat (Sr., Midfield), Mike Pereira (Jr., Midfield)
Losses: Chris Fontanazza (Midfield), Gavin Hersey (Goalkeeper), Emir Pupovic (Midfield), Nick Kasmer (Defense), Brian Larson (Defense), Hunter Amodeo (Midfield/Forward), Logan Amodeo (Midfield), Tim Connell (Defense), Chris Rotondo (Forward)
Newcomers: Scott Gomes (Sr., Defense) – transfer from Mater Dei Prep
Last season, Raritan got a huge lift with the return to the program of Chris Fontanazza after two years away and the result was a Rockets team that was in position to make a run at an NJSIAA sectional title after playing a competitive Class A Central schedule. Fontanazza scored one of the Shore Conference season's more dramatic goals when he scored the overtime winner to beat Rumson-Fair Haven in the Central Group II quarterfinals, but the Rockets ended up on the other end of a one-goal loss to Manchester in the following round.
Fontanazza was the biggest loss to graduation, but not the only one for the Rockets, which will be looking to replace three quarters of the defense and an All-Shore goalkeeper on top of the 16 goals from Fontanazza. Although it lost the top scorer, Raritan will have its No. 2 scorer back in junior striker Lupo Ryder, as well as an experienced senior facilitator in midfielder Matt Fogarty. Senior Steven Amodeo is another player back with some experience in the midfield, while Cole Bailey returning to the back line with experience.
Gavin Hersey was a big-time shot-stopper in goal for the Rockets last season and this year, senior Justin Tennant will occupy the spot vacated by Hersey's graduation. Mater Dei Prep transfer Scott Gomes will be another key addition to the starting lineup, while midfielders Mike Pereira and Dan O'Chat step into more prominent roles for a Raritan team looking to fill openings in the middle of the formation. The top talent is there with Ryder and Fogarty but in order for the Rockets to contend again in 2021, they will need to develop the new starters and find some new, major contributors.
Shore
Head Coach: Christian Pontier, 12th season
2020 Record: 4-11 (2-10, sixth in Class A Central)
Returners: Charles Creighton (Sr., Defense), Donovan Davis (Sr., Defense), Will LaBruno (Sr., Midfield), Joao Pedro Sousa (Sr., Defense), Max DeOliveira (Jr., Midfield), Nick DiNapoli (Jr., Forward), Maxx Eichenbaum (So., Forward), J.C. Gutierrez (Sr., Midfield), Jack Walker (Sr., Defense), Griffin Barfield (Sr., Midfield), David Barham (Sr., Midfield), Daniel Briskey (Sr., Forward), Sage Finsh (Sr., Forward), Gabriel Giaculli (Sr., Midfield), Chris Hazel (Sr., Defense), Dan Bonner (Jr., Defense), Kevin Barfield (So., Goalkeeper)
Losses: Nick Poulos (Goalkeeper), Kevin Silveira (Midfield)
Newcomers: Jadyn DeRosa (Fr., Midfield), Ben Wellner (Sr., Defense), Hunter Katz (Jr., Goalkeeper), Riley Murphy (Fr., Forward), Lukas Villa (Fr., Midfield), Tyler Zacharczyk (Fr., Defense)
After winning 20 games in 2015, Shore hit a steady decline that finally started to turn around last year, even if only slightly. After winning just two games in all of 2019, the Blue Devils were a more competitive team game-in and game-out while playing with a roster of players that are mostly back for at least one more season. The two players to replace – goalkeeper Nick Poulos and midfielder Kevin Silveira – were likely the two best players on the team, but returning center back Donovan Davis was also in that conversation during his all-division junior campaign and he will have a senior class behind him with some more talent and varsity experience to offer.
Charles Creighton and Joao Pedro Sosa are seniors who will make up an experienced back line in front of new goalkeeper Kevin Barfield – a defense that began to come around over the final five games after a rough start. Silveira will leave a void on the attack, but the Blue Devils have an up-and-coming core led by returning sophomore striker Maxx Eichenbaum and another forward in third-year starter Nick DiNapoli.
The duo up top will get a sidekick in freshman center midfielder Jadyn DeRosa, who will join Max DeOliveira and Will LaBruno in the midfield. Shore found a scoring groove in the middle of the season, scoring 17 goals in nine games after being shutout in both its first three and final three matches, so some more consistency is to be expected with a more experienced group of forwards and midfielders.
Red Bank Catholic
Head Coach: Cody Calafiore, second season
2020 Record: 0-12 (0-10, seventh in Class A Central)
Returners: Dylan Van Burkel (Sr., Defense), Thomas Dreschler (Sr., Defense), Nico Gonzalez (Sr., Forward), Christian Condon (Jr., Midfield), Vincent Coccimiglio (Jr., Forward), Scott Termotto (Jr., Goalkeeper), Robert Milke (Jr., Midfield), Colin Cavanaugh (So., Midfield)
Losses: Diego Volpe (Midfield), Mike DeLeonardis (Midfield)
Newcomers: Connor McGee (Jr., Midfield), Dean Bolstad (Jr., Midfield/Forward), Luong Minh Duc (Jr., Defense), Saeed Torress (Fr., Midfield), Andrew Torregrossa (Fr., Midfield), Christian Sherman (Fr., Defense)
This will technically be second season as head coach at Red Bank Catholic for Cody Calafiore – the former standout at Howell and Temple University – but it will really be the first season that he is coaching his new team in person on the day-to-day. That is because last season, Calafiore was competing on the CBS show Big Brother and ended up winning the grand prize of $500,000 – an endeavor that kept him away from the team but proved to be a worthwhile hiatus.
After navigating his way through reality TV, Calafiore and his team will try to climb the standings in a very talented Class A Central division. Red Bank Catholic is more than a decade removed from its last winning season and ending that drought will be the first order of business for this group, which has a trio of senior leaders and an up-and-coming young nucleus. Dylan Van Burkel, Thomas Dreschler and Nico Gonzalez are the seniors leaders on the team, with Van Burkel and Dreschler captaining the defense and Gonzalez looking to add some scoring prowess.
Christian Condon, Vincent Coccimiglio and Robert Milke are three juniors who will bring experience to the midfield and attack, while Connor McGee, Dean Bolstad and Luong Minh Duc join the mix of junior contributors. Saeed Torres is a freshman in line for a starting spot sooner rather than later and classmates Andrew Torregrossa and Christian Sherman are also ready to contribute. With the coaching situation settled this season, Red Bank Catholic's young group can start to make up ground between itself and the rest of the field.
Class A Central Starting XI
Aidan Tisony, Sr., Forward, Ocean (4 goals, 3 assists)
Lupo Ryder, Jr., Forward, Raritan (10 goals, 5 assists)
Alec Pentikis, Jr., Forward, Rumson-Fair Haven (7 goals)
Brendan Worobel, Sr., Forward, Holmdel (1 goal, 3 assists)
Kaan Pehlivan, Sr., Midfield/Forward, Monmouth (9 goals, 3 assists)
Luke Pentikis, Sr., Midfield, Rumson-Fair Haven (12 goals, 4 assists)
Brian Miranda, Sr., Midfield, Ocean (1 goal, 4 assists)
Ethan Wallace, Sr., Midfield, Monmouth (4 goals, 2 assists)
Tommy Siracusa, Sr., Defense, Monmouth (1 goals, 1 assists)
Donovan Davis, Sr., Defense, Shore
Tommy Chyzowych, Sr., Goalkeeper, Holmdel (5 shutouts)
Breakout Players to Watch
Archeley Eugene, Jr., Forward, Ocean
Matt Fogarty, Sr., Midfield, Raritan (4 assists)
Antonio Santos, Jr., Midfield, Rumson-Fair Haven (1 goal, 3 assists)
David Weiner, So., Midfield, Holmdel
Jadyn DeRosa, Fr., Midfield, Shore
More From Shore Sports Network