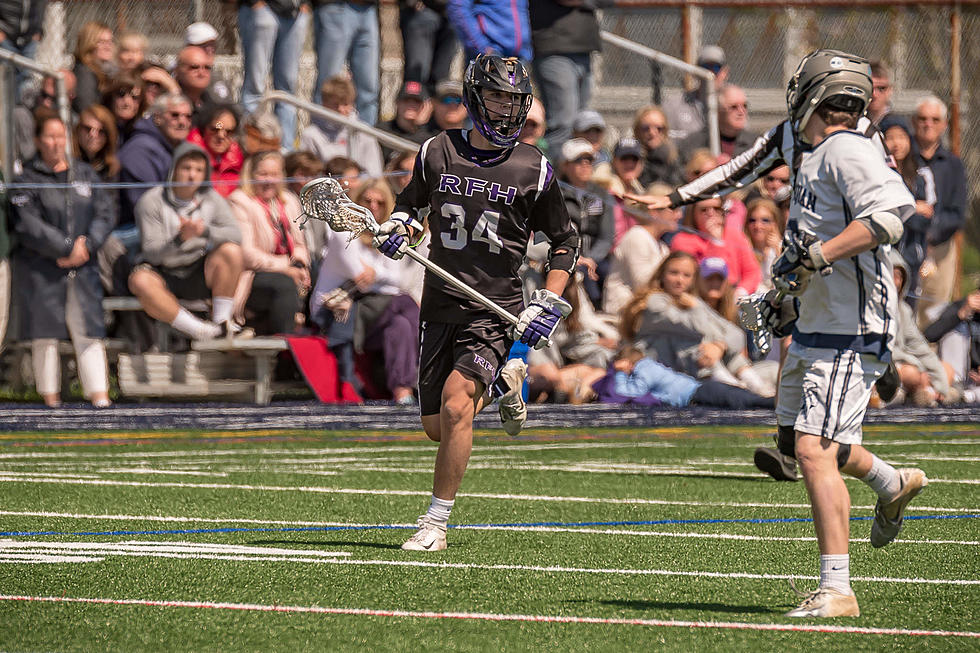 Boys Lacrosse: Elite Sports PT Top 10, Shore Conference Tournament Watch List Edition
Richard E. O'Donnell

It has been an interesting boys lacrosse season within the Shore Conference, to put it mildly.
With the Shore Conference Tournament to be seeded Wednesday night and the first games to be played on Friday, we'll take a look at how the committee may seed the tournament, who's in and who's on the bubble in a special edition of the Elite Sports Physical Therapy Boys Lacrosse Top 10.
FYI: Teams had to have a .500 record or better through yesterday's games to automatically qualify for the SCT. Teams under .500 can be eligible for at-large bids if they are a top-16 Shore Conference team per the rankings done by LaxNumbers (LaxNumbers.com)
1. Rumson-Fair Haven (12-0)
The Bulldogs are undefeated at 12-0 and will be a perfect 13-0 after they take care of business against Neptune and clinch the Class B North division title on Wednesday. They are ranked No. 5 in New Jersey and should be the clear No. 1 seed for the SCT. Rumson will have worthy challengers once they reach the semifinals but it's hard to bet against them at this point considering their body of work this season. RFH has four wins over state top-20 teams (Chatham, Bergen Catholic, St. Augustine and Ridge) and another against a solid Ocean City team.
2. Manasquan (7-2)
The Warriors are the three-time defending SCT champions and earned themselves the No. 2 seed with a thrilling 9-8 win over CBA on Monday. Manasquan's two losses both came in nonconference games to Seton Hall Prep and to Montclair. In addition to the win over CBA, Manasquan owns a 9-6 win over No. 4 Wall and a 15-5 win over Monroe.
3. Christian Brothers Academy (10-3)
The Colts should firmly be the No. 3 seed. Their only conference loss is to No. 2 Manasquan by one goal and their other defeats are against state-ranked Bergen Catholic and prep power Lawrenceville. CBA's best conference wins are over No. 5 Howell (10-3) and No. 8 Southern (12-4).
4. Wall (10-2)
The Crimson Knights came through with a huge win on Tuesday by defeating state No. 11 Lenape in convincing fashion, 12-3. Wall has a decent argument to be the No. 3 seed because of that victory and also with wins over No. 5 Howell (10-4), No. 8 Southern (16-6) and No. 9 Barnegat (16-7). My guess is the Crimson Knights come in at No. 4. Either way, you're talking about a semifinal matchup with either Rumson or Manasquan, so they'd be facing a juggernaut in both instances.
5. Howell (8-4)
The next three spots are pretty clear because of head-to-head results. Howell has losses to No. 1 Rumson (17-3), No. 3 CBA (10-3) and No. 4 Wall (10-4) and a win over No. 6 Middletown South in overtime, plus wins over Holmdel and Red Bank Catholic. After losing three of four during a tough stretch to open the season, Howell has won seven of its last eight games. IF the seeds match up with our rankings, a quarterfinal game vs. Wall would be an interesting rematch. Their regular-season meeting was tied 4-4 heading into the fourth quarter before Wall played "make it, take it" to win, 10-4.
6. Middletown South (7-1)
The Eagles' only loss of the season is to No. 5 Howell in overtime and they have a 10-5 win over No. 7 Shore in their pocket. Middletown South can certainly throw a hammer into this entire prognostication if it somehow beats CBA on Wednesday, but barring an upset, the Eagles should be the No. 6 seed.
7. Shore (6-3)
The Blue Devils picked up a big win last week by downing Southern, 10-5, when the Rams were ranked fifth. Shore's losses are to No. 1 Rumson and No. 6 Middletown South in conference with a two-goal loss to Monroe in there, as well. Aside from the win over Southern, Shore's best win is an 11-5 victory over Red Bank on May 1.
8. Southern (9-3)
Southern earned a big win over Jackson Memorial last week to stretch its Class A South winning streak to 54 games but then suffered a 10-5 loss to Shore to fall three spots down to No. 8. What could have been a potential rematch with Wall in the quarterfinals is now looking like a date with top-ranked Rumson instead. The Rams' losses are to No. 3 CBA (12-4), No. 4 Wall (16-6) and Shore. Their top wins are over Holmdel, Red Bank Catholic and Jackson.
9. Barnegat (9-2)
The Bengals don't have the best power ranking, for whatever that's worth, but they've proven their spot on the field with notable wins over St. Rose and Brick Memorial and their only losses coming to No. 2 Manasquan and No. 4 Wall. St. Rose owns wins over Red Bank and Colts Neck, so it's easy to connect the dots and put Barnegat at No. 9, at least for me it is. The Bengals are having their best season since they went 12-3 in 2014 and already have more wins this season than in their last three seasons combined.
10. Red Bank (7-5)
The No. 10 spot in this set of rankings was the hardest to finalize. It was all set to be St. Rose until Freehold Township knocked them off, 7-6. With that results, there seems to be an infinite number of triangles with team A beating Team B but losing to team C, while Team B beat Team C, etc. St. Rose could still be team here, but with the loss fresh we'll go with the Bucs, who lost by one goal to St. Rose on May 3 but own a 14-7 win over Freehold Township along with wins over Colts Neck (18-9) and Ocean (14-11).
Automatic SCT qualifiers (Listed in order of LaxNumbers rating)
Holmdel (5-4)
Colts Neck (7-3)
Jackson Memorial (7-3)
Brick (5-5)
Brick Memorial (9-3)
St. Rose (9-3)
Manalapan (6-5)
Donovan (3-3)
Point Boro (6-5)
On the Bubble:
Red Bank Catholic (3-8): The Caseys are five games under .500 but have a LaxNumbers rating that puts them right behind Colts Neck and ahead of Jackson Memorial at 12th in the Shore. Their best win is 11-10 over Ocean. Six of their eight losses have come to teams currently ranked in the SSN Top 10 and another was to Jackson Memorial, which was ranked No. 7 at the time.
Ocean (4-5): Record aside, RBC would have the edge on Ocean for an at-large bid based on their 11-10 head-to-head win on April 26. Ocean's best win is 7-5 over Holmdel on May 12. They also have losses to Brick Memorial (5-3), Colts Neck (7-4), Red Bank (14-11) and Middletown South (15-5). Ocean's LaxNumbers rating has them at No. 16 in the Shore so they do fall within the parameters for consideration.
The Most Authentic and Savory Sushi in Monmouth County
More From Shore Sports Network