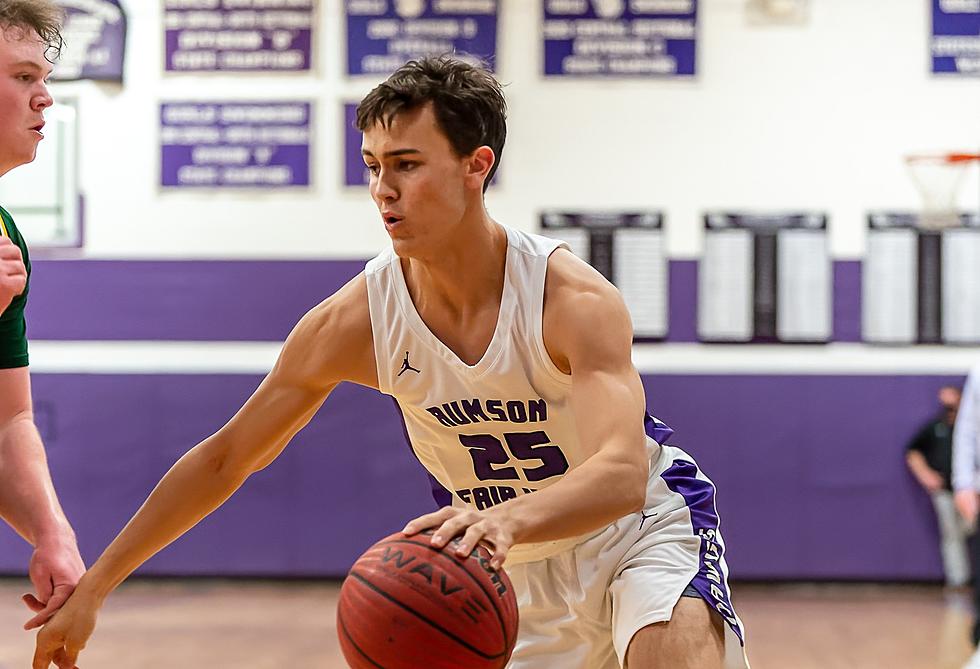 Boys Basketball – Rumson Routs Holmdel in the Second Half to Return to Central Group 2 Final
Rumson-Fair Haven senior Scott Gyimesi guarded by Red Bank Catholic sophomore Tyler Burnham. (Photo: Tom Smith | tspsportsimages.com)

RUMSON -- Scott Gyimesi and his senior teammates watched from the stands as eighth-graders the last time the Rumson-Fair Haven boys basketball team won the NJSIAA Central Jersey Group II championship and for the past four years, they have been waiting for their chance to add to the fast-growing Bulldogs basketball tradition.
After another dominant performance against a Shore Conference Class A Central division foe, the Rumson seniors will, at long last, get their chance.
Gyimesi exploded for 31 points and 17 rebounds Friday night and Rumson-Fair Haven -- the No. 1 seed in the Central Group II section -- blew the game open in the second half against No. 4 Holmdel to nail down a 75-56 win over the Hornets.
"It's going to be something special," Gyimesi said. "I have never experienced playing in a championship game, so to get to do that at our home court with the season on the line should be a great experience."
The win gives Rumson a three-game, season-sweep of Holmdel with all three wins coming by margins of 15 points or greater.
"I've got nothing but respect for (Holmdel) coach (Sean) Devaney," Gyimesi said. "We went over there to share the Team of the Week with them after they let Matty Cools get his first basket. He was joking with us then about how much we torched them the first two times, but we knew we'd get a battle from them today."
"Gyimesi is a handful and we're normally banging threes too, but today was hit-or-miss," Rumson coach Chris Champeau said. "Our way today was to pound it inside and see what we could get. That was a good one for us, because we have been rolling teams most of the year, so to get punched in the face like that is a good wake-up call."
Rumson's current run to the sectional final has been the most dominant of the program's three sectional final trips in the last six years, with the Bulldogs winning their first three games by an average of 25 points and by no fewer than 17. Gyimesi's presence on the inside and the Bulldogs' balanced shooting prowess have been at the heart of those lopsided wins, although on Friday, it was much more about the former than the latter.
For the first half of the game, it did not look like Rumson would be able to coast into the final without sweating it out against a Holmdel team that starts three sophomores and a freshman along with senior Severio Bodnar. The Bulldogs went into the locker room with a 31-28 lead behind 16 points from Gyimesi.
"In the halftime locker room, me and Geoff (Schoeder) were talking and at the end of the day, we know we're a better team," Gyimesi said. "It was just a matter of time and once we got through those first four minutes of the third quarter, we were in charge."
"When you have that kid that the other team can't match up with, one of the pitfalls is everyone else kind of stands around watching that kid and that's what happened to us in the first half," Champeau said. "It's hard to beat a team three times, especially when they have the best coach in the Shore, in my opinion. He changed strategies to try to take us off the dribble when I was expecting them to be bombing threes and in that first half, we got punched in the face. But I was proud at how we responded."
Holmdel remained close for most of the third quarter, aided by Rumson senior Trent Sloan fouling out of the game with 3:08 still to go in the third. Sloan was whistled for his fourth foul and then hit with a technical foul to send him to the bench, while setting up Holmdel to score four points on the possession, cutting Rumson's lead from 10 to 44-38.
Junior Luke Mikolajczyk stepped in for Sloan and scored all six of his points the rest of the way while provided a boost on the defensive end, as well as on the glass.
"Next man up, that was my mentality," Mikolajczyk said. "I knew I had to get the job done. Hat's off to Holmdel, they were shooting it but in the second half, we showed we were the better team."
While senior starter Geoff Schroeder was on the shelf with a sprained ankle for the first six games of the year, Mikolajczyk stepped in as a starter on on Friday, he came off the bench and played starter-quality minutes when the Bulldogs needed them.
"He's been helping us all year, first as a starter and then coming off the bench," Champeau said of Mikolajczyk. "It's funny how things work out because Sloan comes out and it forces Mikolajczyk in and it was actually the better matchup for us. Holmdel is more offensive than defensive and Luke is more defensive than offensive, so I think he just gave us what we needed when we needed it."
"We definitely missed (Schroeder) and having him back is great but at the end of the day, the regular season is the regular season," Mikolajczyk said. "Everything do is to prepare us for the postseason and everything we have been through as a team and as players has gotten us ready for this time of the year."
Senior Cal Famula provided the secondary scoring for Rumson with 17 points, with 11 coming in the second half to help the Bulldogs close out the win. Holmdel had its deficit down to 50-45 late in the third when Famula scored on a drive to the basket and Gyimesi finished off a pick-and-roll with senior Owen Sullivan to make it 54-45 heading to the fourth.
Famula converted a three-point play to open the third and Rumson was off an running on what would become a 16-2 run that expanded the Bulldogs lead from five to 19.
Mikolajczyk, Sloan, Sullivan and Schroeder each scored six points to support the scoring effort led by Gyimesi and Famula.
Sophomore Ben Kipnis, meanwhile, led Holmdel with 19 points while fellow sophomore James Vallillo added 14 and classmate Nick Seeloch poured in 12. Rumson held talented Holmdel freshman Evan Romano to two points on a pair of free throws late in the fourth quarter.
"The home court helps and we're an older team, which is huge in a game like this," Mikolajczyk said.
Rumson will go for its third Central Group II title in the last six years Monday when it hosts No. 2 Bound Brook -- 50-49 winners over Raritan on Friday night. Rumson won both the 2017 and 2018 title on its home court and will be playing in a sectional final for the fourth time in the last nine seasons.
"I start five seniors and every day for the last few years, it's been Schroeder and Gyimesi for like an hour after practice," Champeau said. "These guys have been through some of the heartbreaks and I love all my teams, but this is the nicest group of kids I have ever been around. To get to walk this walk with this group of seniors, considering what's been going on with COVID and everything else, I'm proud of them."
More From Shore Sports Network