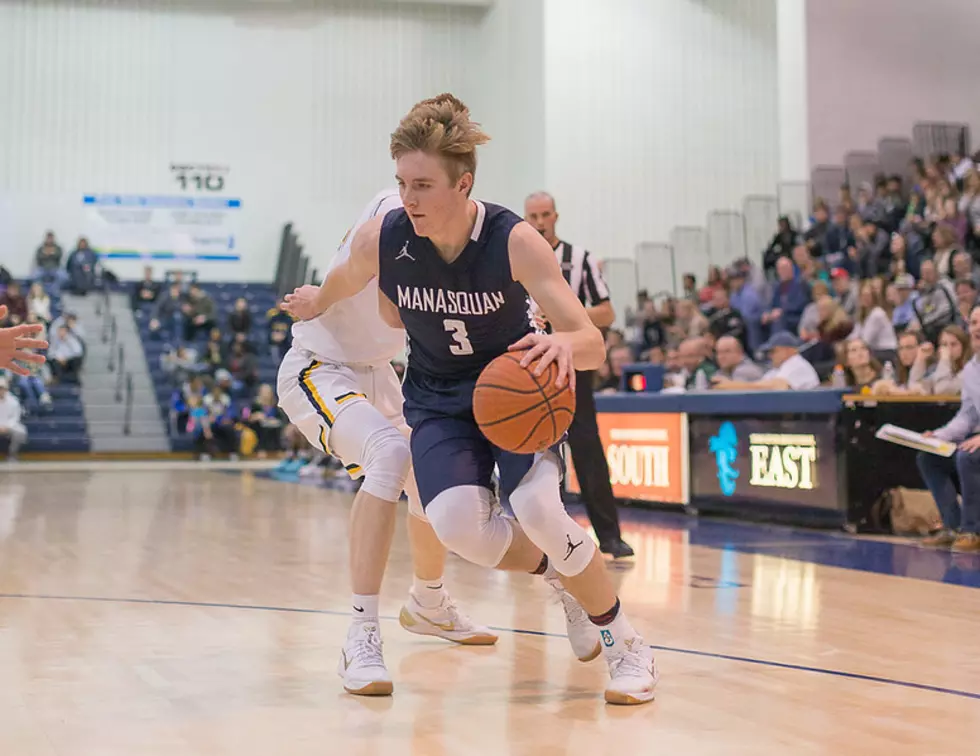 Boys Basketball – McCabe, Healthy Bigs Help Manasquan Tame Midd. South
Manasquan junior Brad McCabe. (Photo by Paula Lopez)
MIDDLETOWN - The Manasquan boys basketball team is a case study on how an injury or two can change the complexion of a season. The Warriors were the Shore's last unbeaten team in 2017-18 but lost two games with two of its biggest three players on the bench and all of a sudden found itself in a tight race for the Shore Conference Class B North regular season championship.
Monday night, playing on the road against a Middletown South team on a five-game winning streak and within a game of Manasquan in the standings, the Warriors welcomed their two big men back and it was the Eagles who fell victim to a key absence.
Junior Brad McCabe scored 22 points and forwards Xander Korolik and Alex Galvan returned to the lineup to help Manasquan - No. 7 in the Shore Sports Network Top 10 - storm past Middletown South, 52-38, to re-establish itself as the B North favorite heading into the home stretch of the regular season.
"Without one or two guys or with a whole team, we're still going to come out and play hard," McCabe said. "The guards have had to pick up the slack rebounding and now that we have a full lineup, we're a power."
Korolik, a 6-5 junior, and Galvan, a 6-6 senior, both missed time due to different injuries - Korolik an ankle injury that kept him out for three games and Galvan a wrist injury that knocked him out of action for three weeks - and both came off the bench on Monday. Prior to their respective injuries, Korolik was a starter and Galvan was the first player off the bench for Manasquan.
"Athletic and small is not as good as athletic and big," Manasquan coach Andrew Bilodeau said. "They make a difference. It would make less of a difference to lose them for the whole year, but them going out for for a short period of time upset of the apple cart a little bit. But, listen, every team in the Shore deals with that. They don't cancel the season until you get healthy, so it is what it is."
Korolik returned Monday with seven points and seven rebounds and Galvan grabbed eight rebounds to go with his three points.
"We're one of the bigger, stronger teams in the Shore and our rebounding is crazy with them in there," McCabe said of Galvan and Korolik, along with fellow 6-6 center Jimmy Thompson and 6-1 forward Justin Gladden. "It's really hard for other teams to rebound against them."
On the other side, Middletown South played without second-leading scorer Dave Gervase, who was home with the flu, according to Middletown South coach Jim Anderson. Anderson said Gervase had also been dealing with a nagging ankle injury.
"With or without Gervase, I think they are really talented," Bilodeau said. "They can make shots, which makes them dangerous.
"(Gervase) is a penetrator and the key to playing (Middletown South) is stop penetration in general and defend the three-point line. It changes one match-up, but not our overall approach defensively."
With Gervase absent, Manasquan keyed on Eagles leading scorer Ryan Purcell, who shot 6-for-18 and scored 12 of his 16 points in the fourth quarter.
"You couldn't pick a worse opponent to run into without (Gervase)," Anderson said. "To have somebody as athletic as he is, who plays the back side of our defense and some of the other things he can do - it's a loss. He rebounds, he can score - he's a great basketball player. He might be our most invaluable player, so running into a team like (Manasquan) is going to be tough."
With those 16 points, Purcell now has 944 for his career.
Manasquan suffocated Middletown South on the defensive end during the first half, holding the Eagles to 3-for-22 shooting (13.6 percent). The Warriors, however, struggled on offense in their own right and led just 19-10 at the half despite the dominant defensive effort.
McCabe scored seven points in the first half and keyed a 16-8 third quarter run with seven more points, helping stake Manasquan to a 35-18 lead heading to the fourth. The Warriors pushed the lead up to 40-20 before Middletown South chopped it down to 49-38 in the final minutes.
Senior point guard Ryan Flanagan also pitched in nine points, six rebounds and six assists for Manasquan, which now holds a two-game lead over both Middletown South and Red Bank Catholic in the loss column of the B North standings. Middletown South will get one more crack at the Warriors in Manasquan at a date a time  still to be determined.
The two teams were scheduled to play the game last Thursday after the original date was postponed due to snow, but a scheduling error led to another postponement.
Manasquan will continue its big week with a divisional game against rival Wall before No. 3 Rumson-Fair Haven comes to Manasquan for a top-10 showdown between two programs that have engaged in some classic battles - many of them in the postseason - in recent years.
"I don't think you have to be at your best in December or January," Bilodeau said. "They don't give out trophies for winning December. You just have to keep getting better, hopefully get healthy down the stretch and be at your best when it's time."
"It's still one game at a time," McCabe said. "The next game is Wall, so that's the only game we're worried about. After that, we'll turn our attention to Rumson."
More From Shore Sports Network