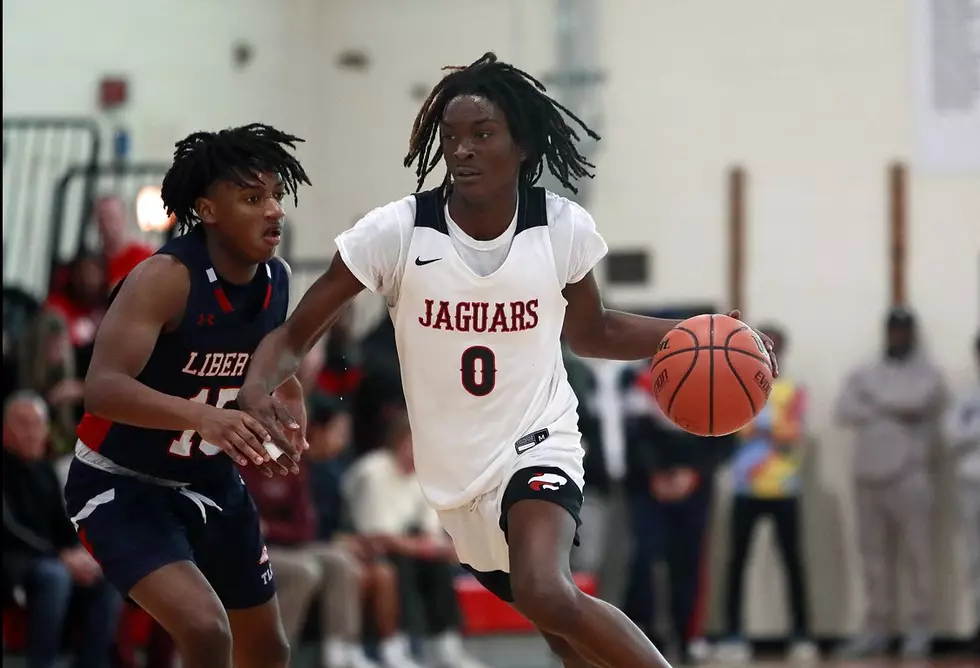 Boys Basketball – 2023 Shore Conference Tournament Preview: Breaking Down the Field
Jackson Memorial senior Respect Tyleek Photo: Ray Rich Photography.

When the bell rings late Tuesday afternoon, 26 teams will have grand visions for the Shore Conference Tournament, which officially tips off at 5 p.m. on Tuesday evening. Of course, only one team will be able to raise the banner when the tournament wraps up on Sunday, Feb. 19 at Monmouth University, but between Tuesday evening and the final buzzer of the championship game, more than half the field is sure to author a memorable moment or two.
To get you ready for the action on Tuesday, we're breaking down the field into a set of tiers based on how likely teams within each tier make a deep run into the tournament. For purposes of this exercise, I am considering a "deep run" a trip to the SCT semifinals, perhaps a trip to the quarterfinals for the teams that are starting the tournament out on the road on Tuesday.
Take a look at the bracket below and continue on to find out which teams are best situated to challenge tournament favorites Manasquan and St. Rose.
Just Passing Through
26. Keansburg
Keansburg qualified for the Shore Conference Tournament on Friday and enters Tuesday having beaten only two teams from the Shore Conference (Henry Hudson and Lakewood) – neither of which came close to making the tournament. With a trip to CBA in their future, the Titans will look to breath in the postseason air and use that experience for the NJSIAA tournament.
First-Round Longshots
22. Lacey
The teams in this tier might be poised for a run, but getting past the first opponent will require their best game of the season. In the case of Lacey, the Lions have seniors and they have scorers, but they don't have the one thing that could bother Ranney: size. That first-round game against the No. 11 Panthers should feature a lot of scoring, but Ranney's guards are on another level. Lacey will have to shoot the lights out and if they pull off the first upset, an airtight defensive team awaits in Jackson.
21. Point Pleasant Beach
The Garnet Gulls have tested themselves throughout the year and landed in the low 20's by beating some teams outside the Class B Central division. One of those wins was at Lacey – a team that beat Point Beach's first-round opponent. The Garnet Gulls will have a puncher's chance at Central, but the hosts are healthy and entering the tournament playing their best basketball of the season. An upset is not so far-fetched, but it is hard to see Point Beach pulling off two in a row against Central and No. 5 Middletown South.
Which Team Shows Up?
25. Keyport
The version of Keyport that has taken the court for most of the season might be able to hang around with Freehold Township. They version that has a healthy Nas Hart – the 6-foot-8 sophomore who has missed most of the season with a hip-flexor injury – could give the Patriots a scare. Hart is questionable for the first-round game at Freehold Township and will likely need some time to get back in the swing of things. Throw in a match-up against Freehold Township big Jayden Holmes-Cotter and this is not the softest landing for Hart and the Red Raiders.
24. Monmouth
Monmouth has also played some games without its top player in senior Ta'haj Wiggins, although his absence was not nearly as lengthy as Hart's has been. When Wiggins and Monmouth are on, the Falcons can be a dangerous team for an opponent for Rumson to navigate, but the Falcons have also laid some eggs along the way – hence the No. 24 seed. It takes consecutive great performances to continue advancing in the tournament, but it only takes one to pull off a first-round upset and to that end, Monmouth is worth watching.
No-Man's Land
18. Manalapan
Seeds No. 15 through 18 were the ones to avoid in this tournament, because while the first-round game is indeed winnable, the game that follows will be much, much less so. Manalapan gets the short straw in drawing a road game in the first round and a potential trip to St. Rose in the event the Braves survive their first game. The first game won't be easy either, as Point Boro has only lost to Manasquan, St. Rose, Ranney and CBA this season. The Brave, however, are battle-tested enough that they can play with just about anybody outside the top two teams.
17. Ocean
With a talented group of sophomores, Ocean should greatly benefit from this draw; it's just unlikely to benefit the Spartans in this particular tournament. Ocean has dealt with its share of inconsistent play throughout the season, but should like its chances against Southern team that is just 1-6 over its last seven games. The Rams are a better team at home, so Ocean will have to overcome a tough road environment in order to earn a Thursday trip to Manasquan.
16. Southern
After rattling off consecutive wins over Brick Memorial, Jackson Memorial and Toms River North, Southern ascended to No. 4 in the Shore Sports Network Top 10. Since extending their start to 11-3, the Rams have won only one game, which was against 2-20 Pinelands. They will try to get back on track with a win over Ocean, which would earn them a trip to play top-seeded Manasquan. If Southern can get some of it mojo back by beating Ocean, they could put up a good fight against the No. 1 team in the field.
15. Point Pleasant Boro
With a win over Ranney and four of their six losses coming to St. Rose and Manasquan, Point Boro got a rough draw considering the Panthers don't have any bad losses. If Point Boro can take down Manalapan, that sets up a third meeting with a St. Rose team that handled the Panthers in the second meeting between the teams after Point Boro nearly shocked them in the first. While it's not an ideal draw for Point Boro, the Panthers players have shown they won't back down against a top opponent.
Potential Cinderellas
20. Donovan Catholic
The Griffins are on the borderline between a first-round longshot and a legitimate Cinderella candidate and considering the upset they pulled last year at No. 4 St. John Vianney, this is a team that should not be slept on. Donovan Catholic will have to beat a very well-rounded Red Bank Catholic squad on the road in order to jumpstart a deep run, but the Griffins would have a great shot at beating Raritan if they could pull off the round-one upset in Red Bank.
23. Matawan
Normally, a team playing for the right to play at CBA in the round of 16 would be happy to just win a game, but Matawan could be looking at a pair of games it is more than capable of winning. Before worrying about their first-round opponent, No. 10 Colts Neck, the Huskies will have to get to the bottom of what has plagued them in some shaky performances against Freehold Boro and Long Branch. With that in mind, Matawan has also played tough against quality competition and will be facing a Colts Neck team whose top senior, Will Surdez, missed the last game with an ankle injury. With a talented sophomore nucleus and a decent draw, Matawan could be primed for a run.
19. Shore
Compared to Matawan's road to the quarterfinal, Shore might have a tougher time winning two games against Brick Memorial and Toms River North, but if the Blue Devils could ever find a way to pull off those two victories, they would not have to face St. Rose – which would be Matawan's fate were it to win two games. The Blue Devils have an experienced team that has played a lot of close games, but is not as battle-tested as Matawan is. Still, Shore has a good shot to beat a banged-up Brick Memorial team and while Toms River North enters on an eight-game winning streak, it required surviving close calls against Toms River South, Toms River East and Lacey.
Quarterfinal Ceiling
10. Colts Neck
This tier features four quality teams that are capable of beating most of the teams in the field, but will likely have to go through either Manasquan or St. Rose in the quarterfinal round. Colts Neck has, perhaps, the toughest road of these four teams, with the Cougars drawing a talented young Matawan squad in the first round, followed by a potential trip to CBA. Throw in an ankle injury to Will Surdez, who is expected to play on Tuesday, and Colts Neck may have to grind through a tough first round just to get a chance to beat CBA on the road.
9. Rumson-Fair Haven
If Colts Neck has the hardest road among these four teams, Rumson's isn't far behind. Monmouth has some capable players who, if they get hot, could make the Bulldogs sweat. Should Rumson survive round one, a trip to Freehold Township is likely the next destination, which means the Bulldogs will have to find an answer for Jayden Holmes-Cotter – the Shore's most dominant big man. Rumson beat Freehold Township in last year's round of 16 despite Holmes-Cotter putting up big numbers in the loss. With a new starting lineup this year and Freehold Township most certainly harboring the memory of that loss, Rumson would be hard-pressed to re-create the same result this time around – and on the road, no less.
8. Freehold Twp.
With Holmes-Cotter roaming the paint, Freehold Township is going to be a tough matchup for any team, and that includes the top seeds. For the Patriots to become a threat to win it, they will either need to find be more dangerous from the three-point line or hit another level defensively – perhaps both. Freehold Township has also been prone to letting lesser teams hang around, which the Patriots hope won't be the case against a potentially dangerous Keyport squad. If the Patriots play to their potential, they will get a crack at Manasquan in the quarterfinals and with the right game-management, they could give the Warriors a game into final minutes.
7. Christian Brothers Academy
CBA enters the tournament disappointed in its missed opportunity against St. Rose, but encouraged that it was able to stay close throughout Saturday's 59-51 loss to the Purple Rose, which ended with St. Rose icing the game at the free-throw line. The Colts have proven to be susceptible to upsets this season with their loss to Red Bank in the Buc Classic semifinals and they have also had to survive close calls against Howell and Marlboro. Despite all that, CBA finds itself two home wins away from getting to play the underdog role one more time against St. Rose and with the experience on this Colts team, CBA will have a chance.
The Pack
14. Brick Memorial
We have ventured into the part of the field that likely took a look at this bracket and thought, "I really like our chances." Anyone thinking about winning this tournament will have to beat at least one of Manasquan or St. Rose, but the later a team has to play them, the better, and none of the teams in this tier would have to play them before the semifinals. Brick Memorial has been playing without injured senior starter Jeremiah Crispin and the results show how much the Mustangs have missed his toughness and athleticism. Even with some injury questions, Brick Memorial has matchups it can manage – first with Shore in round one and, potentially, a third matchup with Toms River North after the two Class A South foes split the regular-season series.
12. Central
After losing to Lacey and missing a chance to win the Class B South title outright, Central responded with three straight wins over Barnegat, Brick Memorial and Manalapan, which helped the Golden Eagles climb up to the No. 12 seed. The difference between the No. 12 and three spots lower is monumental, and with last week's performance, Central set itself up for a great chance at a deep run. Middletown South awaits the winner of Central-Point Beach and while Middletown South has already beaten Central, it was in overtime in a WOBM Christmas Classic consolation game in December. Whichever team emerges from the Central/Middletown South/Point Beach trio would play the survivor of Raritan/Red Bank Catholic/Donovan Catholic in the quarterfinals, so there is a major opportunity in this line of seeding.
11. Ranney
Since senior guard and Patrick School transfer Jahlil Bethea became eligible, Ranney has found another gear and will be a very tough matchup in this tournament. With Bethea, Hester and Drew Buck as the team's three-headed monster, the Panthers have a chance to make a run to the semifinals as a double-digit seed. Lacey is a first-round opponent that has scoring, but won't have a big who can exploit Ranney's own lack of size. Potential round-of-16 opponent Jackson Memorial also doesn't boast exceptional size, but the Jaguars' depth and athleticism will pose a challenge to Ranney. If Hester and Bethea are on, it might take a team like St. Rose or Manasquan to beat them, which means the Panthers could be one hot-shooting-streak away from their first trip to the SCT semis since winning it all in 2019.
4. Raritan
Raritan heads into the Shore Conference Tournament with the highest seed it has had since it won the whole thing as a No. 3 seed back in 2011. The Rockets also go into Thursday's round-of-16 game coming off its first loss of the season, which came against 10-14 Cedar Creek on Saturday at Barnegat High School. Raritan has played close games all season long and has not done much to challenge itself with high-level opponents, so these games could come as a shock to the system. With that being said, no team Raritan would face in the round of 16 or the quarterfinal – a group that includes Middletown South, Central, Red Bank Catholic, Donovan Catholic and Point Beach – would be one that should overwhelm the Rockets. This senior-laden group is just one year removed from losing a heartbreaker in the NJSIAA sectional semifinal round, so they will be ready to scrap Thursday against the winner of Red Bank Catholic and Donovan Catholic.
13. Red Bank Catholic
While Raritan has a bye and would be the home team in a potential round-of-16 matchup, Red Bank Catholic has to be considered the unofficial favorite to reach the quarterfinals out of that cluster of teams. The Caseys have played tough competition throughout the year, including a division that had no easy games. RBC has already beaten four teams seeded in the top 10 (No. 5 Middletown South, No. 7 CBA, No. 9 Rumson and No. 10 Colts Neck), although all of those wins were at home. The Caseys also took No. 2 St. Rose to the wire in a 42-40 Purple Roses win at St. Rose on opening night and lost a competitive game at Bergen Catholic on Sunday. It's been a mixed season for the young Caseys – who don't regularly play any seniors – but they should be ready for another deep run.
5. Middletown South
For the second time in the last four years, Middletown South will enter the Shore Conference Tournament with the Shore Conference's longest winning streak. In 2020, the Eagles stormed into the SCT on a 19-game winning streak and this year's streak is up to 15 heading into Thursday's round-of-16 game against the winner of Central and Point Beach. Middletown South is hoping for a better outcome than in 2020, when No. 15 Mater Dei Prep shocked the No. 2 Eagles at the buzzer in Middletown South's first game of the tournament. Central poses a serious threat to Middletown South's streak, but the Eagles will have the home-court edge and should match-up well against any potential quarterfinal opponent – a game that would also be played at Middletown South.
3. Toms River North
In ascending to the No. 3 seed in the SCT field, the Mariners have everything they could want: a deep, talented roster that has won eight games in a row, situated in an area of the bracket that allows them to avoid Manasquan and St. Rose until the semifinal round. On top of that, should Toms River North make it to a semifinal matchup with St. Rose, the game will be in Toms River North's home arena. The only hangup with Toms River North is the Mariners have survived some close calls against lesser teams during the eight-game winning streak and have also already lost at home to Brick Memorial – the Mariners' likely round-of-16 opponent.
The Contender
6. Jackson Memorial
If there is one team that has the ingredients to upset one of the top teams in the field, the Jaguars look like the team. There have been some bumps in the road, but Jackson Memorial enters the Tournament as a battle-tested, 17-5 squad that has rarely had its complete rotation available for an entire game. That changes now that the postseason has arrived, with Samir Padilla, Respect Tyleek, Keith Adame, Charlie Meglio and Mehki Cherry all ready to go. The Jaguars don't always shoot the ball well and can get stagnant in the half-court, but they are a tenacious defensive team with exceptional guard-play and athleticism that keeps them in every game until the final buzzer. Jackson Memorial would be wise not to fall too far behind should it meet St. Rose in the SCT semifinals, but any other team that plays the Jaguars should not feel like any lead is safe until the game is over.
The Favorites
2. St. Rose
It isn't necessarily easy to find an edge between Manasquan and St. Rose, but each team has some elements working in their favor. For St. Rose, it is its depth and the presence of Matt Hodge. The Purple Roses have nine players who have started for them this season and they already beat Manasquan with three of those current starters still ineligible to play. Manasquan, meanwhile, has been six-deep in most of its big games, with Mike Flanagan serving as a serviceable second option off the bench to make it a seven-man rotation. Then there is Hodge, who at 6-8 with the ability to guard every position, is the x-factor for St. Rose against just about any team in the state. Even with three transfers sitting out, St. Rose beat Manasquan because Hodge shot 6-for-7 from three-point range while providing his usual contribution in all other facets of the game. That will serve the Purple Roses well, both in earning the right to play Manasquan again and once the game is actually set at Monmouth University.
1. Manasquan
While St. Rose has the edge in depth over Manasquan, it is not by that much. Seniors Jack Dettlinger and Quinn Peters have emerged as real two-way threats to go along with returning starters Darius Adams, Ryan Frauenheim, Griffin Linstra and Alex Konov. With Manasquan able to negate much of St. Rose's strength in numbers, the Warriors also have an edge in cohesion and big-game experience thanks to this current group making a run to both the 2022 Shore Conference Tournament final, as well as the NJSIAA Group III semifinal. Those battles have Manasquan ready for the late rounds of the postseason with everyone a year older and the team a year closer. It truly is a tossup between these two teams, but if there has to be a team with a slight edge going into the tournament, give it to Manasquan. That, however, could change even before these two teams clash for a third time.
More From Shore Sports Network