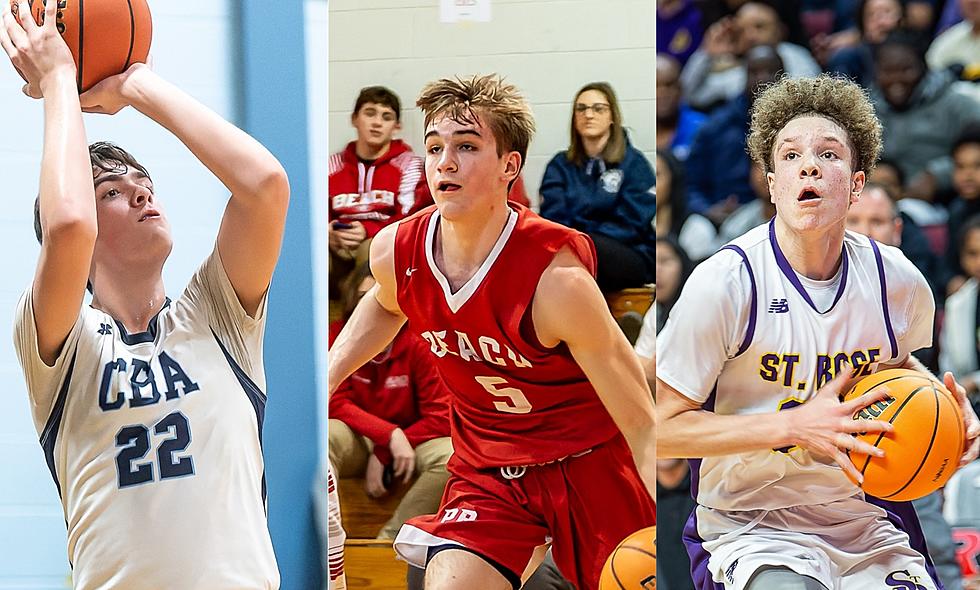 Boys Basketball – 2022-23 Award Finalists: Freshman of the Year
From left: CBA's Connor Andree (Photo; Tom Smith); Point Beach's Jacob Edgecomb (Photo: Tom Smith); St. Rose's Jayden Hodge (Photo: Ray Richardson).

It is awards season in Shore Conference basketball and to get you ready for the unveiling of those awards, plus the 2023 Shore Sports Network All-Shore Teams this week, Shore Sports Network is going to provide a look at the unofficial finalists for each of its three individual awards for the season: Player of the Year, Coach of the Year and Freshman of the Year.
In this post, we take a look at the three finalists for Freshman of the Year -- an award started last season, when Manasquan's Darius Adams won the inaugural recognition as the Shore Conference's top rookie. In addition to announcing a winner among the three finalists listed below, Shore Sports Network will also list an All-Freshman Team made up of the Freshman of the Year, plus five more standout freshmen from the season as well as a list of honorable mentions.
Read through the candidates and tell us your pick is for the winner by voting in the poll at the bottom of the post.*
* - The results of the poll will not determine the winner. Shore Sports Network Basketball Editor Matt Manley makes final selections for all awards winners. Still, feel free to exert your influence by voting for your choice.
Finalists listed alphabetically
Connor Andree, 6-4, Forward, Christian Brothers Academy
A part-time starter on the Shore Conference Class A North champions, Andree broke into varsity basketball providing the Colts with a spark as a supporting-cast player who could knock down an open shot, grab an offensive rebound and hold his own on the defensive end of the floor.
Andree's numbers – like the numbers of most of the freshmen in the Shore Conference this season and most season – were modest. The 6-foot-4 left-hander averaged 3.2 points and 2.7 rebounds for CBA, but had some strong showings within his first season. His standout performance was a 15-point, seven-rebound game against rival Freehold Township, although CBA lost the game, 71-70, in overtime.
Andree – whose brother, Pat, is the all-time leading scorer at CBA – figures to see an increased role on next year's CBA team, which will return two other starters from this year's team (Peter Noble and Justin Fuerbacher) to go along with Andree and 2026 classmates and letter-winners Charlie Marcoullier and Will Higgs.
Jacob Edgecomb, 6-1, Guard, Point Pleasant Beach
Point Beach had one of the Shore's better all-around players in senior Kevin Burns and the Garnet Gulls hope that what Edgcomb showed in his first high school season is a sign of even bigger things to come over the next three seasons. Edgecomb finished second among Shore Conference freshmen with 9.6 points per game, while finishing third on his team in both scoring and assists (1.8 per game).
Edgecomb is another left-handed shooter who knocked down 23 three-pointers – none bigger than the one he hit at the buzzer to send a road game at Lacey into overtime. Point Beach went on to win, 80-79, over the Class B South co-champions, with Edgecomb pumping in 18 points in the victory. That 18-point output was eclipsed only by a 28-point outburst against Asbury Park in just his third varsity game.
With double-figure scoring in 13 of his 26 games as a freshman, Edgecomb projects as a potential top scorer for the Garnet Gulls as a sophomore – one who could make a run at 1,000 points and land among the Shore Conference scoring leaders before his time in high school is through.
Jayden Hodge, 6-4, Guard, St. Rose
Through the first 10 games of his first high school season, Hodge was not only the best freshman in the Shore Conference but might have been one of the conference's five best players during that time. The 6-foot-4 guard and native of Belgium led St. Rose with 17.7 points per game during the team's 10-0 start to the season, which included victories over Shore Conference Tournament champion Manasquan, Mercer County Tournament champion runner-up Notre Dame and a 16-win Red Bank Catholic squad.
Although Hodge's scoring slowed during the latter part of the season, he still ended up with exceptional numbers as a freshman: 12.3 points, 4.2 rebounds, 2.1 assists and 1.96 steals per game – all while playing standout defense for the No. 2 team in the final Shore Sports Network Top 10 and the No. 10 in the state, according to NJ Advance Media. Hodge drew defensive assignments against some big names and held them all below their season averages: Manasquan's Darius Adams, Ranney's Isaac Hester, Roselle Catholic's 6-foot-10 Duke commit Mackenzie Mgbako, among others.
Hodge is part of a St. Rose team that projects to return the top seven players from its rotation, only two of which will be seniors in 2023-24. The Shore Conference might have the best player in New Jersey from the Class of 2025 in Manasquan's Darius Adams and Hodge has a chance to reach a similar perch among Class of 2026 talents in the Garden State.
17 Things You Likely Don't Know About the Garden State Parkway
You probably drive on the Garden State Parkway all of the time, but how much do you know about one of the busiest roads in New Jersey?
More From Shore Sports Network