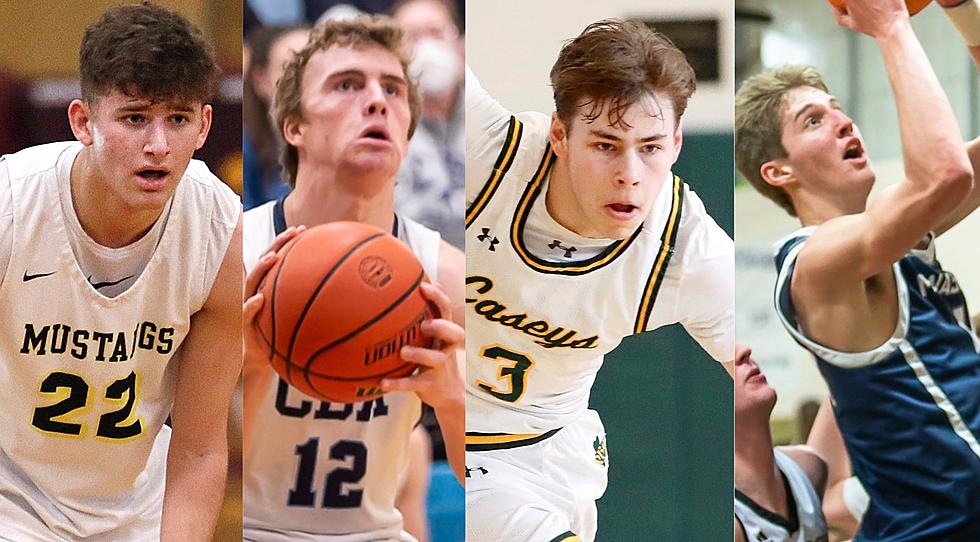 Boys Basketball – 2021 Shore Conference Tournament Semifinal Preview
From Left: Marlboro senior Jack Seidler, CBA junior Joe White, Red Bank Catholic senior C.J. Ruoff, Manasquan senior Matt Solomon. Photos: Ray Rich Photography and Tom Smith.

Shore Conference Tournament Semifinals - Bracket
Thursday, Feb. 24
At RWJBarnabas Health Arena, Toms River
No. 1 Red Bank Catholic (21-3) vs. No. 5 Manasquan (20-4), 5 p.m.
In recent years, Manasquan has owned the head-to-head matchup with Red Bank Catholic with double-digit victories in each of the past four games. Five games ago, which was the first of two division games in 2018-19, Red Bank Catholic got its last win over Manasquan and while that wasn't all that long ago, it was long enough that Caseys senior Alex Bauman was the only player on either team that saw any significant playing time.
When it comes to varsity experience, Red Bank Catholic has a good deal more than Manasquan, but maybe not as much as it seems. The Caseys senior three-year starters – Bauman, Cyril Arvanitis and C.J. Ruoff – naturally carry with them more experience than anyone else in this game, having played in the Shore Conference Tournament semifinals two years ago vs. Toms River North. As for the other returnees from 2021, there is only a 13-game head start based on last year's shortened season and the case can be made that Manasquan's two returnees from last year, while they did not play big minutes, gained just as much experience considering the exceptional competition the Warriors played.
Those two returning players for Manasquan are senior Matt Solomon and sophomore Ryan Frauenheim and they have been part of a starting five that continues to get better. The Warriors are starting to look like the team that went 12-0 and won the Shore Conference in 2021, if not in the personnel, then in the free-flowing style they play. Freshmen Darius Adams and Griffin Linstra have both been exceptional, with Adams already the team's best scorer and Linstra its best defender. With Solomon handling many of the interior duties, Frauenheim running the point and sophomore Alex Konov providing knockdown shooting and some rebounding at 6-foot-7, the pieces are really starting to fit.
While Manasquan's progress has been as linear as one could expect, Red Bank Catholic played its best basketball in January and has mostly been trying to get healthy and rediscover the groove it was in four weeks ago. The Caseys have still played fine, but since beating Rutgers Prep on Jan. 29, they have lost to Rumson-Fair Haven and Bergen Catholic by large margins and won grind-it-out games vs. Donovan Catholic and Manchester.
Bauman is the engine for RBC and it is likely the Warriors will get creative in dealing with him, although he has not looked to score as much this season, instead playing more of a point guard role. RBC does not have one obvious bulk scorer and it's unlikely its path to victory is by riding any one guy, but if one emerges, Bauman is probably it in a game like this.
RBC has its own standout sophomore starters in Gioacchino Panzini and Zach Meeks. If those two are on top of their game, it's hard to see Manasquan winning. The Caseys have the size and strength advantage and if their young players play with the kind of poise that Manasquan has shown in recent weeks, then it may take a perfect game for Manasquan to beat the Caseys.
The other key for RBC is the bench. The Caseys have had great contributions from their bench throughout the year, but that unit was quiet in the win over Manchester. Freshman Ryan Prior did not play in that game and is expected to be available for Thursday, giving RBC coach a big-shot-maker to deploy when needed.
Both of these teams to a lot of things well. Manasquan is probably the more versatile, adaptable team, but Red Bank Catholic has a lot of those elements, plus and advantage in age and brute strength. This will be an intense game and expect the No. 1 seed to show up to play with an edge it has not had since winning at CBA on Jan. 15.
The Pick: Red Bank Catholic, 54-50
No. 2 Marlboro (21-2) vs. No. 6 Christian Brothers Academy (17-5), 6:45 p.m.
When it comes to the second half of Thursday's double-header, there is no guessing what the matchups look like. Marlboro and CBA have already met twice this season and Thursday's game will be the rubber match after each team took a game from the other in January. CBA was the only Class A North team to beat Marlboro this season, knocking off the Mustangs in overtime, 66-60.
Marlboro was missing senior guard Zack Molod in its Jan. 4 loss at CBA and when the Colts made a return visit to Marlboro, Molod was back and it was not pretty for CBA. The Mustangs dominated from the jump and built its lead up to 40 early in the fourth quarter before going to the bench in a 71-36 win.
That second game holds the key for Marlboro. The Mustangs are, likely, the Shore's best offensive team, with five starters who can shoot the ball and two players in Jack Seidler and Jonathan Spatola who can score from anywhere on the floor. Lately, however, the Mustangs have showed signs of being a shutdown defensive team. They play at a breakneck speed, so defense sometimes gets lost in the sauce for them, but that effort vs. CBA, plus its dominant, 85-44 win over Jackson Memorial on Sunday showed Marlboro has another level on defense as well.
That defense will have to show up, because it wasn't good enough in the loss at CBA. With Molod out, Marlboro could not produce easy baskets against a strong Colts defense, especially with Seidler and Spatola both battling through offensive slumps at the time. On the plus side, both Jay Ratner and Vin Spatola have killed CBA and the Colts will have to prevent that from happening again in order to advance.
On the CBA side, tempo is crucial. CBA has to manage a possession-by-possession, halfcourt game in order to have a chance, because the Colts can't match Marlboro shot for shot. Against most teams, CBA is looking to hold teams in the 40's, but against Marlboro, that number will realistically be the 50's, so CBA will, indeed, have to put up some points as well.
The key to CBA reaching its ceiling on defense may actually be in the way it plays offense. The Colts would love to be aggressive in attacking the rim, not only because Marlboro doesn't have a prototypical rim protector but because there is a big drop-off when the Mustangs go to the bench. If CBA can create some foul trouble for Marlboro, it would be an equalizer for a Colts team that has one of the Shore's best sixth men in senior James Durney.
For CBA to win on Thursday, it is going to take something special from either the Colts defense, one or two of its offensive standouts, or, quite possibly, both. Will Bradley and Peter Noble have had some big shooting nights, while Pat Lautato was locked in early in the season. Lautato and junior Joe White could hold the key, because when they are both involved offensively, CBA can play into the 60's, which the Colts may have to do to knock off Marlboro's offensive machine.
CBA has not been to a final since 2016 and has not won the SCT title since 2010. Marlboro, meanwhile, has never won the SCT and while the Mustangs were in the unofficial Shore Conference championship game in 2021, their only official trip to the final as a program was in 2021. A win Thursday would be a huge deal for both, but Marlboro is the senior-driven team whose mission to win multiple championships began the day after losing last year's championship at Manasquan.
The Pick: Marlboro, 58-51
Last Round Picks Record: 3-1
SCT Picks Record: 19-5
More From Shore Sports Network