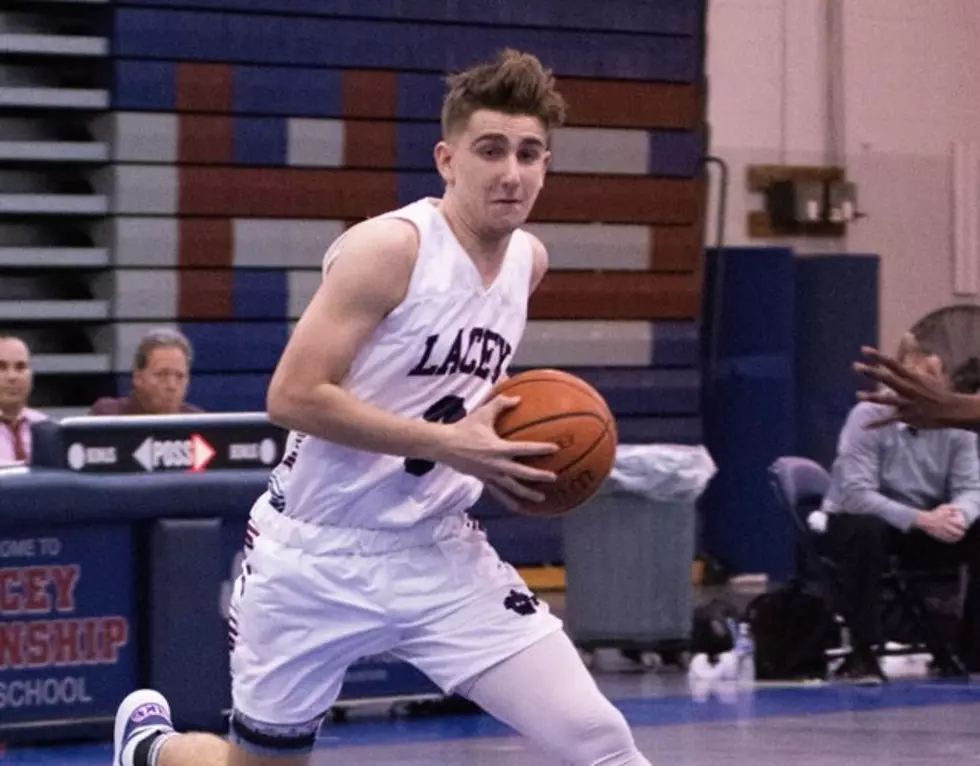 Boys Basketball – 2021 Season Preview: Lacey
Lacey freshman Troy Buxton. (Photo provided by Kim Buxton)

Enter your number to get our free mobile app
At first glance, Lacey's 2019-20 season was not particularly noteworthy – the Lions shook off a slow start to get to 8-10 and within reach of a Shore Conference Tournament spot, then lost their last seven to close out the year. A closer glance at last year's roster, however, reveals a team that could be on the cusp of a big season, especially when factoring in a key transfer.
Center Carson Howard and guard Troy Buxton made significant impacts as freshmen in 2019-20 – Howard in the paint at 6-foot-6 and Buxton as a rookie point guard who led the team with 2.4 assists per game. The sophomore duo becomes a trio this season with the transfer of Chris Veturoso, who was the second-leading scorer and rebounder for Point Pleasant Beach as a freshman. Guard Dylan Hall is a fourth sophomore who could see rotational minutes, giving the Lions a very solid core that will be in place for the next three seasons.
Senior Jacob Bowles is the returning senior starter and he offers versatility as a wing who can shoot and rebound. Patrick Zuccarelli also provides some frontcourt ability as a senior, while classmates Owen Tracy and Matt Dolan and juniors Nick Zarycki and Dylan O'Rourke will also be options for coach Sean McAndrew. With Donovan Catholic and four traditional Class A South schools – Southern and Toms Rivers East, North and South – in its pod, Lacey has some difficult competition, but also has the talent to beat any of them while making a push for the pod's top spot.
Head Coach: Sean McAndrew, fourth season
2019-20 Record: 8-17 (5-9, sixth in Class B South)
2020 Postseason Performance: Did not reach Shore Conference Tournament; lost in NJSIAA South Jersey Group III first round (Cherry Hill West)
Disclaimer: Projected lineups listed in the 2021 Shore Sports Network Preview are not necessarily directly from coaches. Some are, while others are projections from Shore Sports Network staff. In either case, the projected lineup is fluid and could change leading up to the start of the season and beyond. Check back for periodic updates to every team's projected starting lineup on shoresportsnetwork.com.
Troy Buxton, So., 6-2, Guard (RS)
Chris Venturoso, So., 6-2, Guard (Transfer from Point Beach)
Carson Howard, So., 6-6, Center (RS)
Jacob Bowles, Sr., 6-2, Forward (RS)
Patrick Zuccarelli, Sr., 6-1, Forward
Jordan Cohen, 6-4, Forward
Donovan Bacchetta, 5-9, Guard
Kalvin Kuhn, 6-1, Forward
Jason Nemcik, 6-4, Center
Owen Tracey, Sr., 5-10, Guard
Nick Zarycki, Jr., 6-0, Guard
Matt Dolan, Sr., 6-0, Guard
Dylan O'Rourke, Jr., 5-10, Guard
Dylan Hall, So., 5-9, Guard
R – Returning Varsity Player
Player to Watch: Carson Howard
Not only was Howard a big freshman at 6-6, but he is also athletic and skilled, which means he is likely to be a major problem for the rest of Ocean County over the next three seasons. Coming off a freshman campaign in which he averaged 12.3 points, 8.8 rebounds and 1.2 blocks per game, Howard will be one of the best big men in his team's six-team pod and a headline player on a Lacey squad that is packed with sophomore talent.
Big Shoes to Fill: Patrick Zuccarelli
Although the young talent makes Lacey a team to watch, the Lions still have a quality graduate to replace in well-rounded forward Jordan Cohen, who led Lacey in scoring while finishing second on the team in rebounding in 2019-20. Howard, Venturoso, Buxton and Bowles will be enough to cover most of that lost production and perhaps even add a little more, but it will be important for Lacey to find the right fifth payer to fit with those four. Zuccarelli is a good defender with some length and athleticism to mesh well with the big four when he is on the floor.
Impact Newcomer: Chris Venturoso
Over the last decade or so, players transferring into Point Beach was much more of a trend than players leaving to go play elsewhere. Venturoso is taking that road less traveled and joining an up-and-coming Lions sophomore core after he averaged 13.5 points and 5.5 rebounds in his first high school season while playing for a 14-win Garnet Gulls team. With good size and strength, Veturoso can slot in anywhere from the two to the four in the lineup, which gives McAndrew plenty of flexibility.
As promising as Lacey's sophomore group is, those players are still early enough in their careers that they are still developing as complete high school players. Part of that development is becoming leaders who are locked in on winning and while that becomes their mentality, players like Bowles will have to set the tone at practice and early in the season for a team that is going to pump up its expectations over the course of the next couple of seasons.
Jan. 26 vs. Toms River East, 6:30 p.m.
Jan. 28 at Toms River East, 6:30 p.m.
Feb. 1 vs. Southern, 6:30 p.m.
Feb. 3 at Southern, 5:30 p.m.
Feb. 5 at Pinelands, 6:30 p.m.
Feb. 9 vs. Toms River North, 6:30 p.m.
Feb. 11 at Toms River North, 6:30 p.m.
Feb. 15 at Donovan Catholic, 6:30 p.m.
Feb. 17 vs. Donovan Catholic, 6:30 p.m.
Feb. 23 at Toms River South, 6:30 p.m.
Feb. 25 vs. Toms River South, 6:30 p.m.
More From Shore Sports Network