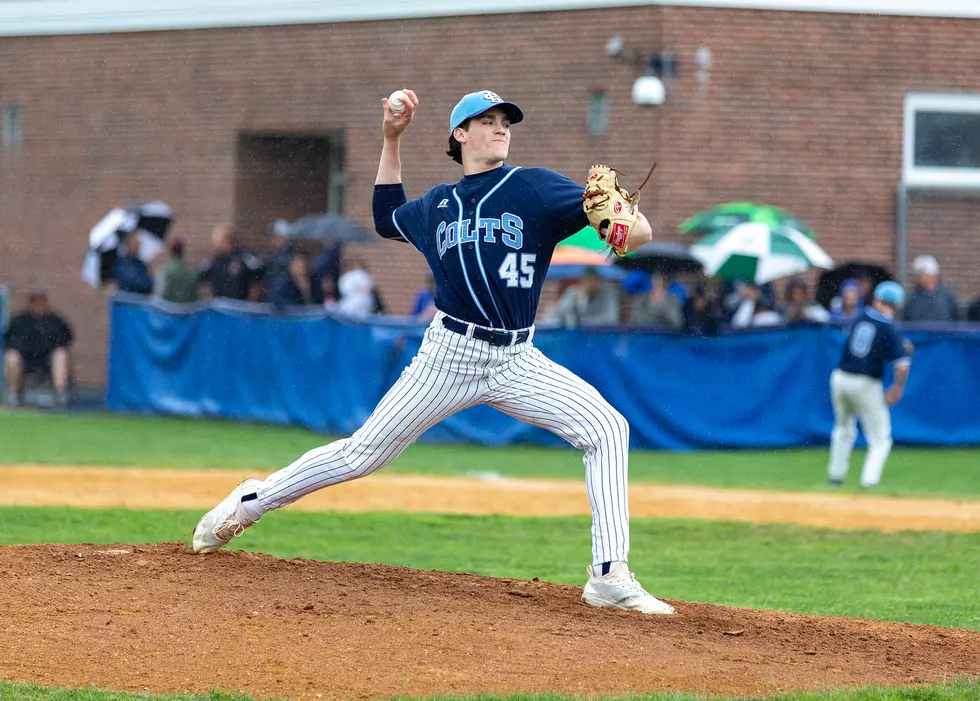 Baseball Top 20 in 2020 – No. 2: Christian Brothers Academy
CBA senior Pat Reilly. (Photo by Paula Lopez)

Enter your number to get our free mobile app
Shore Sports Network is counting down its top 20 baseball teams heading into the would-be 2020 season by profiling each one. You can read the division-by-division previews and the other top-20 profiles here.
Shore Sports Network Baseball 20 in 2020 – No. 2: Christian Brothers Academy

For the last four-plus decades, only one man has led the Christian Brothers Academy baseball team as its head coach and as long as the current shut-down of schools and high-school sports continues through the end of June, the record books will continue to show that heading into 2021.
What it would gloss over, though, is that after CBA decided to end Kenney's 46-year tenure as head coach last July, his son and namesake Marty Kenney Jr. picked up the mantle in 2020 with a team that had – and as of now, still has – a chance to carry on the Colts tradition of winning championships.
Kenney Jr. has long been an assistant under his father and in September was tabbed the successor to his Shore Conference baseball legacy that includes 832 career wins, 18 Shore Conference division championships, nine Monmouth County Tournament championships, seven Shore Conference Tournament championships, and three overall NJSIAA Non-Public A championships in eight trips to the final.
CBA's new skipper was looking to put his own spin on the program now that he is captaining the ship, but the goals will remain the same. With the roster CBA has back, they might be even more ambitious.
"There is part that's if it's not broken, don't fix it," Kenney Jr. said. "When you have a run of championships like we have had, you don't want to go changing everything. So there is not a lot we're going to change, but maybe we'll try to be a little more progressive in some things we do. We don't want to change it, but you always have to progress it."
In its last two state-championship runs, CBA boasted a dominant ace that helped the Colts nail down a championship – Pat Light in 2009 and Luca Dalatri in 2015. This year, they bring back an ace with perhaps even more upside than either of those two Colts legends, as well as a No. 2 starter that could give CBA its best one-two punch in a long time.
Senior right-hander Pat Reilly is the CBA headliner heading into 2020 after an All-Shore season as a junior – his first as a varsity pitcher. Reilly opened 2019 as a Northeastern University commit before dominating the Shore in the spring, opening even more eyes on the summer circuit, briefly reopening his recruitment, and ultimately signing with national powerhouse Vanderbilt in the fall of 2019.
"Nobody is as polished as Luca was but Pat has the projectability," Kenney Jr. said. "He has always been an athlete and with the way he has grown, he now has the frame of that prototypical workhorse and he hasn't lost his athleticism. You can never tell how much velocity a kid is going to add because there are so many factors. Pat (Light) went up 10-to-15 miles-an-hour when he went to Monmouth and in Reilly's case, his big jump came at the end of high school."
It was a whirlwind offseason for the CBA ace, who consistently flashed a 96-mile-per-hour fastball in the summer and the fall and was already in that neighborhood at the start of camp, according to Kenney.
"We were so excited for everyone to see him throw this year," Kenney Jr. said of Reilly. "We all heard about how he threw in Jupiter (Fla.) and we were looking forward to see that here. Sometimes you here about a kid over the summer and you never know if he is going to have it when things start up in the spring but from what we saw in the first few days at practice, it was very real."
Braedin Hunt is another senior who has been dominant during stretches of his varsity baseball career, which began in 2018 when he was a sophomore. After struggling at the outset of his junior season, Hunt dominated once the calendar moved into May. Since May 1, Hunt made seven appearances in relief and in 16 2/3 innings, he struck out 26 and walked five while positing a 0.42 ERA. After initially committing to Rutgers, he switched to Virginia Commonwealth (VCU) after Rutgers changed coaches following the 2019 season.
"He dominated in the second half of the season to the point where he was our best pitcher in the second half of the year," Kenney Jr. said of Hunt. "And that's with two All-Shore pitchers (Reilly and Joe Escandon) on the staff with him. With Braedin, it's all about how quickly he finds his command and I think going through that rough patch at the start of the year forced him to learn how to adjust and self-correct when there is something off in his mechanics."
CBA's pitching after its big two at the top is somewhat of an unknown commodity heading into a would-be 2020 season but Kenney Jr. was encouraged by what he saw. Senior Declan Hoverter only threw 9 1/3 innings last year but included in that was the first seven-inning perfect game in CBA history, which came in an 8-0 win over Long Branch.
The rest of the pitching staff – both this season and going forward – is ascending through the program from the lower ranks. Sophomores Jack Frankovic, Colin Reilly and Mike Kelly all made a quick impression on the coaching staff and junior left-hander Joe Marini is also in the conversation as the left-hander in the group of newcomers.
Frankovic and Reilly have been particularly noteworthy as potential impact pitchers. Frankovic was a standout in an intra-squad scrimmage, according to Kenney, while Reilly – the younger brother of the Colts ace – bears similarity to his older brother and is showing signs of a breakout similar to the one Pat Reilly had last year as a junior.
"We were really, pleasantly surprised by what we saw out of the younger group, especially the sophomores," Kenney said. "Frankovic took a big step forward on the mound. We knew he was coming with the bat but he surprised us with the way the ball was coming out of his hand on the mound. Reilly is up to 6-2, 6-3 and is right where Pat was as a sophomore, to the point where he is ready to contribute."
CBA expected to rely on most of its key pitchers for offensive input as well, with Reilly, Hunt, Hoverter and Frankovic all projected to be starters at another position as well. Reilly would play first base when he does not pitch in order to save his arm and while he showed off a power bat at times during his junior season, he may have found himself leading off this season.
Hunt has played both the outfield and first base and would play both spots in 2020. He had a huge sophomore season swinging the bat (.453, five doubles, three home runs, 19 RBI), which earned him an All-Shore selection in his first varsity campaign. He then struggled at the plate as a junior and his early work in 2020 suggested Hunt was primed to bounce back as a hitter and put it all together.
"He was swinging it really well from what we saw," Kenney Jr. said of Hunt. "I think he put a lot of pressure on himself to be the hitter he was as a sophomore and he ended up trying to do too much in a lot of his at-bats last year. He dedicated himself in the offseason to getting himself back where he was at the plate as a sophomore and I liked what I saw in that first week."
Hoverter is set to take over the full-time spot at second base after playing some infield and outfield as a junior, while Frankovic is ready to take over at third base in the everyday lineup.
With Hoverter ready to play second base, returning senior Jason Arnott is making the change from second baseman in 2019 to shortstop in 2020. The Colts graduated current Bryant freshman Tommy DiTullio and Kenney Jr. was excited to see how Arnott's skill would translate at shortstop.
"I don't think we would have fallen off much at shortstop with Arnott there and I think Tommy DiTullio was the best shortstop in the Shore Conference and one of the best in the state defensively," Kenney Jr. said. "I actually think Arnott might be a little more athletic so I think he is more than ready to play shortstop and play it really well."
Arnott is one of three Colts returning in the middle of the defense and the other two are back in their 2019 positions. Senior catcher Mason Wolf would be a third-year starting catcher and fourth-year varsity player after following in the footsteps of San Francisco Giants farmhand Brandon Martorano – a 2016 CBA graduate. As a junior, he led CBA with nine doubles and is more athletic than the prototypical high-school catcher, having scored 15 runs.
Senior Ben Settino is also back in centerfield after hitting .302 with 12 RBI and quality defense in the outfield.
Seniors Joe Tutrone and Matt Murray also figure into the equation, with Tutrone providing another option at catcher as well as a potential designated hitter. Murray, meanwhile, is a utility man who can fill a spot in the outfield or infield – crucial for a team that relies on starting position players to pitch.
CBA has some improving to do on the offensive side after scoring a respectable-but-uninspiring 4.6 runs per game and with some key bats back and a potential power threat in Hunt on the rebound, the Colts could do just that in a potential season. It is, however, the pitching – which returns three key pieces from a team that allowed only 48 runs in 25 games in 2019 – that makes the Colts a tantalizing study ahead of a 2020 season that might never get off the ground.
"The one week we were together was the most fun practice week I have had," Kenney Jr. said. "The seniors really thought we could do something special this year. As a coach, sometimes you realize it's going to be easy to coach a team and I had that sense with this group. They just care about one thing and that's winning. You can't predict what you are going to do as a team and you always go into the season with high hopes, but it felt just a little different this year."
Christian Brothers Academy
Head Coach: Marty Kenney Jr., first season
2019 Record: 18-7 (10-4, third in A North)
Top Returning Hitters (with 2019 Stats)
| | | | | | | | | | | |
| --- | --- | --- | --- | --- | --- | --- | --- | --- | --- | --- |
| Player | AB | H | 2B | 3B | HR | R | RBI | AVG | OBP | SLUG |
| Ben Settino (Sr., CF) | 53 | 16 | 2 | 1 | 0 | 11 | 12 | .302 | .449 | .377 |
| Jason Arnott (Sr., SS) | 73 | 21 | 3 | 0 | 0 | 14 | 8 | .288 | .447 | .329 |
| Pat Reilly (Sr., 1B) | 82 | 23 | 2 | 0 | 2 | 10 | 12 | .280 | .302 | .378 |
| Mason Wolf (Sr., C) | 79 | 22 | 9 | 0 | 0 | 15 | 9 | .278 | .363 | .392 |
| Braedin Hunt (Sr., 1B/OF) | 74 | 14 | 4 | 1 | 0 | 12 | 9 | .189 | .286 | .270 |
| Declan Hoverter (Sr., 2B) | 40 | 6 | 2 | 0 | 1 | 7 | 6 | .150 | .333 | .275 |
Top Returning Pitchers (with 2019 Stats)
| | | | | | | | | | |
| --- | --- | --- | --- | --- | --- | --- | --- | --- | --- |
| Player | W | L | IP | H | ER | BB | SO | ERA | WHIP |
| Pat Reilly (Sr., RHP) | 7 | 0 | 42 | 19 | 4 | 19 | 67 | 0.67 | 0.90 |
| Braedin Hunt (Sr., RHP) | 3 | 2 | 30 | 16 | 12 | 19 | 44 | 2.80 | 1.17 |
| Declan Hoverter (Sr., RHP) | 1 | 0 | 9.1 | 1 | 0 | 0 | 9 | 0.00 | 0.11 |
Big Shoes to Fill: Jason Arnott, SS
In Tommy DiTullio, CBA lost its best defensive player and its best hitter from 2019 and the 2020 Colts were planning on leaning heavily on Arnott to replace that talent, production and leadership. Arnott was a standout defensive second baseman, a tough out at the top of the lineup (.447 on-base percentage) and has some untapped power potential, so it's not hard to see him making the transition to shortstop and major run-producer at the plate.
Top Newcomer: Jack Frankovic, 3B/RHP
CBA's Class of 2022 was likely going to start making noise in a normal 2020 season and Frankovic has already begun to set himself apart. Kenney Jr. was expecting him to seize the opportunity at third base but his pitching ability during the early days of camp was a pleasant surprise to the coaching staff.
X-Factor: Braedin Hunt's Bat
Hunt showed at the end of his junior year that he could make adjustments when he was not pitching as well as he wanted to and turned back into a dominant, hard-throwing right-hander. That complete turnaround never quite happened at the plate, but his monster sophomore season is a sure sign that he could be one of the Shore's best hitters. If Hunt were to return to his 2018 form to go with his 2020 physical tools, it would be a major boon for an offense that is hoping to be more consistent in 2020.