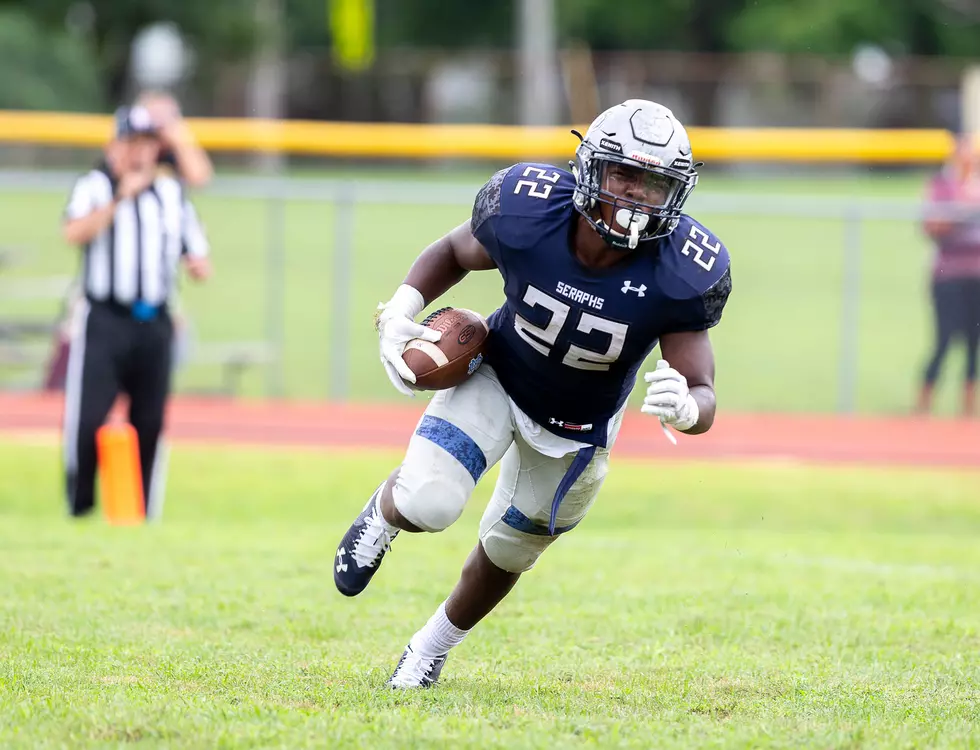 Week 6 Shore Conference Football Divisional Players of the Week
Mater Dei Prep junior running back Malik Ingram. (Photo by Paula Lopez/palimages.com)
In addition to the reader-selected Orthopaedic Institute of Central Jersey Football Player of the Week, we will also be selecting Offensive and Defensive Players of the Week for each of the Shore Conference's seven divisions. We'll also choose an overall Shore Conference Special Teams Player of the Week to highlight any standout kicking performances or players who got it done in the return game.
Below we'll focus on the best performances from Week 6. 
SSN SPECIAL TEAMS PLAYER OF THE WEEK
Jermaine Corbett, Jr., Long Branch 
Corbett returned the opening kickoff 87 yards for a touchdown to spark Long Branch to a 26-0 win over Wall.
SSN DIVISIONAL PLAYERS OF THE WEEK 
Darius Martorano, Sr., WR, Central and Nico Santorelli, Jr., RB, Manalapan 
Martorano had a touchdown catch, a touchdown run and a touchdown pass as Central beat Southern, 30-10, to pick up their first win of the season. Martorano caught five passes for 61 yards and hauled in a 17-yard touchdown pass from junior quarterback Gavin Whelan. He then threw a 21-yard touchdown pass to sophomore wide receiver Brandon Montgomery and capped his day with a 6-yard touchdown run.
Santorelli took over as the feature back when senior Dale Sieczkowski went down with an injury in the first quarter and answered the call with a career-high 220 yards rushing and two touchdowns on 29 carries to lead the Braves to a 31-28 victory over Brick Memorial.
Jarrid Markowitz, Jr., DL, Freehold Township 
Markowitz made eight tackles (six solo), recorded one sack and forced a fumble late in the game which the Patriots recovered, allowing them to run out the clock and earn a 13-10 victory over rival Freehold. 
Sean Glenn, Sr., QB, Middletown North 
Glenn completed 11 of 16 passes for 197 yards and three touchdowns as the Lions beat Howell, 43-2, to pick up their first win of the season.
Mike McGuigan, Sr., DB, Brick
McGuigan had five tackles, one tackle for loss and his Shore Conference-leading fifth interception as Brick defeated Lacey, 42-14.
Nick Sinatra, Sr., WR, Southern 
Sinatra caught five passes for 112 yards and a touchdown in the Rams' 30-14 loss to Central.
Collin McCarthy, Jr., DE, Jackson Memorial
Although they lost to rival Jackson Liberty, 14-0, the Jaguars' defense allowed just seven points and that score was set up by a long interception return. McCarthy was his usual backfield-occupying self with five tackles for loss among his nine total tackles.
Frankie Giannetti, Jr., RB/LB, Toms River East
Giannetti ran for 147 yards and three touchdowns on 21 carries and also made six tackles on defense to lead the Raiders to a 28-20 victory over Pinelands.
Devyn Blount, Sr., DB, Long Branch 
Blount had two interceptions, including one at the goal line, to help the Green Wave shut out Wall, 26-0, in a matchup of ranked teams.
Dayshawn Porter, Sr., WR, Monmouth 
Porter had a 60-yard touchdown catch and also ran for two touchdowns as the Falcons beat Neptune, 30-16, for their second straight win following an 0-4 start. 
James O'Mahoney, Sr., LB and Colin Campbell, Sr., DB, Colts Neck 
O'Mahoney made 13 tackles and Campbell had 13 tackles with one tackle for loss to help the Cougars to a wild 20-14 overtime win over district rival Marlboro.
Malik Ingram, Jr., RB, Mater Dei Prep 
Ingram ran for 170 yards and three touchdowns on 16 carries as the Seraphs walloped Manasquan, 41-0. Ingram had touchdown runs of 23, 34 and 35 yards. 
Shane Simonson, Sr., LB, Jackson Liberty
Simonson had a night to remember for a Jackson Liberty defense that led the charge in a shocking 14-0 defeat of rival Jackson Memorial, the first win for the Lions over the Jaguars in program history. Simonson had 15 solo tackles, one tackle for loss, a pass breakup and an interception which he returned 50 yards to set up a touchdown. He also had a quarterback pressure to force a throw that was intercepted and returned 85 yards for a touchdown by Joe DeVito.
Liam Riecks, Sr., QB, Keansburg 
Riecks accounted for all five touchdowns as the Titans evened their record by defeating Manchester, 30-6. He completed 11 of 13 passes for 197 yards and two touchdowns and ran for 36 yards and three touchdowns. Riecks had touchdown runs of five, one and three yards, threw a 70-yard touchdown pass to Liam Meyer and threw a 36-yard touchdown pass to Patrick Edwards.
Quamire Green, So., LB, Donovan Catholic
Green made 10 tackles, including one tackle for loss, as the Griffins shut out Point Beach, 55-0. Donovan has allowed just 33 points in five games while recording two shutouts.
More From Shore Sports Network