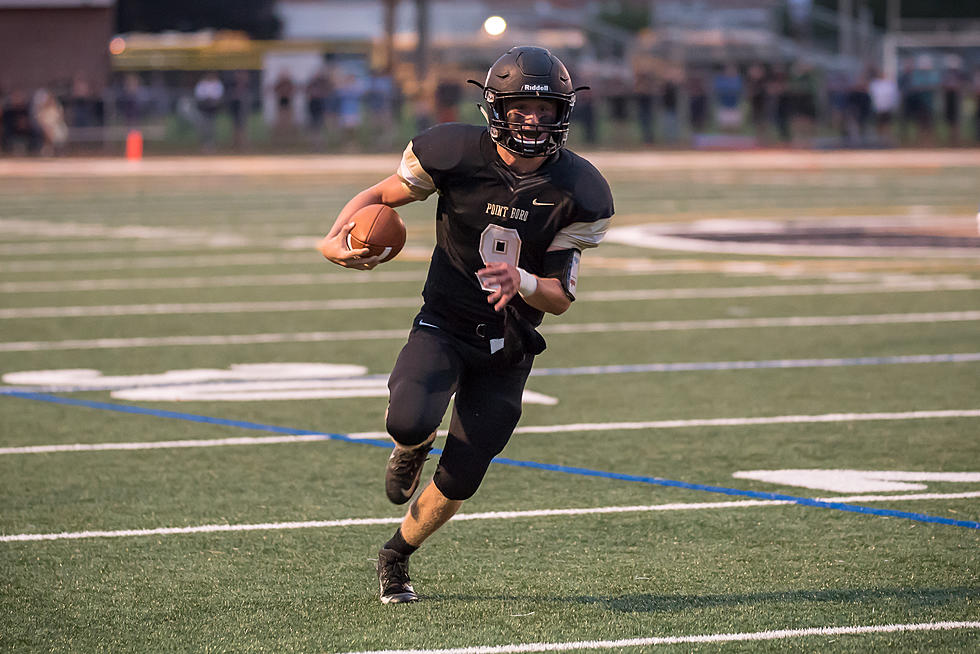 Week 2 Divisional Football Players of the Week
Photo by Richard O'Donnell.
In addition to the reader-selected Orthopaedic Institute of Central Jersey Football Player of the Week, we will also be selecting Offensive and Defensive Players of the Week for each of the Shore Conference's seven divisions. We'll also choose an overall Shore Conference Special Teams Player of the Week to highlight any standout kicking performances or players who got it done in the return game.
Below we'll focus on the best performances from Week 2.
SSN SPECIAL TEAMS PLAYERS OF THE WEEK (tie)
Chris Kaldrovics, Sr., K, Middletown South
Kaldrovics kicked a game-winning 20-yard field goal as time expired to give Middletown South a 17-14 win over Manalapan. He was also 2-for-2 on extra points.
Ryan O'Hara, Sr., K, Red Bank Catholic
O'Hara booted a 44-yard field goal, the longest in the Shore Conference this season, during the Caseys' 45-7 rout of Toms River South.
Jake Hurler, Sr., K, Freehold 
Hurler kicked a career-long 40-yard field goal and added a 21-yard field goal as the Colonials defeated Brick Memorial, 20-17. He also had four receptions for a team-high 44 yards.
Jake Van Wagner, Jr., Manchester 
Van Wagner's blocked punt led to a touchdown and sparked the Hawks in their 29-10 comeback victory over Point Beach.
SSN DIVISIONAL PLAYERS OF THE WEEK
AMERICAN DIVISION (Besides Overall Player of the Week, Toms River North QB Jake Kazanowsky) 
Jarrod Pruitt, Jr., RB, Toms River North 
Pruitt ran for 141 yards and three touchdowns on 21 carries to help lead the Mariners to a 48-0 win over Howell.
Sean Fiolek, Sr., LB, Freehold Township
Fiolek had 18 tackles (12 solo) plus a pass deflection to lead the way on defense and help the Patriots eke out a 14-13 win over Central.
Alex Maldjian, Sr., RB, Rumson-Fair Haven
Maldjian had another big game with a career-high 140 yards rushing and four touchdowns on just nine carries in the Bulldogs' 42-7 victory over Middletown North.
Gordon Forsyth, Jr., DL/Christian Lanzalotto, Sr., LB, Rumson-Fair Haven
While the Bulldogs' offense was putting up 42 points on Middletown North, the defense shut down the Lions' potent passing attack in a 42-7 victory. Forsyth made six tackles and recorded two sacks while Lanzalotto had nine tackles and an interception.
Dontrell Alston, Sr., RB, Marlboro
Alston ran for 152 yards and a touchdown on 16 carries as the Mustangs defeated Lakewood, 22-14.
Collin McCarthy, Jr., DE, Jackson Memorial
McCarthy was a game-wrecker on the edge for the Jaguars in their 12-6 overtime win over Wall in a key division game. The 6-foot-6 junior made 13 total tackles, including two sacks and six tackles for loss. He also nearly won the game late in regulation with a fumble return touchdown, but the officials ruled the Wall ball carrier down by contact before the ball popped free.
Steve Lubischer, Sr., QB, Red Bank Catholic
Lubischer played just the first half and threw for 156 yards and four touchdowns on 9 of 14 passing to lead the Caseys to a 45-7 win over Toms River South.
Kyle Weisman, Jr., LB, Red Bank
Weisman had six total tackles, including three tackles for loss, as the Bucs defeated Holmdel, 28-26, for a key nondivisional victory.
Garrett Romer, Sr., QB, Point Boro
Romer had another big rushing effort with a career-high 212 yards and five touchdowns on 15 carries to power the Panthers to a 40-13 win over Colts Neck. He has 407 yards rushing and six touchdowns in two games this season.
Canyon Birch, Sr., LB, Manasquan 
Birch had eight tackles (five solo) plus a tackle for loss as the Warriors defeated Neptune, 21-10, to improve to 2-0. In two games this season, Birch has 22 tackles (16 solo) with five hits for a loss, a forced fumble and a fumble recovery.
Evan Burton, Sr., RB, Pinelands
Burton ran for 261 yards and three touchdowns on 29 carries, including a 20-yard touchdown run in the third quarter that held up as the game-winning score in the Wildcats' 26-22 comeback win over Matawan.
Sean Morris, Sr., DE, Barnegat
Morris made 11 tackles, including three tackles for loss, plus two sacks and a forced fumble to help the Bengals knock off Shore, 17-14. Morris also had six catches for 69 yards at tight end.
Travell Nickey, Sr., RB, Manchester
Nickey's 92-yard touchdown run in the third quarter gave Manchester a 14-10 lead on their way to a 29-10 win over Point Beach. He finished with 102 yards and two touchdowns on 10 carries.
Wyatt Riecks, Jr., LB, Keansburg
Riecks made 10 tackles with two for a loss and added a forced fumble and a fumble recovery to help Keansburg defeat Asbury Park, 14-6, for the program's first win over the Blue Bishops since 2006.
More From Shore Sports Network