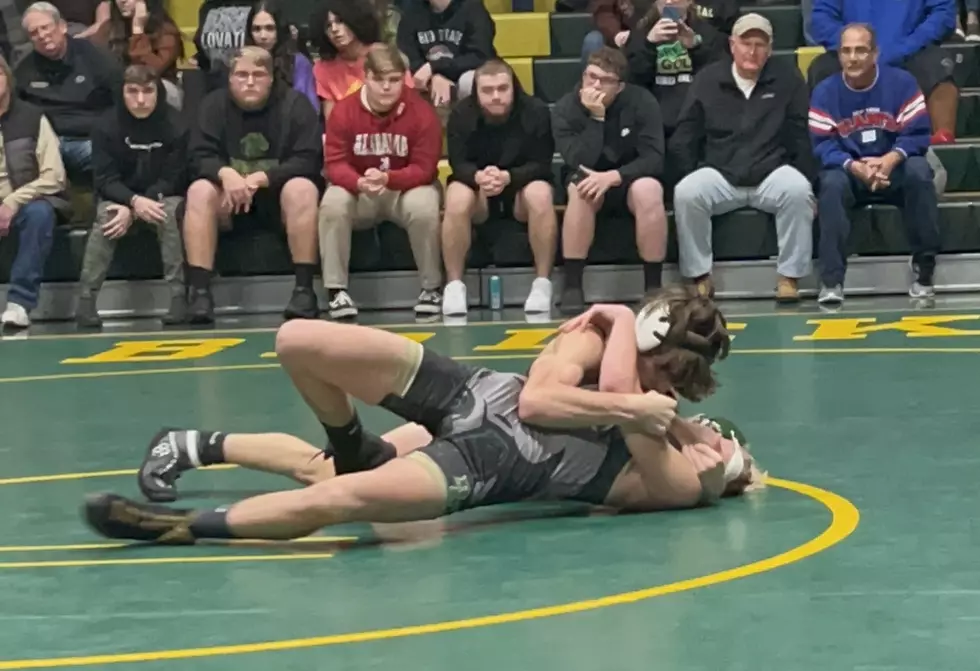 Southern Regional dominates Brick Memorial to begin January gauntlet
Robert Badders

BRICK TOWNSHIP -- The ultimate goal for Southern Regional's wrestling program is to be the last team standing in Group 5, hoisting another state championship trophy at Rutgers in early February.
The process the Rams' coaching staff uses to mold their team into a championship contender typically involves a formidable schedule, but this season the Rams have cranked the difficulty setting even higher than usual. Southern's opponents in January are a who's who of New Jersey high school wrestling: Mount Olive, High Point, Christian Brothers Academy, Phillipsburg, Delbarton, South Plainfield, and North Hunterdon. Buckle up.
The new year began for Southern on Wednesday night with a visit to another fellow state power, and the Rams began their 2023 gauntlet with a dominant performance.
Matt Henrich, Nick Bennet, Cole Velardi, Riley O'Boyle, and Scottie Sari each won by fall as Southern started fast and rolled to a 51-19 Shore Conference Class A South victory over rival Brick Memorial to remain undefeated. Southern won the first seven contested bouts to open a 34-6 lead and won 10 of the 14 total bouts. Freshman Atilla Vigilante delivered a win by technical fall, senior Anthony Evangelista won by major decision, Hayden Hochstrasser and Mitch Bivona won by decision, and Conor Collins received a forfeit.
Brick Memorial received a pin from freshman Michael Napolitano at 106 pounds, a major decision by senior Anthony Santaniello at 138, a decision from sophomore Gavin Martin at 113, and a win via forfeit to sophomore Harvey Ludington at 190.
"I like that we were aggressive and trying to score points at all times," said Southern head coach Dan Roy. "On bottom, we were getting out and looking for takedowns and on top, we were trying for turns and tilts and just looking to score points. I was really happy with our pace and everything like that."
The match began at 144 pounds and saw a pair of returning district champions square off with Hochstrasser, a sophomore who reached Atlantic City last season, taking on Brick Memorial's Brody Elk, the Cinderella story of last season's District 23 Tournament. Hochstrasser led 5-0 heading into the third period before Elk secured a takedown to trim his deficit, but Hochstrasser closed with a reversal in the final minute and two near-fall points in the closing seconds for a 9-2 win.
From there, Southern piled up points in a hurry.
Henrich, a junior who was seventh in the state at 138 pounds last season, scored four takedowns in the first period before locking in a cradle and pinning Mason Pirnik in 1:35. At 157 pounds, Bennet totaled five takedowns in the first two periods and turned Max Wright for a fall at the 2:58 mark. Senior Cole Velardi, last season's NJ fifth-place medalist at 150 pounds, worked a quick fall in 1:02 over Josh James at 165 pounds. Just like that, it was 21-0 Southern.
Brick Memorial inserted freshman Trey Tallmadge at 175 pounds, bumping Ludington, last season's 175-pound state champion, up to 190. Bivona scored the only offensive points of the bout with a takedown in the second period and went on to clinch a 4-0 decision to push Southern's lead to 24-0.
Brick Memorial's first points came at 190 when Southern elected to forfeit to Ludington.
The Rams got right back to work at 215 pounds when O'Boyle pinned Ben Szuba in 4:30 to stretch the lead to 30-6.
At 285 pounds, Evangelista won by 8-0 major decision over Jordan Lizardi to give Southern a commanding 34-6 advantage through eight bouts. Evangelista was a district runner-up and reached the third round of wrestlebacks at the state tournament last season when he attended Hammonton High School.
Brick Memorial received a jolt at 106 pounds when freshman Michael Napolitano needed just 34 seconds to pin Anthony Mason in a matchup of standout freshmen.
Martin, a District 23 champion and Region 6 medalist (6th) at 106 last season, followed with a 7-1 victory over Sam Pari at 113 pounds to bring the Mustangs within 34-15 with four bouts left.
Southern halted any momentum when Vigilante won by 15-0 technical fall in 3:20 over Ryan Henderson at 120 pounds. Vigilante (9-2) needed only one takedown before showcasing a strong top game with 13 near-fall points.
Sari won by fall in 1:07 over Logan Cromen at 126 pounds and Collins, a two-time state medalist (2nd at 113 in 2021, 3rd at 120 in 2022) received a forfeit at 132 to give Southern a 51-15 lead.
Santaniello, a three-time state finalist who won the 2021 120-pound state championship and is committed to Oklahoma, closed out the dual with a 10-0 major decision over sophomore Wyatt Stout, who was a District 25 and Region 7 champion last season.
Next for Southern is a quad on Saturday that features reigning Group 4 state champion Mount Olive and High Point, which was in the Group 2 final last season and has won six state championships in its illustrious history. Southern is rightfully locked in on those opponents, but the rest of us have the luxury of looking ahead to Tuesday, Jan. 10 when Southern will host Christian Brothers Academy in a titanic Shore Conference matchup. The Colts are now a state power under head coach Billy Ashnault and finished No. 1 in the Shore last season. Southern was No. 2 and those rankings remain the same heading into the weekend.
"I think it's going to be great for wrestling," Roy said. "There's something like 11 (15 in total) state qualifiers in the match so it's going to be great. You're not going to have people running from each other, we're' just going to get up and wrestle. Lots of toss-up bouts. It's good for the Shore Conference and there should be a lot of people there. I'm curious (about the matchup) and I think it's going to be fun. We'll go out and wrestle our hardest. They wanted to come to us and wrestle in our gym. Billy wanted his kids to experience that kind of atmosphere."
Southern has traditionally steered clear of wrestling New Jersey's non-public schools. The last time the Rams wrestled a non-public school was a 66-9 win over Bishop Ahr (now St. Thomas Aquinas) on January 17, 2015. Former head coach John Stout told NJ.com last month that he felt wrestling the non-public schools "helps the rest of the non-publics recruit just by wrestling them. Whether we win, or they win, we help their process. It's not personal, the rules they operate under are different than those we operate under."
Roy, who was a longtime assistant under Stout before becoming Southern's head coach, doesn't necessarily disagree but wanted to pull out all the stops to prepare his team for the postseason.
"I feel we have a team that can wrestle with those guys and the only way to challenge them is to wrestle the parochials," Roy said. "If you have the team to be competitive, why not wrestle those teams? Some of these teams have some top-ranked kids in the state and these guys get seeding and we won't otherwise see them during the year. It has benefits. We're the underdogs and we have nothing to lose. We're going to put ourselves out there and at least we'll go for it."
Regardless of the outcome of the CBA match and any of those that follow, the process leading up to the team state tournament is what matters most. The grueling schedule which also included a trip to the Powerade Tournament in December is designed to put each and every wrestler in uncomfortable positions. The plan is that by the time the team tournament arrives, Southern's wrestlers we'll have seen it all.
"That's the mentality behind it," Roy said. "It puts you in tough situations. You might be in a match where you have to gut it out in double overtime, or you're losing and you have to come back and win. If you're in those types of matches early on and you can overcome that, you'll have confidence if that happens again."
"And it helps evaluate mistakes. If everything is working and you're pinning everybody, there's not much to evaluate. It's one thing for the coaches to say it but when you make a mistake and it bites you in a big match, you're going to listen."
It will still come down to execution in each individual bout and wrestling matches rarely follow the script in the state championship tournament. But one thing is certain. The Rams will be ready.
Box Score
Southern 51, Brick Memorial 19
144: Hayden Hochstrasser (S) d. Brody Elk, 9-2
150: Matt Henrich (S) p. Mason Pirnik, 1:33
157: Nick Bennet (S) p. Max Wright, 2:58
165: Cole Velardi (S) p. Josh James, 1:02
175: Mitch Bivona (S) d. Trey Tallmadge, 4-0
190: Harvey Ludington (BM) by forfeit
215: Riley O'Boyle (S) p. Ben Szuba, 4:30
285: Anthony Evangelista (S) md. Jordan Lizardi, 8-0
106: Michael Napolitano (BM) p. Anthony Mason, 0:34
113: Gavin Martin (BM) d. Sam Pari, 7-1
120: Atilla Vigilante (S) tf. Ryan Henderson, 3:25 (15-0)
126: Scottie Sari (S) p. Logan Cromen, 1:07
132: Conor Collins (S) by forfeit
138: Anthony Santaniello (BM) md. Wyatt Stout, 10-0
States with the most registered hunters
Stacker
analyzed data from the U.S. Fish and Wildlife Service to determine which states have the most registered hunters. Read on to see how your state ranks on Stacker's list.
More From Shore Sports Network